Most authentic Pho dishes can take 3 days to make. This slow cooker (or crockpot) recipe makes a robustly flavored bone broth that will rival Pho dishes from Vietnamese restaurants. It can easily be modified to a low carb or keto recipe by using shirataki noodles instead of the typical rice noodles.
Jump to:
RECIPE
Restaurant vs Homemade
Low Carb Noodles
3 Keys to Flavor
Putting it All Together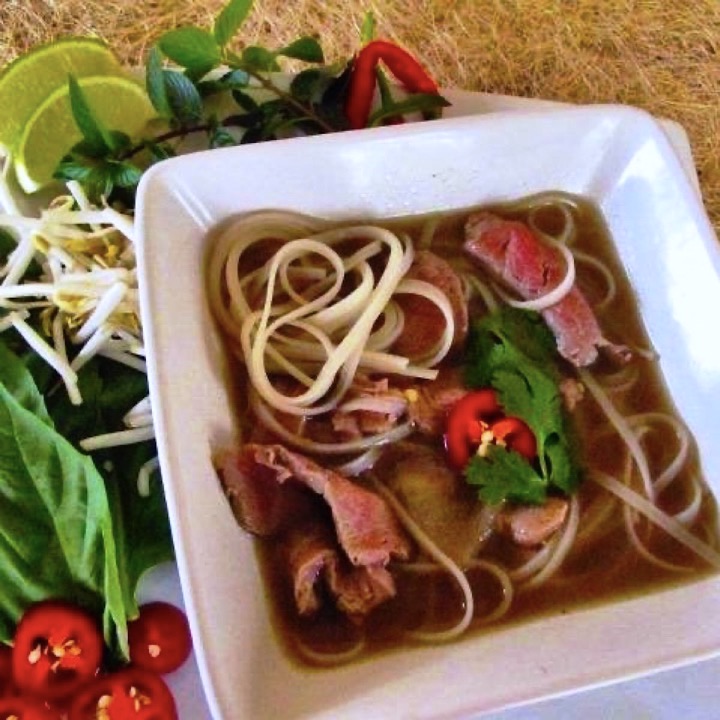 This post may contain affiliate links, and you can read our disclosure information here–
Vietnamese Restaurant Pho vs. Homemade Crockpot Pho
On a recent trip to Denver my daughter and I were looking for a good Vietnamese restaurant, and ended up at Pho 96. Many of the pho restaurants in Denver had a "number" attached to the word Pho, which we learned were the families' "lucky numbers". In the case of Pho 96, it was in 1996 that their family moved to the US.
While we didn't have a chance to sample the other Vietnamese restaurants in Denver, Pho 96 delivered the best Beef Pho I have ever had. After getting back home, I immediately tried to replicate our dining experience before the memory faded.
As I researched the recipes that were out there in the internets, I saw that the most authentic looking Pho dishes took around 3 days to make and I simply can't handle that right now, no matter how good the food is.
I found several slow cooker (or crock pot) recipes that I adapted, and it comes very close to the food memory of the Denver Pho dish.
This recipe for low carb beef pho in a slow cooker is a combination of my memory, as well as a comprehensive search of different variations of pho. The spice ratios and the cooking time of the various recipes were the primary differences.
While the Beef Pho at Denver's Pho 96 was perhaps a bit richer, this slow cooker version was very close. Robust and complex.
Just know that it does take some hands-off cooking time to make. Not three days for sure, but you do need to plan ahead for a deep and rich bone broth to develop.
The good thing is you can make the bone broth ahead of time, refrigerate it and put the pho together quickly as a weeknight meal. Just heat up the long-simmered broth and have your favorite fresh accompaniments available and you've got a 30-minute dinner!
How to Modify Pho to Keto or Low Carb
I have been living a low carb lifestyle for many years now and am constantly modifying recipes to eek out the most flavor while remaining compliant with low carb. Beef pho is extremely easy to modify without a loss of flavor.
During the weight loss phase of low carb dieting, progress usually takes precedence over flavor. After a while however, flavor and variety start to become more important.
Adding new and robust flavors to your low carb recipe files or meal plans is important, but it is also creative and fun. If you have never had Pho, it will definitely introduce you to a range of new flavors.
Here are the only two things that need modification for a great low carb or keto pho:
The Noodles:
The rice noodles are really the main thing that is not compliant with a low carb diet. I opted for shirataki noodles (aka miracle noodles) which do not have carbs or sugar, but you could also use zoodles (zucchini noodles) or another noodle alternative (there are many on the market now).
Like many noodle-type of ingredients, rice noodles have very little flavor themselves. Their main role is to absorb and then transfer the flavors of pho broth.
Without some sort of noodle the pho soup would be overly intense. The shiratake does a good job of absorbing all the wonderful spice flavors combined with the richness of the bone marrow.
I found the shiratake were the closest texture to rice noodles, and texture (along with slurping ease) is really what the noodles offer. You don't need a ton of shirataki noodles like you would rice noodles because they tend to be very filling.
Shiratake noodles are made from mostly water plus a small amount of konjac (elephant yam). They're both low calorie and low-carb.
**Pro Tip: If you use shirataki noodles they will cook with the beef when the broth is poured over. Just rinse them ahead of time. If you use rice noodles however, they will need to be cooked a bit before adding to the bowl.
The Sugar:
Some pho recipes will use quite a bit of sugar. I used 1 tablespoon of brown sugar in 9 cups of broth which isn't enough to sabatoge your diet if you track carbs on a daily basis.
If you want to be stricter with the sugar you could use Truvia brown sugar which is a blend and is a good substitute.
Truvia brown sugar still has some carbs however, so if you want to be 100% compliant with keto you would have to use a sugar substitute with no carbs.
This post on chocolate truffles offers a summary of the pros and cons of various sugar substitutes.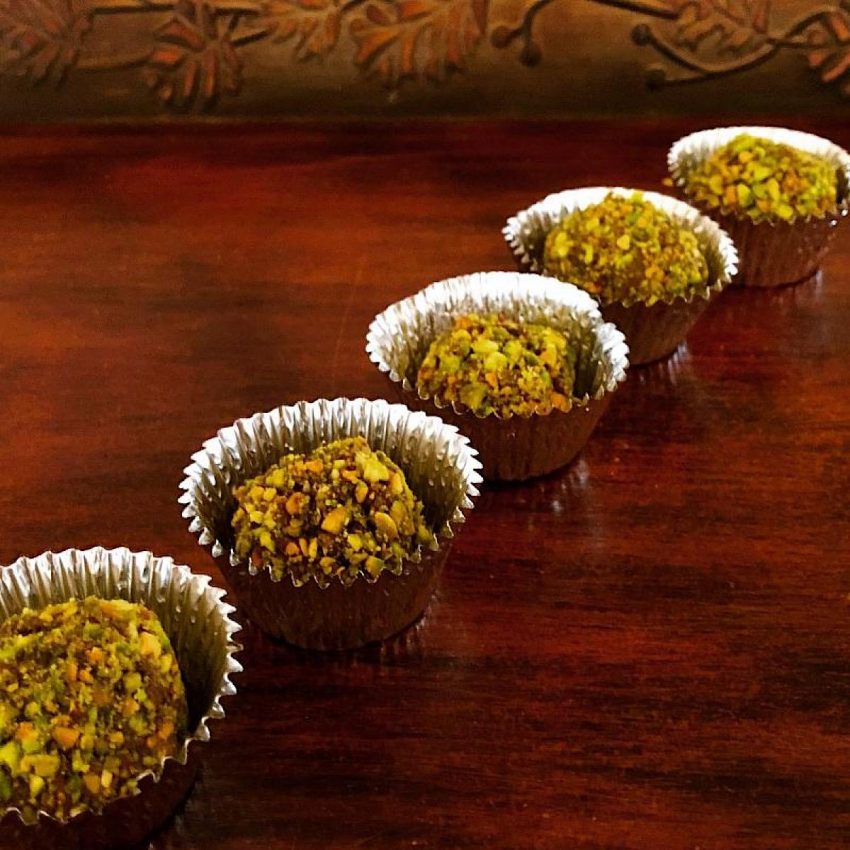 3 Keys for High Flavor Beef Pho
The Spice Profile
The classic spices included in a pho broth include coriander seed, fennel seed, star anise, cinnamon, cardamom, and cloves. These are considered "warming" spices and most have a hard coat or shell to them.
Ginger is also key but it is treated differently than the spices.
Placing the spices in a "dry" skillet (no oil at all) to toast them prior to adding to the slow cooker broth, is an enhancement that is well worth your time.
It only takes a few minutes and it really brings out the flavor and aroma of the broth. You don't want to ignore it!
The ginger is peeled and sliced and then placed under the broiler with the sliced onions to char. This is another flavor enhancer done before placing everything in the slow cooker.
The Bone Broth
You want to simmer the beef bones for a bit before putting in the crockpot. You can use any kind of beef bones, but you do need bones rather than just beef flesh to get the collagen.
Oxtail bones are good and they used to be inexpensive. They must have become popular in recent years, as I see they have really increased in price at the grocery store.
You will want to boil the bones for about 10 minutes prior to placing in the slow cooker. If you want a really clear broth, you will need to skim the scum off after boiling and rinse the bones.
Use beef bones and skim the scum if you want a clear broth, but it is not necessary. Use fish sauce, and go easy on the salt.
Using the Slow Cooker (Crockpot)
Traditional pho involves simmering bones all day. Using a crockpot allows you to simmer all day, but without worrying about stirring or burning or checking the pot.
The hands-off use of the slow cooker is it's beauty and is especially good for this kind of recipe.
The prep time for this dish really only takes about 15 minutes. If you want a deeply flavored broth however, low and slow is the way to go with the stock. You could use an instant pot, but I think the longer these ingredients have to meld together the better.
All it takes is a little pre-planning. Make the broth ahead, keep it in the refrigerator and then pull out the thinly sliced beef and the accompaniments for a quick weeknight dinner.
Choosing the accompaniments
Traditional pho has plenty of accompaniments or "garnishes". Since I was trying to replicate the pho I had in Denver, I used the following:
Mint
lime
culantro,
bean sprouts,
spicy chile peppers,
Sriracha.
Other accompaniments that are often used include:
Thai basil
Cilantro
Sliced jalapeno peppers
Scallions (green onions)
hoisen sauce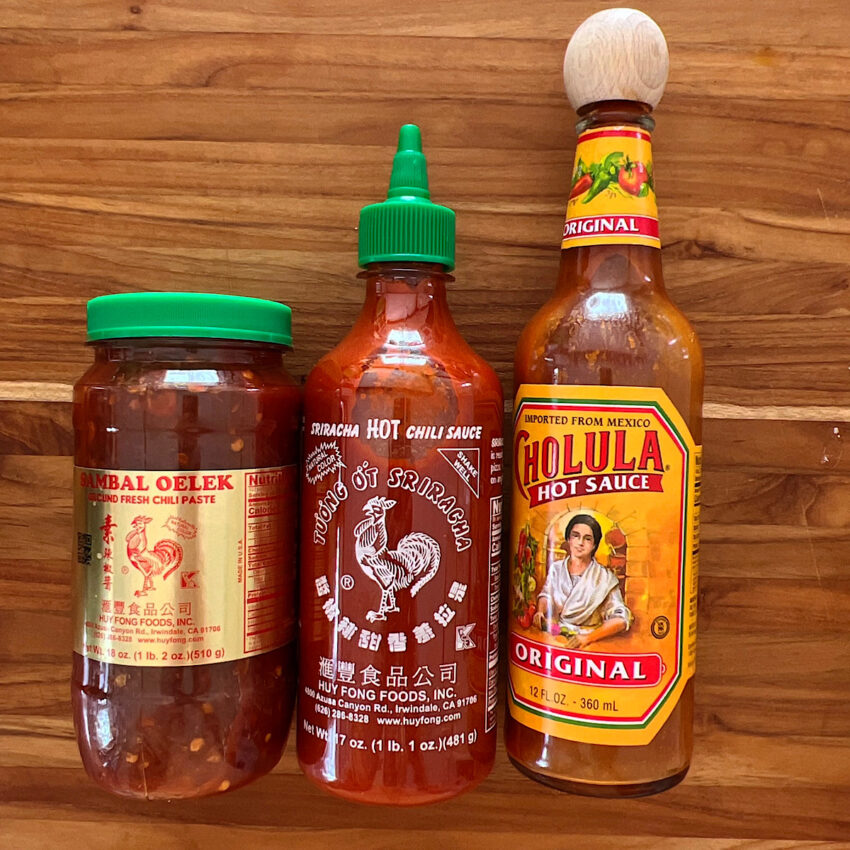 Putting it all together: Pho Assembly
The broth is the "cooked" part of pho, but the dish is not pho without its creative assembly.
In a bowl, thin slices of beef are placed. You can use a lot of different cuts of beef (sirloin, flank or london broil are some favorites), but the key is to slice it very thin so that the hot broth will cook it quickly.
If you are concerned about eating rare beef, you can cook it in the soup for a few minutes before serving
** Tip: freeze meat for 15 minutes prior to slicing to make it easier to slice thinly
Frequently Asked Questions:
How do you eat pho?
Traditionally, pho is eaten with chopsticks and sometimes a spoon. The chopsticks are used to eat the beef, the noodles and the garnishes, while the spoon is used for slurping the broth.
Can you make this recipe ahead?
You can (and probably should) make the broth ahead of time, as it takes 8 hours to fully reach its flavor. Let it cool and refrigerate and then reheat and pour over the steak and noodles to serve. Accompaniments should be used fresh.
How do you store or freeze pho?
The broth will keep in the refrigerator for 5-7 days. It can be frozen for 2-3 months. Just make sure the broth is stored or frozen separately from the noodles, beef and toppings.
How do you pronounce Pho?
Pho (pronounces 'fuh') is Vietnamese for soup or broth. The word pho comes from the Chinese term fành which means to boil something down until concentrated.
Can you make pho with chicken?
Yes, but the chicken will need to be cooked first rather than just pouring simmering broth over the raw meat.
For more details around diet maintenance, see this post. For details on getting off of a diet plateau, see this post.
Beef Pho in the Slow Cooker
Low Carb Beef Pho in the Slow Cooker
This robust beef pho takes 15 minutes of hand-on preparation and 8 hours of hands-off simmering in the slow cooker. The result is a rich, robust soup that will rival restaurant quality.
Ingredients
2

lbs.

Oxtails or beef bones

can use short ribs as an option

½

onion

sliced

3-4

inches

ginger root

Peeled and sliced into 1/4" slices

Spice medley to include:

2 tsp whole coriander, 1 tsp fennel seeds, 5 whole star anise, 6 whole cloves, 2-3 cardamom pods), a 3-4" cinnamon stick

7

cups

water

2

cups

beef broth

2

Tbsp

fish sauce

1

Tbsp

brown sugar

use truvia brown sugar for low carb or keto compliance

2

tsp

kosher salt

divided

1

lb

Shirataki (Miracle noodles)

can use zoodles for keto or low carb compliance, rice noodles for traditional pho

½

lb.

eye of round steak

sliced as thinly as possible (can substitute sirloin, flank or london broil); ** tip: freeze meat for 15 minutes prior to slicing to make it easier to slice thinly)

variety of accompaniments

*see notes below for ideas; most include limes, bean sprouts, peppers, and a range of sauces
Instructions
Turn oven to broil and bring a large stockpot of water to a boil.

Add the oxtails or beef bones to the pot and boil hard for 10 minutes. Brown scum will rise to the surface. Remove the bones with slotted spoon and rinse with cold water.

If you want the resulting beef broth to be clear (classic pho has a clear broth), then skim the scum from the top of the pot and rinse the bones before placing in the crockpot. Alternatively, use a prepared beef broth and the rinsed bone.

Add the bones to the crock pot and set the broth aside.

*note: it is OK to use the bone broth without getting all of the scum off. You may have to skim the scum from the crockpot at the end if you want a clear broth.

2 lbs. Oxtails or beef bones

While the bones are boiling, place the onion slices and the ginger slices on a baking sheet lined with foil and transfer to the oven. Broil for 2-4 minutes until charred and then turn onion and ginger over to char the other side. Remove from oven and add ginger and onion to the crock pot.

1/2 onion,

3-4 inches ginger root

Dry toast the Pho spices by placing them in a sauté pan over medium-low heat. Toast until fragrant (2-3 minutes), shaking often so as not to burn. Add the toasted spices to the crock pot.

You can strain them out later if you want a clear broth. *Alternatively, place the spices in a cheesecloth bag and place in slow cooker.

Add the water, beef broth, fish sauce, sugar and 1 teaspoon salt to the slow-cooker and set on lowest setting for 8-10 hours.

7 cups water,

2 cups beef broth,

2 Tbsp fish sauce,

1 Tbsp brown sugar,

2 tsp kosher salt

About 15 minutes before serving prepare your accompaniments. For the accompaniments: slice limes and arrange herbs, sprouts, peppers and sauces on a platter.

variety of accompaniments

When broth is finished cooking in crockpot, skim any scum that has risen to the surface.

Remove the bones and spices from the slow cooker by straining broth into a large bowl. Taste broth and add more salt, if necessary. Keep the broth at a simmer until the bowls of steak and noodles are ready.

If you are using shiratake just rinse the noodles. Drain immediately and place in the bottom of four large, individual soup bowls.

If you are using rice noodles, they should be cooked in boiling water for a few minutes.

Distribute the thin (raw) steak slices evenly on top of the noodles in the four bowls. Ladle the hot broth into each bowl. The broth should be simmering and it will instantly cook the thin steak slices and the shiratake noodles

Serve bowls of pho with the platter of accompaniments at the table.

1 lb Shirataki (Miracle noodles),

1/2 lb. eye of round steak
Notes
Ideas for accompaniments:
1-2 limes, cut in wedges
fresh herbs (I used basil, mint and cilantro. Pho 96 also used Ngo gai, which is a Vietnamese sawtooth herb they called Vietnamese cilantro)
2-3 Thai or Serrano chilies, sliced thinly
2 cups bean sprouts
Hoisin sauce
Sriracha hot chili sauce
Nutrition
Calories:
409
kcal
Carbohydrates:
7
g
Protein:
51
g
Fat:
18
g
Saturated Fat:
7
g
Polyunsaturated Fat:
1
g
Monounsaturated Fat:
8
g
Cholesterol:
160
mg
Sodium:
1885
mg
Potassium:
310
mg
Fiber:
1
g
Sugar:
4
g
Vitamin A:
1
IU
Vitamin C:
1
mg
Calcium:
61
mg
Iron:
6
mg
Did you make this recipe?
If you tried this recipe, please give it a star rating! To do this, just click on the stars above. Comments are always helpful also and I respond to all of them (except rude ones)
Where have you had the best or most authentic Pho? The sawtooth herb they used as an accompaniment in Denver must be available in the Asian markets, if you have one nearby. Sometimes it is referred to as Vietnamese Cilantro, but that may be a questionable term. Have you ever heard of this herb and what have you heard it called?