It's that time of the year….cranberries, pumpkin, gløggs, toddies, hot chocolate and of course, champagne. In keeping with the holiday "spirit", here are some cranberry cocktail recipes for either craft cocktails or mocktails using cranberry drink syrups.
Starting with a Cranberry Margarita: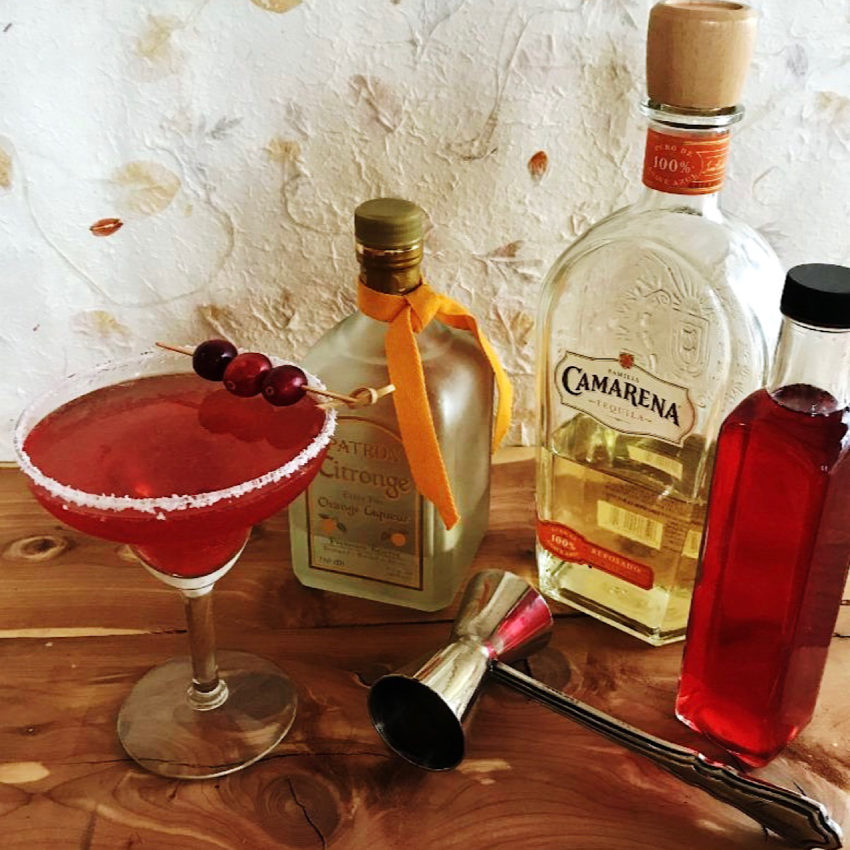 Cranberry Habanero Margarita:
Yield: 1 margarita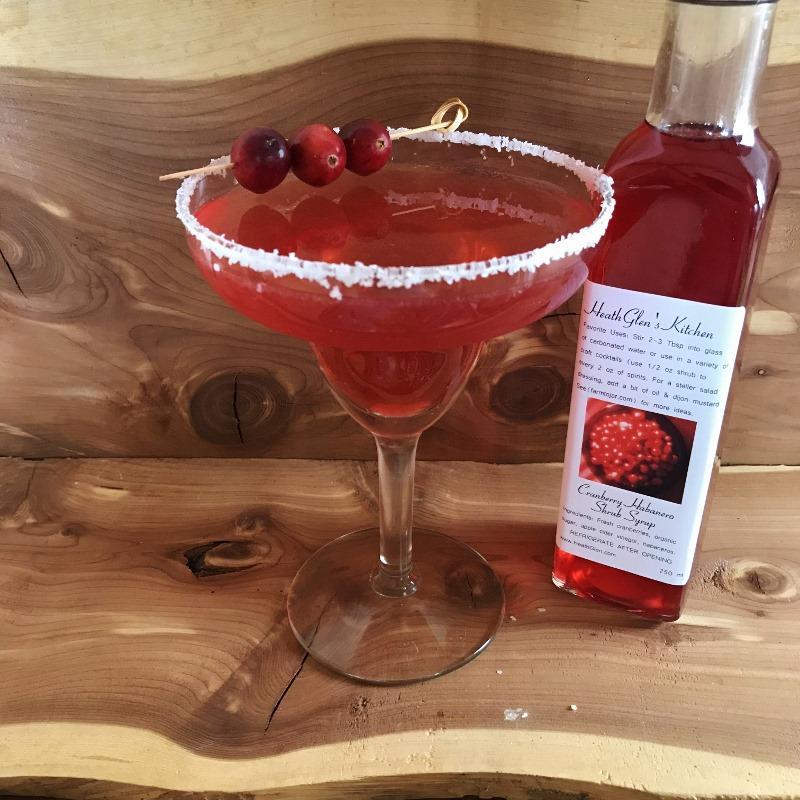 Directions:
Use one of the lime wedges to moisten the rim of the glass and then dip glass rim into some kosher salt spread out on a plate.
Combine the tequila, cranberry syrup, lime juice and orange liqueur in a shaker with ice. Shake rather vigorously for about 10 seconds.
Strain into low tumblers filled with ice.
** For Pitcher Margaritas (4 margaritas):
6 oz premium tequila
6 o. Cranberry simple syrup
3 oz fresh lime juice
3 oz orange liqueur (like Grand Marnier, Triple Sec, or Gran Gala)
More Cranberry Cocktails and Mocktails using Drink Syrups
There are two key things about cranberry drink syrups that make them so appealing during the holidays:
The visual appeal of the jewel-toned red (natural) color, and
the robust flavor of cranberries that boast the sweet but tangy punch
Here are some other cranberry cocktails and mocktails we have enjoyed over the holidays:
Cranberry Cocktail Recipes: Cranberry Martini:
2 oz. tequila
2 oz. Cranberry Habanero Simple Syrup
1 oz. lime juice
1 oz. triple sec (or orange liqueur)
kosher salt for rimming the glass
Garnishes: thinly sliced limes, lime wedges or fresh cranberries
Yield: 1 martini
Ingredients:
2 oz. vodka or gin
1 oz. Cranberry Ginger Simple Syrup
1/2 oz.dry vermouth (or Lillet if you want to go fancy)
1/2 oz. fresh lime juice
Directions:
Put martini glass in the freezer to chill.
Just before serving, fill a cocktail shaker half full with ice. Pour in the vodka or gin, the shrub syrup and the dry vermouth. Squeeze the lime juice and add to shaker. Cover with the lid and shake vigorously up and down for about 10 seconds.
Strain into the chilled martini glass, dividing evenly.
Garnish with either frozen cranberries or a lime slice.
For Pitcher Martinis: For 4 Servings, use 1 cup gin, 1/2 cup cranberry syrup, 1/4 cup vermouth, 1/4 cup lime juice.
Cranberry Ginger Tea:
yield: 1 cup
Ingredients:
1 tea bag (your favorite tea, but lemon ginger herbal tea works well)
2 oz. light rum (optional)
1/2 oz Cranberry Ginger Simple Syrup
1/2 oz orange juice
cinnamon stick for garnish
Directions:
Make your favorite cup of tea (black and green teas can take the strong flavors of cranberry, but an herbal lemon tea or a white tea will allow the cranberry syrup to shine more)
Add cranberry ginger syrup to taste (about 3 Tbsp. per cup works well), and the orange juice (addition of spirits optional). Garnish with cinnamon sticks.
Crock Pot Cranberry Ginger Tea for Parties:
Yield: 8-12 servings
Ingredients:
4 cups boiling water
6 bags of your favorite tea (black, green or herbal lemon-ginger tea)
12 oz Cranberry Ginger Simple Syrup
2 large lemons, sliced
8 cinnamon sticks, plus more for serving
4 whole cloves
1 1/2 cup dried cranberries (optional)
1 cup rum (or vodka or gin)
Directions:
Bring water to a boil on the stove top. Place the tea bags in a 6 quart pot (or crockpot) and pour the boiling water over tea bags. Cover and let the mixture steep for 5-10 minutes (shorter for black teas and longer for herbal teas).
Remove the tea bags and add cranberry syrup, lemon slices, cinnamon sticks, whole cloves and dried cranberries, stirring just to combine. Cover and cook on a low heat setting for a few hours (taste occasionally). Add Rum in the last half hour.
Serve by ladling hot tea into cups and garnishing with a fresh lemon slice and/or a cinnamon stick.
Can also be served chilled in a flute, topped off with a splash of sparkling wine or club soda.
Cranberry Sparkler:
Yield: 1 drink
Ingredients:
2 oz vodka
1 oz oz. Cranberry Ginger Simple Syrup
1/2 oz. fresh lime juice
3-4 oz. sparkling apple cider (can substitute tonic water or club soda)
Directions:
Combine the vodka, shrub syrup and lime juice in shaker and shake to combine.
Pour over ice in a tall glass and top with sparkling cider. Stir and enjoy.
Garnish with fresh cranberries or apple slice if desired.
Cranberry Mocktails:
Most cranberry cocktails can easily turn into cranberry mocktails.
For the Cranberry Hot Tea simply delete the rum. For the chilled tea, replace the splash of sparkling wine with a splash of club soda or ginger beer.
The Cranberry Sparkler is also adaptable into a mocktail…simply delete the vodka and the drink is still wonderful and refreshing.
All of these cranberry cocktails have all been happily tested in my home kitchen. Happy Holidays!
DIY Drink Syrups
Want more details on making your own shrub syrups or simple syrups? Check out a more comprehensive look at making homemade drink syrups for craft cocktails or mocktails, with a variety of different fruits or spices.