While these Low Carb Chocolate Truffles are not low calorie, they are compliant with low carb diets. Best of all they are delicious and very easy to make. I've included two optional methods for making truffles : microwave or doube boiler. Also included is a sugar free version.
Jump to:
RECIPE
Low Carb?
Best Chocolate
Sugar Alcohols
Sugar Substitutes for Baking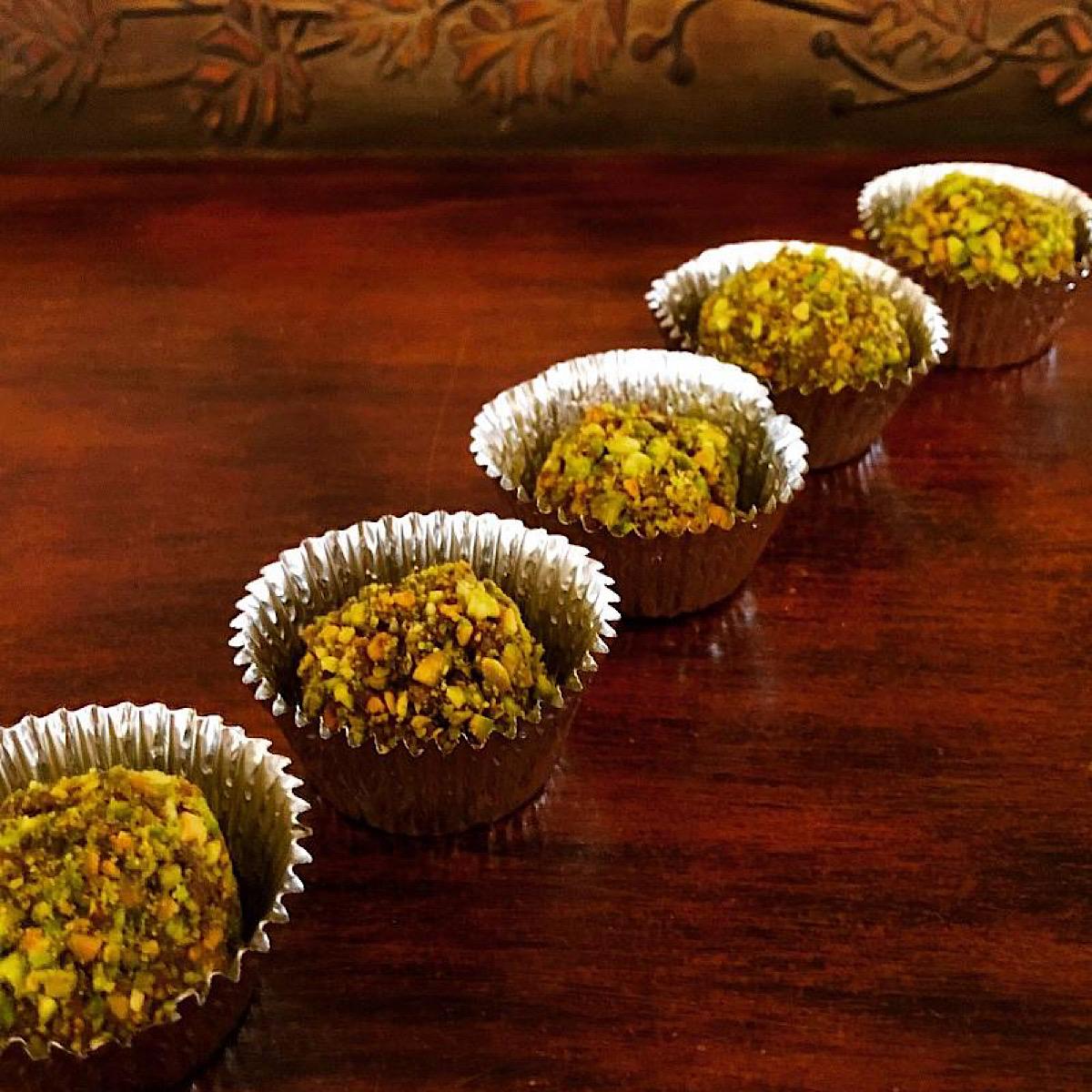 This post may contain affiliate links, and you can read our disclosure information here–
How to Incorporate Truffles into a Low Carb Diet
While the cream used in truffles is not a problem with low carb or keto diets, the sugar is often problematic. The recipe below is fairly low carb in its classic version, but the "notes" section of the recipe includes an ingredient list to lower the sugar/carbs even further.
Cocoa, the primary ingredient in 90% dark chocolate, actually has a few health benefits. Low sugar aside however, these truffles are not something you would want to eat on a regular basis if your goal is weight loss.
I keep them in the freezer (out of site) and pull one out on days when the sweet tooth is relentless, or when a special occasion calls for dessert or chocolate.
What Kind of Chocolate is Best to Use for Low Carb Diets?
I made the first round of chocolate truffles with 8 oz. of Ghirardelli Bittersweet Chocolate (60% cacao) and they were the best truffles ever. I didn't realize how much sugar could be in Bittersweet Chocolate however (when it says 60% cacao it means the remaining 40% is sugar).
I adapted the recipe to include unsweetened chocolate and added in some sugar substitutes. Still great, a little more bitter, but a lot less sugar!
Are Sugar Alcohols Natural or Artificial?
Sugar substitutes that do not spike blood sugar can be natural or artificial. Sometimes referred to as "sugar alcohols", they can be from natural souces or chemically manufactured. Sugar alcohols include such names as maltitol, xylitol and erythritol.
With respect to spiking blood sugar and insulin response, some of these sugar alcohols are fine, but others…not so much.
The worst sugar substitute is Maltitol, which has 75% of the blood sugar impact of sugar, but also only 75% of the sweetness. This means maltitol and table sugar end up being about equal when you've added enough maltitol to get to the desired sweetness.
Pros and Cons of Sugar Substitutes
The currnet medical research indicates that Saccharin, Aspartame, and Acesulfame potassium have evidence of negative health issues, but there are conflicting studies (of course).
Sucralose (or splenda) is a decent artificial sweetener, as far as impacting blood sugar, glycemic index and insulin.
Natural sugar substitutes that are considered "good" with respect to glycemic index are Stevia and/or Erythritol
Caveat for Using Sugar Substitutes for Weight Loss
With respect to anecdotal impacts of using sugar substitutes, some people believe that using sugar substitutes tricks the brain into thinking it is getting sugar and therefore derails the effort to eliminate sugar cravings. If your weight loss has stalled, this idea might be something to test out on yourself.
Best Sugar Substitutes to use in Baking:
Truvia, Swerve and Natvia are blends of Erythritol and Stevia and I find them the best taste to cook with.
The recipe below used a combination of a granular sweetener (Truvia) and a liquid sweetener (Stevia). The reason for this is that many of the powdered or granular sweeteners can result in a gritty texture (not so much in truffles because it is heated up with the chocolate).
Liquid Stevia on the other hand can leave the chocolate on the bitter side. A combination of both of them in this truffle recipe made a truffle that was nearly indistinguishable from the truffle made with the sugary bittersweet chocolate. Both recipes are included below for your cravings pleasure.
Pull out one of these delectable, hidden truffles when you need a chocolate fix. Just know that the cocoa has quite a bit of caffeine so don't eat too close to bedtime.
Enjoy either way, the classic truffle or using sugar substitutes!!! Just make sure if you do the Ghirardelli version that it's on cheat day!
Other Tested Low Carb Desserts
Recipe for Chocolate Truffles (with microwave version in notes)
Classic Chocolate Truffles with Pistachio Coating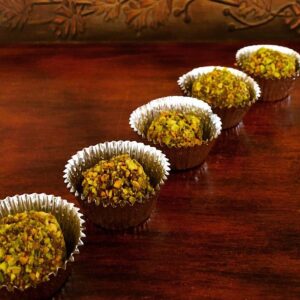 This recipe does not use sugar substitutes, but rather is a step-by-step for making classic chocolate truffles from semi-sweet or bittersweet chocolate bars
Equipment
Double boiler

Melon baller

Can use spoon
Ingredients
8

oz

Semi-sweet chocolate bar

or bittersweet

¾

cup

heavy whipping cream

fluid

¼

tsp

kosher salt

1

tsp

good vanilla

I used vanilla bean paste, but choose your own

1

Tbsp

bourbon

(optional)

½

cup

crushed pistachios

or hazelnuts or pecans
Instructions
Double Boiler Method (note: the microwave method in the notes can be used with classic or sugar free versions of truffles)
Place chocolate and cream in a double boiler or a stainless steel bowl placed over a pot of lightly simmering water. Stir constantly until everything is melted and mixture is smooth. (maybe 5-10 minutes). Do not heat over high heat or mixture might separate. Stir with a spatula and watch it melt until it is smooth and creamy.

8 oz Semi-sweet chocolate bar,

3/4 cup heavy whipping cream

Stir in salt, vanilla and bourbon while mixture is still warm.

1/4 tsp kosher salt,

1 tsp good vanilla,

1 Tbsp bourbon

Pour into a pie plate or baking dish, cover with plastic wrap and refrigerate for at least 1 hour to overnight.

When ready to make truffles, remove from refrigerator and let it get soft enough to form balls. While waiting, use a food processor to crush pistachios until you have 1/2 cup crushed nuts.

Using a melon baller or spoon, make balls (about 1 inch in diameter). Roll between palms and then roll in the crushed nuts.

1/2 cup crushed pistachios

Refrigerate, but don't serve ice cold; remove from refrigerator about 10 minutes before serving.

Can be refrigerated for up to 10 days or freeze and consume at a later day (but consume within 10 days of thawing).
Video
Low Carb or Keto Chocolate Truffles - Summary of Sugar Substitutes
Notes
Ingredients for Even Lower Sugar Truffles
2 oz. unsweetened chocolate shredded with a box grater
½ cup heavy whipping cream
1 Tbsp Truvia
¾ tsp to 1 tsp liquid sucralose
1 tsp vanilla
1 tsp bourbon optional
pinch of salt
⅓ cup crushed nuts pistachios, hazelnuts, etc.
Microwave Method:
Using a grater, shave the chocolate to that it melts more quickly

In a microwave-safe bowl, add the cream to the shaved chocolate and stir to combine.

Place the mixture in the microwave for one minute. Take out and stir until smooth. If not completely smooth, place back in microwave for 5 more seconds only. Stir again. Watch carefully so that the mixture does not separate.

Add the vanilla, bourbon and salt, cover and place in the refrigerator for at least an hour (or overnight).

When ready to make the truffles, spread the crushed nuts out on a flat surface, and scoop a spoonful of the cold chocolate mixture in your hands and roll into a ball. Roll the ball around in the crushed nuts to cover.

Place the truffles in a freezer bag or seal-able container and place in freezer.
Nutrition
Calories:
76
kcal
Carbohydrates:
5
g
Protein:
1
g
Fat:
6
g
Saturated Fat:
3
g
Polyunsaturated Fat:
0.5
g
Monounsaturated Fat:
2
g
Trans Fat:
0.01
g
Cholesterol:
7
mg
Sodium:
22
mg
Potassium:
70
mg
Fiber:
1
g
Sugar:
3
g
Vitamin A:
100
IU
Vitamin C:
0.2
mg
Calcium:
11
mg
Iron:
1
mg
Did you make this recipe?
If you tried this recipe, please give it a star rating! To do this, just click on the stars above. Comments are always helpful also and I respond to all of them (except rude ones)
Online Diet/Health Coaching:
Although I am not currently taking clients for diet & health coaching, I have been a coach for many years with the online service called coach.me. It is a great platform for all kinds of coaching – anything from specific diets, writing a blog, getting up early, or getting rid of that pesky procrastination.
There are some wonderful coaches and the testimonials will tell you what you need to know. Contact me at [email protected] to get a referral to some of the tested, experienced online coaches on Coach.me
If you'd like to start with a plan for a low carb or keto lifestyle, check out this detailed guide in ebook form. It may be all you need to lose weight on this lifestyle. Or it may be used as a supplement to one-to-one coaching.