Some "trifles" can be a bit on the fussy side. This easy raspberry trifle can be made in 10 minutes and is extremely tasty. It's a perfect dessert for celebrations or Summer porch afternoons! Easy and elegant, enhanced with a rich Chambord (a black raspberry liqueur).
Jump to: RECIPE | Re-enactment of Bastille Day | More Easy Fruit Desserts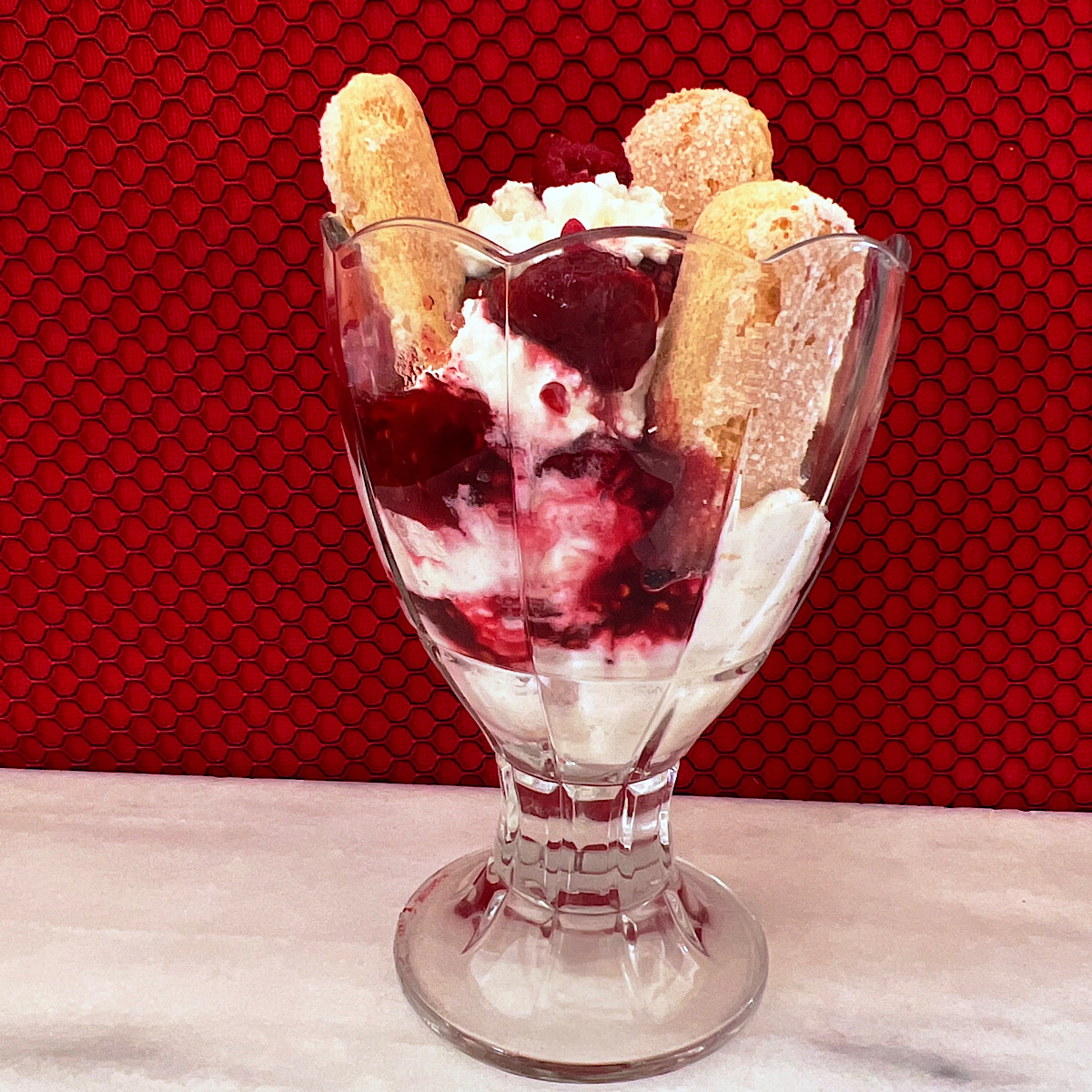 This post may contain affiliate links, and you can read our disclosure information here–
Ingredients:
Bastille Day and Marie-Antoinette
Whether or not you subscribe to the legend of Marie-Antoinette inciting riots contributing to the French Revolution by pompously declaring "Let them eat cake" when told the French citizens were starving, it is certainly a memorable quote that has resonated with much of the world at some time or another.
That infamous statement is reported to have contributed to her beheading by guillotine, for reasons of Treason, at the Bastille in 1793.
Always interested in the food and drink surrounding celebrations or events, I put together a simple recipe for Bastille Day, which I'm sure both Marie-Antoinette and the peasants would find delicious.
It's a very easy but tasty raspberry trifle using the French liqueur called Chambord. It also brings in a little Italian influence with a touch of Limoncello.
This trifle is made with scarlet red raspberries, rich fluffy whipped cream with a touch of alcohol, and a sweet crunchy ladyfinger as a spoon. It makes an impressive Valentines dessert that is deceptively easy to make.
Bastille Day History & Re-enactment
When Parisian revolutionaries and rebellious troops stormed the royal fortress of Bastille it signaled the beginning of the French Revolution, a decade of political turmoil and terror in which King Louis XVI was overthrown and tens of thousands of people, including the king and his wife Marie Antoinette, were executed.
In 1789, there were severe food shortages in France, and popular resentment against the rule of King Louis XVI was turning to fury as the citizens were starving while the monarchy luxuriated in comfort and excess. The capture of the Bastille on July 14th symbolized the end of the ancien regime and provided the French revolutionary cause with an irresistible momentum.
Joined by four-fifths of the French army, the revolutionaries seized control of Paris and then the French countryside, forcing King Louis XVI to accept a constitutional government. In 1792, the monarchy was abolished and Louis and his wife, Marie-Antoinette, were sent to the guillotine for treason in 1793.
For the peasant class, the Bastille stood as a symbol of the hypocrisy and corruption of the aristocratic government – controlled mostly by nobility and clergy. The French recognize Bastille Day as the end of the monarchy and beginning of the modern republic.
Today, Parisians celebrate this national holiday with a grand military parade up the Champs Elysées, colorful arts festivals, and raucous parties marking the holiday. Here on the farm we intend to uncork a bottle of sparkling wine, serve up some Raspberry Chambord Trifles, and celebrate. Vive la France!
If you can handle a bit of corniness, check out this video where I show you "quickly" how to make the trifle. Just know that I start and end the video with a re-enactment of Bastille Day with me as Marie Antoinette and my husband and daughter as the peasants. Caveat: it is corny. Watch the last out-take for a behind the scene of our family.
Vive la France!!
More Fruit Desserts (Low Carb & Medium Carb)
Recipe for Easy Raspberry Chambord Trifle
Raspberry Chambord Trifle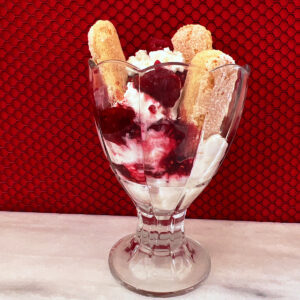 An easy dessert made with fresh fruit, whipped cream and pre-made ladyfingers.
Ingredients
3

oz.

cream cheese

at room temperature

¼

cup

sugar

½

cup

heavy cream

4

Tbsp

Raspberry Chambord Jam

or your favorite raspberry jam

1

Tbsp.

Limoncello

3

ladyfingers

halved crosswise

fresh raspberries and mint for garnish
Instructions
In a stand mixer with the paddle attachment beat together cream cheese and sugar on medium speed for 1 minute or until creamy. Using a spatula, scrape the cream cheese into a medium bowl and then rinse and dry the mixer bowl.

3 oz. cream cheese,

1/4 cup sugar

Pour heavy cream into the stand mixer (but with the wire whip attachment rather than the paddle). Beat for 2-3 minutes until the cream forms soft peaks. Be careful of splatter on your clothes and watch the cream so that it doesn't get too stiff. It changes from soft peaks to stiff peaks fairly quickly.

Gently fold whipped cream into cream cheese mixture. If you want to be fancy, add the mixture to a plastic ziplock bag and snip off one of the ends of the bag. You can layer the cream mixture into the parfait glasses in fancy swirls this way. Alternatively just leave the cream mixture in the bowl and use a spoon to dollop the cream layers onto the trifle.

In a small bowl, stir together the raspberry jam and limoncello. If the jam is a stiff jam, microwave for 20 seconds or so to soften.

4 Tbsp Raspberry Chambord Jam,

1 Tbsp. Limoncello

Place 1 of the ladyfinger halves in a parfait or tulip glass, dollop a spoonful of whipped cream mixture into the glass and then drizzle a spoonful of the raspberry chambord/limoncello mixture over the whipped cream.

Repeat the layering process above until your glass is full and top with a raspberry and a mint leaf. Cover and chill if not eating right away (chilling will make the ladyfingers less crunchy, but still delicious).

fresh raspberries and mint for garnish
Video
Dessert for Two - Raspberry Trifle for Valentine's Day
Nutrition
Calories:
571
kcal
Carbohydrates:
56
g
Protein:
6
g
Fat:
38
g
Saturated Fat:
22
g
Polyunsaturated Fat:
2
g
Monounsaturated Fat:
11
g
Cholesterol:
165
mg
Sodium:
184
mg
Potassium:
142
mg
Fiber:
1
g
Sugar:
40
g
Vitamin A:
1537
IU
Vitamin C:
1
mg
Calcium:
91
mg
Iron:
1
mg
Did you make this recipe?
If you tried this recipe, please give it a 5-star rating! To do this, just click on the stars above.