One of our family's traditions is surrounding birthdays is the "honoree" gets to dream up whatever their heart desires for their birthday dinner, and one of the other family members gets to make it. One year it involved German Chocolate Cake and as I don't bake that much it was a bit intimadating to say the least. I made this easier version of German Chocolate Cake via David Lebovitz (the master) and was surprised and delighted with the results. Follow the directions carefully and you will be a proud cake-baker…guaranteed!
Jump to Recipe
How to Ensure Success if you are an Amateur
When my (picky) son decided He wanted cioppino and German Chocolate Cake for his birthday dinner I was a little taken aback. I rarely bake and didn't want to disappoint. The ciopinno was easy because I had a go-to recipe that was great and worked every time (see recipe here), but the cake was truly intimidating. As I recalled, German Chocolate Cake was a bit on the fussy side.
But…a birthday dinner is not to be messed with, so I went to one of the tried and true masters of elegant pastries…David Lebovitz. The recipe required some steps I was not that familiar with (like cutting two cakes in half evenly for stacking) and the recipe definitely required close attention to detail, but I was baking with love. And I gave myself the whole day so as not to be rushed. It was miraculous! It was a visual delight and the taste was out of this world.
I was so relieved and proud as a peacock (yes I basked in the oohs and ahs). Here are my "secrets" for a first time success on an elegant cake:
take your time;
read the directions a couple of times and pay attention to detail;
if it doesn't look perfect, do not despair as you can be guaranteed it is going to taste great
if there is any left, if freezes really well (my son had to go back to college, so I froze it and I've been portioning out a bit at a time for my cheat days, which is a great thing to look forward to!)
*Note: this recipe is very slightly adapted from a David Lebovitz recipe from which I can no longer find the link (sorry!)
Classic German Chocolate Cake via David Lebovitz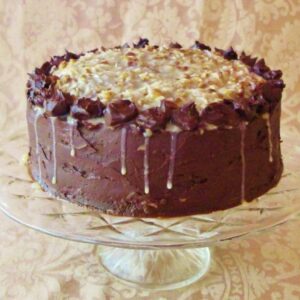 Ingredients
For the Cake
2

oz

bittersweet chocolate

(or semisweet chocolate) shredded with a cheese grater

2

oz

unsweetened chocolate

chopped

6

Tbsp

water

1

cup

unsalted butter

(2 sticks) at room temp

1 ¼

cup

granulated sugar

divided into 1 cup and 1/4 cup

4

lg

egg yolks

yolks and whites separated and reserved in separate bowls

2

cups

all-purpose flour

1

teaspoon

baking powder

1

teaspoon

baking soda

½

teaspoon

salt

1

cup

buttermilk

at room temperature

1

tsp

vanilla extract

3

egg whites

reserved from above
For the Filling
6

Tbsp

unsalted butter

cut into small pieces

½

tsp

salt

1 ⅓

cups

coconut

(unsweetened or sweetened) toasted

1

cup

pecans

toasted and finely chopped

1

cup

heavy cream

1

cup

granulated sugar

3

large

egg yolks
For Rum Syrup
1

cup

water

¾

cups

sugar

2

Tbsp

dark rum

i.e., Meyers Rum
For the Chocolate Icing
8

oz

bittersweet chocolate

grated with cheese grater or chopped

2

Tbsp

light corn syrup

3

Tbsp

unsalted butter

1

cup

heavy cream
Instructions
Preheat the oven to 350°. Butter two 9-inch cake pans, then line the bottoms with rounds of parchment paper.

Melt both chocolates together with the 6 tablespoons of water in a small bowl. Use either a double-boiler or a microwave. I used a microwave on 50% for 30 seconds to 1 minute. Stir until smooth, then set aside to cool to room temperature.

In the bowl of an electric mixer beat the butter and 1 cup of the sugar on medium-high speed until light and fluffy, about 5 minutes. Add the melted chocolate and beat on medium speed until combined. Then beat in the egg yolks (yolks only), one at a time, beating well after each addition.

In a separate bowl, sift together the flour, baking powder, baking soda, and salt.

Over low speed, beat half of the dry ingredients (the flour mixture) into the creamed butter mixture until just combined. Add the buttermilk and the vanilla extract until combined and then beat in the rest of the flour mixture.

In a separate bowl, beat the reserved egg whites on medium-high speed until they hold soft, droopy peaks. Beat in the ¼ cup of reserved sugar (slowly) and beat until they hold stiff, glossy peaks.

With a spoon, fold about one-third of the egg white mix into the cake batter to lighten it, then fold in the remaining egg whites just until there's no trace of egg white visible.

Divide the batter into the 2 prepared cake pans, smooth the tops, and bake for about 45 minutes, until a toothpick inserted into the center comes out clean. Cool cake layers completely. While the cakes are baking and cooling, make the filling, syrup, and icing.
To make the Filling
Put the butter, salt, toasted coconut, and toasted pecan pieces in a large bowl and set aside.

Mix together the cream, sugar, and egg yolks in a medium saucepan.Heat the cream mixture and cook, stirring constantly (scraping the bottom as you stir) until the mixture begins to thicken and coats the back of a spoon (an instant-read thermometer will read 170°.)

Pour the hot custard immediately into the bowl with pecan-coconut mixture and stir until the butter is melted. Cool completely to room temperature. (It will thicken.)
To Make the Rum Syrup
In a small saucepan, heat the sugar and water until the sugar has melted and dissolved. Remove from heat and stir in the dark rum. Set aside.
To Make the Chocolate Icing
Place the 8 ounces of chopped chocolate in a bowl with the corn syrup and the 3 tablespoons of butter.

Heat the cream in a small saucepan until it just begins to boil. Remove from heat and pour over the chocolate. Let stand one minute, then stir until smooth.

Let sit until room temperature. Once the filling and icing are both cooled to room temperature, refrigerate for 1 hour.
To Assemble the Cake
Remove the cake layers from the pans and cut both cake layers in half horizontally, using a serrated bread knife (some bakers cut cakes in half with a string pulled taut, but the knife worked well for me. Just keep your eye on it so you are cutting it evenly). You will now have 4 cake layers. .

Set the first cake layer on a cake plate. Brush the top of this layer well with the rum syrup. Spread ¾ cup of the coconut filling over the cake layer, making sure to reach to the edges

Set another cake layer on top. Repeat, using the syrup to brush each cake layer, then spreading ¾ cup of the coconut filling over each layer, including the top layer.

Ice the sides with the chocolate icing, then pipe a decorative border of chocolate icing around the top, encircling the coconut topping (I used a plastic ziplock bag with a hole cut out and just squirted dabs around the edges. While not as professional, it worked fine for a non-baker).

(It may seem like a lot of chocolate icing, but use it all. It is very, very good).
Nutrition
Calories:
1097
kcal
Carbohydrates:
105
g
Protein:
10
g
Fat:
73
g
Saturated Fat:
42
g
Fiber:
6
g
Sugar:
76
g
Vitamin A:
1718
IU
Did you make this recipe?
If you tried this recipe, please give it a 5-star rating! To do this, just click on the stars above.
That's it! Whew! So worth it though.