These easy mini tarts made with a store-bought pastry dough and your favorite jams or marmalades come together in 10 minutes! While these jam tarts are simple to make, the taste will only shine if you take care to use quality ingredients. A real hit with kids, for any holiday. The kids might even want to make them for Mothers' Day or Fathers' Day….they're easy and a treat for young and old.
Jump to:
RECIPE
Best Dough to Use
Substitutes for Jam Fillings
Common Questions
This post may contain affiliate links, and you can read our disclosure information here–
What is the Best Pastry Dough to Use?
Jam tarts are a classic British dessert. Traditionally the dough is a "shortcrust dough", which is quite easy to make actually. Americans refer to this pastry dough as shortbread dough.
Because I wanted to make this kid-friendly and super simple, I opted for ready-made or store bought pastry dough.
I tried it with store-bought "puff" pastry dough and found that too delicate for the jams. What seemed to work best was a refrigerated pie dough. The goal was to find a ready-made dough as close to shortbread as possible.
The winner was a refrigerated pie crust dough from Pillsbury.
If you prefer to make your own shortcrust dough, it is actually pretty simple. Here is the best DIY recipe I have found for shortcrust dough for jam tarts.
Modify Store-Bought Dough for Tarts
The only modification I made to the ready-made pastry dough for these tarts was to roll it out thinner than it came in the package. The packaged roll was for a pie, and these tarts only have a tablespoon or so of jam in them, so you don't want the jam overwhelmed by a thick dough. (my mom asked me how I got the crust so delicate 🙂
What is the Best Jam to Use?
Use your favorite jams. Because I was originally making these mini tarts for Easter, I chose a range of marmalades with their citrus colors, For Valentines Day I used a range of red jams (raspberry, strawberry and cherry).
For Christmas, they all work well…I love currant jellies, but there are many red, fruit flavored jams that are pretty for Christmas.
Just make sure to use some quality jam for these if you want to make them special.
Other Fillings to Substitute for Jam
Of course there are other fillings that are popular to use in the "jam" tarts, although jams are the simplest filling. Here are a few other ideas:
lemon curds
nutella
fresh fruit
savory ingredients that you might use in a meat pot pie
ready-made cherry pie filling
sweet potato pie filling
pecan pie filling
More Recipes Made with Jam
Frequently Asked Questions:
How do you stop them from bubbling over?
The amount of jam to dough will vary based on your molds. The goal is enough jam that the tart doesn't taste too doughy, but not so much that it bubbles over. 3/4 of the way to the top of the mold is a good estimate. If using small shapes, press them lightly into the jam at this time.
How do you keep the dough from shrinking?
To reduce shrinkage you can allow the pastry dough to rest adequately before using. Form the dough into a rough ball and place in the fridge (or a very cool area) to rest for at least half an hour. Then roll out your pastry and place it in the tart pan. Then put the pan in the fridge (or freezer) to chill thoroughly.

Using a pre-made shortcrust dough is often an easier way to avoid shrinkage because you don't tend to overwork the dough. Overworking dough can cause shrinkage
Which is best pastry dough between puffed pastry, pie dough, or phyllo (filo) dough?
Shortcrust (or shortbread) dough is the easiest dough to work with and it is sturdy enough to hold the denser jams. It is buttery and slightly sweet and is often called "pie dough" in the grocery store.

Puffed pastry dough can be used in tarts, but it is much lighter than the shortcrust dough. When it's baked it separates into airy, flaky layers and a crunchy exterior. I found it to be too light for jam-filled mini-tarts and it burns quickly.

In contrast to puff pastry, phyllo dough has almost no fat, it's mostly flour and water and can dry out easily. It is very thin sheets and is typically used for savory dishes. Phyllo gets crisp and flaky when baked but it doesn't have the same rich, airy quality that puff pastry or shortcrust pastry has.
Recipe for 2-Ingredient Jam Tarts:
2-Ingredient Jam Tarts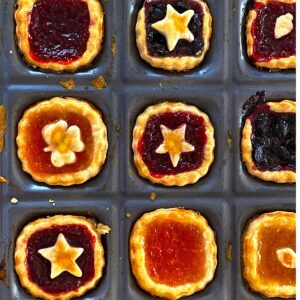 Easy, delicious British jam tarts made with only 2 ingredients. Use your favorite jam or preserve and fancy it up with dough cut-outs.
Ingredients
I/2

package

Pillsbury pie crust dough

12

Tbsp

assorted jams

1

egg

for the egg wash on the dough (optional)
Instructions
Preheat oven to 375° F. Remove on of the pie crust rolls from the box unroll onto a lightly floured surface. Lightly flour a rolling pin and roll the pie dough out to be thinner. Perhaps an additional inch or two in diameter.

I/2 package Pillsbury pie crust dough

Use a round cookie cutter slightly larger than the individual molds in the tart pan and press down firmly as many times as necessary to fill your tart pan. Use the small cookie cutters to cut out small shapes to place on top of jam.

Use a thin stainless steel spatula to lift the round dough pieces into the tart molds. Press gently into each mold, shaping it to your desired shape.

Add about 1 Tbsp of jam to each shaped tart and spread evenly. The amount of jam to dough will vary based on your molds. The goal is enough jam that the tart doesn't taste too doughy, but not so much that it bubbles over. 3/4 of the way to the top of the mold is a good estimate. If using small shapes, press them lightly into the jam at this time.

Whisk the egg and use a basting brush to spread the egg wash around the rim of the dough and onto the center shapes. This is to add the golden color, not for taste. You can also just use the egg white, or the egg yolk with a bit of water. Each egg wash gives a slightly different browning color.

Bake for 15 minutes, checking to see if jam is bubbling over. Remove when dough is golden brown. It may take 15-20 minutes, depending on your oven and how thin you rolled out the dough. Cool thoroughly, the jam gets very hot!
Nutrition
Calories:
24
kcal
Carbohydrates:
8
g
Protein:
1
g
Fat:
1
g
Saturated Fat:
1
g
Cholesterol:
14
mg
Sodium:
5
mg
Potassium:
15
mg
Fiber:
1
g
Sugar:
5
g
Vitamin A:
20
IU
Calcium:
3
mg
Iron:
1
mg
Did you make this recipe?
If you tried this recipe, please give it a 5-star rating! To do this, just click on the stars above.