Meyer lemons taste like a cross between a lemon and an orange, but they are quite expensive. This faux "meyer lemon" pie has a low carb nut crust and a no-bake lemon-orange filling that mimics Meyer lemons. Perfect for celebrations where there are guests that are watching their carbs!
Jump to:
RECIPE
Changing Pies to Low Carb
Why Meyer Lemon Substitute?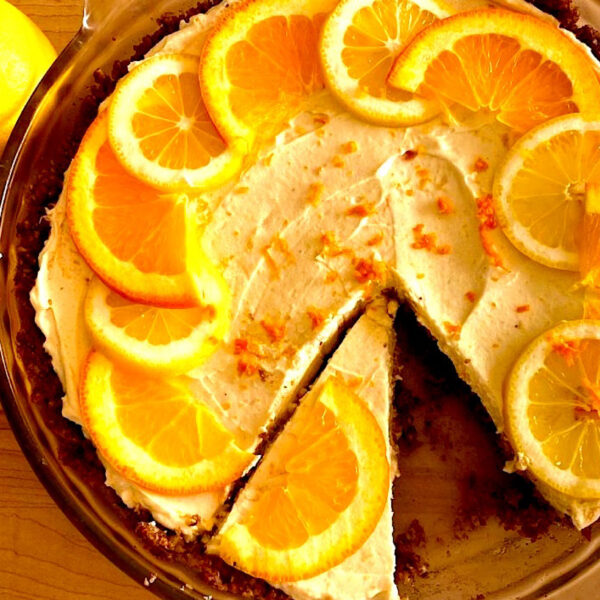 This post may contain affiliate links, and you can read our disclosure information here–
Using a Molcajete
How to Modify Pie Recipes to Low Carb
The Fruit:
Some pies are definitely easier to modify to low carb than others. Fruit pies are a bit difficult, primarily because most fruit by its nature is high in sugar.
That doesn't mean fruit is unhealthy, but it does mean that many fruits pack a lot of sugar in naturally in the form of fructose, so even using a sugar substitute isn't going to convert a fruit pie to low carb.
Cream pies are much easier to modify to low carb, as heavy cream, eggs, cream cheese, and sour cream are all considered low carb ingredients.
Just know that low carb does not equate to low calorie, so you still can't eat a whole cream pie in a sitting and be compliant with a "diet".
The Crust: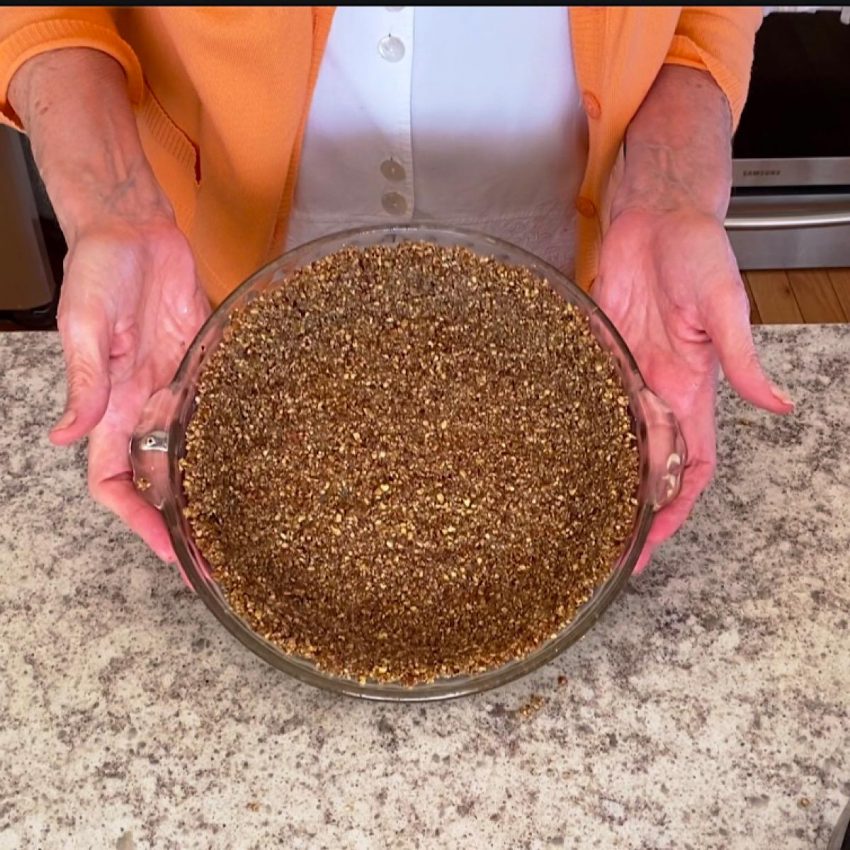 The crust is usually the most challenging part of a low carb pie. Refined flour and sugar are out so that leaves you with ingredients like almond flour, coconut flour and sugar substitutes. These flours have two problems in my mind:
It takes a "lot" of almonds to make flour out of them and the calorie count gets high really fast.
Coconut flour can a flavor to your pie that is not necessarily what you wanted.
Sugar substitutes can be used effectively, but I don't think you really need them in the crust. Let the filling be the sweetener.
Nut crusts are my crust of choice for low carb crusts. Any nut works well. I like pecans the best, but I used hazelnuts as a crust for this pumpkin cheesecake and it was wonderful.
Just grind or process the nuts to a fairly small grain size (about like a lentil size) and add butter to help it stick together, and you have a great-tasting, low-carb pie crust. I add a little salt also and perhaps some ginger or other spice, depending on the type of pie you are making.
The Sugar:
Some sort of sweetener needs to be used in a pie to bring out the flavor or you probably won't be pleased with the result. The main thing to know about using sugar substitutes when baking is:
Liquid sweeteners like Stevia can be used in no-bake pies that don't have heat applied, but you need to be careful in adjusting the amount as it is not 1:1 (Substitute to regular sugar ratio). Stevia can also add a bitter taste that puts some people off
A granular sugar substitute (Swerve, Truvia, Monkfruit blends, etc,) is great if you are baking your pie and if there is some juice that it is baking with. Using a granular sugar substitute with a no-bake pie however will result in a gritty taste that isn't horrible but isn't perfect either.
For no-bake pies, either use a sugar-substitute that says "confectioners or powdered" on the label OR grind your granular sugar substitute A few seconds in the blender to make your own powdered sugar. This is what I did in the recipe below
Sugar substitutes in baking can be tricky and not all work the same. The recipe below was tested with Truvia, which is my favorite substitute.
Why Not Just Use Meyer Lemons?
The reason I went with faux meyer lemons is twofold:
Meyer lemons are expensive
Meyer lemons are actually not low in carbs
Not only are Meyer lemons expensive (in Minnesota anyway), they are also difficult to find in the grocery store year round.
Upon some research on Meyer lemons, it appears that they are basically a cross between a lemon and an orange. Hence they are sweeter than a lemon but tarter than an orange.
I thought you might be able to get the same flavor profile with the zest of a lemon, the zest of an orange, and a citrus marmalade. I thought it turned out marvelous. Let me know if you make it and what you might add or subtract.
Oh, and oranges actually have quite a bit of sugar so they didn't work so well for a low carb pie. The zest and a sugar substitute with a bit of marmalade kept the carbs to a minimum.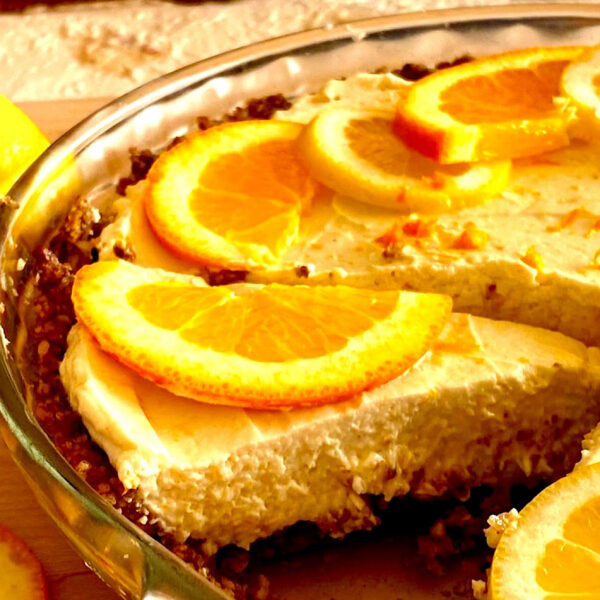 What do "stiff peaks" look like in whipped cream?
Recipes often call for "soft peaks" or "stiff peaks" when dealing with whipped cream. Sometimes it is a bit difficult to know exactly what this looks like.
This post details the timing and method to get soft or stiff peaks in whipped cream. Here are two photos that illustrate the difference: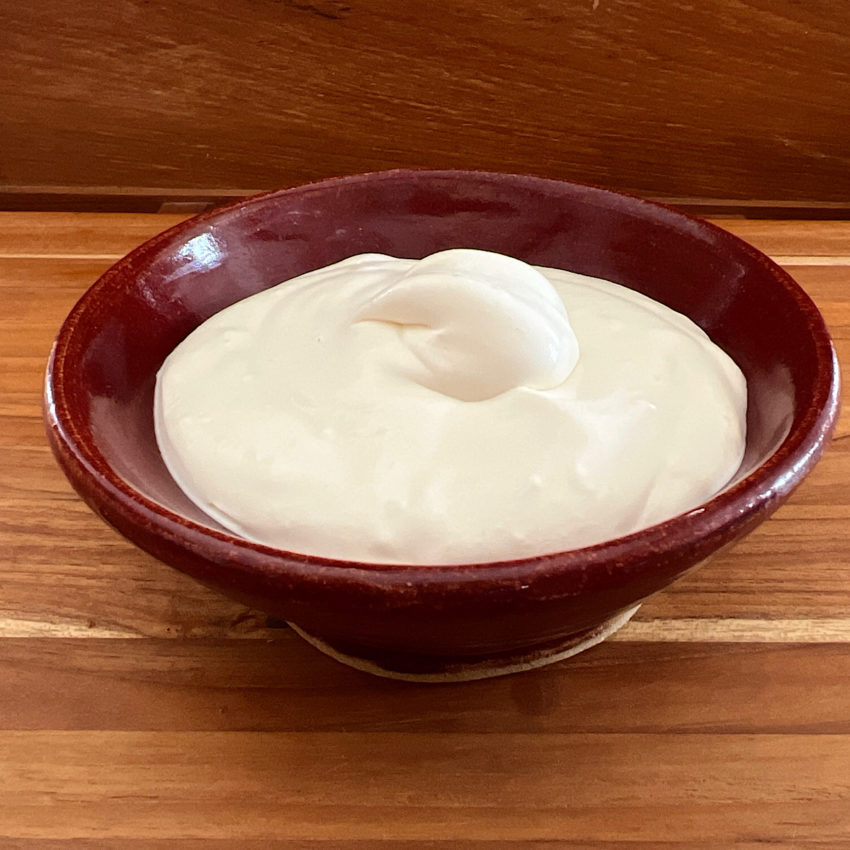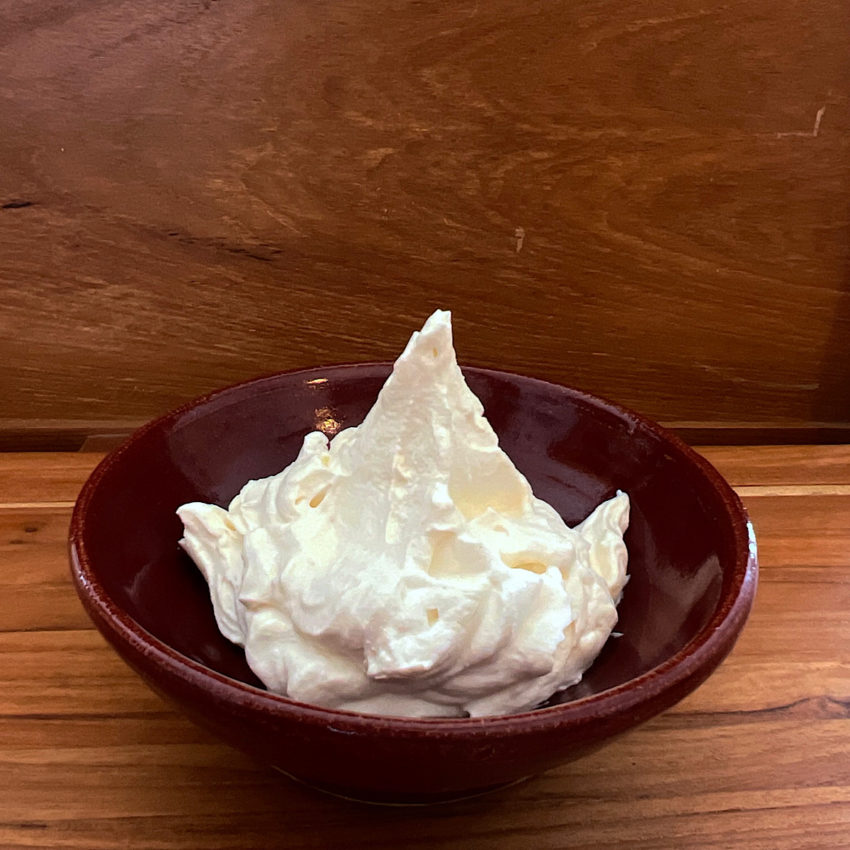 More Favorites Like This:
Low Carb Faux "Meyer Lemon" Pie for Easter
This is a no-bake filling in a nut crust. The filling tastes like meyer lemons!
Ingredients
2

cups

pecans

or nuts of your choice

6

Tbsp

butter

½

tsp

salt

1-2

tsp

sugar substitute

optional

1

cup

heavy whipping cream

8

oz

cream cheese

½

cup

confectioners (powdered) sugar substitute

see directions to make your own

⅓

cup

orange marmalade

1

tsp

vanilla

1

Tbsp

orange zest

or zest from 1 orange

1

Tbsp

lemon zest

or zest from 1 lemon

¼

tsp

lemon extract

¼

tsp

orange extract

1

orange and lemon

optional: for garnish
Instructions
Preheat oven to 350 ° F. Add 2 cups nuts to food processor and use the pulse button to get them ground to a consistency you like. Think of a grainy meal. (See photo above or video for what it should look like)

Microwave the butter a couple seconds to melt. In a bowl, add ground nuts, butter and salt. (You can add some sugar substitute at this time also, but it is optional). The nuts should stick together if you make them into a ball with your hand.

Use a little butter to grease the bottom and sides of a 9" pie shell. Gather the nut mixture into a large ball and place in the middle of the greased pie shell. Starting from the middle and working outward, pat and press the nut mixture around the bottom and up the sides of the pie shell using your fingers and knuckles. Bake in the preheated oven for 15-20 minutes until lightly browned.

While the crust is cooking make the filling. Add the cup of heavy cream to a stand mixer using the whisk attachment. Beat at a slow speed until it forms stiff peaks form. Start slow and increase speed as it thickens or it will splatter all over. See above photo or the video if you want to see what stiff peaks look like. Remove whipped cream to a bowl and rinse out or wipe the inside of the stand mixer bowl.

In the stand mixer using the paddle attachment this time, add the cream cheese and powdered sugar (*note: for DIY powdered sugar, pour granulated sugar or sugar substitute into a blender and briefly to a powdered state). Beat the cream cheese and powdered sugar until creamy (about 2 minutes). When creamy smooth, add the rest of the ingredients (excepting the garnish) and beat until thoroughly combined, scraping down the sides to combine.

Remove the stand mixer bowl from the stand and gently fold the whipped cream into the cream cheese mixture still in the stand mixer bowl. Do not overstir, but fold it in until combined. If the nut crust is cool, spread the entire filling into the crust with a spatula, swirling it a bit for effect :). Cover with plastic wrap and chill in the refrigerator for at least 4 hours or overnight. When thoroughly chilled, thinly slice the oranges and lemons and arrange on the pie. Serve and enjoy! Keep leftovers refrigerated.
Video
Low carb faux "meyer lemon" pie for Spring or Easter
Nutrition
Calories:
429
kcal
Carbohydrates:
24
g
Protein:
4
g
Fat:
42
g
Saturated Fat:
17
g
Cholesterol:
84
mg
Sodium:
294
mg
Potassium:
149
mg
Fiber:
2
g
Sugar:
9
g
Vitamin A:
983
IU
Vitamin C:
3
mg
Calcium:
64
mg
Iron:
1
mg
Did you make this recipe?
If you tried this recipe, please give it a 5-star rating! To do this, just click on the stars above.