A low sugar pumpkin cheesecake that's silky smooth with a toasted hazelnut crust that will make everyone at your table forget that it's low carb and low sugar. The only thing they'll remember is how scrumptious it is.
Jump to: Recipe | Lower Carb Sugar Substitutes | Waterbath Methods | Preventing Cracking | Nut Crusts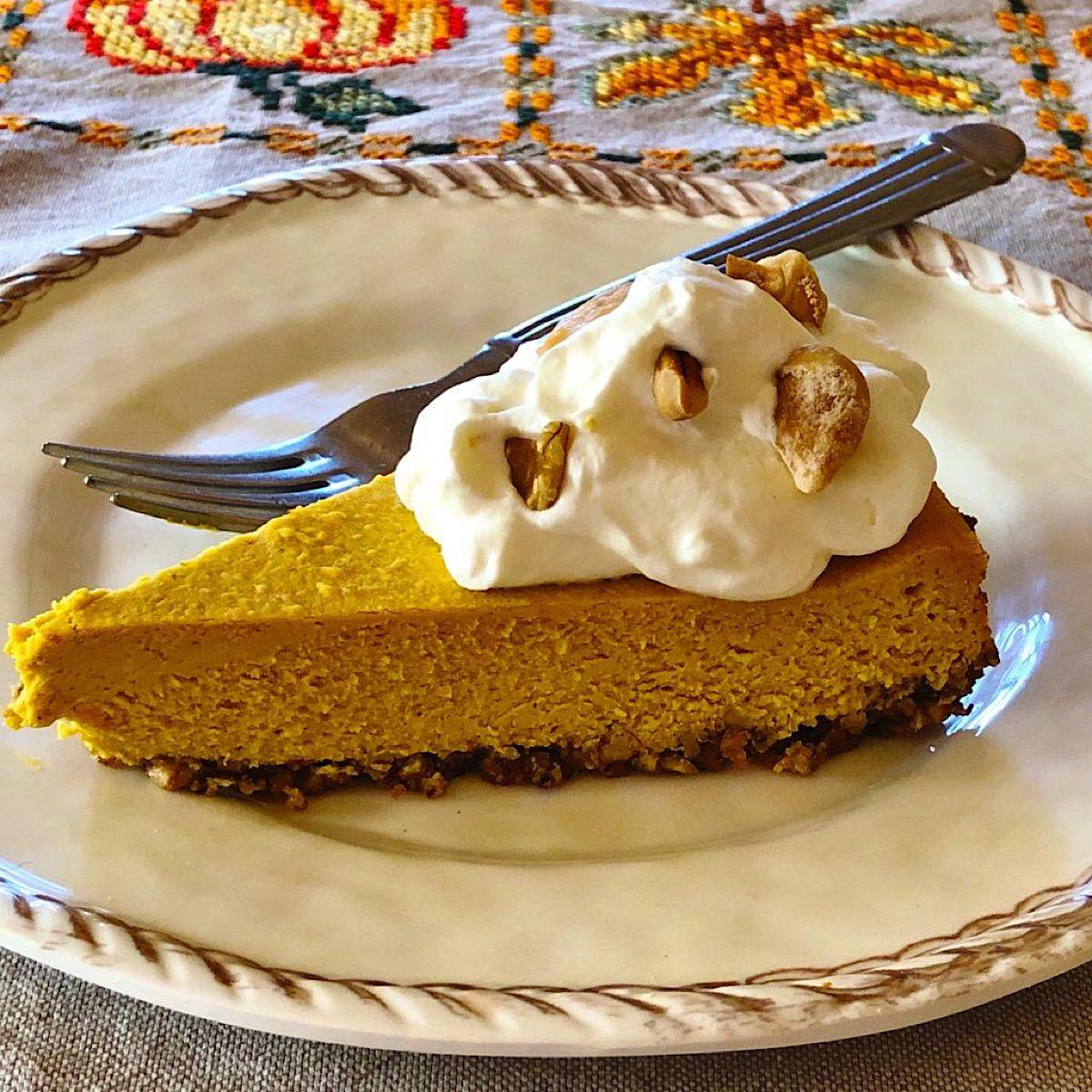 A Traditional Dessert for Holidays and Special Occasions
Cheesecake is an ancient food that has been around for millennia. You can trace the roots of this dessert back to the ancient Greeks, possibly as early as 2000 BC.
In fact, it is believed that Olympic athletes may have been served cheesecake during the very first Olympic games, although it was probably not a low sugar cheesecake!
Nowadays we continue to enjoy this classic dessert. And we have come to realize there are ways to make it that are far more health conscious. Fortunately, we now have access to many ingredients to help keep sugar and carbs low.
Best Sugar Substitutes for Low Carb Baking
There are a number of sugar substitutes available today that do not spike blood sugar. The kinds of sugar substitutes vary quite a bit however.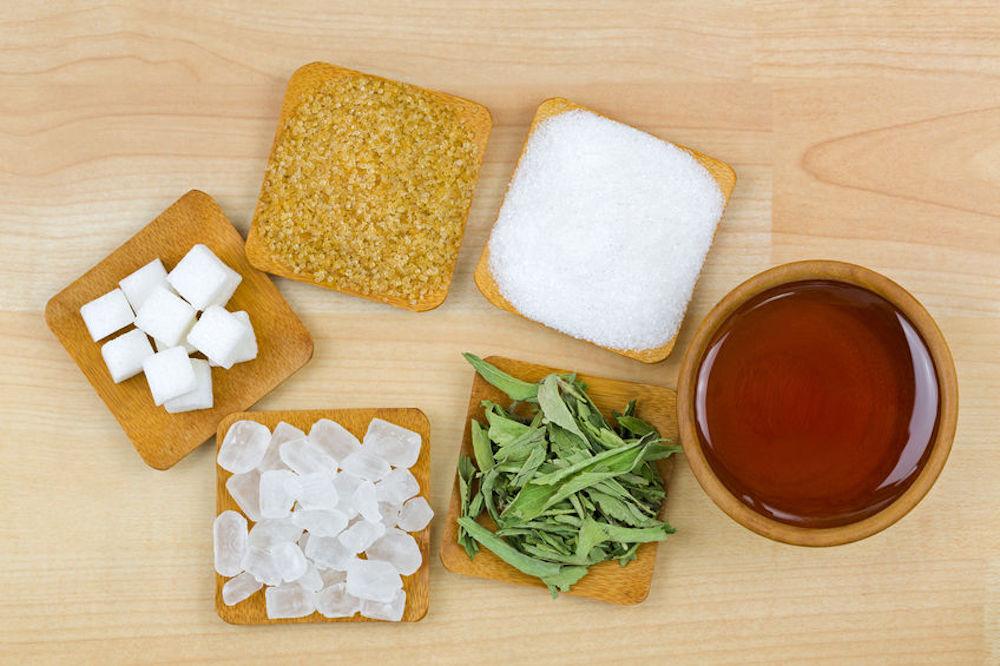 Some of them are natural and some are processed; some of them have a slightly bitter aftertaste and some do not; some will cause digestive issues with certain individuals and some will not.
It is good to try some on your own to see what works best for you, but here are a few generalities:
Stevia tends to have a bitter aftertaste
Monkfruit, Stevia, and Erythritol are all natural products
Swerve and Truvia are two popular blends of Stevia and Erythritol
Granular forms work best in baking and liquid forms work best to sweeten drinks or in liquids
There is a body of anecdotal information that professes that sugar substitutes trick the mind into thinking you are eating sugar, and therefore the sugar cravings persist. This is anecdotal and not evidence-based. It could be true. I have no idea.
I like using sugar substitutes in baking, but I don't do a lot of baking. I think the keto community goes overboard in baking with sugar substitutes. Baked products still pack in calories and too much can stall a diet.
This article will give you a detailed summary on sugar substitutes if you are interested in the different options and how they might affect a low carb diet.
Is a Waterbath Necessary for Cheesecakes?
You do need some sort of water bath to achieve the best results for a cheesecake. First of all the name cheesecake is deceiving. It is actually a "custard" rather than a cake.
A custard is a delicate dessert that can dry out and become rubbery if it isn't treated with care. A water bath distributes heat evenly around the dessert as it is cooking, and the added moisture in the oven helps to keep the dessert from becoming tough or splitting on its top.
Another creamy smooth dessert with a nut crust that is a favorite around our house is this "Meyer Lemon" pie. And it doesn't require a waterbath!
The recipe below demonstrates how to get the effect of a typical waterbath used with making cheesecake without having to place the springform pan inside of a tray of water.
This is much simpler and you don't risk splashing water onto the cake itself. Basically you put a pan of hot water on the lower rack of the oven and the cheesecake pan above it on the middle rack.
So with this waterbath method you need two pans: the springform pan in which you are cooking the cheesecake and an ovenproof pan which holds the heated water in the rack underneath the cheesecake.
As the cheesecake bakes, the moisture from the hot water will circulate around the oven and help the cheesecake to stay moist as it bakes. It will also help it to bake more evenly and improve the texture.
How to Prevent Cracking in Cheesecakes
The most important thing you can do to prevent your cheesecake from cracking is to not overbake it. Watch your cheesecake carefully as the time approaches for it to be done.
Note that the recipe says it should be removed while the center is still jiggly. Why? Because retained heat will allow it to finish cooking completely once it is removed from the oven.
Many chefs will bake it slightly undercooked and use a thermometer to measure. They will take it out at 145 degrees F. Personally, I prefer the "jiggly" method.
TIP: Occasionally the filling for cheesecake extends higher than the crust in spots. For this reason it's not a bad practice to grease the sides of the springform pan to ensure when the sides are released they don't stick to any filling. Alternatively, you can gingerly run a very thin knife around the edge of the hot cheesecake when it comes from the oven to ensure the cake releases from the pan. Finish cooling as directed.
A few other tips to prevent cracking:
Do not overwhip your cheesecake's batter. If you whip too much air into the batter the cheesecake will puff up when baking and then sink back down while cooling, causing the surface to crack.
Make sure your oven's temperature is correct. If your oven is too hot the cake will crack while it is baking. Some ovens aren't calibrated correctly and run too hot or too cold. If you aren't sure about your oven's temperature, buy a thermometer to place in the oven to check. This will help in all your cooking.
Slowly cool your cheesecake once you remove it from the oven. If you place it someplace drafty, or try to speed up the cooling by placing it in the refrigerator, the cheesecake will develop crevasses in the top and possibly even deeper.
Which Nuts Are Best to Use in a Nut Crust?
In my opinion, the nut crust is what really amps up the flavor of this dessert. Hazelnuts are what the recipe below calls for and are an enjoyable taste treat, but they are sometimes difficult to find.
In reality, any type of nut will work. If you like it, then give it a try. Personally I would recommend either pecans or walnuts, the flavors of these nuts harmonize well with pumpkin.
Just remember, that while a nut crust is flavorful and low carb, it is most definitely not low calorie.
Recommended Kitchen Equipment
Cheesecake is not that fussy to make if you have the right equipment. You can probably get by with any kind of mixer for the filling and a sharp knife for the nut chopping, but you will definitely need a 9″ springform pan (10″ works also with this recipe). These are the items I used that made life pretty easy:
a large pan for boiling water to place in oven below the cheesecake
For a step-by-step process in making a cheesecake (low carb or not), check out the video below. I have included tips in the video to make it infinitely easier to make a cheesecake that doesn't crack. It does take some time to cook and cool thoroughly, so be sure and make the cheesecake a day ahead.
Other Delicious Pumpkin Desserts
Try pumpkin cheesecake bars if the waterbath method seems fussy
These pumpkin pancakes can be made sweet or savory!
Treat your family or friends with a care package of Pumpkin Amaretto Quick Bread
And lastly, try these fun Pumpkin Whoopie Pies with Chai Filling
This post may contain affiliate links, and you can read our disclosure information here–
Low Carb Pumpkin Cheesecake
Low Sugar Pumpkin Cheesecake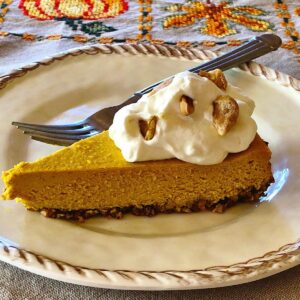 A low sugar, delicious pumpkin cheesecake with a nut crust. Tips for preventing cracking and a guide for how to use a water bath.
Ingredients
2

cups

hazelnuts

6

Tbsp

butter

melted

½

tsp

ginger

¼

tsp

salt

2

Tbsp

granular sugar substitute

I used brown sugar Swerve

14

oz

pumpkin puree

1

cup

Swerve granular sugar substitute

1

cup

heavy whipping cream

1

tsp

cinnamon

½

tsp

ginger

¼

tsp

nutmeg

1

tsp

vanilla

¼

tsp

salt

2

Tbsp

bourbon

optional

24

oz

cream cheese

3

eggs
Instructions
For Crust: Pour the nuts into a food processor and using the pulse option, chop nuts until they are the size you prefer for nut crusts (anywhere from coarse sand texture to grains of rice texture). Pulsing instead of a continuous speed will allow a more uniform chop.

Pour chopped nuts into a bowl and stir in melted butter, ginger, salt and 2 Tbsp sugar substitute. Mix everything together thoroughly. To test texture, use your hands and squeeze together a small amount. It should stay clumped together when squeezed into a ball.

2 cups hazelnuts,

6 Tbsp butter,

1/2 tsp ginger,

1/4 tsp salt,

2 Tbsp granular sugar substitute

Grease the bottom of the springform pan with butter. (Alternatively use a piece of parchment paper or use a spray oil). Place the nut mixture in the springform pan and press it evenly over the bottom and up the sides about 1 inch. Press it in firmly with your hands, knuckles or the bottom of a glass.

Place in oven and bake for 15 minutes at 325° F

Remove the crust from oven when done and allow it to cool while making the filling.

Put a large pot of water on the stove and bring to a boil. Let it simmer on stove until you are ready to use it for the waterbath

For Filling: Combine the pumpkin puree, the Swerve sugar substitute, the heavy whipping cream, the spices, the vanilla and the bourbon if using. Heat it up a bit on the stove and stir to melt the sugar (don't boil).

Pour the combined ingredients into a stand mixer affixed with the paddle attachment.

14 oz pumpkin puree,

1 cup Swerve granular sugar substitute,

1 cup heavy whipping cream,

1 tsp cinnamon,

1/2 tsp ginger,

1/4 tsp nutmeg,

1 tsp vanilla,

1/4 tsp salt,

2 Tbsp bourbon

With the stand mixer on a low speed, add the cream cheese to the mixing bowl of the mixer, a little at a time, and blend. Continue until all cream cheese is added and the mixture is creamy and silky. Add the eggs and just blend lightly until mixed in.

24 oz cream cheese,

3 eggs

Allow crust to cool if it is still hot. When cool, pour in filling and smooth out top with a spatula (don't tap down the pan).

Pour the simmering water from the pan on the stovetop into a baking pan that can fit into the bottom rack of your stove. Place the pan of water on the bottom rack and place the cheesecake on a rack above the water (this is instead of placing pan inside of a water bath).

Bake cheesecake for about 90 minutes, but check it after one hour as all ovens are slightly different. It should look set and golden brown but have a "jiggly" center. If you have a thermometer, many chefs will take it out at 145°. Standard practice for home cooks is 160° F. Just be sure not to overbake or it will crack.

Gently remove pan from oven and set on top of stove to cool to room temperature. This may take an hour. When at room temperature, cover with foil and place in refrigerator for 4 hours or overnight

When ready to serve, remove cheesecake from the refrigerator and undo the springform pan so the sides come off. Slice and serve with a dollop of whipped cream on top and enjoy!
Nutrition
Calories:
353
kcal
Carbohydrates:
19
g
Protein:
7
g
Fat:
34
g
Saturated Fat:
16
g
Polyunsaturated Fat:
2
g
Monounsaturated Fat:
13
g
Trans Fat:
0.2
g
Cholesterol:
102
mg
Sodium:
257
mg
Potassium:
238
mg
Fiber:
2
g
Sugar:
4
g
Vitamin A:
4829
IU
Vitamin C:
2
mg
Calcium:
82
mg
Iron:
1
mg
Did you make this recipe?
If you tried this recipe, please give it a 5-star rating! To do this, just click on the stars above.
Online Diet/Health Coaching:
Although I am not currently taking clients for diet & health coaching, I have been a coach for many years with the online service called coach.me. It is a great platform for all kinds of coaching – anything from specific diets, writing a blog, getting up early, or getting rid of that pesky procrastination.
There are some wonderful coaches and the testimonials will tell you what you need to know. Contact me at [email protected] to get a referral to some of the tested, experienced online coaches on Coach.me
If you'd like to start with a plan for a low carb or keto lifestyle, check out this detailed guide in ebook form. It may be all you need to lose weight on this lifestyle. Or it may be used as a supplement to one-to-one coaching.