Some of the tastiest Winter squash varieties are gigantic, resulting in leftover pumpkin/squash puree after cooking. What to do with it? Make some delicious, savory (or sweet) pumpkin pancakes! Pumpkin pancakes work equally well with canned pumpkin. Bonus: you can make them in a skillet or baked in a sheetpan.
Jump to:
RECIPE
Savory vs Sweet
Tips for "Fluffy" Cakes
Low Carb?
Sheetpan Pancakes for a Crowd
Good Pancake Toppings

Savory vs Sweet
The recipe below is for savory pumpkin pancakes with no sugar and some chile powder and rosemary, but the recipe is plenty easy to change up to a sweeter version.
If you prefer a sweet pumpkin pancake (more like the I-hop version), try one of the following additions or substitutions:
Switch the savory chile pepper powder and rosemary and use the sweet spices like cinnamon, ginger, and nutmeg instead;
Add 1/4 cup sugar to the batter
Or, instead of adding sugar to the batter, sweeten the pancakes with a topping (maple syrup, jam, fruit syrups, etc.)
Ingredients for Savory Pumpkin Cakes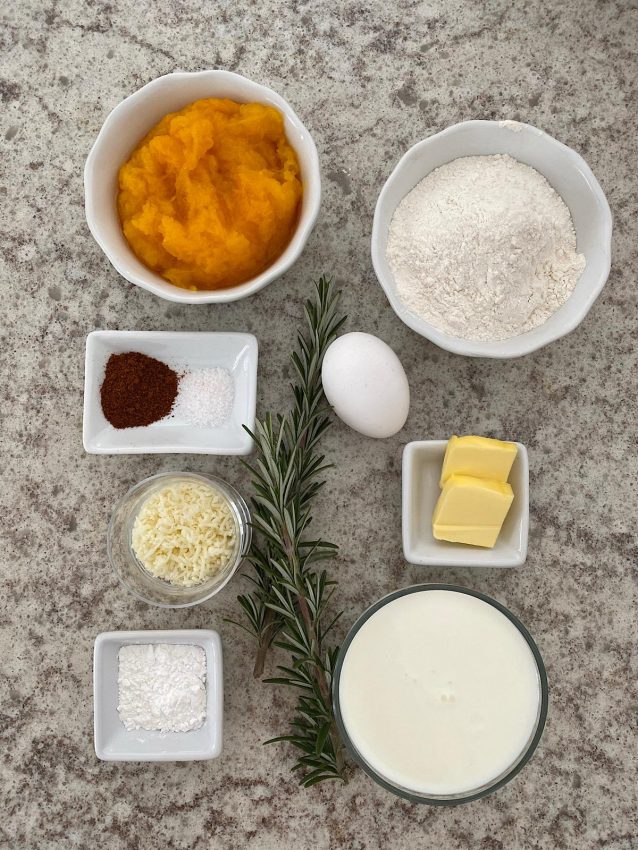 Tips for Fluffy Pumpkin Pancakes
A problem with pumpking pancakes is they sometimes come out too gooey. There are 3 key things to be aware of to get the best fluffy pumpkin pancakes.
1. Thickness:
The first is that the batter tends to be thick, so you might have to thin it down with a little more milk or buttermilk. Thicker pancakes take longer to cook all the way through.
2. When to flip:
Secondly, pumpkin pancakes are more dense than a typical fluffy pancake so you need to cook them longer over a medium-low heat. Don't wait for the typical bubbles to form in the middle to signal the time to flip them.
Regular fluffy pancakes have more liquid in them and when you see the bubbles rising to the top of them it is the steam evaporating telling you that the inside of the pancake is almost done, and time to flip it.
With pumpkin pancakes you won't see the bubbles, and they will take a little longer to cook. I usually lift them up with a spatula to see if they are golden brown on the bottom, flip them and then let them cook another 3-4 minutes on medium low. You'll get the hang of it after the first batch.
3. Type of pumpkin:
If you are using canned pumpkin, make sure it is 100% pumpkin and not pumpkin pie filling. Canned pumpkin pie filling is too moist.
The hardest part of making pumpkin pancakes is knowing when to flip them over and how long to cook them. The good thing is, the first few can be a trial and you still have a lot of batter left to learn from any mistakes.
Are they Healthy, Low Carb or Keto?
Pumpkin is considered quite healthy, as it is rich in a wide range of vitamins, minerals and antioxidants. Pumpkin or squash is also fairly low in calories.
Regarding the low carb ingredients: the recipe below does not include sugar as an ingredient, but it does include flour and buttermilk which are not considered low carb or keto ingredients.
If you are strictly keto most winter squash/pumpkin will be too high in carbs for you anyway and you would have to modify the recipe quite a bit. Pumpkin powder might work, but I do not have experience with it.
If you are "low-carb-ish" then the recipe can be modified to use almond flour.
The bigger problem with pumpkin pancakes is the toppings you choose. Maple syrup, jam, yogurt, etc. are all going to increase the carbs.
Although most pancakes are not generally thought of as "healthy", and certainly not low carb, an option to increase the health aspect would be to use a high protein pancake mix called Kodiak Cakes, and add some healthy vegetables to it.
My husband is a big fan of kimchi and he made these kimchi pancakes recently that were really good.
Can I Use Canned Pumpkin or a Pancake Mix?
Yes, you can substitute in canned pumpkin for squash puree. Just make sure it is 100% pumpkin and not pumpkin pie filling.
And yes, you could also use a pancake mix from the grocery store, but honestly the recipe is truly quick and easy and is made with everyday ingredients. It takes 10 minutes to toss it all together.
Sheetpan Pumpkin Pancakes for a Crowd
If you are nervous about making stovetop pumpkin pancakes for a crowd, just make up the batter and bake it on a cookie sheet.
I do think it's easier, however to get crispy pancakes on the stovetop and then keep them warm in an oven at 200 degrees F. The baked sheetpan method is good and extremely easy but they are not as crisp.
If you do want to opt for the sheetpan method here are the steps:
Preheat the oven to 400 degrees F
Make the batter (see recipe below)
Place a piece of parchment paper on the bottom of the pan; butter it. Pour batter evenly into the pan.
Bake for 10-15 minutes or until cooked through.
Use a round bowl or doughnut press to cut the cakes into rounds.
Best Toppings for Savory or Sweet
My favorite topping for savory pancakes is a dollop of sour cream or Mexican crema, with a touch of maple syrup on top. Incredible and addictive! Here are some other topping favorites:
Toasted or candied pecans for the sweet versions.
Bacon topped with a bit of maple syrup.
Your favorite jam.
Citrus marmalades go really well with pumpkin flavors.
Peanut butter
Greek yogurt (or sour cream or Mexican crema).
Maple syrup (grade B is best).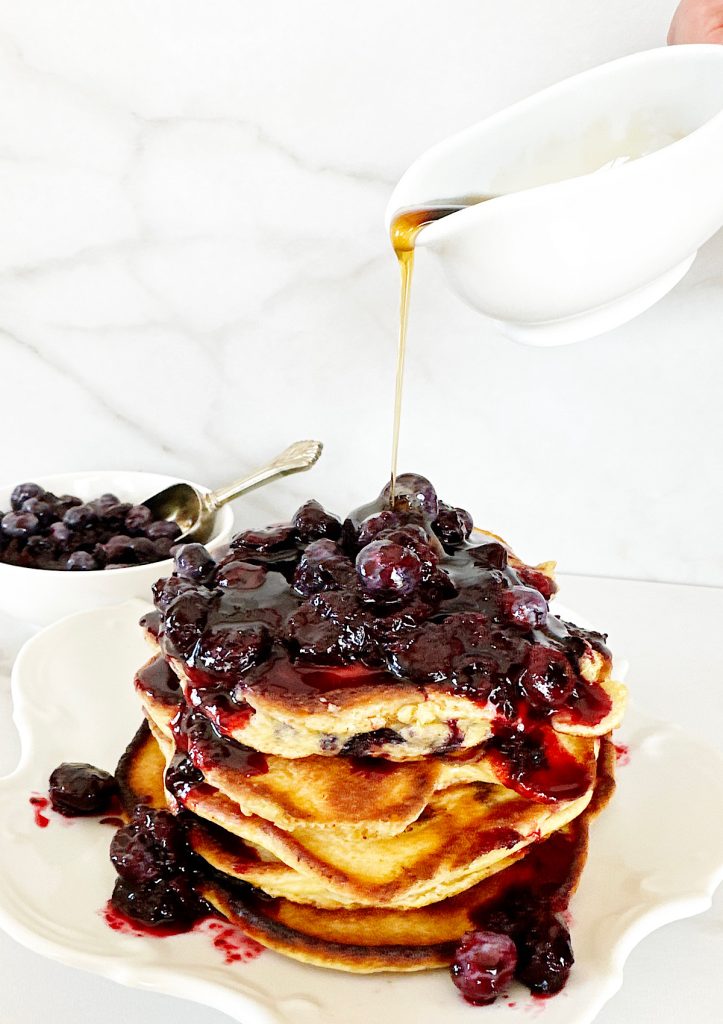 How to Freeze and Reheat
Pancakes do freeze well if you've made a large batch for a crowd. If you just have a few leftover ones they are easy to reheat in a toaster or in a dry skillet. The microwave is not really the best option as they lose their crispness that way.
My husband likes to eat them cold as a roll up with peanut butter inside. It's a hold-over from his youth when his grandmother would make "sugar dollies".
Sugar dollies were basically a cold pancake with granulated sugar spread on top of it and then rolled into a tube that could be held in the kids hands without a mess. Now that is a sweet pancake!
More Sweet & Savory Pumpkin Recipes:
If you make and love this recipe, please leave a ★★★★★ review below and any comments others might find helpful. It means a lot to me when you try my recipes, and I'd love to know how it goes.
Pumpkin Pancakes
This recipe uses leftover squash to make delicious savory pancakes. Canned pumpkin can be used instead of squash, and they can be easily modified to be sweet instead of savory.
Equipment
2 large bowls

measuring cups
Ingredients
1 ¼

cups

flour

All purpose

¼

cup

parmesan

Shredded

2

teaspoons

baking powder

1

teaspoon

chile pepper spice

I used chipotle

1-2

teaspoons

rosemary

Finely minced

½

teaspoon

salt

1

cup

squash puree

Butternut or any winter squash, roasted (alternatively use canned 100% pumpkin)

1

cup

buttermilk

Can use other milks, but buttermilk adds a nice tang

1

egg

2

tablespoons

butter
Instructions
In a large bowl, whisk together all dry ingredients (flour through salt).

1 1/4 cups flour,

1/4 cup parmesan,

2 teaspoons baking powder,

1 teaspoon chile pepper spice,

1-2 teaspoons rosemary,

1/2 teaspoon salt

In another bowl, mix together wet ingredients (squash, buttermilk and egg).

1 cup squash puree,

1 cup buttermilk,

1 egg

Combine the wet and dry ingredients and mix together thoroughly. Don't overmix, the batter will be lumpy. Let it rest for about 5 minutes.

Heat 1 tablespoon butter in a large skillet over medium heat. When hot, scoop portions of the batter into the skillet and smooth out into a fairly thin pancakes. I used a 1/3 cup measuring cup for the scoop which fits 4 pancakes into my large cast iron skillet

Cook over medium to medium low heat for about 5 minutes. Lift one of the pancakes with a spatula to see if underside is done. When golden brown flip the pancake and continue cooking on the other side for another 3-4 minutes.

Place in a 200 degree oven to keep warm if making more than one batch. Serve with a range of toppings (ideas are in the above post).
Nutrition
Calories:
181
kcal
Carbohydrates:
23
g
Protein:
6
g
Fat:
7
g
Saturated Fat:
4
g
Cholesterol:
45
mg
Sodium:
348
mg
Potassium:
227
mg
Fiber:
1
g
Sugar:
2
g
Vitamin A:
255
IU
Calcium:
161
mg
Iron:
1
mg
Did you make this recipe?
If you tried this recipe, please give it a star rating! To do this, just click on the stars above. Comments are always helpful also and I respond to all of them (except rude ones)
Online Diet/Health Coaching:
Although I am not currently taking clients for diet & health coaching, I have been a coach for many years with the online service called coach.me. It is a great platform for all kinds of coaching – anything from specific diets, writing a blog, getting up early, or getting rid of that pesky procrastination.
There are some wonderful coaches and the testimonials will tell you what you need to know. Contact me at [email protected] to get a referral to some of the tested, experienced online coaches on Coach.me
If you'd like to start with a plan for a low carb or keto lifestyle, check out this detailed guide in ebook form. It may be all you need to lose weight on this lifestyle. Or it may be used as a supplement to one-to-one coaching.