Seared tuna steaks only take 3 minutes to cook! Serve them with this white bean and tomato side dish and you have a healthy slow carb or Pesco Mediterranean weeknight dinner.
Jump to:
RECIPE
Frozen Fish vs Fresh
How to Cook Tuna
Balsamic Glaze
White Bean Side Dish
Pesco Mediterranean Diet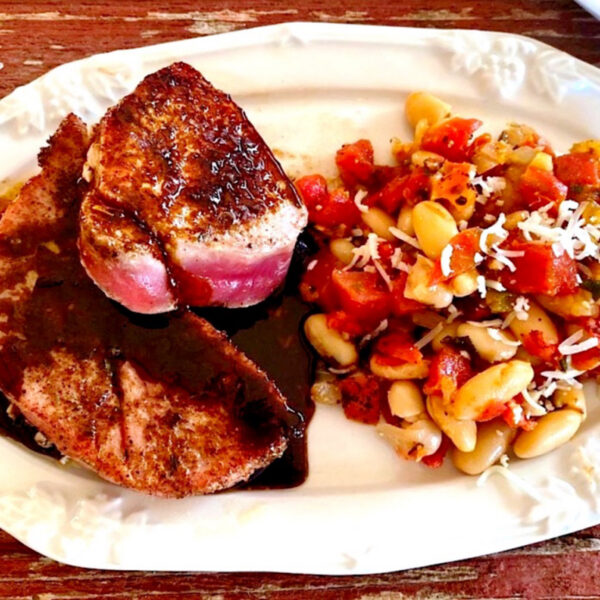 This post may contain affiliate links, and you can read our disclosure information here–
Will Frozen Tuna Steaks Work?
Yes!! While frozen tuna steaks are not sushi-grade quality, they are delicious and available to the home cook. We're not making sushi here!
Tuna steaks usually come in about 4 ounce steaks that average around one inch thick. They are a fairly meaty and rich form of seafood and recipes that would work with swordfish, or even steaks, are readily adapted to tuna steaks.
How Best to Cook Tuna Steaks?
Like most seafood, tuna should be cooked quickly, but unlike other seafood tuna should be left somewhat translucent or raw in the middle. This is because…
Tuna dries out quickly. I have included a balsamic glaze with this recipe that serves as a great dipping sauce in case your tuna gets dry;
Tuna will keep cooking once you take it off the burner. With steak, you will often see that it is important to let it rest. This is mostly to allow the meat juices to seep back into the meat. With tuna however, you want to serve it quickly to avoid overcooking or drying out.
Secrets to Perfect Seared Tuna:
Use tuna steaks that are about 1" thick. Less than this and the inner portion of the tuna cooks too fast, more than this and the inner portion will still be cold
Use a non-stick skillet
Triangular shaped steaks will cook slower than rectangle shaped steaks
Tuna steaks will continue to cook with residual heat once removed from skillet, so either serve right away for rare, or let sit for medium rare.
Using a paring knife to peek into the center works better than a thermometer (clumsy) due to the speed with which tuna will cook.
Another popular way to cook tuna (or salmon) is with a nut crust. This pistachio crusted tuna with sour cream sauce turned out particularly well.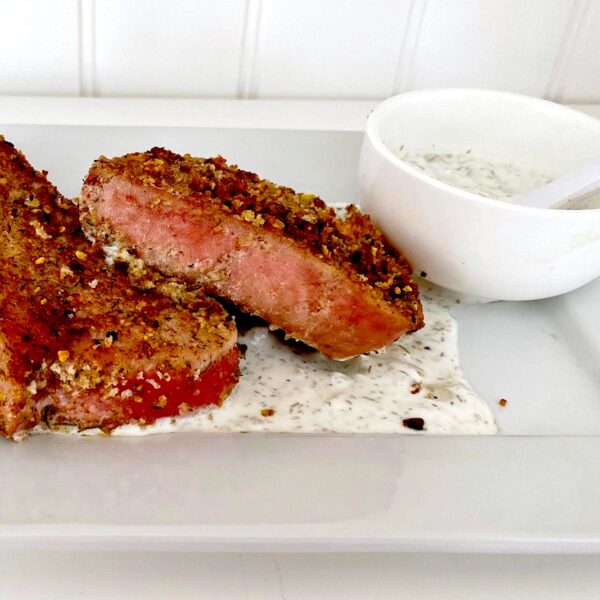 Seasoning Options for Seared Tuna
In the recipe below I used a jerk seasoning rub before searing the tuna (along with a little salt and pepper). Many different seasoning mixes work well with tuna however if you don't care for spicy foods.
Ground fennel is another one of my favorite rubs. Salt and pepper alone or an Old Bay rub are also popular seasoning mixes for fish recipes.
If you are a fan of tuna but are looking for something great that you can make with tinned tuna, try this Mexican Tuna Salad (easy peazy) or this classic Nicoise salad made into a sandwich.
Balsamic Reduction Sauce for the Tuna
A balsamic glaze is truly quick and easy to make, and it enhances both the flavor and texture of the fish. I made the balsamic reduction sauce before searing the tun so I wouldn't get overwhelmed and overcook the tuna.
It takes about 5 minutes to make and it can quickly be heated up if is cools down too much while your fish is cooking.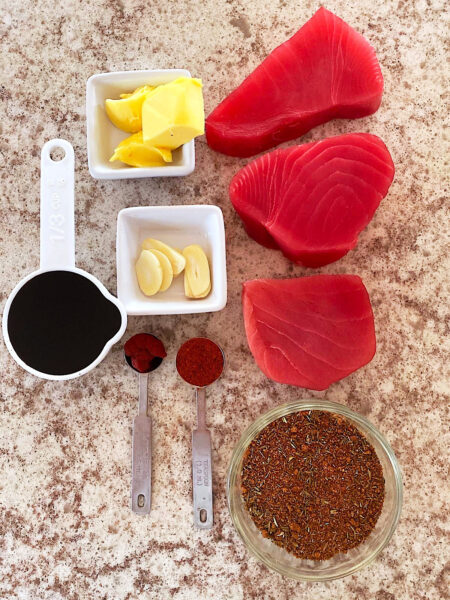 White Beans as the Best Side Dish
White beans and tuna are a classic combination in salads. They also work really well however for a warm dinner side dish.
I used Cannellini beans (white kidney beans), but the smaller navy (pea) beans, or the Great Northern beans work well also.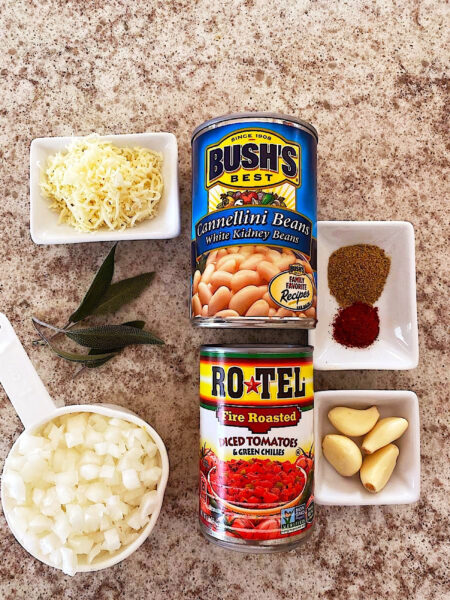 I don't know why white beans are preferred with tuna over red beans, but it is much more traditional. I suspect some of it is visual, but we do eat with our eyes and white beans with red tomatoes served with the rich brown balsamic glaze is heavenly.
Differences Between the Types of White Beans:
Navy (pea) beans are small, oval-shaped, and quick-cooking. Because they get creamy when cooked, they're perfect for purees, stews and mashing. While all beans are high in fiber, Navy beans have the most at 19 grams per cup!
Great Northern beans are medium-sized beans known for their mild, nutty flavor and firm flesh. They hold their shape better than Navy beans and tend to take on the flavors of the foods they're cooked with.
Cannellini beans are the largest of the group and because of their traditional kidney shape, they are also referred to as white kidney beans. Meatier than Navy or Great Northern beans, they have a nutty, earthy flavor, and they retain their shape and texture well.
Baby lima beans are also called "butterbeans". They are smooth, and creamy with a rich, buttery texture. They have more starch than the other beans and are therfore a higher carb option.
I used Cannellini beans in the side dish below, but really the white beans are pretty interchangeable. White beans pair nicely with spicy seared tuna. It's all good, as they say!
Seafood and the Pesco Mediterranean Diet
I have been practicing a low carb lifestyle for many years now, but I have recently tweeked it a bit to include more seafood, more vegetables and less red meat.
This is essentially the basics of a Mediterranean diet, but it is currently being tweeked with intermittent fasting in the Pesco Mediterranean Diet. Whatever you want to call it, it is extremely healthy!
The biggest difference between Pesco Mediterranean and Low Carb is the addition of some of the healthier grains. Here are some other recipes that are delicious and fit both types of lifestyles: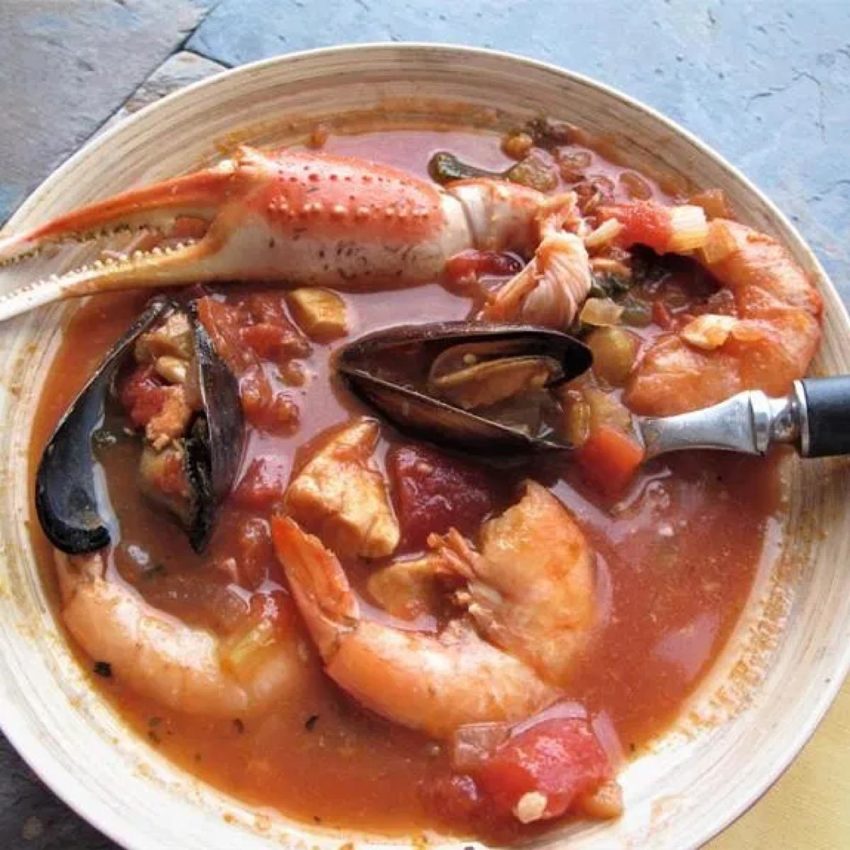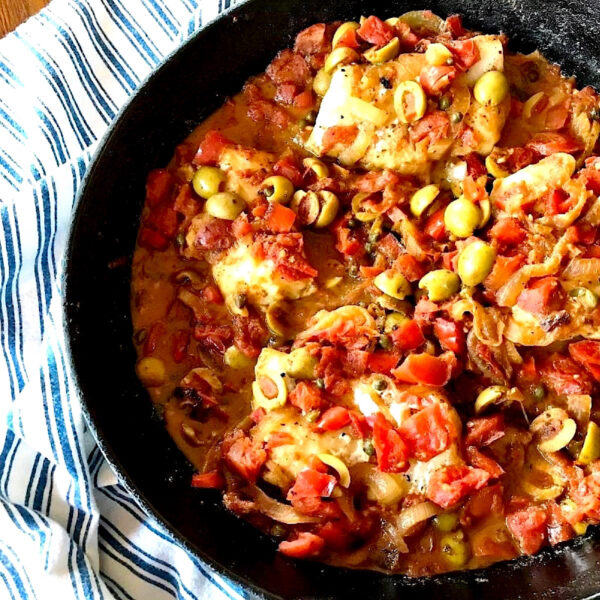 If you make and love this recipe, please leave a ★★★★★ review below and any comments others might find helpful. It means a lot to me when you try my recipes, and I'd love to know how it goes.
Seared Tuna with Balsamic Glaze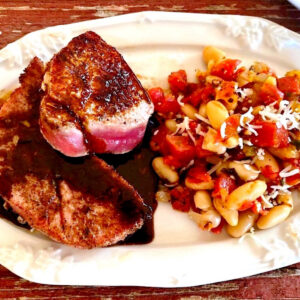 This recipe includes seared tuna with a balsamic reduction glaze and a side dish of white beans, tomatoes and spices. There are many options for the spice rub, from spicy to just herbal. It is slow carb compliant and works well in a Pesco Mediterranean diet
Ingredients
White Bean Side Dish
2

Tablespoons

Olive oil

Divided

1

Medium

Onion

Finely chopped

4

Cloves

Garlic

Finely sliced or chopped

3

Tablespoons

Sage

Finely minced

1

Teaspoon

Smoked paprika

Or other chile spice

14 ½

Ounce

Canned, diced tomatoes

I like RoTel

15 ½

Ounce

Canned white beans

I used Cannellini

¼

Cup

Shredded parmesan cheese
Balsamic Reduction Sauce
2

Teaspoons

Butter

1

Clove

Garlic

Sliced

⅓

Cup

Balsamic vinegar

Aged if possible

1

Teaspoon

Chipotle spice

Or a milder chile spice blend

½

Teaspoon

Tomato paste

2

Tablespoons

Cold unsalted butter
Seared Tuna
3

Tablespoons

Olive oil

divided

2-3

Tablespoons

Jerk seasoning

Can use any seasoning blend

½

Teaspoon

Salt and pepper

to taste

1 ½

Lbs

Tuna steaks

I used 6 4-oz filets
Instructions
White bean side dish
In a large pot or dutch oven, heat 2 Tablespoons oil over medium-high heat. Add onions and cook 5-7 minutes until translucent or caramelized. Add garlic, sage and paprika and cook 1 minute, stirring to combine.

2 Tablespoons Olive oil,

1 Medium Onion,

4 Cloves Garlic,

3 Tablespoons Sage,

1 Teaspoon Smoked paprika

Add tomatoes and beans and cook over medium heat about 5 minutes, stirring occasionally. Set aside and make the glaze (see next steps)

14 1/2 Ounce Canned, diced tomatoes,

15 1/2 Ounce Canned white beans
Balsamic reduction sauce
Melt butter in a medium-sized skillet over medium heat until it foams. Stir in garlic; cook until edges just start to turn golden, about 1-2 minutes. Add balsamic vinegar and simmer over medium heat until it bubbles and thickens a bit (about 1-2 minutes)

2 Teaspoons Butter,

1 Clove Garlic,

1/3 Cup Balsamic vinegar

Stir in chile spice, tomato paste and add salt and pepper to taste. Remove pot from burner and add the cold butter. Let it melt into the sauce while you cook the tuna in a separate skillet.

1 Teaspoon Chipotle spice,

1/2 Teaspoon Tomato paste,

2 Tablespoons Cold unsalted butter
Seared Tuna Steaks
Add 1-2 Tablespoons oil to a skillet and heat over high to smoking. Meanwhile, lay tuna steaks out on countertop or large plate. Drizzle with oil and sprinkle with salt and pepper and seasoning mix. Rub in with your hands. Turn the steaks over and repeat on the other side

3 Tablespoons Olive oil,

1/2 Teaspoon Salt and pepper,

1 1/2 Lbs Tuna steaks,

2-3 Tablespoons Jerk seasoning

When skillet is smoking place tuna steaks in skillet and sear on each side for about 1 1/2 minutes per side (middle of steaks will be fairly raw). Remove from heat and drizzle with balsamic reduction. Stir in the butter to the warm beans and serve sprinkled with shredded parmesan.

1/4 Cup Shredded parmesan cheese
Nutrition
Calories:
519
kcal
Carbohydrates:
35
g
Protein:
52
g
Fat:
19
g
Saturated Fat:
8
g
Polyunsaturated Fat:
3
g
Monounsaturated Fat:
5
g
Trans Fat:
0.3
g
Cholesterol:
91
mg
Sodium:
756
mg
Potassium:
1306
mg
Fiber:
9
g
Sugar:
4
g
Vitamin A:
5570
IU
Vitamin C:
13
mg
Calcium:
242
mg
Iron:
7
mg
Did you make this recipe?
If you tried this recipe, please give it a star rating! To do this, just click on the stars above. Comments are always helpful also and I respond to all of them (except rude ones)
Online Diet/Health Coaching:
Although I am not currently taking clients for diet & health coaching, I have been a coach for many years with the online service called coach.me. It is a great platform for all kinds of coaching – anything from specific diets, writing a blog, getting up early, or getting rid of that pesky procrastination.
There are some wonderful coaches and the testimonials will tell you what you need to know. Contact me at [email protected] to get a referral to some of the tested, experienced online coaches on Coach.me
If you'd like to start with a plan for a low carb or keto lifestyle, check out this detailed guide in ebook form. It may be all you need to lose weight on this lifestyle. Or it may be used as a supplement to one-to-one coaching.