This is an easy 5-minute plum sauce that pairs wonderfully with many different types of proteins for an excellent main dish. Often paired with game or duck, the bite of the plums is a particularly wonderful addition to fish, including cod, tuna, mahi mahi or salmon. This recipe is for pan-fried fish but the plum sauce would work with grilled, baked or even poached fish.
Jump to:
RECIPE
Plum Sauce Pairings
Ingredient Substitutions
How to Cook Fish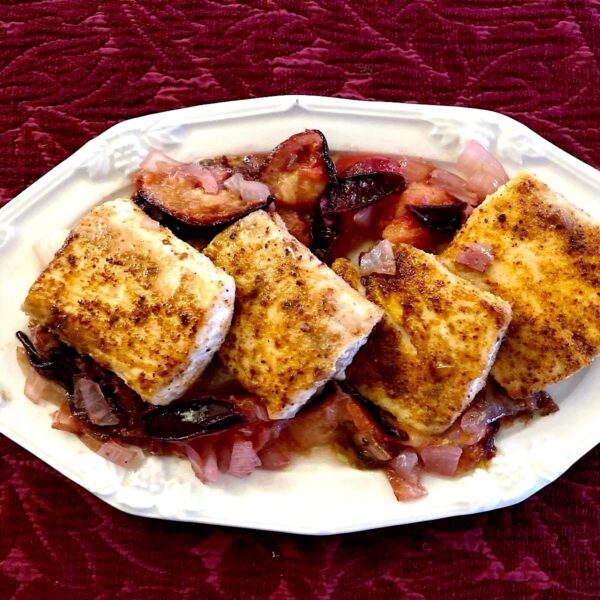 This post may contain affiliate links, and you can read our disclosure information here–
Using a Molcajete
Best Ideas for Pairing Plum Sauce with Proteins
Chinese fish dishes: the fish of choice in Chinese cuisine is often grouper or red snapper and the sauce often includes vinegar and sugar;
Duck or game birds: often these proteins are more robust and you might want to add beef stock instead of chicken stock and port instead of sherry
Mexican fish dishes seem to favor sea bass. These recipes might also spice it up with chile spices or a spicy blend. Just add 1/2 to 1 tsp chile spice to the sauce while cooking. The amount to add would depend on how spicy your blend is and how spicy you like your food.
Salmon: Soy sauce is a common addition for salmon dishes. A little sugar is generally added also when soy sauce is used.
Other Uses for Plum Sauce
This fruit based sauce often accompanies Chinese side dishes as a dipping sauce for things like egg rolls, spring rolls or wontons;
If you are vegetarian or vegan, it is delicious over rice or noodles (or pumpkin);
Some cooks will add it to Asian slaws;
In addition to the proteins mentioned above, plum sauce also works well with shrimp, chicken or pork.
Ingredient Substitutions
Plum sauce lends itself to many different spices and ingredients. Here are some of my favorite additions or substitutions:
Five spice blend
Ginger
star anise
Tamarind
Oyster sauce
Plum extract
Store-bought vs Homemade Plum Sauce
Fresh plums are not always available due to seasonality or your region. In this case, a store bought plum sauce can work in a pinch. Often, hoisin sauce is used as a substitute. Just read the ingredient list and opt for the one with the least sugar if you are on a low carb diet.
Plums are generally in season for most of the Fall and sometimes into the Winter. There is a huge variety of plums and any of the fresh plum varieties will be tastier (and prettier) than a purchased sauce.
The other advantage of making your own sauce is you can control the ingredients, like the sugar or stocks or alcohol. This can be a huge advantage for those with health concerns or on a specific diet.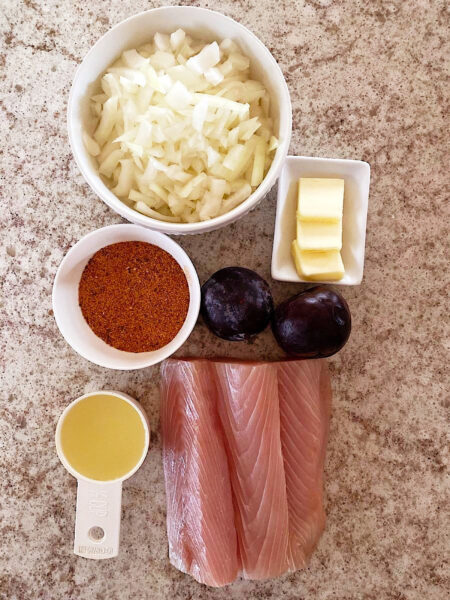 Which Cooking Method Works Best for the Fish?
It really doesn't matter which cooking method you use for the fish. It can be steamed, broiled, grilled, en papiote or baked. My favorite method is pan-frying in a couple tablespoons of oil because I like to use a rub and get a good sear on the outside.
The main thing with cooking fish is to not overcook it. It is hard to take it off the skillet when it still looks undercooked, but remember that it continues to cook once removed.
Overcooked fish is rubbery and the main reason people shy away from cooking it. Tender fish enhanced with a sauce or spice however, is a delicious, healthy delicacy!
Try a Plum "Butter" or Plum Crostata
I have many recipes on this site for fish dinners, but not that many recipes that use plums. That's a shame because they are absolutely delicious (I'll work on it). I do have a recipe however for a Plum Butter made in the slow cooker and is a wonderful Fall comfort food.
A food memory of mine from a farmers' market in Denver, Colorado was a freeform plum crostata. This recipe for a tomato crostata (aka galette) is my favorite for these filled pastries and it could easily be made with plums instead of heirloom tomatoes.
Recipe for Pan Fried Fish with 5-Minute Plum Sauce
Plum Sauce for Fish Dinner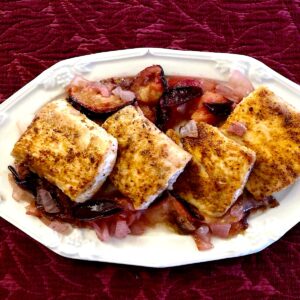 This is an easy 5-minute plum sauce to accompany pan-fried fish filets which are rubbed with a spice blend and seared to perfection. Quick, easy and elegant!
Ingredients
20-24

Ounces

Fish filets

I used Mahi Mahi, any thick filet would work (cod, tuna, salmon)

⅓

Cup

Fish spice rub

I used HeathGlen's master fish rub

4

Tbsp

Refined olive oil (divided)

Or grapeseed oil (or an oil with a high smoke point);

1

Medium

Onion

Chopped

3

Large

Plums

Cut into wedges

2

Tbsp

Butter

Unsalted

¼

Cup

Chicken broth

Alternatives: orange juice or vegetable broth or sherry or water
Instructions
Cut the fish filets into desired length and pat dry with paper towels. Sprinkle the spice rub liberally over the filets and rub it in. (add salt if your rub doesn't have any in it). Turn them over and repeat on the opposite side. Set aside while you make the plum sauce

20-24 Ounces Fish filets,

1/3 Cup Fish spice rub

In a pot or skillet, heat 2 Tablespoons refined olive oil (or other oil) over medium high heat. Add onions and caramelize by cooking and stirring for about 5 minutes or until transclucent.

Then add plums, butter and broth and cook together for 2-3 minutes until it thickens to your liking. Remove from heat and set aside.

4 Tbsp Refined olive oil (divided),

1 Medium Onion,

3 Large Plums,

2 Tbsp Butter,

1/4 Cup Chicken broth

In a skillet, heat 2 Tablespoons refined olive oil (or grapeseed oil) over high heat until it starts to smoke. Add spice-rubbed filets to the skillet and sear/cook for1-2 minutes (time depends on thickness of filets – do not overcook).

You should see the filet is white at the bottom, and still raw/transparent in the upper part of the filet. Gently turn or flip the filets and cook on the other side for 1-2 minutes. Add the plum sauce to the skillet to heat up and blend together with the fish.

4 Tbsp Refined olive oil (divided)

Transfer fish to a serving plate and spoon the plum sauce over it. A good side dish is something green and crispy like green beans. Rice is a common side dish if you are not low carb.
Nutrition
Calories:
344
kcal
Carbohydrates:
8
g
Protein:
24
g
Fat:
24
g
Saturated Fat:
7
g
Cholesterol:
97
mg
Sodium:
167
mg
Potassium:
637
mg
Fiber:
1
g
Sugar:
6
g
Vitamin A:
419
IU
Vitamin C:
9
mg
Calcium:
29
mg
Iron:
1
mg
Did you make this recipe?
If you tried this recipe, please give it a 5-star rating! To do this, just click on the stars above.