Red snapper is a popular white fish that can be cooked to tender perfection by roasting, pan frying, poaching steaming or grilling. I've summarized each of these cooking methods specific to red snapper with a mouthwatering recipe for sautéed red snapper covered with a velvety sour cream dill sauce.
Jump to: RECIPE | Best Cooking Methods for Snapper | Best Sauces for Snapper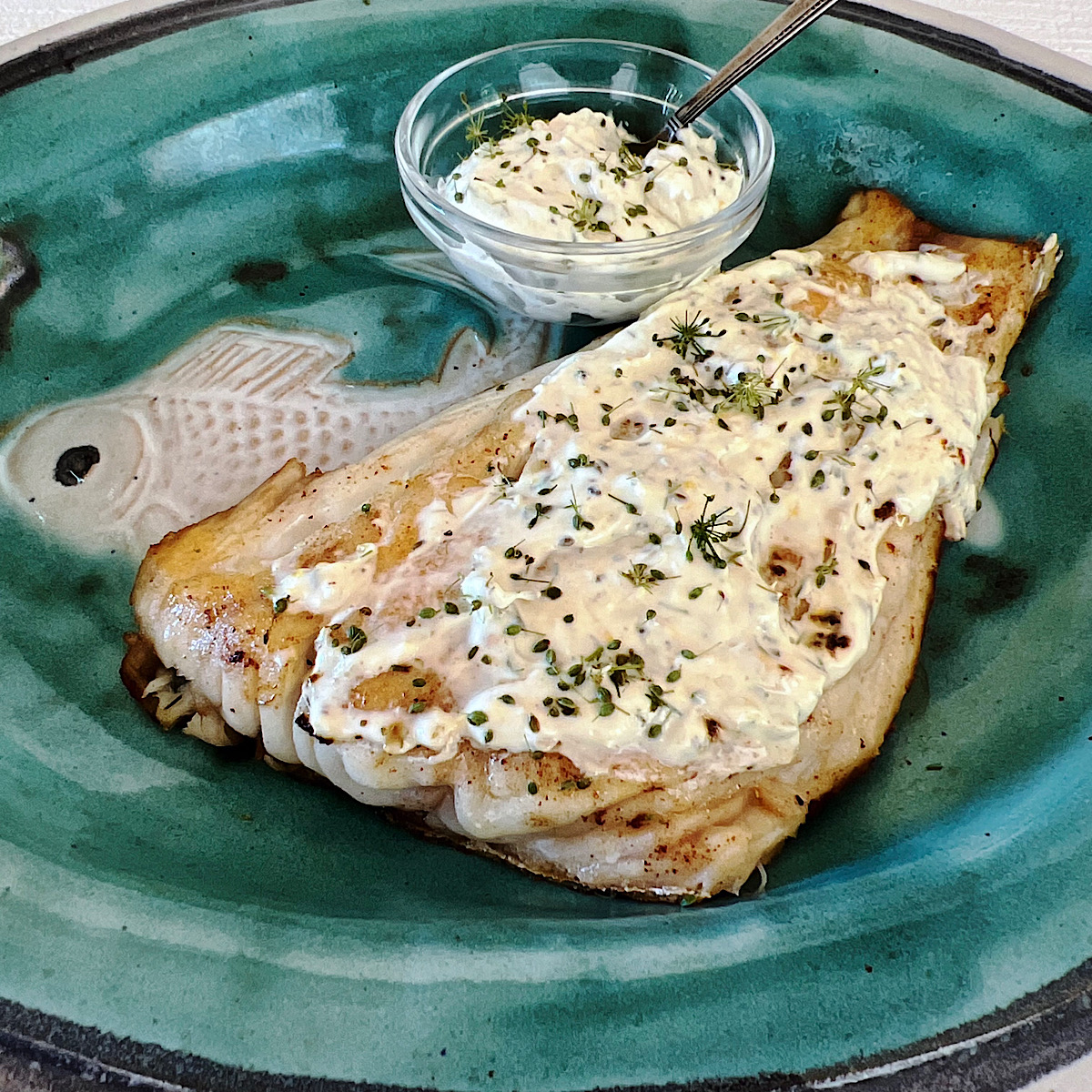 Best Methods for Cooking Red Snapper
Red snapper and most other white fish lends itself to a wide range of cooking methods. Here are the most popular methods for cooking red snapper:
Sautéing or Pan Frying
My favorite way to cook red snapper is to sauté it in a mix of butter and olive oil. Just bring the oil up to medium high heat and place the snapper in the skillet skin-side down. Press down on the fish a little to prevent curling and cook about 5 minutes (depending on thickness of filet). Flip, cover with the sour cream dill sauce and cook until no longer translucent and it flakes easily (2-3 more minutes).
If you are not very experienced with cooking fish, it is best to use a digital thermometer and cook the first side to 115 degrees F., flip and cook to 120 degrees F and remove from pan and rest it. After a while you'll be able to test the doneness by feeling how firm it is. When in doubt, cut into a cooking fillet and see if it is opaque and flakes easily. If so, you're good to go
Tips for Perfect Sautéed Fish
The recipe below is for sautéed red snapper coated with a sour cream dill sauce. Here are some of my favorite tips for cooking fish fillets of any kind:
Pat the fillets with a paper towel to make sure they're completely dry, then sprinkle both sides with salt and pepper.
Heat the oil until it is hot but not smoking
Place fish skin side down in pan
Use a digital thermometer and cook fish to 115 F to 118 F before turning off the heat. Allow fish to stay in pan to finish cooking until it reaches 120 degrees F.
If you don't use thermometer, cook filets until no longer translucent and flakes easily when poked with a fork. Remove from pan at this point.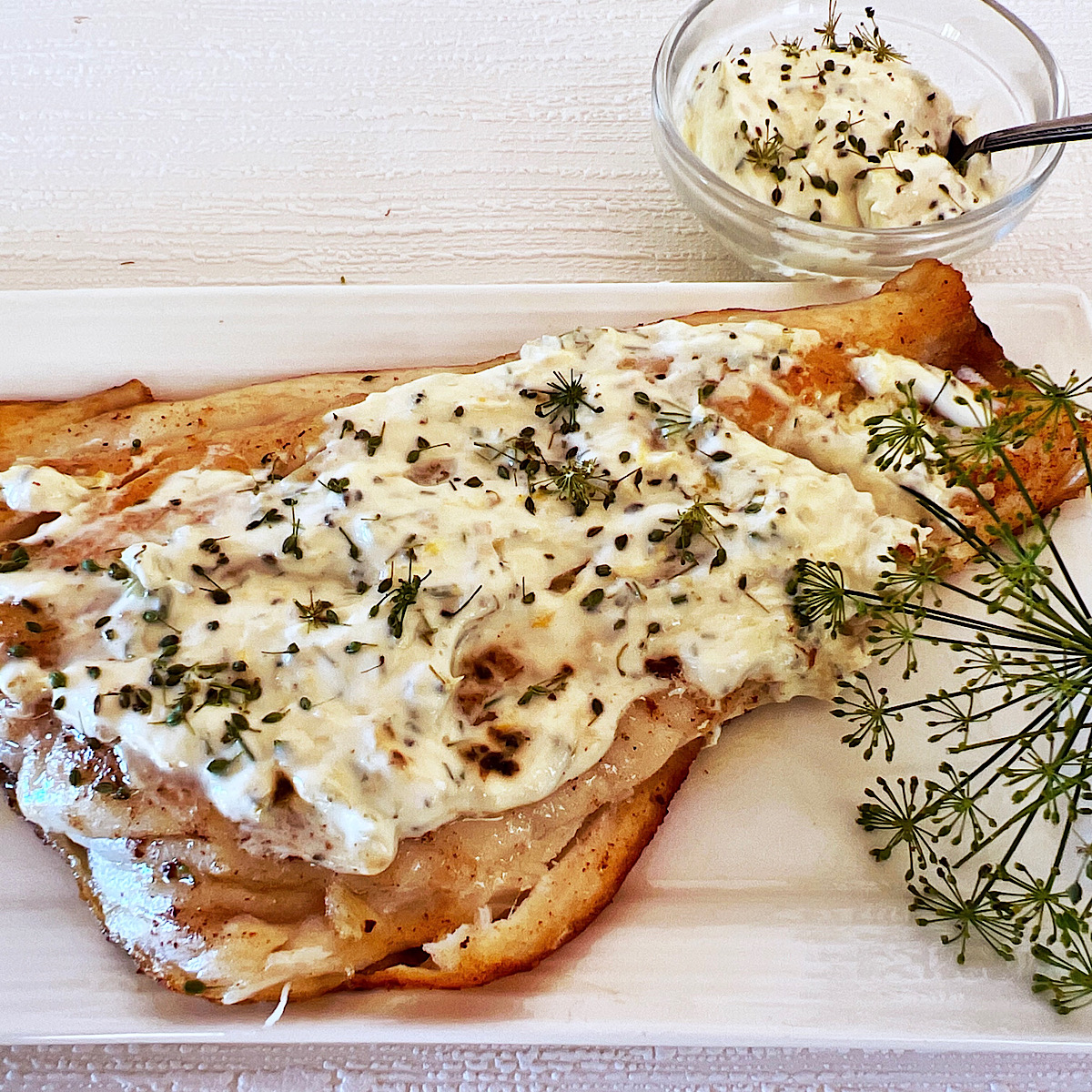 Oven Baked or Roasted Fish (Sheet pan method)
This is my second favorite way to cook fish and is particularly easy for getting the whole dinner on the table using only one pan and minimal effort.
Simply preheat the oven to 375 F. Place the snapper filets in a baking dish or on a rimmed baking sheet, then rub on both sides with some olive oil, lemon juice, whatever spice blend you prefer and some salt and pepper.
If your spice blend has added salt, back off the amount of salt you use. Then transfer to the oven to bake for about 15-20 minutes, or until the snapper easily flakes with a fork.
The photo below is a sheet pan dinner with salmon, but any fish fillets will work. Adjust the cooking time according to the thickness of the fish. Test it after 10 minutes, and then every 5 minutes (or use a digital thermometer).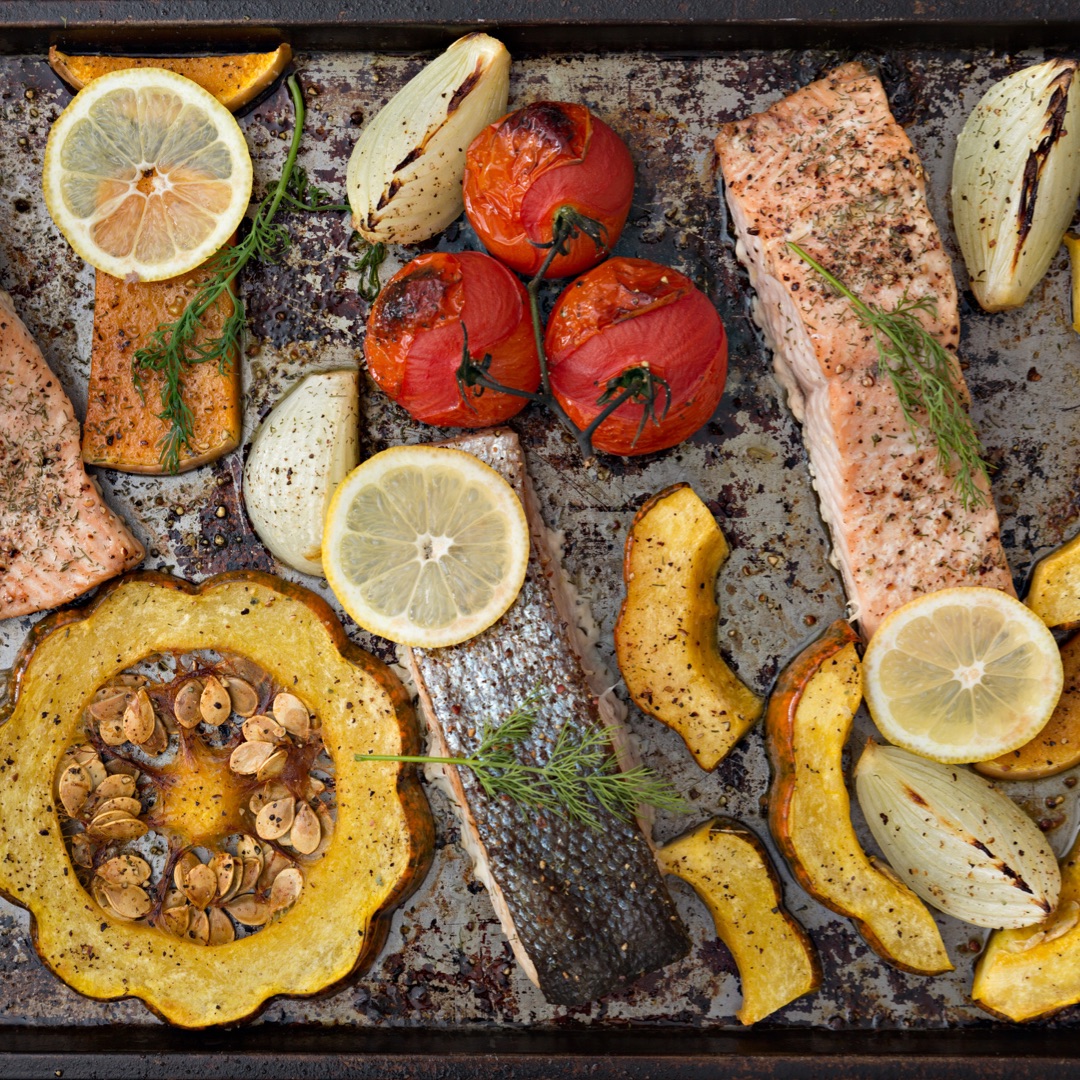 If you are using a digital thermometer pull the fish out at about 118 degrees F and let it rest and continue cooking until it reaches 120 degrees.
Sheet pan dinners are one of the easiest, quickest ways to get a healthy dinner on the table. Here are 2 other ideas for sheet pan dinners:
Grilling
I am not a griller, but for those of you who are, grilling fish seems to be quick and easy (and you get those lovely grill marks). With respect to grilling red snapper, my go to tutorial would be this post at my favorite magazine, "Eating Well": https://www.eatingwell.com/recipe/280038/grilled-red-snapper/
Poaching
Poaching is perfect for when you want a quick way to cook fish. It is by nature extremely low carb and high protein, with the sauce or topping you use determining the carb load.
There are many different ways to poach fish. The simplest method calls for submerging fish in barely simmering liquid and letting it gently cook while soaking up the flavors you use in the broth or liquid.
A few tips on poaching fish include:
Common liquids used in broth-based poaching include just water, coconut milk, or white wine. Broth based poaching is flexible and usually results in the lowest calorie option.
Saute up some vegetables in the pan before poaching to round out your dinner. Just add the liquid after sautéing vegetables in oil and poach the fish in the same pan.
Add complexity and flavor with your favorite herbs and spices (see infographic below for ideas)
Add a touch of acid (lemon juice or vinegar to the poaching liquid
Make sure you have enough liquid in the pan to cover the fish and then never let it boil (just cook it at a simmer)
I love this infographic from thebetterfish.com. They also have this very informative and detailed post on poaching fish on their site.

Steaming in a Bamboo Steamer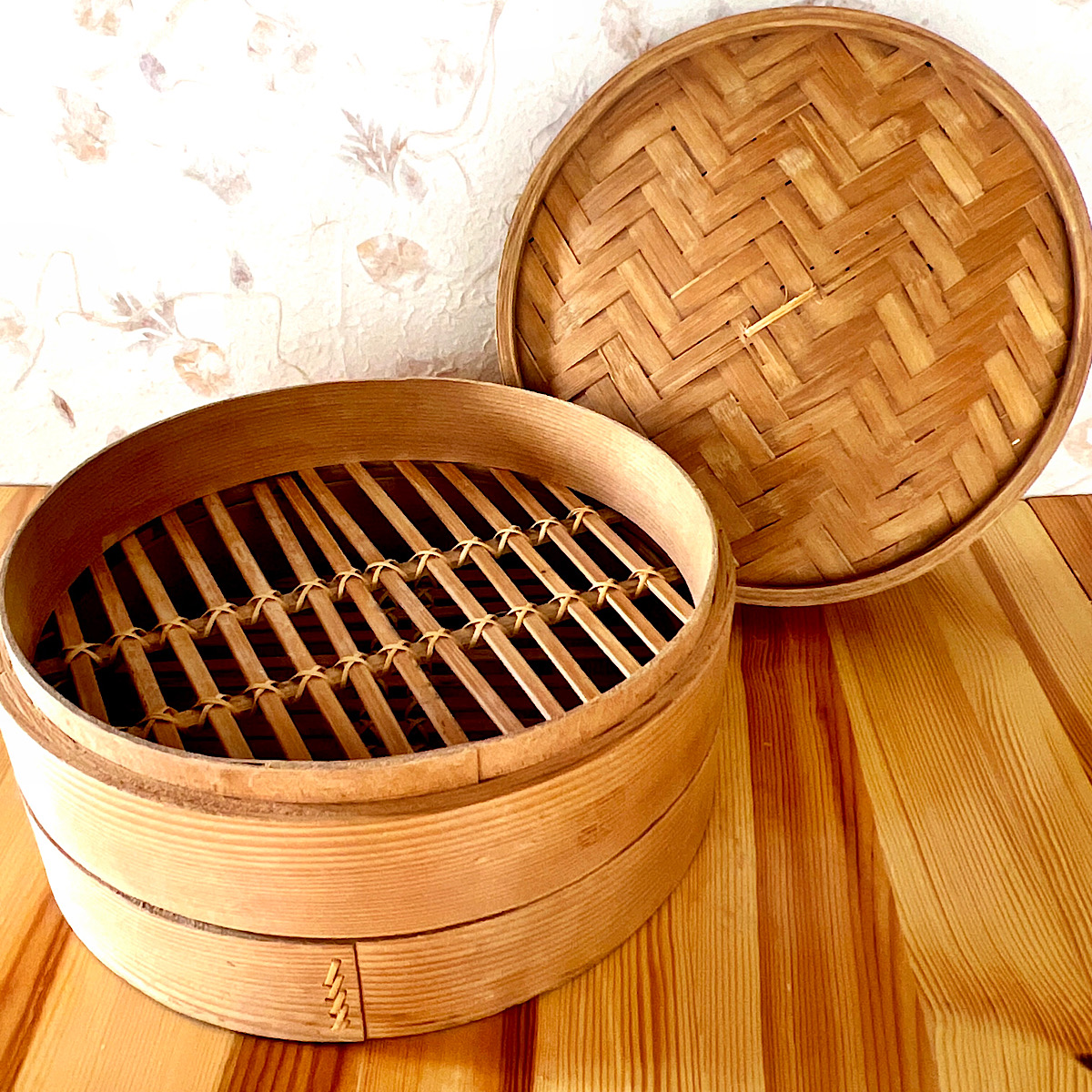 Cooking fish in a bamboo steamer is similar to poaching in that it lets you add flavor and complexity without adding oil. It does require specific equipment (the bamboo steamer) but once you have the steamer it is quite easy. And no you do not need a wok.
One of the best things about cooking in the bamboo steamer is you can layer your dinner ingredients and cook the fish and vegetables all at the same time. This means less dishes and pots to wash, and it gives you an extremely fresh tasting dinner.
Basically you bring 3-4 inches of water to a boil in a pot large enough to fit your steamer, making sure that there is enough room for some airspace between the water and the bottom level of the steamer. Then you place veggies etc. in single layers of each basket, with the fish on the top layer and cook the contents of the steamer over boiling water until tender.
Some people line the baskets with cabbage leaves or parchment paper. There are a number of ways to cook with a bamboo steamer. This recipe from somethingnewfordinner.com was one of the best ones I found on laying out the directions.
What to Look for When Buying Red Snapper
Pick out red snapper fillets with the skin on, since it becomes deliciously crispy when you sauté them. Buy snapper with metallic pink skin and firm flesh. You will need 1/4 to 1/3 pound per serving size. We are pretty hardy eaters, so I allow 6 ounces per person (assuming there is also side dishes).
Best Sauces for White Fish
Any sauce with dill is a classic on fish. The recipe below is for a sour cream and dill sauce which is thick enough to use as a coating at the end of cooking.
Other popular fish sauces include thin sauces of butter and herbs. Here are a few popular herbs that really enhance white fish:
Chives
Dill
Tarragon
Coriander
Oregano
Parsley
Rosemary
Thyme
Tip: Don't overpower the fish with too much salt. Read the ingredients on any herbal or spice blends you purchase, as they often add salt.
I like to grow culinary herb garden themes in containers on my deck. One of my favorites combines herbs that work well with seafood. It was wonderful having these fresh herbs at my fingertips.
Best Seasonings for Red Snapper
The world is your snapper here :). Really though, white fish is mild enough that many, many different spice blends work well with it and personal preferences easy to accommodate.
Like it spicy? Add a jerk seasoning blend or go for a smoky chipotle spice. Classic seasonings for white fish that have stood the test of time include lemon pepper and Old Bay seasoning.
Recipe for Red Snapper with Sour Cream-Dill Sauce
Red Snapper with a Sour Cream Dill Sauce
Red snapper is sauteed on the stovetop in butter and oil until flaky and tender and topped with a creamy, tangy sour-cream and fresh dill sauce.
Ingredients
Sour Cream Dill Sauce
¾

Cup

Sour cream

1

Clove

garlic

minced

2

Teaspoons

dijon mustard

2

Teaspoons

lemon zest

2

Tablespoons

lemon juice

fresh

2

Tablespoons

dill weed

minced

¼

Teaspoon

kosher salt

1

Teaspoon

Horseradish

optional
Sautéed Red Snapper
4

6 oz

red snapper fillets

skin on

2

Tablespoons

olive oil
Instructions
Make the dill sauce
In a medium sized bowl, whisk together sour cream, garlic, mustard, lemon zest, lemon juice, dill weed, salt and horseradish (if using)

3/4 Cup Sour cream,

1 Clove garlic,

2 Teaspoons dijon mustard,

2 Teaspoons lemon zest,

2 Tablespoons lemon juice,

2 Tablespoons dill weed,

1/4 Teaspoon kosher salt,

1 Teaspoon Horseradish
Sauteed Red Snapper
Heat oil in large skillet over medium high. While oil is heating pat the fillets as dry as you can and sprinkle with salt and pepper.

When oil is hot but not smoking, add fillets to skillet skin side down. Cook for about 4 minutes or until thermometer reads 115 degrees F.

Flip fillets and cook another 2 minutes. Coat fillets with dill sauce and cook until sauce is warm or until thermometer reads 118 – 120 degrees F.

Fish should be tender and flake with a fork. they should no longer be translucent.

2 Tablespoons olive oil,

4 6 oz red snapper fillets

Serve with vegetable side dish and a side of sauce.
Nutrition
Calories:
154
kcal
Carbohydrates:
3
g
Protein:
1
g
Fat:
15
g
Saturated Fat:
5
g
Polyunsaturated Fat:
1
g
Monounsaturated Fat:
7
g
Cholesterol:
26
mg
Sodium:
193
mg
Potassium:
79
mg
Fiber:
0.3
g
Sugar:
2
g
Vitamin A:
288
IU
Vitamin C:
5
mg
Calcium:
50
mg
Iron:
0.2
mg
Did you make this recipe?
If you tried this recipe, please give it a 5-star rating! To do this, just click on the stars above.