Low carb dinner for busy people can simply be a matter of using the right appliance with the right "recipe". An indoor grill is my go-to piece of equipment for cooking proteins quickly and with extreme ease. Here are some tips for cooking with an indoor grill, followed by a recipe for Paprika-Spiced Chicken Thighs
Jump to Recipe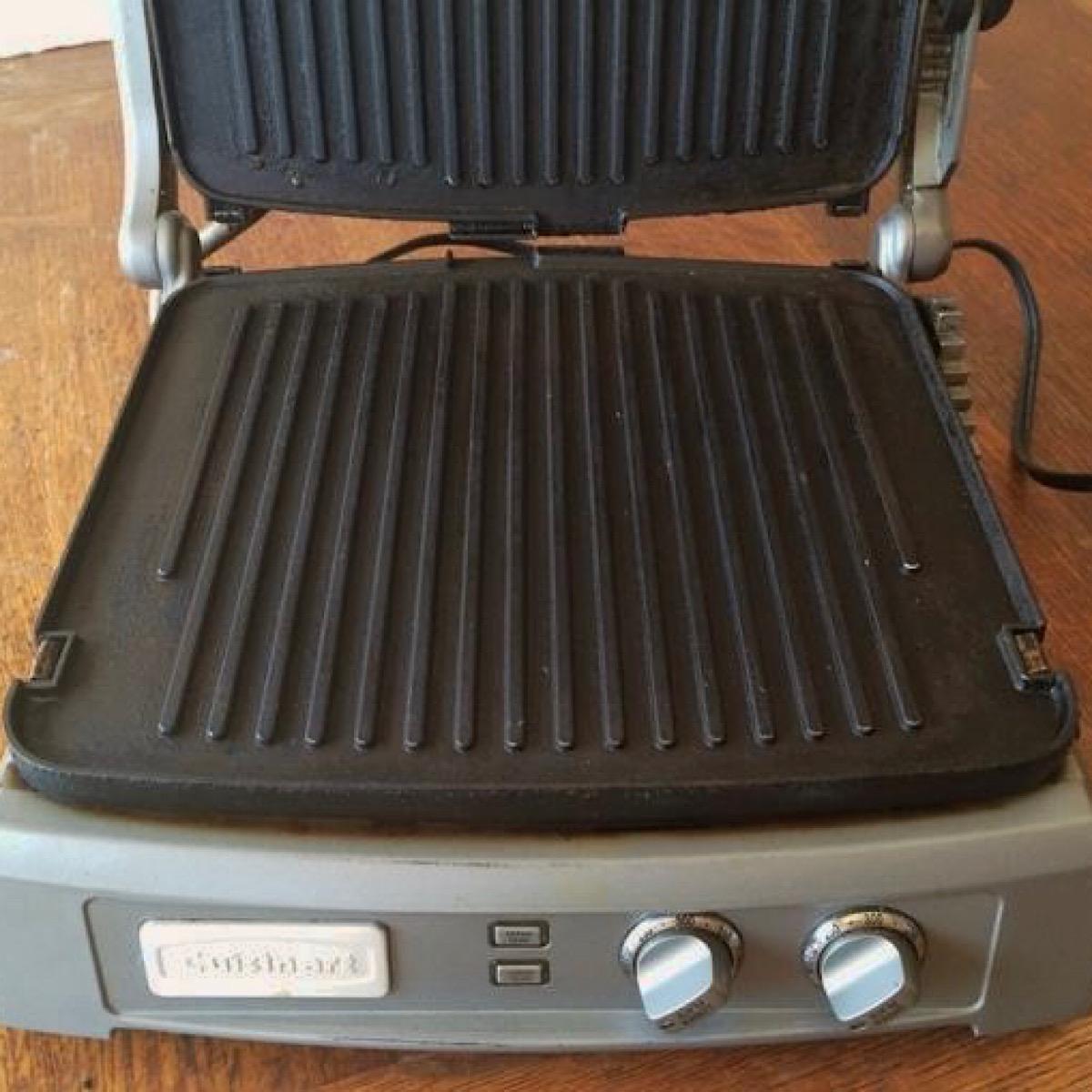 Low carb dinners are frequently thought of as either boring diet food or complicated affairs that require special ingredients. Most of us are fairly busy these days but it doesn't have to mean you sacrifice taste in order to live a low carb lifestyle.
The Indoor Grill – an easy way to cook low carb dinners for busy people
I learned about the Griddler (my choice of an indoor grill) when I was first starting out on my low carb journey. I used to be an avid fan of the foodie shows on TV and Hubert Keller was one of my favorites.
He always made such delectable looking dishes, and of course he made it look easy. One tool that he used pretty consistently was this Cuisinart Griddler Delux, so I thought I'd give it a go.
Years later and it is still one of my favorite appliances or tools that I use to get a low carb, tasty dinner on the table quickly and easily.
By the way, Hubert Keller is still one of my favorite chefs also. His food is so visually pleasing and so tasty with just enough flair to make it special. He also seems like a really nice man that is not so arrogant. Always a plus.
Pro and Cons of making low carb dinners on the Griddler (an indoor grill)
Pros
You get a really nice sear on your proteins, complete with grill marks
Because it cooks your proteins or vegetables from top and bottom at the same time, it is very quick (twice as quick as grilling outside or cooking in a skillet and turning
It is large enough to cook for family and friends. Many of the panin makers are quite small. I am able to cook six chicken thighs in the Griddler no problem.
There is a floating hinge that adjusts the heights for different foods. It can accomodate a thin filet of fish or a thick T-bone steak.
There is a "trough in back to collect the grease so you don't have to drain grease from a heavy pan (see the con on this however)
You can grill indoors and avoid the mosquitoes and bugs (I live in Minnesota)
You can open it up to lay flat and grill kebabs and veggies on it quite easily.
Easy clean up with the removable plates. Just toss them in the sink or dishwasher
I keep dinner really simple when my husband is on the road and I'm eating alone. The Griddler allows you to quickly grill up small portions of protein. Served with a green vegetable and dinner is done (see video for seared chicken tutorial)
Cons:
the grease trap in the back doesn't always catch the grease. It could be designed a little better
If you try and cook really thin and thick food at the same time you might have to monitor more and you might not get the grill marks on some of the filets.
Occasionally I have trouble getting the top plate to click in readily (I think that might be user error however and perhaps trying to go too quickly 🙂
Other tools that lend themselves to easy low carb dinners for busy people
I love the Griddler and have used it just about weekly for over five years. If you want to see a recipe for grilled salmon on the Griddler (with romano beans), click here. A few other tools that I think are indispensable to low carb cooking include the following:
Quick Recipes for the Griddler:
Salmon is one of the quickest things to cook with the Griddler. Chicken thighs (bone-in) and steak filets also work great, although not as quick as salmon. Kebabs are one of the most versatile dinners you can make with an indoor grill. Here are a few variations on some kebab recipes:
Cooking Tutorials for low carb cooking with the Griddler
Below is a video that walks you through cooking seared chicken thighs with the Griddler, showing how to use it and how to clean it.
A brief recipe for the seared chicken thighs is also below
Seared Chicken Thighs on the Cuisinart Griddler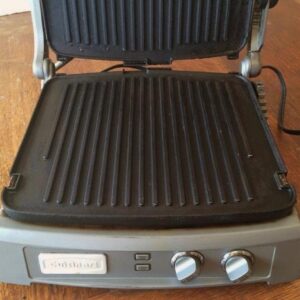 Instructions
Turn the Griddler on to 375° F (both knobs)

Trim the skin on the chicken thighs. Wash hands thoroughly

Sprinkle smoked paprika over the chicken thighs and add salt and pepper to your desired amount

When Griddler lights are green, use tongs to place the thighs on the bottom plate of Griddler and close the top. Allow chicken to cook 13-15 minutes. Cut one open with a knife to make sure it is done, or use a thermometer and test to 165°F

Turn off Griddler and let it cool. Remove the plates and place in dishwasher.
Nutrition
Calories:
515
kcal
Carbohydrates:
4
g
Protein:
38
g
Fat:
38
g
Saturated Fat:
10
g
Cholesterol:
221
mg
Sodium:
179
mg
Potassium:
623
mg
Fiber:
2
g
Sugar:
1
g
Vitamin A:
3624
IU
Calcium:
34
mg
Iron:
3
mg
Did you make this recipe?
If you tried this recipe, please give it a 5-star rating! To do this, just click on the stars above. And don't forget to tag me at @dorothy_stainbrook_heathglen, if you share a picture on Instagram! You can also tag me at #heathglen!