There is nothing easier, tastier and more elegant than cheese trays or charcuterie boards. They are so flexible and can accommodate any guest on your list, from a keto aficionado to a palate that prefers sweet jam and dessert wines. Here is a guide for taking the overwhelm out of making the perfect cheese and charcuterie boards for easy entertaining.
Jump to: Budget | Choosing the Cheeses | Pairing the Accompaniments | Styling the Platter | Serving & Storing
Getting Started – What Kind of Gathering?
Cheese boards lend themselves to a range of "themes", from breakfast, to Spanish, to vegetable-centrist to desserts. And because there are so many options, it can quickly become overwhelming.
This post offers guidelines for building and styling any type of cheese board, with special tips for low carb cheese boards.
Doing a little pre-planning will save you a lot of money and ensure success with your guests. Here are some tried and true tips on the planning process:
Pick your theme:
With the wide array of cheeses and accompaniments available, it helps to have a theme in mind. Your theme might be something like a Brunch Board, a Dessert Board, a Mexican-inspired Board, a Smorgasbord, a Veggie Board, a Seafood Board, etc.
Know your guests:
Are they adventuresome? Then perhaps add some funky or exotic cheeses and meats. If they are risk averse you might want to go with all cows milk cheeses. Are they health focused or keto? Then opt for a low-carb or low-sugar cheese board.
Are they imbibers of alcohol? Then think of cheeses that will pair well with your choice of spirits (champagne, beer or wine). Kids? Include some common cheeses like a mild cheddar or even mozzarella cheese sticks.
Decide on your budget:
Meats and cheeses can get expensive very quickly. Think about your budget ahead of time and make a list so you don't go to the deli and get carried away with the huge range of choices.
Think 3-5 cheeses for a small gathering and no more than 6-8 for a large gathering. Fewer choices of quality ingredients can be much more pleasing to guests (and your pocketbook).
Gather up your boards and tools:
A cheese board can be any shape or material you have available, from wood to slate to marble. Check what you have at home before purchasing. You might have a really unique piece of wood that you just need to look at differently.
I like to spend my money on the right kind of cheese knifes. You need one for spreading the soft cheeses, a sharp one for cutting into hard cheeses and one with a sharp "hook" for stabbing the hard cheese once cut.
Small spoons or honey dippers are nice to have for jams and spreads. More on tools in the Styling section below.
How to Select the Right Cheeses
Cheese Texture & Flavor:
In general a good rule of thumb is to go with a soft cheese, a hard or semi-hard aged cheese, and a funky cheese like blue cheese. The idea here is to include different textures and flavors with each cheese.
Origin of Cheese: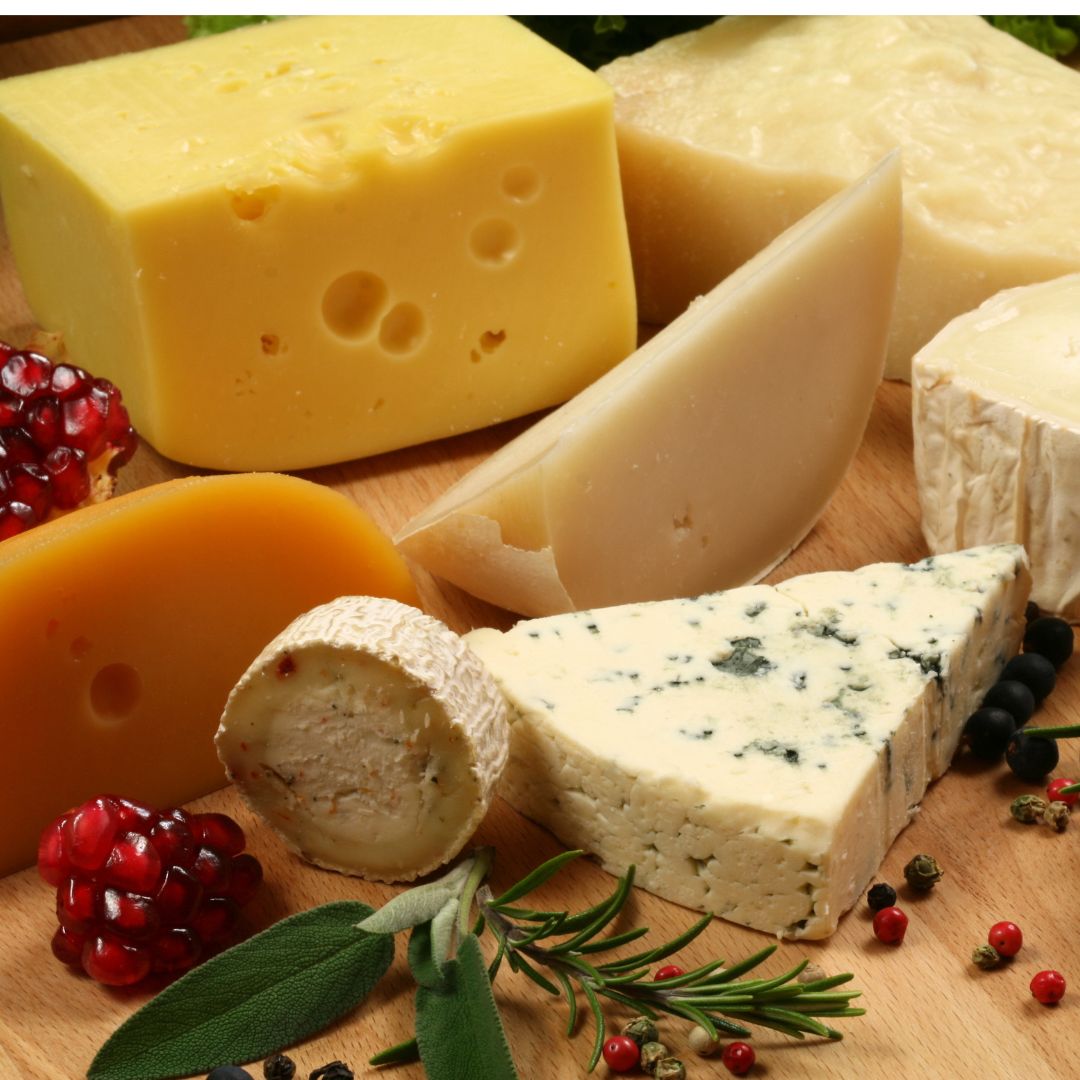 Another approach might be to try a cow's milk cheese, a goats milk cheese and a sheep cheese.
Examples of these two ideas might include:
Soft cheeses: Chevre (tangy goat's milk), triple cream (high butterfat – mostly cow's milk), Camembert (mild, cow's milk), Brie (mild, cow's milk)
Semi-hard cheeses: Manchego (Spanish, tangy, sheep's milk), Gouda (mild, fruity, cow's milk),
Hard cheeses: Gruyere (nutty, dense, cow's milk), Irish cheddar (robust, complex, cow's milk), Grana Padano (savory, dense & crumbly, cow's milk)
Funky (or stinky) cheeses: Generally these are blue cheeses. Some of my favorites are: Stilton (English, intense, rich & salty, cow's milk), Gorgonzola (Italian, salty with a "bite", cows milk), Roquefort (French blue cheese, sharp, stinky, sheep's milk). A brand that a lot of people like is Humbolt Fog aged blue cheese, as it is not quite as funky in smell.
To summarize, the key on selecting cheese is diversity. Think about three different textures or three different intensities or three different milks.
How Many Different Cheeses to Use?
With respect to "how many" cheeses to add to a cheese plate, the consensus among cheese-mongers seems to be 3 cheeses for small parties of six to eight people and 5 cheeses for larger parties of 20 or so.
Work with odd numbers for presentation.
Which Are the Best Low Carb Cheeses?
With respect to a low carb cheese board, most cheeses are relatively low carb. Hard aged cheeses do have less lactose, which is the milk sugar, but generally speaking cheese is low carb and high fat.
Pairing Cheese, Meat & Wine for Charcuterie Boards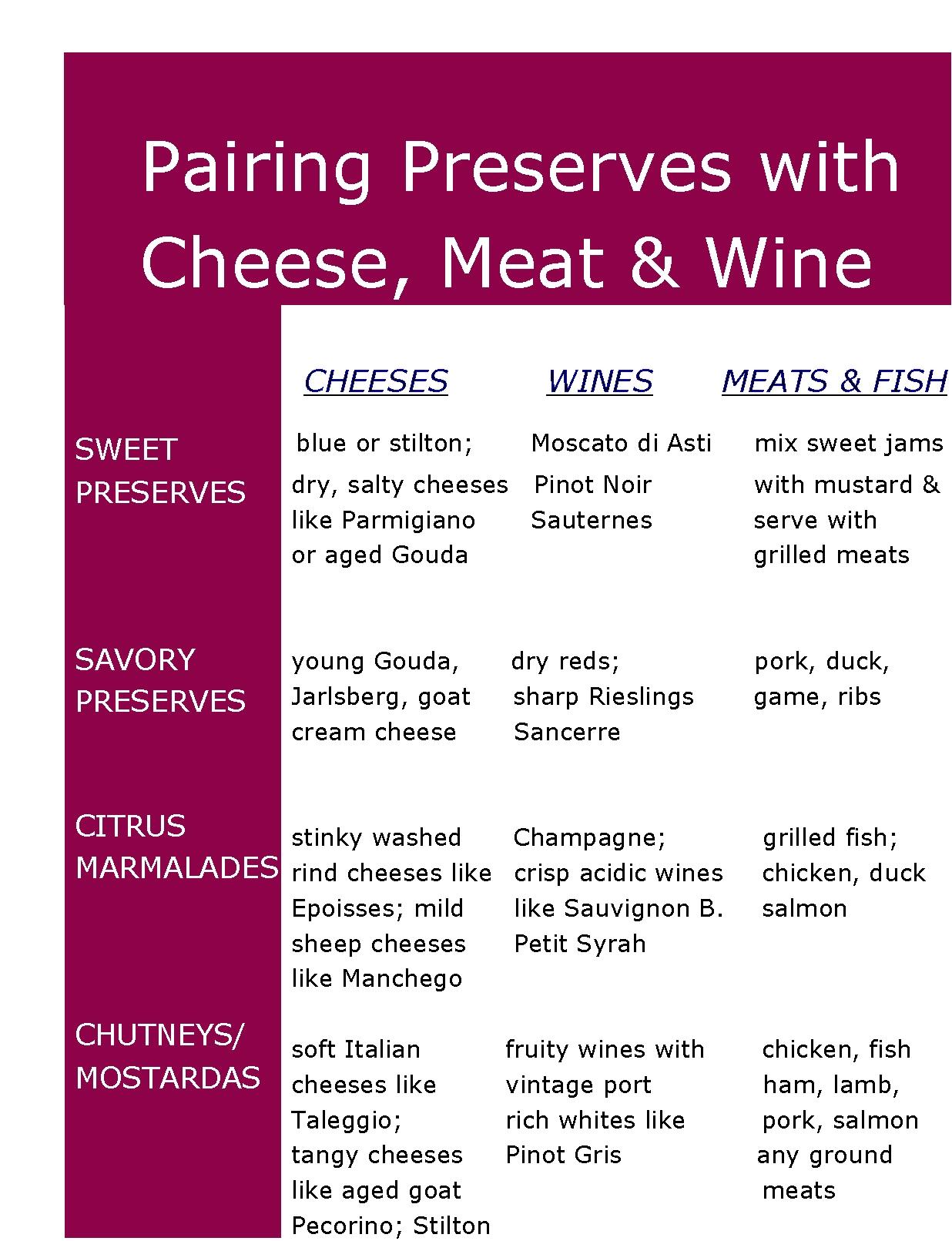 Adding meat to a cheese board turns it into what is referred to as a "charcuterie"board. Charcuterie (pronounced "shahr-ku-tuh-ree") is the art of preparing and assembling cured meats and other meat products.
Typically the term charcuterie is used to refer to an assortment of meats that are paired with cheeses, fruit, nuts, etc. A simpler phrase with similar meaning would be a meat and cheese board.
While smoked salmon and other seafood can be really effective on certain cheese boards (think smorgasbord), this post will focus on meats only.
Most meats appropriate to a cheese board are high protein, high fat and low carb. They primarily include cured or smoked meats.
Examples of Cured Meats
The main decisions to make when selecting meats for your board is whether to get pre-sliced or whole, and then how intense you want the flavor (salty, oily, smoky or chewy). Here are the typical examples of meat you would find on a cheese board:
Soppressata – aged, coarsely ground, Italian dry sausage (can be sweet or hot)
Mortadella: smooth textured Italian pork sausage flavored with spices (sometimes called bologna for grown-ups)
Prosciutto: Italian, dry-cured ham sliced very thin
Chorizo: a fermented, cured and highly seasoned ground pork sausage (can be uncooked or smoked)
Speck: uncooked, salted & smoked pork, with a bite (aged for 6 months to 2 years)
You can get pre-packaged charcuterie meats that are sliced thin, or you can buy them at a local deli. If you are using logs of charcuterie meats that have not been sliced, be sure and take the casing or rind off before serving. It is edible, but very chewy and not pleasant.
Keys to Flavor and Texture Combinations
This is where you can quickly get overwhelmed, and where a theme of your party or event comes in handy. For this post I will focus on charcuterie cheese boards accompaniments. For information on cheese and jam pairings, see this chart and post.
The key to a successful cheese board of any kind is to accompany the cheese and meat board with color, texture and a diversity of flavors.
Here are some examples:
for crunch: nuts work the best. smoked almonds, pistachios, or caramelized nuts
for briny flavor: olives (or a tapenade), cornichons, pickled asparagus, artichoke hearts
for sweetness: fruit jams, hot pepper jellies, marmalades or chutneys all add that touch of sweetness that adds so much to the creamy, somewhat salty cheeses. I love to use thinly sliced quince or a citrus marmalade.
for color: My favorite thing for adding pops of color are the bright red Sweety Drop peppers from Peru. They are a cross between a tomato and a jalapeno and they are bright red and tiny. Orange marmalade or Raspberry hot pepper jelly can quickly brighten up a board also.
Selecting Breads and Crackers
Overall the guidelines would be to stick with neutral flavored crackers. Opt out of rosemary or herb-flavored crackers so that you don't compete with the milder cheese flavors on the board. Sliced baguettes are the classic bread used on a cheese tray.
For a low carb cheese board there are some low carb crackers currently available in the grocery stores, or you can make your own.
How to Style a Cheese Platter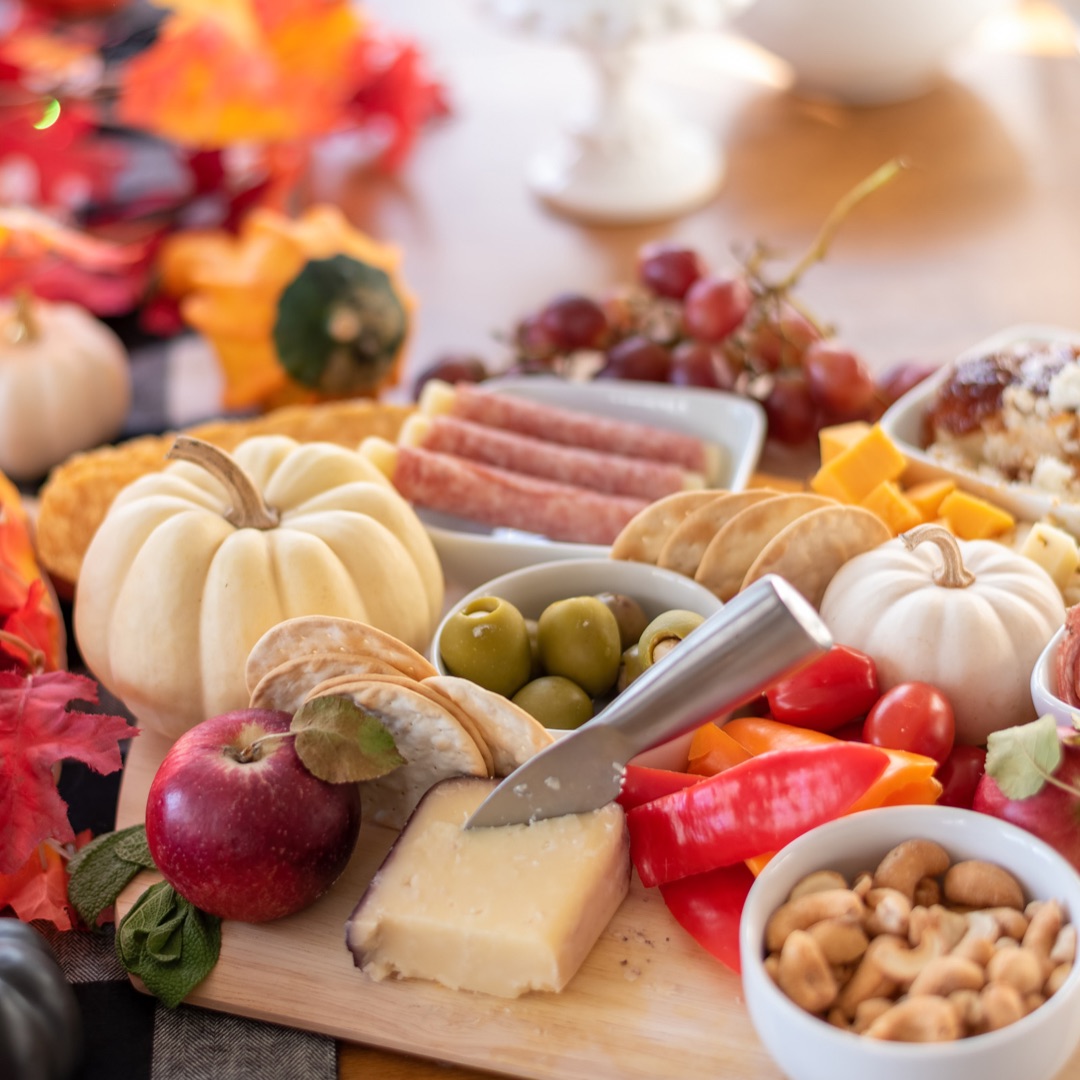 There are options of course, on how best to lay out and style a cheese board. Three of the most popular ways to set about the initial arrangement of the board are as follows:
Start with a large or showy item as the centerpiece in the middle of the board (i.e., a martini glass filled with olives) and build outward from the center
Arrange the cheeses clockwise, starting with the softer cheeses, to the semi-hard, to the hard aged, to the funky
Scatter the cheeses strategically around the board, leaving spaces between each one and then fill in spaces with the meats and accompaniments near the cheese that best matches the particular cheese variety.
The key to a beautiful cheese board is abundance, as well as diversity of color, texture and flavors. Here are some tips that will help you achieve this artistic goal:
make initial cuts in the cheeses so the guests are not intimidated about initiating the cutting
artistic preparation of the cheeses might include: fanning out slices of cheese, cutting a triangle out of a round and pulling it out from the round a bit to showcase, slicing a cheddar or hard cheese into long, thin planks, roughing up the surface of a hard cheese to show texture, slicing a round, and/or leaving some (not all) of the rind on a cheese to add to the visual
use different vertical heights on your board to add interest (martini glass full of olives, small dishes of spreads, layered herbs, etc.
put out a spreading knife for soft or sticky cheeses like blue, provide a knife that will both cut and stab for hard cheeses, and use small spoons for jams and spreads
if your board is quite full, you may want to put crackers and/or breads in a separate basket near the board
place the sweet spreads next to the cheese you are pairing it with
wood, slate or marble boards all work. I prefer wood because it sounds less abrasive when using a knife to cut. Slate can be very pretty however and the dark color accents the pale cheeses well. Experiment with different boards and don't be afraid to use items in your home that are not official cheese boards!
Serving & Storing
Most important is to allow the cheese to come to room temperature about one hour ahead of serving. Cheese is much more favorable at room temperature
Some cheese will "sweat" as it comes to room temperature. Just dab it a bit with a paper towel
It is really helpful to guests to provide some markers that tell them what kind of cheese each variety is. Porcelain markers or chalkboard markers work well because they can be reused.
Leftover cheese should be wrapped up in parchment paper and then covered loosely with plastic wrap. Do not cover tightly with plastic as it will hold moisture
Some cheese freezes well and some not so well. These tips will help you determine what and how to freeze any leftovers.
Detailed Video Tutorial on Making a Low Carb Cheese Board
Online Diet/Health Coaching:
Although I am not currently taking clients for diet & health coaching, I have been a coach for many years with the online service called coach.me. It is a great platform for all kinds of coaching – anything from specific diets, writing a blog, getting up early, or getting rid of that pesky procrastination.
There are some wonderful coaches and the testimonials will tell you what you need to know. Contact me at [email protected] to get a referral to some of the tested, experienced online coaches on Coach.me
If you'd like to start with a plan for a low carb or keto lifestyle, check out this detailed guide in ebook form. It may be all you need to lose weight on this lifestyle. Or it may be used as a supplement to one-to-one coaching.