Cheese platters (or charcuterie boards) are one of the most popular approaches to entertaining, primarily because they are easy to put together and easy to please a number of different palates. The drawback for some people is the sugar content of many of the accompaniments (like jams, honey, candied nuts, etc.). There are ways however to decrease the high sugar options without losing the wonderful flavors and textures of cheese platters (or charcuterie boards).
Jump to: Low Carb Modifications | Spreads vs Jams | Special Occasions | How to Freeze Cheese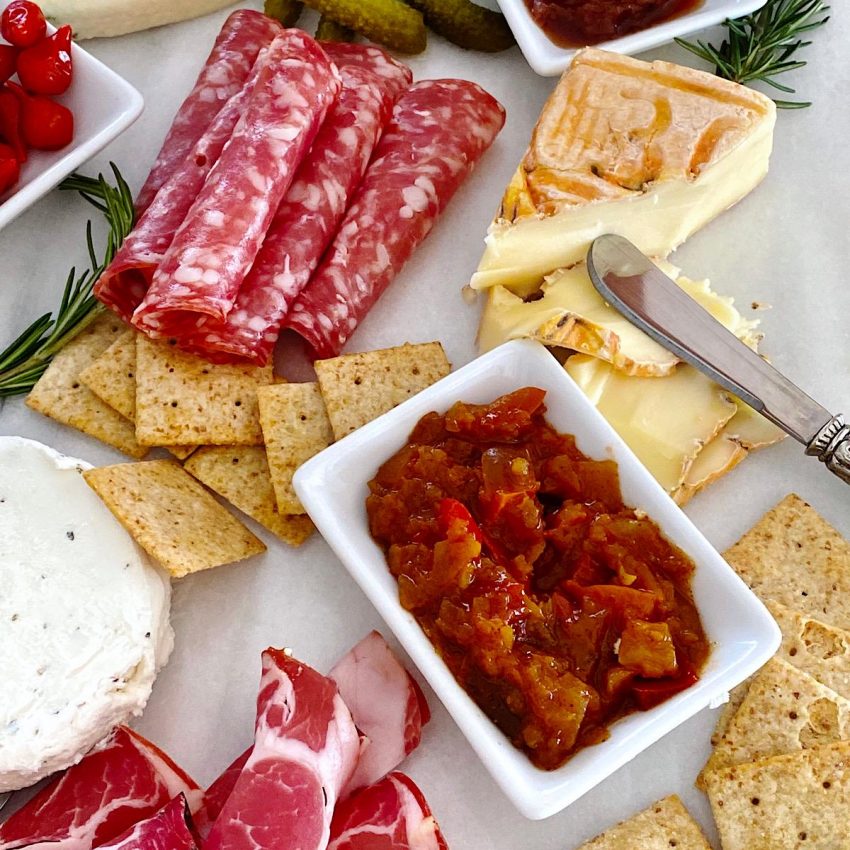 This post may contain affiliate links, and you can read our disclosure information here–
Low Carb Substitutions
The star ingredients of most cheese plates or charcuterie boards are, of course, the cheeses and meats. Most meats and cheeses are inherently low carb, so it is really the accompaniments that take cheese plates/charcuterie boards out of low carb status.
Here are some ideas for getting to low carb without a loss of flavor or texture:
Accompaniments that add acid to some of the soft cheeses is one way to enhance flavor without sugar. This would include things like olives, pickles, and mustards.
Accompaniments that add crunch to the creamy texture of cheeses are a low carb way of enhancing texture. This would include ingredients such as nuts or crudites (crispy vegetables like carrots or jicama). Just avoid the carmelized pecans or nuts as they are coated with a lot of sugar.
Some cheeses exhibit their highest flavor profile the addition of a sweet spread however. Chutneys can fill in for the sweet spreads in order to add a little sweetness without the high degree of sugar.
Chutneys and Spreads vs Jams
Jams and fruit preserves often accompany a typical cheese plate. The problem is that jams include a good amount of added sugar in order to get a spreadable consistency. The jams in the store that say "no added sugar" often use pear or apple juice for the sweetener, and these juices, while natural, are loaded with fruit sugar (fructose).
The only way to make a spreadable jam or jelly without a lot of sugar is to make a freezer jam, rather than a sealed, shelf stable jam.
Making jam is both an art and a science. The "science" of getting a jam to a spreadable consistency is around getting the ratios of pectin, sugar and acid correct, and this usually involves adding quite a bit of sugar.
Chutneys, mustards and low sugar spreads do not "gel" and are therefore much more forgiving, and much easier to make into a low carb spread. Romesco, for example is an Italian pepper spread that gets its texture and consistency from ground almonds.
While mustards can be great options for jams, if you choose chutneys read the labels. Some chutneys have quite a bit of sugar and some do not.
For the cheese plate above I used two chutneys, a red pepper & green apple chutney and a plum chutney.
Food Boards or Grazing Platters Year-Round
Food boards (aka grazing boards) are an easy way to entertain company or family over the holidays. They can be as simple as a cheese, cracker and jam plate , as specific as this low carb charcuterie board, or as elegant as a holiday seafood platter for a crowd.
This detailed guide on how to build a cheese board or a charcuterie board will help and inspire in the flexible world of cheese boards.
How to Store or Freeze Cheese
Cheese can be one of the more expensive items on a cheese plate and if you or your guests don't finish it all (yes, it happens sometimes), then you want to make sure and store your wonderful cheeses in a way that they will preserve the texture and flavor.
First of all, do not wrap in plastic wrap (unless freezing). This locks in too much moisture and they will mold and the texture will change.
What the cheesemongers say is best to do is wrap the cheese in parchment paper or wax paper and then loosely wrap that bundle in aluminum foil. The idea is to allow the cheese to breathe but not dry out.
According to these same cheesemongers, there are actually some cheeses that will freeze well, even though popular guidelines say it is not possible.
Some of the softer cheeses like Camembert or some goat cheeses can be frozen for a couple of months without losing flavor or texture. In this case you "do" want to wrap tightly in plastic wrap and then place in a ziplock freezer bag.
Hard or semi-hard cheeses like cheddar do not freeze well however. The texture breaks down and you get a crumbly or crystalized cheese.
Video Tutorial on a Low Carb Cheese Board Paired with Chutneys
Online Diet/Health Coaching:
Although I am not currently taking clients for diet & health coaching, I have been a coach for many years with the online service called coach.me. It is a great platform for all kinds of coaching – anything from specific diets, writing a blog, getting up early, or getting rid of that pesky procrastination.
There are some wonderful coaches and the testimonials will tell you what you need to know. Contact me at [email protected] to get a referral to some of the tested, experienced online coaches on Coach.me
If you'd like to start with a plan for a low carb or keto lifestyle, check out this detailed guide in ebook form. It may be all you need to lose weight on this lifestyle. Or it may be used as a supplement to one-to-one coaching.