This taste test compares two versions of a grilled cheese and tomato jam sandwich – one with Velveeta and refined white bread, and one with gouda and robust seeded bread from the bakery.
Jump to Recipe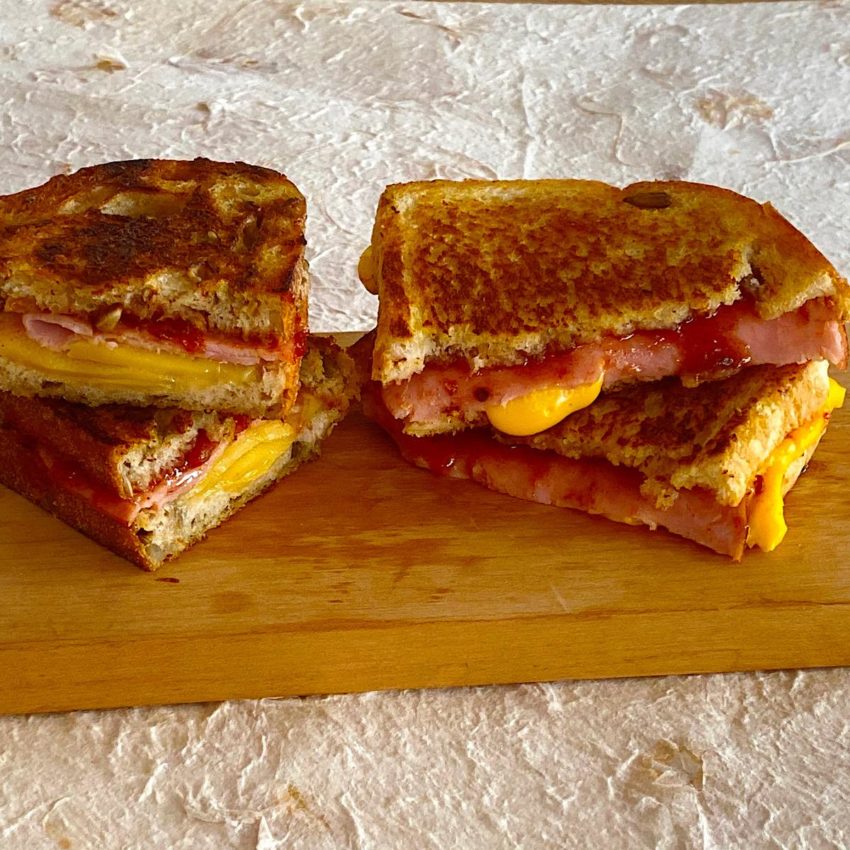 This post may contain affiliate links, and you can read our disclosure information here–
Processed vs Non-processed Cheese
There is an ongoing controversy at our house regarding Velveeta. Is it really a cheese or something else?
There is no doubt that it melts well and can make a delightfully gooey grilled "cheese" sandwich. This is the husband's preference. But is it really a cheese?
Wikipedia puts it this way:
"Velveeta is A brand name for a processed cheese product that tastes like an American cheese, with a softer and smoother texture than non-processed cheese. When melted, Velveeta keeps a fully integrated and evenly clump-free liquid texture."
"The product was first advertised as a nutritious health food. In the 1930s, Velveeta became the first cheese product to gain the American Medical Association's seal of approval. It was reformulated in 1953 as a "Cheese spread" but as of 2002 Velveeta must be labeled in the United States as a "Pasteurized Prepared Cheese Product"
There you have it, Velveeta is a pasteurized prepared cheese product!
My preference is to use one of the soft or semi-hard cheeses that are considered non-processed cheese (aka simply "cheese").
They all have slightly different tastes of course, but for this grilled cheese and jam taste test, I chose gouda because it was strong enough to stand up to the tomato jam.
Which is the Best Melting Cheese?
For grilled cheese you want a cheese that will readily melt within the sandwich while the bread is becoming lightly grilled. My favorite options for the best melting cheeses include:
Fontina: very mild but melts well
Gouda: use the young gouda with the red wax coating; sweet & chewy
Brie: smooth and quite rich & very gooey when melted
American: like Velveeta, this makes the gooiest, meltiest grilled cheese
Gruyere: milky creaminess, salty & nutty
Cheddar (young cheddars): shred it first and it will melt just fine; sharper taste than some of the others
Taleggio: nutty, with a bit of funk
Raclette: fruity, sweet, Swiss cow's milk cheese
Provolone: easy if you use deli-sliced; get sharp for more tang
For more details on each of these cheeses, click on this Bon Appetit post.
Best Jams & Spreads for Grilled Cheese Sandwiches
Basically any jam will dress up a grilled cheese sandwich and add to the flavor. I like using jams rather than jellies as they have a little more texture (mouthfeel so to speak).
The melted cheese should be the gooey star of the sandwich, and jellies can break down and release more liquid than the jams.
It is also easier to find low sugar jams where the fruit is the dominant flavor rather than the sweetness. Jellies are more difficult to make into a low sugar spread.
Of course another alternative is to use fresh sliced fruit rather than a jam. Sliced pears and brie are a match made in heaven. Some other favorite pairings of mine include:
Plum jam with smoked gouda
Citrus jams or marmalades with gruyere
Tomato jam with cheddar, mozerella or gouda
Raspberry jam with brie
Fig jam with fontina
Currant or grape with an extra sharp cheddar
Chutneys with cheddar
Strawberry with brie
The recipe below used our tomato jam which was delightful. Other jams would work well also, so feel free to change it up. For a great BLT sandwich using tomato jam, click here.
Two variations on grilled cheese and tomato jam sandwiches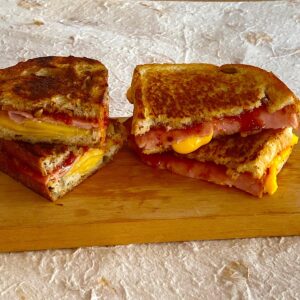 This was a taste test between a grilled cheese sandwich made with Velveeta, tomato jam & refined white bread as opposed to a grilled cheese made with gouda, tomato jam and crusty grain bread from a bakery
Ingredients
Grilled Cheese with Velveeta & refined white bread and tomato jam
2

slices

white bread

2

Tbsp

butter

organic if possible

3

oz

Velveeta cheese

sliced

1

Tbsp

tomato jam

1

slice

deli ham
Grilled Cheese with Gouda & bakery grain bread and tomato jam
2

slices

sunflower seed whole grain bread

2

Tbsp

butter

organic if possible

3

oz

gouda

sliced

1

Tbsp

tomato jam

1

slice

deli ham
Instructions
Lay the bread out in mirror images, so that the filling will be between the non-buttered sides and the buttered sides will be on the outside of the sandwich

Generously butter the outside pieces of the bread, crust to crust. Turn one of the pieces of the bread over (butter side down on the counter or board) and lay the cheese slices on top. Then lay the slice of ham on top of the cheese and cover the ham with some tomato jam. Place the other piece of the buttered bread on top (buttered side up)

Repeat the process for the next sandwich

Place the sandwiches on a skillet (butter side down) with the heat on medium. Cook for about 3 min or until the bread is lightly browned. You can pick it up gently with a spatula and look underneath to see if it is browned enough. When it is browned to your liking, flip the sandwich over with a spatula and brown the other side.

Remove from the skillet, cut in half and enjoy and compare. Leave a omment or a photo as to your favorite!
Video
Grilled Cheese with Tomato Jam - Taste Test
Nutrition
Calories:
666
kcal
Carbohydrates:
38
g
Protein:
30
g
Fat:
45
g
Saturated Fat:
27
g
Cholesterol:
144
mg
Sodium:
1800
mg
Potassium:
336
mg
Fiber:
2
g
Sugar:
12
g
Vitamin A:
1357
IU
Calcium:
672
mg
Iron:
2
mg
Did you make this recipe?
If you tried this recipe, please give it a star rating! To do this, just click on the stars above. Comments are always helpful also and I respond to all of them (except rude ones)
Online Diet/Health Coaching:
Although I am not currently taking clients for diet & health coaching, I have been a coach for many years with the online service called coach.me. It is a great platform for all kinds of coaching – anything from specific diets, writing a blog, getting up early, or getting rid of that pesky procrastination.
There are some wonderful coaches and the testimonials will tell you what you need to know. Contact me at [email protected] to get a referral to some of the tested, experienced online coaches on Coach.me
If you'd like to start with a plan for a low carb or keto lifestyle, check out this detailed guide in ebook form. It may be all you need to lose weight on this lifestyle. Or it may be used as a supplement to one-to-one coaching.