Craving a BLT, but those tasty heirloom tomatoes are out of season? Try substituting in a tomato jam! It makes your BLT a bit sweeter, but that's not really a bad thing. Made with a soft, doughy egg bread, some arugula, and thick crispy bacon, you will be sure to satisfy the BLT craving while waiting for the fleeting high summer again.
This post may contain affiliate links, and you can read our disclosure information here–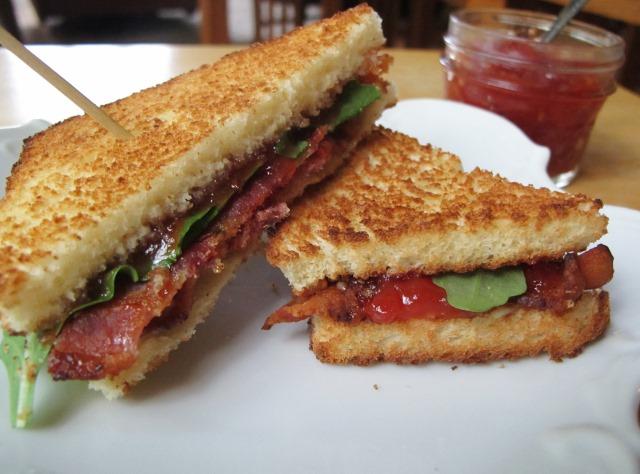 Using Jams for Sandwich Spreads :
Here in Minnesota we don't usually get large ripe heirloom tomatoes from August through early October. Because heirloom tomatoes are one of my main crops at the farm, we had plenty to freeze last year and have been making them into jam all winter.
We also smoke some of the tomatoes after harvesting and use them in HeathGlen's Heirloom Tomato Jam, which gives it a delightful smoky kick.
This kind of jam isn't the easiest thing to find in the grocery store, so be sure and save some of your tomatoes this summer to turn into jam for the winter.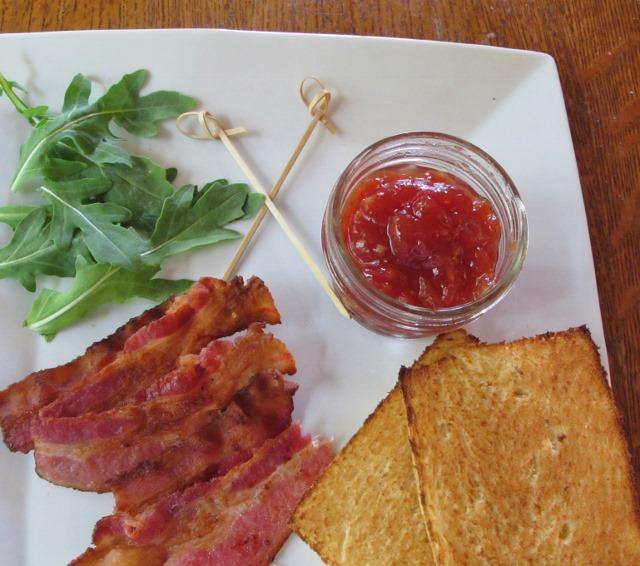 I had a wonderful dinner at a restaurant in Minneapolis called Saffron and they used a bit of saffron (of course) in their tomato jam.
It was excellent, but I can't grow saffron at the farm (unfortunately). Home-smoked jalapenos (aka chipotles) is something I can grow however, and we used them to add a bit of heat to our jam.
If you can't find this type of jam for your BLT, try a BLC (bacon lettuce chutney). Chutneys are more available in the grocery store and can add that sweet and savory quality to the sandwich.
Another great way to use this spread is a grilled cheese sandwich with tomato jam
To use the jam in an easy delicious dinner, try this grilled scallops with polenta and tomato jam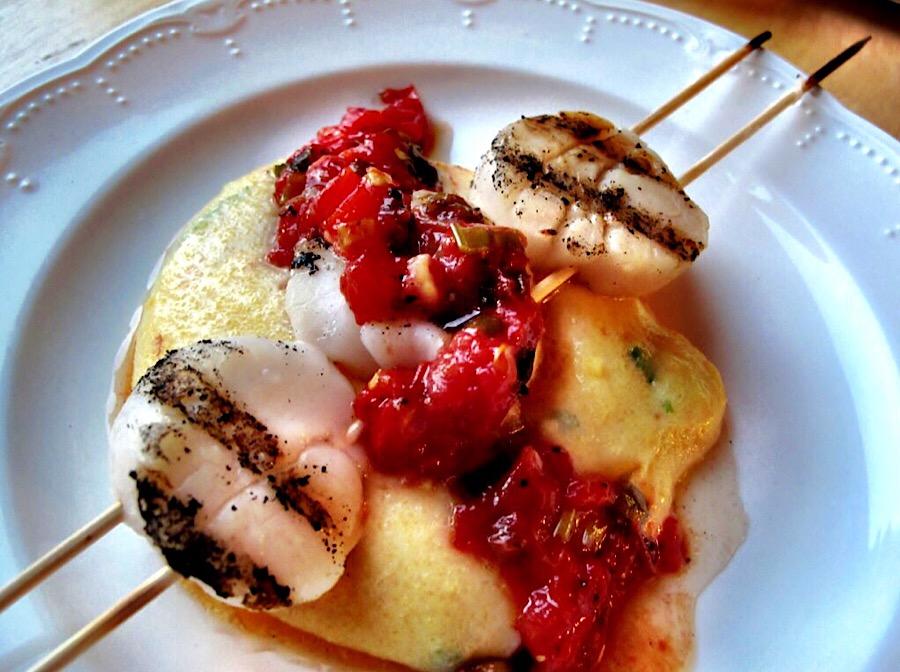 BLT with Tomato Jam
When tomatoes are out of season, this riff on a classic BLT substituting tomato jam is great!
Ingredients
4

slices

egg bread or brioche

(or your favorite bread)

2-3

slices

thick bacon

1-2

Tbsp

tomato jam

4

large leaves fresh arugula

1

tsp

mayonnaise
Instructions
Get all your ingredients out so you can make the sandwich while the toast is still warm (mise en place). Turn on your oven broiler.

Generally you cook the bacon in a cast iron skillet over the stove top, turning often, until it is as crispy as you like it. I wanted to get the bacon to stay flat for the sandwich, so I cooked it in my Cuisinart Griddler, which has a top and bottom griddle plate similar to a panini-maker. It worked like a charm, giving me flat but crispy bacon. Drain the bacon on paper towels.

Cut the crusts off of the bread and place the bread on a cookie sheet. Place the cookie sheet under the broiler for a couple of minutes until it is light brown toast. Turn and toast the other side.

Assemble the sandwich. Place a bit of mayonnaise on one side of the toast and the tomato jam on the other piece of toast. Top the mayonnaise with arugula and then the bacon. Place the other piece of toast (tomato spread side dowon the bacon toast and you have an awesome out-of-season BLT.
Did you make this recipe?
If you tried this recipe, please give it a star rating! To do this, just click on the stars above. Comments are always helpful also and I respond to all of them (except rude ones)
Enjoy these delicious BLTs until the real tomatoes come in!
Online Diet/Health Coaching:
Although I am not currently taking clients for diet & health coaching, I have been a coach for many years with the online service called coach.me. It is a great platform for all kinds of coaching – anything from specific diets, writing a blog, getting up early, or getting rid of that pesky procrastination.
There are some wonderful coaches and the testimonials will tell you what you need to know. Contact me at [email protected] to get a referral to some of the tested, experienced online coaches on Coach.me
If you'd like to start with a plan for a low carb or keto lifestyle, check out this detailed guide in ebook form. It may be all you need to lose weight on this lifestyle. Or it may be used as a supplement to one-to-one coaching.