Waikiki Ham Balls (with a pineapple glaze!) was a popular appetizer in the 60's tiki scene, and the recipes below feature a retro ham ball recipe, as well as a retro tiki Mai Tai, complete with umbrella. I have to admit, I was leery of the idea of "ham balls", but surprise, surprise. They were actually great (I did upgrade them a bit however). Warning, the video is corny.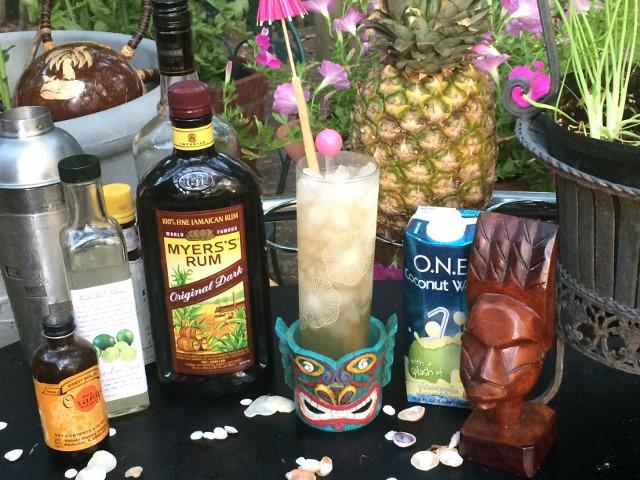 A (little) Bit on Tiki Culture:
The Men behind Tiki:
Ernest Beaumont-Gantt (who later changed his name to Donn Beach), had spent some time traveling the South Pacific and in 1934 decided to create a bar and restaurant in Hollywood that featured some of the exotic scenes he enjoyed on his travels. The "Don the Beachcomber" bar was full of Polynesian kitsch, including flaming torches, rattan furniture and flower leis and his drink menu focused on "exotic" rum punches.
Don the Beachcomber is usually given credit for bringing the tropical drink genre to popularity. Most of his signature drinks included rum, flavored syrups, fresh fruit juices, and the ubiquitous umbrella. Howard Hughes and many of the hollywood stars hung out at Don the Beachcombers from the 40's to the 60's. It was quite the place to be seen as I understand it.
Another man, Victor Bergeron, so liked Donn's Polynesian themed ideas and therefore opened his own tiki restaurant (Trader Vics) in Oakland three years later. Trader Vics was wildly popular in the Bay Area and eventually became a worldwide chain.
The Feud:
Of course the popularity of these two similarly themed restaurants resulted in a feud. Apparently it was a long drawn-out feud centered around exactly "who" invented the Mai tai. The Mai tai is considered to be the quintessential tiki cocktail and bragging rights were an important business draw. I can't verify which was the true inventor, but I'm going to side with Don the Beachcomber. You've go to give credit to a guy who actually changed his name to fit his passion!
Today's Tiki:
It wasn't until I decided to do a retro tiki mai tai for Throwback Thursday, that I realized there is a revival of the Tiki culture. Tiki-themed parties and events have sprung up all across America (but mostly Southern California). Pinterest is full of ideas for tiki parties and large annual Tiki events take place every year in California, Florida and New York. There are even a range of online communities for "tikiphiles", one of the biggest which is Tiki Central message boards. Who knew?
Retro Tiki Mai Tai – the "original"
Ingredients:
2 oz. aged rum
3/4 ounce freshly squeezed lime juice, juiced lime half reserved
1/2 ounce orange curaçao
1/4 ounce rock candy syrup
1/4 ounce orgeat
1 cup crushed ice
1 mint sprig, for garnish
Directions:
Fill a rocks glass with 1 cup crushed ice. Set aside in the freezer.
Combine rum, lime juice, orange Curacao, rock candy syrup, and Orgeat in a cocktail shaker. Add 1 cup ice, cover and shake until chilled. Strain into the chilled rocks glass.
Garnish with half of the lime shell inside the drink and float a sprig of fresh mint on the edge of the glass.
Upgraded version of the Mai Tai for today's tastes: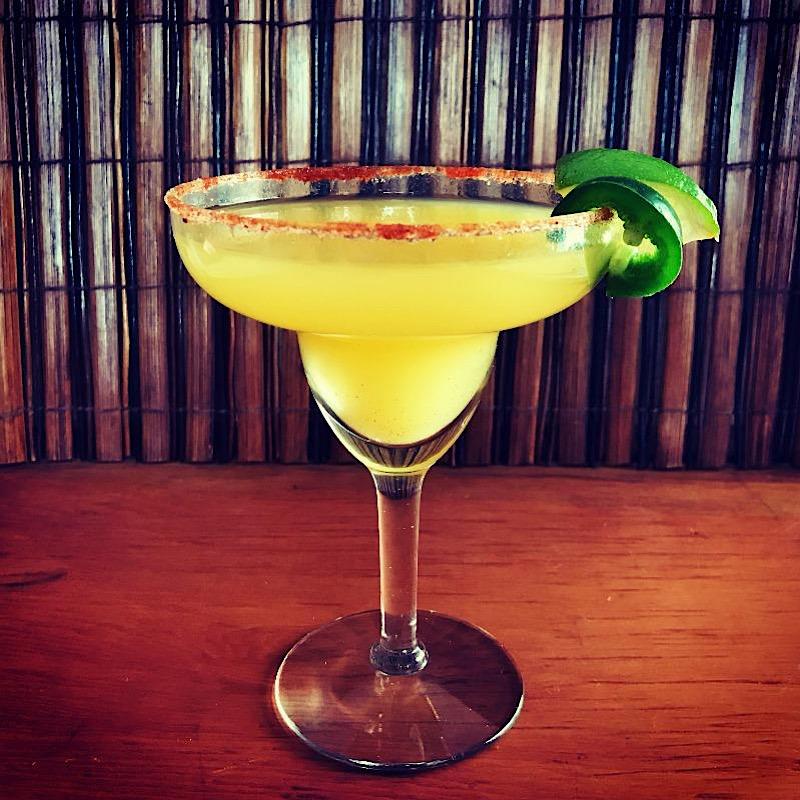 The original Mai tai drink recipe has been tweeked throughout the years, resulting in what most think of as a very sweet rum drink with pineapple juice. I have tweeked it again and removed some of the sweetness and added more lime flavor.
1 oz. Meyers rum (dark rum)
1 oz. light rum (I used Cruzan)
1 oz. coconut water
1 oz. pineapple juice
1 1/2 oz. ginger lime syrup (you can use any other simple syrup here)
1 1/2 oz. fresh lime juice (or 2 lime wedges squeezed into shaker)
2 dashes bitters
3 drops orange blossom water (or orgeat syrup)
stick of sugar cane or lime wedges for garnish
Preparation:
Combine all ingredients except garnishes in a cocktail shaker with ice, shake vigorously, and strain the entire contents into a tall glass filled with crushed ice. Garnish with the sugar cane stick (and umbrella) or with pineapple slices or lime wedges.
Recipe for Ham Balls with a Pineapple Glaze:
Ingredients for Meatballs:
1 1/2 lb. ham, chopped into cubes
3/4 lb. ground pork
1/3 cup onion, minced
1 cup panko
2 eggs
1/4 tsp ginger
1 Tbsp. heavy cream
1/4 tsp pepper
Ingredients for Glaze:
1 cup crushed pineapple
1/3 cup apple cider vinegar
1 Tbsp dry mustard
1/4 cup lime jelly
1/4 cup brown sugar
1 tsp corn starch mixed with 2 Tbsp cold water
Directions:
Preheat oven to 350 degrees
Process ham and ground pork in a food processor over low speed until coarsely ground (do not puree). Place meat mixture in large bowl with the rest of the meatball ingredients and mix well with hands or sturdy spoon to combine.
Use hands to form meatballs approximately 2-inches in diameter.
Arrange meatballs in baking dish and place in the oven without glaze for 20 minutes
While the meatballs are cooking make the glaze by mixing all of the glaze ingredients except the corn starch in a small pot over a medium-high burner. Bring to a boil. Whisk in the corn starch/water solution and simmer at a low boil 1-2 minutes.
Pour the glaze over the meatballs, coating them well. Continue to cook at 350, basting with the glaze every 20 minutes. Meatballs should be done after 1 hour total cooking time. If you want to test internal temperature it should read around 165 degrees.
This recipe would be easy to adapt to a crock pot for party appetizers.
If you want to get really retro, serve each meatball inside of a pineapple ring.
Cheers!