Ferragosto is an Italian national holiday where the Italians escape the dog days of August and take a rest from the labor of the harvest season. It is a family holiday rivaled only by Christmas, and many Italians head for the beach for a week of relaxation, friends and good food. Watermelon often plays a starring role and these 2 recipes highlight watermelon drinks at their finest.
Jump to Recipe
A (little) History of Ferragosto:
The Italian festival called Ferragosto is celebrated on 15th August which dates back originally to the Romans. Ferragosto was later incorporated into the Catholic faith, and then tweaked even later by Fascism and today is a relevant part of popular Italian culture.
The ancient Roman Ferragosto was linked to the Consualia, effectively incorporating August festivities in Italy which celebrated the harvest to provide a suitable period of rest, necessary after the hard labour of the previous weeks.
The Catholic Church then added a celebration of the Assumption of the Blessed Virgin Mary (the elevation of her sinless soul and incorruptible body into Heaven), to the Ferragosto holiday.
Ferragosto's Connection to Fascism
Somewhere around the second half of the 1920s, the Fascist leisure organizations set up the "People's Trains of Ferragosto" where the train fares were discounted enough that it gave less well-off social classes an opportunity to travel. It was during these "people's trips" that the majority of Italian families had, for the first time, the chance to reach seaside and mountain resorts, as well as see art in Italian cities. The discounted offer was limited to 13, 14 and 15 of August, and consisted of two options: the "One-Day Trip", within a radius of 50 to 100 kilometers or the "Three-Day Trip" within a radius of about 100–200 kilometers.
Large Batch Watermelon Drink with Limoncello
Today, Ferragosto is still honored, primarily as a feast day and a holiday to escape the heat. Most Italians take at least a short holiday, if not the whole month of August, and head to the beach or the mountains for family time and parties.
Food and drink is, of course central to the festivities, with huge meals, even in the hottest temperatures, central to the festivities.
My research did not uncover any particular dish that was traditionally associated with Ferragosto. All of the available photography however, included watermelon, so that is what I went with for our Ferragosto celebration.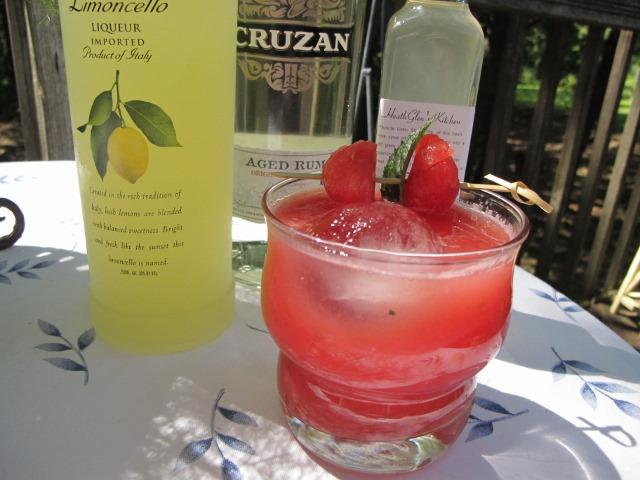 Apparently restaurants in Southern California celebrate the holiday with a full Porcetta roast. Sounds like a plan for next year's celebration.
Watermelon Drinks for Hot Days
Watermelon is the star in these two cooling Summer drinks. One is a non-alcohol aqua fresca and one is spiked with rum and Limoncello.
Equipment
Large Knife

Like a chef's knife
Ingredients
4

Cups

Cubed watermelon

this is ~ 1/8 of a large watermelon; get seedless if possible

¼

Cup

sugar

alternatively you can use a simple syrup

1

lime

or 1/3 cup lime juice

1

Cup

water
For the "cocktail"
1 ½

Ounce

rum

per glass

½

Ounce

Limoncello

per glass

melon balls, lime slices or fresh mint for garnish

optional garnishes
Instructions
Cut the watermelon in half crosswise. Slice on of the halves horizontally, lay flat and scrape out the seeds.

Cut off the rinds and then cut each slice into chunks or cubes that will fit into the blender, addig to a measuring cup until you have about 4 heaping cups (if you need more than 1/2 of your watermelon, just take another slice.

Add watermelon chunks, sugar, 1 cup water, and the lime juice to a blender and blend to your desired thickness. Add more water if it is too much like a slushie or not to your preference. This only takes 30 seconds or so.

This is your aqua fresca. Some people will strain the mixture, but I personally don't think it needs to be strained.

Pour over glasses filled with ice or add to a pitcher and refrigerate until ready to serve (can be chilled 2 hours to overnight). Stir thoroughly before serving.

For the cocktail, pour the watermelon base over ice in a glass, add the rum and Limoncello and garnish with mint or lime slices.
Notes
**Note: A variation would be to add 1/4 cup of mint to the blender along with the other ingredients.
**if you keep it in the fridge, it may separate a bit so be sure to stir well before serving.
Nutrition
Calories:
99
kcal
Carbohydrates:
26
g
Protein:
1
g
Fat:
0.3
g
Saturated Fat:
0.03
g
Polyunsaturated Fat:
0.1
g
Monounsaturated Fat:
0.1
g
Sodium:
3
mg
Potassium:
188
mg
Fiber:
1
g
Sugar:
22
g
Vitamin A:
873
IU
Vitamin C:
17
mg
Calcium:
17
mg
Iron:
0.5
mg
Did you make this recipe?
If you tried this recipe, please give it a 5-star rating! To do this, just click on the stars above.