I don't know about you, but as I'm writing this, summer is in full swing and temperatures are blazing. I've been having non-stop cravings for icy cold, sweet drinks to cool me off for weeks. Luckily, many of our southern neighbors are used to things getting toasty during the summer months, so let's take an example from the solutions they came up with using these 10 delicious cooling and non-alcoholic Mexican treats for hot days!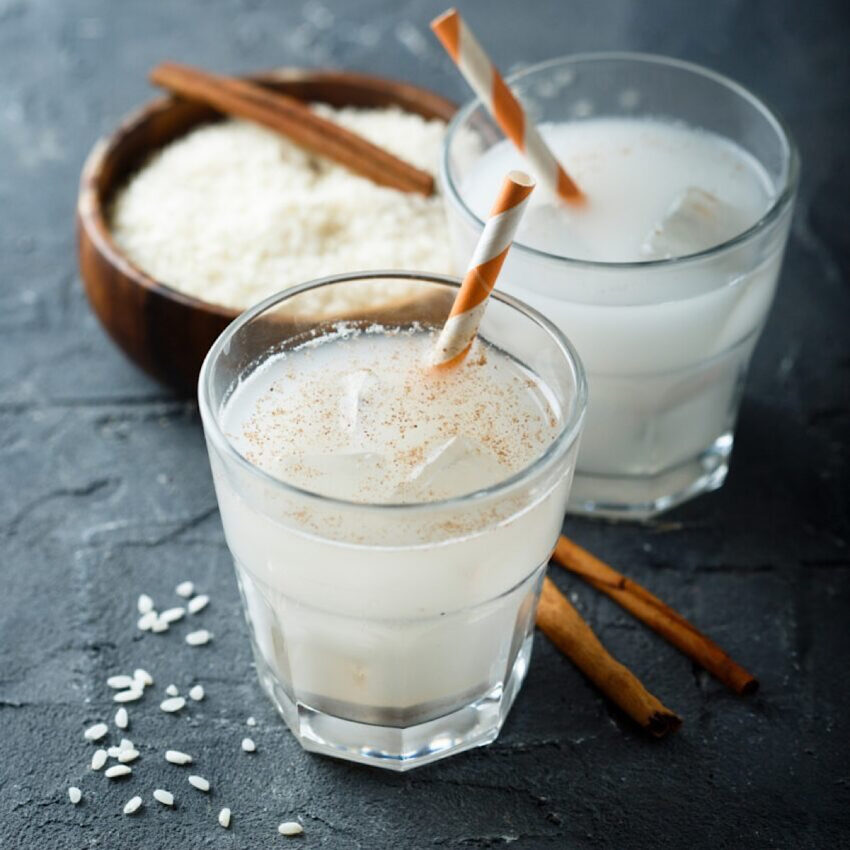 This post may contain affiliate links, and you can read our disclosure information here–
1. Rice horchata
If I had to make a ranking for the most refreshing drinks in the world, horchata would come out in the top 3 for sure. This drink is popular both in Spain (where it's made with tiger nuts) and Latin America (where it's made with almonds or rice). All iterations are milky, cooling, spiced and slightly nutty in flavor. Some even come in slush form for an extra refreshing effect!
My favorite horchata is the Mexican rice variation, and luckily, it's easy to make at home. The basic gist is soaking powdered rice in water and finishing it off with sugar and cinnamon or a (homemade) spice syrup – you can find all the details in my full Mexican horchata recipe if you'd like to give it a try.
Looking for a refreshing cocktail? Horchata's the perfect base for that as well. A shot of spiced rum will convert this yummy drink into an horchata cocktail that's perfect to start off a summer BBQ or gathering with friends.
2. Agua de sandía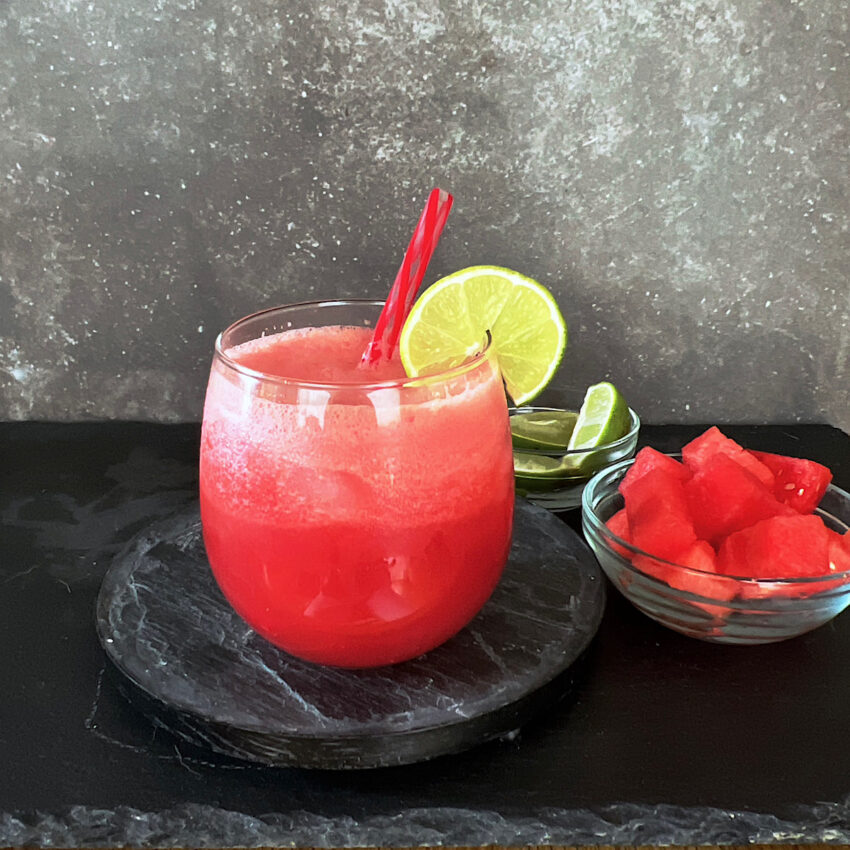 Aguas frescas are one of the most typical Mexican things imaginable. These non-alcoholic drinks combine fruit and plenty of sugar into an ultra-refreshing result usually served by the jug. There are loads (and I mean loads) of different versions, including lemon, hibiscus (which we'll discuss below!), tamarind and much more.
Even the horchata mentioned above is often considered an agua fresca. However, my absolute favorite for summer has to be classic water melon, known in Spanish as "sandía".
Making your own watermelon agua fresca, or agua de sandía, is a breeze. It has plenty of watermelon and ice-cold water, combined with a little sugar and finished off with fresh lime juice to cut through the sweetness. Make it by the jug, because once you start drinking, it's difficult to stop!
And by the way… like the other drinks on this list, it's very easy to tweak agua de sandía into an alcoholic drink recipe if you're looking for a cocktail for your next BBQ or potluck. Why not try an Italian twist on this Mexican classic with my watermelon limoncello?
3. Agua de Jamaica
If the aforementioned agua de sandía sounds a little too sweet for you, I can't blame you. Aguas frescas are usually very sugary!
But fear not: there are also recipes that allow you to take it a bit easier on the sugar and feature more refreshingly tart flavors. Agua de Jamaica, an iced hibiscus flower tea, is one of the best examples.
Dried or fresh hibiscus, the former of which you should be able to find in your local Latin or health food store, lends this drink a flavor not dissimilar to cranberry.
To make agua de Jamaica, all you really need to do is add some water to your hibiscus and bring the whole thing to a soft boil. This gives you a concentrate, which you can then dilute in order to produce big jugs of this colorful drink!
Mexican street food treats would add a good bit of sugar as well, but you can reduce the amount if ultra-sweet drinks aren't your thing.
Unable to find hibiscus? Fear not. You can make this iced tea using any of your favorite herbs. The mixes on my list of homemade tea blends are great both hot and iced.
A lemony blend using lemon balm, lemongrass, lemon peels and more would be perfect during summer.
4. Sangrita
A tomato-based drink may not be the first thing you think of when you're craving something refreshing, but you'd be surprised. The Mexicans, Spanish and other Spanish-speaking countries discovered a long time ago that this red vegetable-which-is-technically-fruit makes the perfect base for a range of summer drinks. No one can deny that gazpacho is thirst-quenching and it's pretty hard to resist a michelada with tomato juice and lots of lemon or lime.
One of my favorite tomato-based Mexican summer drinks is the tomato sangrita, which is usually served as a chaser for tequila or mezcal but also tastes perfectly fine without. It consists of a mix of tomato juice, orange juice, lime juice and chile spice for a little kick. Yum!
5. Jarritos
Here's a little exception to the rest of the list, which features homemade drinks, in the form of a store-bought soda. During those hot summer days, sometimes you just don't feel like doing any kitchen activities! That's when you could head over to your local Mexican or Latino store to get some Jarritos, one of the most popular Mexican soft drinks available. I love their gentle carbonation and fruity flavors.
There's even a Jamaica Jarrito in case you can't find the ingredients for the agua de Jamaica discussed above!
Also, I'm not saying that you should add tequila to your Jarritos, since we're talking non-alcohol drinks here. But if you do happen to have a bottle lying around… Jarritos Locos is a cocktail that mixes white tequila, grapefruit Jarritos, lemon and orange juice plus a pinch of chile powder into a pretty refreshing end result.
6. Tejate
I love learning about food (and drink!) history, and if you do as well, you'll definitely have to try a tejate. This Oaxacan drink stems from before the Spanish conquest of Mexico and is believed to have played a role in certain ceremonies, like the start of the corn harvest season.
It's made with corn flour, cacao and the seeds of a popular fruit called mamey. Sounds unusual to us, but a quick sip will reveal why it hasn't lost its popularity: it's totally refreshing.
Tejate can be bought in bottled form in some Mexican supermarkets, but if you can find the ingredients, you can also give it a try yourself using a classic tejate recipe.
7. Raspado
Move over slushies! In many places in Mexico, you won't find street vendors running slush machines. Instead, they'll do it the old-fashioned way (like a snow cone), which is called a raspado and arguably results in a nicer flavor and texture.
Vendors will have a huge block of ice with them, as well as a colorful collection of flavored syrup bottles. The ice is crushed in an "ice scratcher", scooped into a cup until the point of almost overflowing and then bathed in your syrup(s) of choice. Some even add condensed milk for an even sweeter treat! You really can't ask for anything better on a hot day.
Because you don't need a machine, making your own raspado at home is not too difficult. All you have to do is whack some ice into a blender and then add your favorite (fruit) syrup on top. For the adults, why not go for something a little more sophisticated, like refreshing blackberry mint or a kick of orange chipotle? In fact, no one is stopping you from adding your favorite fruity liqueur either.
8. Café de olla frío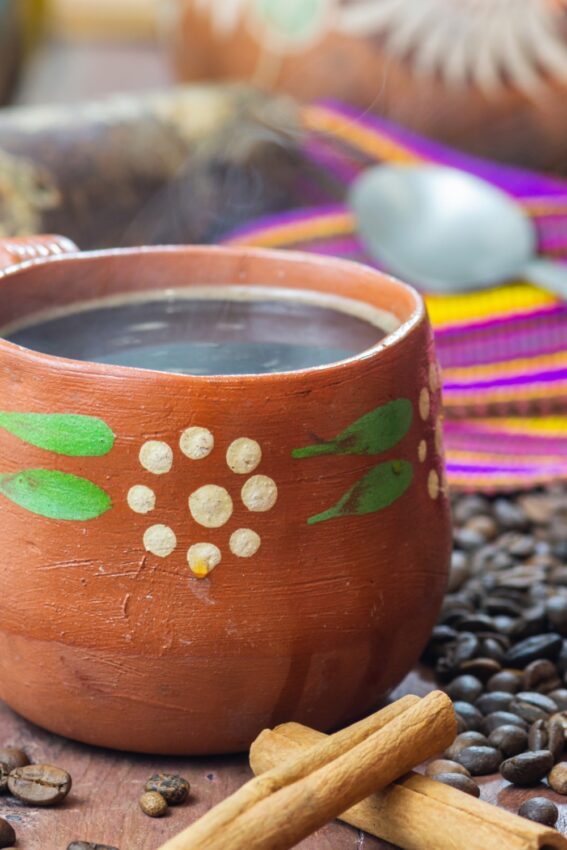 "Café de olla" refers to a typical way of preparing coffee in Mexico. A terracotta pot is filled with water and spices, notably cinnamon and possibly lemon or orange peel. Unrefined cane sugar (called panela or piloncillo) is added and the whole thing is brought to a boil.
Once the mixture starts to bubble, it's taken off the stove or fire and freshly ground coffee is left to steep in the mixture for a few minutes. Pour through a strained into a cup and voilà!
Now, unless you're a purist, you don't have to use a terracotta pot, nor do you have to go on the hunt for panela (although your local Mexican store should have it).
A normal pot and dark brown sugar also work. You also don't have to drink your café de olla hot if temperatures demand a cold drink: café de olla frío is to die for.
You can make a big batch, let it cool, and serve it over ice whenever you crave an icy cold hit of caffeine. Add a little condensed milk if you like your coffee extra sweet, or even a splash of Kahlua for a boozy coffee.
9. Limonada de menta y jengibre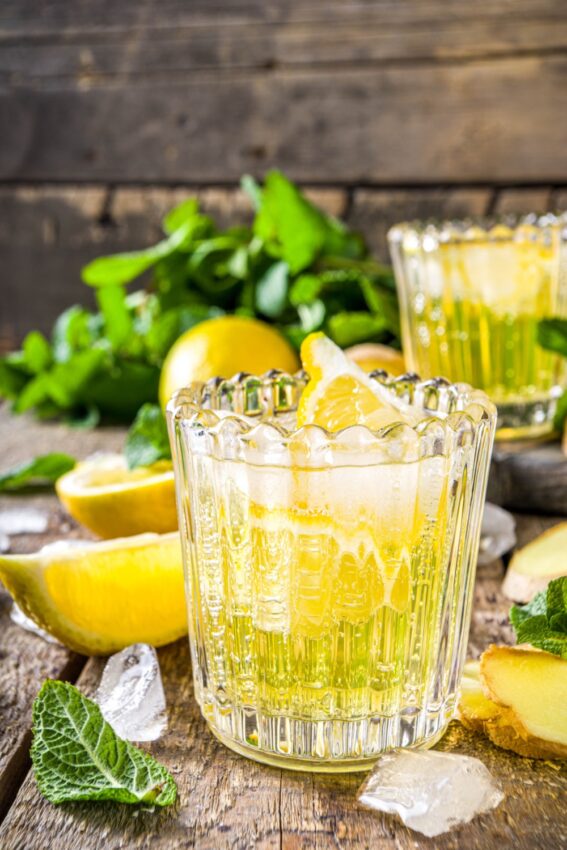 It's tart, sweet, spiced, and most importantly: icy cold. I'm talking mint and ginger lemonade of course, another Mexican classic that's perfect to beat the summer heat.
I know you can buy all sorts of lemonade in-store, but making this one from scratch is easy and the flavor is far superior. Perfect for a picnic or just to have a big jug in your fridge at all times!
To make limonada de menta y jengibre, just take the juice of two lemons and mix it with water, your preferred amount of sugar or other sweetener, a thumb-sized piece of grated ginger and some yummy fresh mint. Combine with water, pop into the blender and give it a whirr until there are no large bits left. Serve with ice.
10. Paletas
Let's finish off strong with paletas (or polos), which are basically popsicles but more natural and a little less sweet. Yes, I'm aware that popsicles are not a drink, but the raspado made the list as well, and that's not exactly liquid either!
A homemade popsicle is exactly what you need on those blazing summer days, especially when it's made with fresh fruit (juice) and not exploding with sugar and artificial sweeteners like the ones you buy at the supermarket.
To make your own paletas, all you'll need is a popsicle mold (or just a dixie cup and some wooden sticks), your favorite fruit and other flavorings, and coconut milk, cream or even yogurt.
In my full post on homemade paletas, I'll explain how to make spicy strawberry, blackberry lime and coffee versions. There's truly a paleta for everyone.
By the way: if you were going to make the café frío de olla discussed earlier, that's a perfect candidate to turn into a paleta!