If you're planning a barbecue or picnic, take an example from the Spanish and get things off to a refreshing start with a delicious gazpacho. Bursting with fresh veggies, this cold soup is healthy and perfect for summer. It lends itself to casual porch food to elegant restaurant fare to gazpacho shooters for Summer get togethers. The recipe is a traditional version which is also low carb.
Jump to: RECIPE | What is Gazpacho Andaluz? | Origins/History | Key Ingredients | Best Tomatoes for Gazpacho | How to Serve | Other Cold Spanish Soups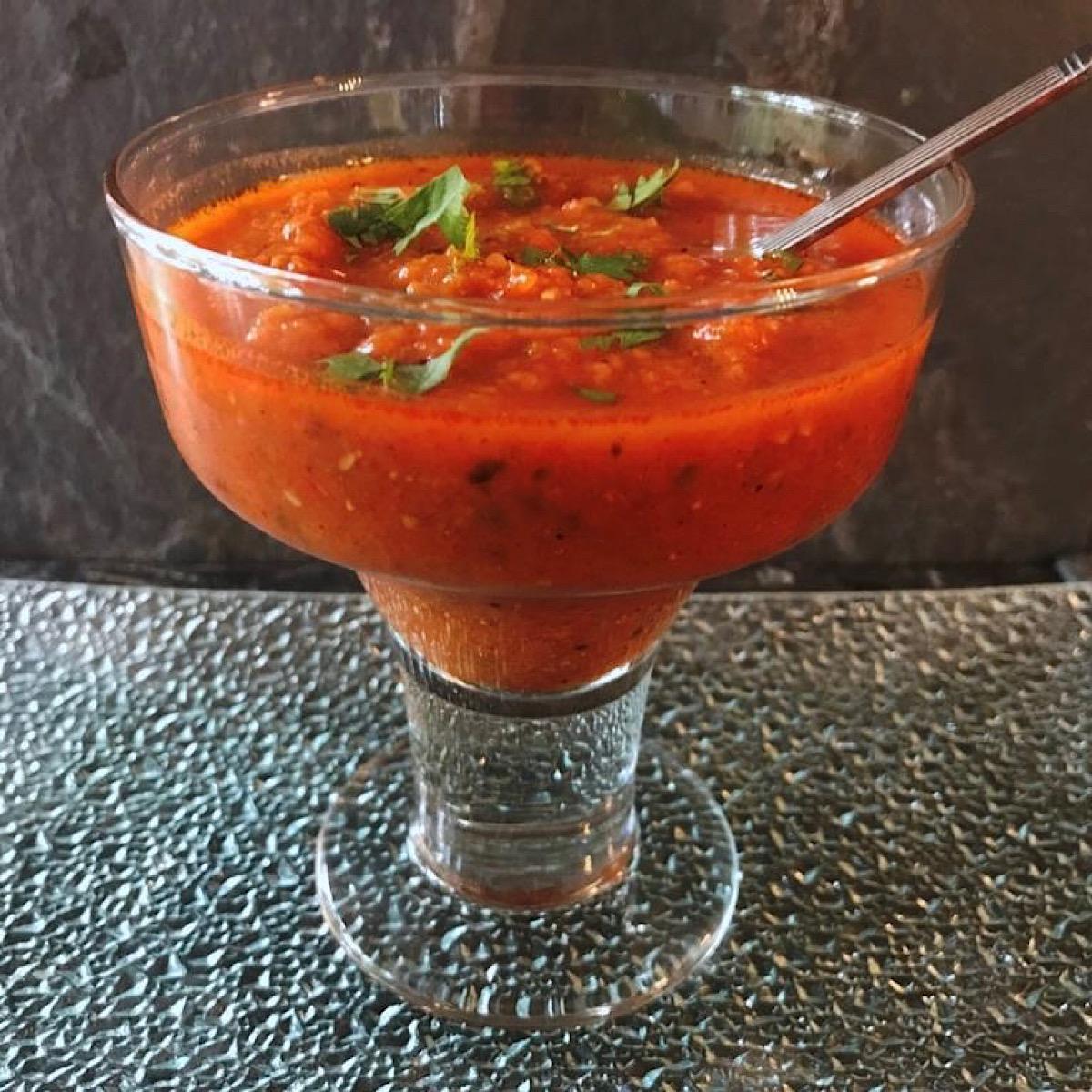 I have never been a fan of cold soups, but a trip to Andalucía, Spain to visit my daughter while in her study abroad program quickly changed that. Her house mother was one of those fantastic cooks, experienced in cooking for a huge range of the cultural tastes of her boarders. Her gazpacho (recipe below) was a traditional "gazpacho andaluz" and became a taste memory that stayed with me long after the trip was over.
What is Gazpacho Andaluz?
When discussing gazpacho, we're usually referring to a Spanish dish that's officially called "gazpacho andaluz". This is a smooth, cold soup made with fresh, uncooked vegetables. As the name suggests, it originates from the southern Spanish of Andalucía.
The name is pronounced "gahth-pah-chaw" in its home province, where the Z tends to sound more like "th", although "gahz-pah-chaw" won't get you any strange looks either.
Other regions in Spain, as well as in Latin America, also boast dishes called "gazpacho". Gazpacho manchego from the province of Castilla-La Mancha, for example, is a traditional stew made with rabbit and flatbread.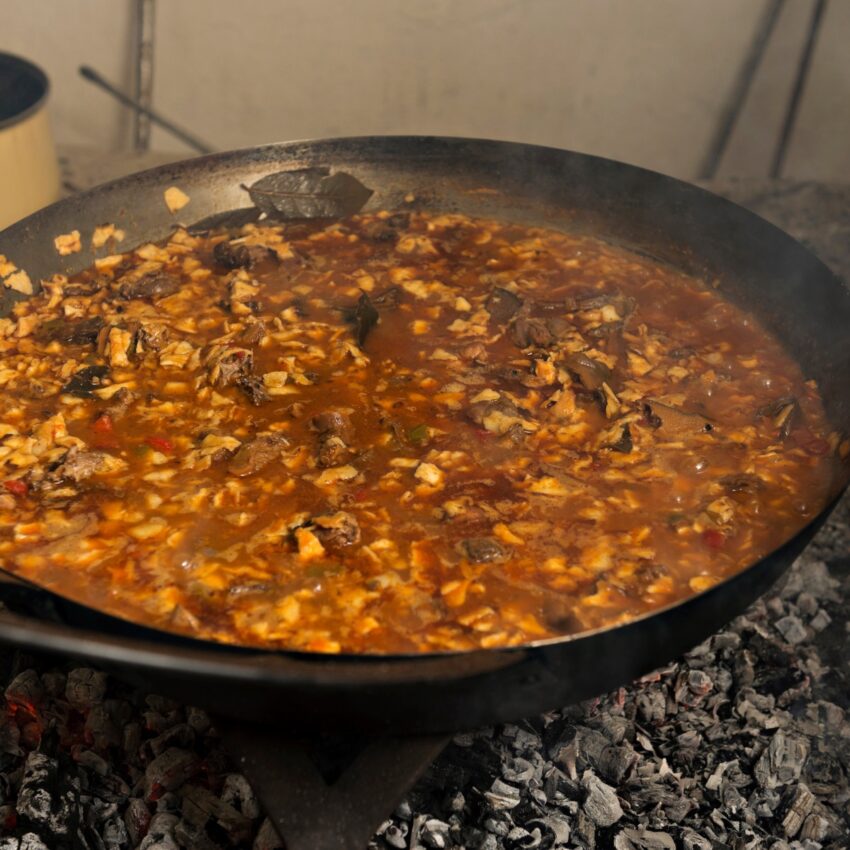 Gazpacho moreliano hails from Mexico and is a combination of different chopped fruits, plus jícama (Mexican yam), shredded cheese, onion, green chile and orange juice.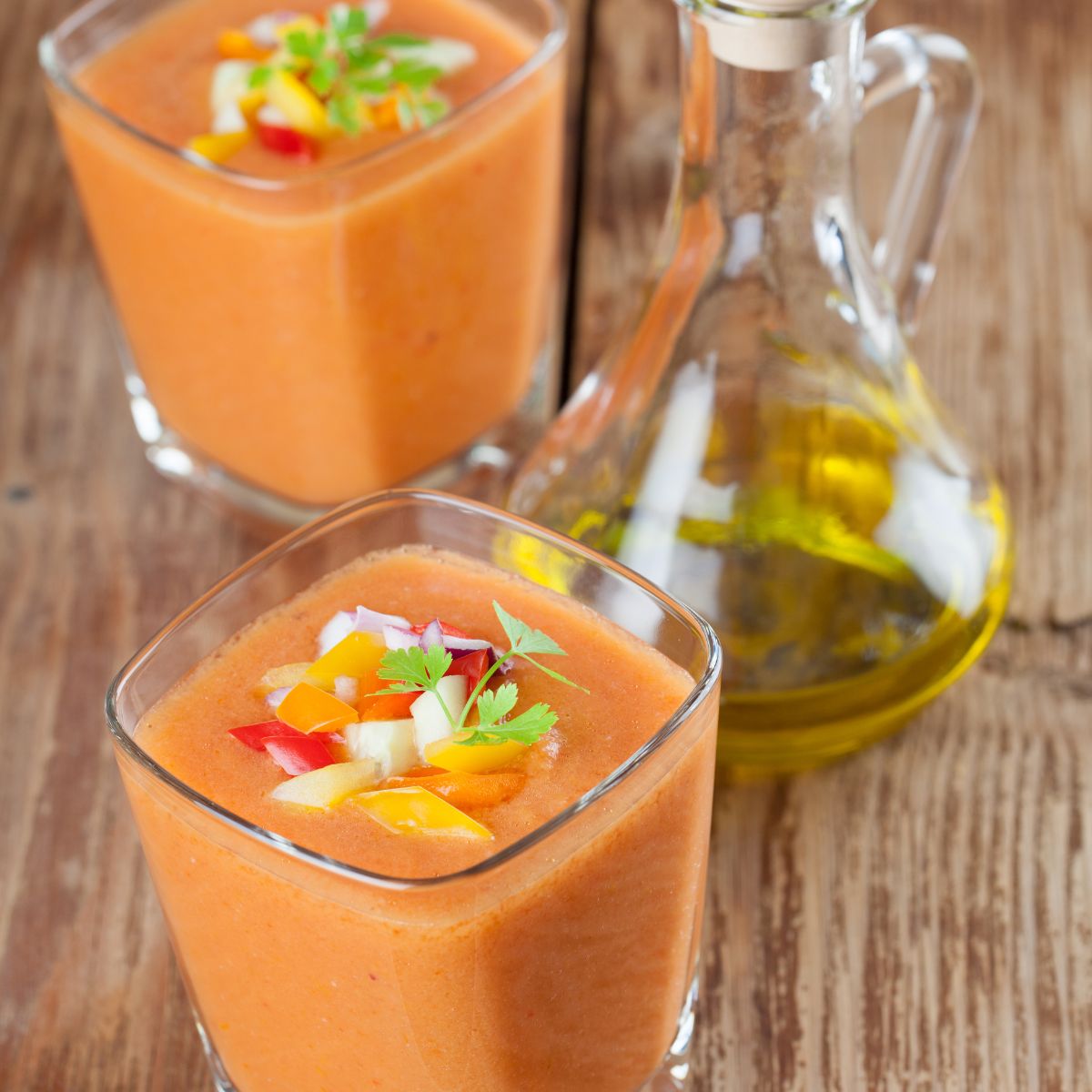 These renditions of gazpacho are completely different from the cold soup that is gazpacho andaluz.
The concept of cold soup still invokes a bit of apprehension in some people, but there's a reason this dish is one of the most classic starters in the entire Spanish culture. It would lose its charm if served hot!
Gazpacho straight from the fridge is delicious and wildly refreshing, making it perfect as an appetizer for your BBQs, summer picnics and potlucks. The Spanish love it so much that you can even buy it bottled or in cartons in supermarkets!
Did you know? There are many recipes out there for dishes referred to as "Mexican gazpacho". They're usually tomato-based cold soups with vegetable chunks, similar to a real Spanish gazpacho but mixed with Mexican salsa. These are yummy, but in reality, they have little to do with gazpacho – neither Mexican nor Spanish.
Origins of Gazpacho Andaluz
As mentioned, gazpacho originated in Andalucía, Spain. Like many traditional dishes, it started out as peasants' food. The eventual addition of tomato made it into a dish known around the world.
Imagine: in the 1500s, the Spanish land in the New World. As a result of their trade with the Aztecs, they bring home a curious but tasty red fruit that the locals referred to as "tomatl". The Spanish went with "tomate" and subsequently introduced the rest of Europe to what is now an absolute culinary staple.
Workers had been eating a mix of bread (without the crust), vinegar and olive oil for centuries by the time the first Spanish conquistadores landed in the Americas. Onions and garlic were added at some point as well, and the bread became less of a staple.
In the 19th century, the tomato and cucumber turned gazpacho into the dish we know today. The whole thing would be ground by hand using a mortar and pestle!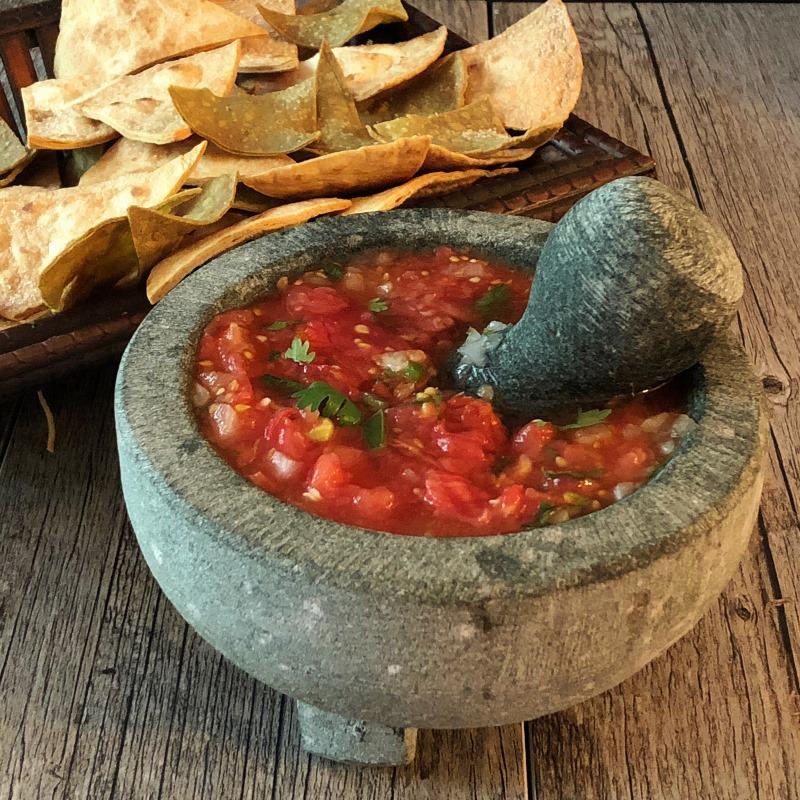 Traditionally, gazpacho would be prepared by grinding garlic and salt together to make a paste. After that, finely chopped tomato would be added and ground, and water, olive oil and vinegar added to taste.
Because onion, cucumber and red peppers were too difficult to grind, they would be finely chopped and served on top.
Although some folks still make gazpacho the old way – not emulsified and with bits – nowadays we usually just toss all of the ingredients in a blender and blend until smooth.
They will emulsify and make for a tasty drink or soup, especially if you pass the whole thing through a fine sieve before serving (or skip the sieve step and have a "chunky" gazpacho.
Traditional Gazpacho Key Ingredients
The most important thing to remember about ingredients for gazpacho is that even within Spain, discussion about the items required to make a traditional gazpacho andaluz can get rather heated. Folks will definitely defend their abuela's version over anything else.
Here are the ingredients that "most" Spanish cooks agree on:
Tomato: A must to give the gazpacho its attractive orange-red color. You can use whole canned tomatoes, but obviously it's preferable to use high-quality fresh ones.
Vinegar: It doesn't matter what kind you use, but it's gotta be good. Sherry vinegar is my preference and is often seen in Spanish recipes.
Olive oil: Again, quality is key. Extra virgin please!
Here are the ingredients that are up for discussion, although most see them as essential:
Onion: Whether blended with the rest of the ingredients or served as a topping, it really helps build flavor.
Garlic: I think a little garlic really helps a gazpacho, and it is a traditional ingredient. However, some folks just don't like it and will leave it out.
Red pepper: The purists will skip the red bell pepper, although it's a common addition. Green ones are sometimes used, but this practice is widely frowned upon.
Bread: Historically, gazpacho andaluz is made with bread as a base, but many will skip this nowadays. Bread makes the dish less refreshing, but is a good option if you want something a little more filling.
Salt is added to taste. A splash of water helps if the gazpacho turned out too thick for your liking (like if you used a lot of bread).
Modern Variations to Traditional Gazpacho
There is basically only one type of traditional cold gazpacho soup in Spain, and that's the Andalucían version we've been discussing so far (the Manchegan version is more of a meat stew).
However, that doesn't mean the concept of gazpacho is still limited to this nowadays. There have always been slight variations, but after blenders became popular, the amount of gazpacho varieties exploded.
Although there are definitely traditionalists out there, a quick look at restaurant menus and the cold drinks section at the local supermarket shows that there are now more gazpachos than you can count.
What they all have in common are the fresh, blended ingredients and the fact that you have them cold.
A few examples of different gazpachos to try include:
Yellow tomato gazpacho
Melon gazpacho, or varieties with different fruits like cherry and strawberry
Breadless gazpacho
Green gazpacho with green veggies, walnuts and green herbs
Lettuce gazpacho
Beet gazpacho
Gazpacho with mint and basil
Avocado gazpacho
Best Tomatoes for Gazpacho
If you're wondering how to make the absolute best traditional gazpacho andaluz possible, keep in mind that a lot of this will depend on the type of tomato you use. Good vinegar, good olive oil and good tomatoes make for the best result! But which tomato works best?
If you ask the Spanish, they will usually tell you that your best option is what they call a pear tomato and what is known as a plum tomato in the English language. Plum tomatoes are perfect because their skin tends to be thin and their seeds are small.
A heirloom tomato variety like the famous Italian San Marzano roma (sweeter in flavor) or Principe Borghese plum (more acidic) would be perfect.
For the absolute best results, use home-grown heirloom tomatoes. The flavor difference compared to store-bought hothouse varieties is stunning.
How to Serve Gazpacho?
There are loads of ways to serve gazpacho and in Spain, nowadays in any case, anything goes. Premade gazpacho is best to pour into a glass, or to just chug straight from the carton or bottle.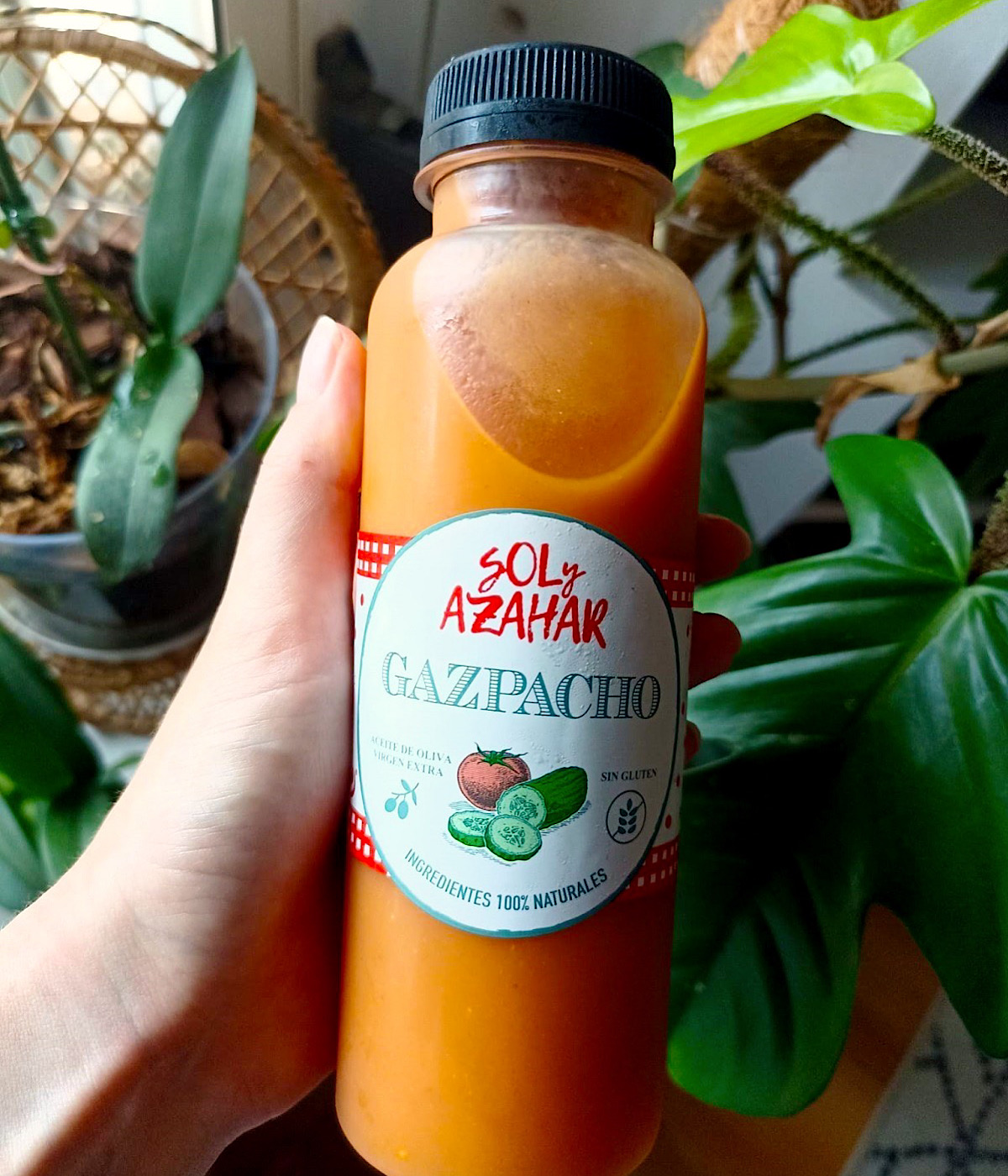 Ordering gazpacho in a restaurant will usually get you a deep plate and a spoon, like soup, often along with some croutons and maybe even chopped veg (tomato, cucumber, onion).
If you're at a BBQ or dinner and the host has made gazpacho, you're likely to receive your portion in a small (shot) glass, like a little gazpacho shooter! This is my favorite way to serve it and perfect as a refreshing start to those midsummer potlucks.
All you need to put together your own gazpacho shooter appetizers for a crowd is a bunch of small drink glasses or large shot glasses. Pour in the soup and top with one (or all!) of the following:
Croutons (or sliced almonds for a low-carb alternative)
Finely chopped tomato, cucumber and onion
Boiled egg and cured ham bits (very traditional)
Cucumber ribbons on a toothpick
Mini caprese salad toothpicks
A sprig of parsley
Celery sticks
Other Spanish cold soups to try
Although gazpacho is by far the most well-known Spanish cold soup here in the US, it's actually not the only one. The southernmost province of Andalucía especially has a ton! I guess those sky high summer temperatures just call for all sorts of cold appetizers.
Aside from the endless of varieties of gazpacho, soup enthusiasts will also definitely have to give the following a try:
Ajoblanco: from Andalucía and Extremadura, this white soup is usually made with bread, almonds, garlic, vinegar and lemon juice, as well as milk and olive oil. Don't forget to serve it with bread for dipping, or with sweet grapes on top like they do in the city of Málaga.
Salmorejo: another typical appetizer, this one from Córdoba in Andalucía. Made with bread, tomato, sherry vinegar and olive oil, it's creamier than gazpacho and can be thick enough to be used as a dipping sauce. It's usually served with bits of dried Iberico ham and boiled egg, although I've also seen breaded and fried eggplant dipped in it.
Porra antequerana: Málaga's version of gazpacho, made with much the same ingredients. The difference is in the use of white vinegar specifically, as well as an extra-dense local bread type. It's served with ham bits and boiled egg, although it also goes well with tuna.
Zoque malagueño: they clearly love experimenting with cold soups in Malagá. Although their zoque is similar to the traditional gazpacho recipe, it comes with added carrots. It's usually served with ham or grapes.
Frequently Asked Questions
How long will it last in the refrigerator?
Gazpacho tastes bests after around 24 hours in the refrigerator. After that, if it's kept in a sealed container, it will last for up to five days. It can also be frozen just fine.
Is it spicy?
Not at all, traditionally. However, no one's stopping you from adding a splash of hot pepper sauce!
What makes this gazpacho special?
When my daughter's host mother found out I was going to pay four euros for a bowl of gazpacho in a restaurant in the Sierra Nevadas, she was outraged and wouldn't allow it. She had lived in the Andalusia region of Spain her whole life, raising 3 children and cooking for hundreds of study-abroad students. "She" would make me an authentic gazpacho ( and "it certainly wouldn't cost 4 euros!").
She was the one that changed my mind on cold soup, leaving me with a wonderful food memory. It was the best gazpacho ever, and I can't imagine a restaurant making a better one, even for ten euros.
Senora was not an Andalusian grandmother that cooked with recipes however. There was not one recipe book in her house and when I asked her about her cooking, she just pointed at her head and smiled. Ah-h, would that I could cook out of my head like that!
Back in the states, I tried to replicate the memory of that gazpacho, following the scant directions that I was able to get from Senora. Of course, much of the flavor of Gazpacho is dependent on the tomatoes you use, and as we grow heirloom tomatoes on our farm, we had a wide range of flavors to work with. I chose bold, high-acid tomatoes to try and mimic the Andalusian tomatoes she worked with.
Here is my version of Senora's gazpacho. I wish I could let her taste it and give me her critique. She was the best host mother my daughter could have hoped for and the best cook I could have hoped for in trying Spanish cuisine!
Definitely a great Spanish dish that you can enjoy wherever you live. Even Minnesota! Senora also delighted us at breakfast with this simple method for making Tomato Bread.
Recipe for Gazpacho Andaluz
Traditional Gazpacho Andaluz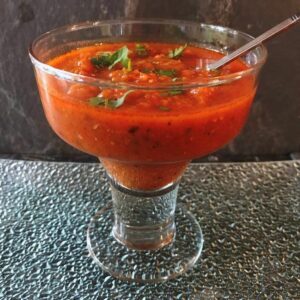 This is the traditional version of gazpacho from Spain and it just happens to be low carb. The tomatoes do have sugar of course, but the amount will vary widely depending on the variety of tomatoes used.
Ingredients
3

lbs.

heirloom tomatoes

coarsely chopped

1

jar roasted red bell peppers

1

poblano pepper

(Optional) coarsely chopped

1

red onion

coarsely chopped

2-3

cloves

garlic

chopped

2

cucumbers

peeled, seeded, chopped roughly

2

tsp.

sea salt

¼

cup

sherry vinegar

¾

cup

olive oil

the best quality you have

1 – 2

tsp

roasted fennel seeds

freshly ground after roasting

1 – 2

tsp

roasted cumin seeds

freshly ground after roasting
Instructions
Chop or process each vegetable separately and then combine them in a large bowl.

3 lbs. heirloom tomatoes,

1 jar roasted red bell peppers,

1 poblano pepper,

1 red onion,

2-3 cloves garlic,

2 cucumbers

Add salt and sherry vinegar. Let it sit for a couple of hours.

2 tsp. sea salt,

1/4 cup sherry vinegar

Blend half of the vegetable mixture in a food processor at medium speed, drizzling in 1/2 cup of oil through the top while processing. Pour out into large bowl.

Blend the other half of vegetable mixture in processor, drizzling in 1/4 cup of oil, along with the roasted, ground fennel seeds (or cumin). Pour both mixtures together in a bowl and stir to mix. Chill

1 – 2 tsp roasted fennel seeds,

1 – 2 tsp roasted cumin seeds

Before serving, bring to room temperature. Serve in shot glasses, small bowls or tumbler glasses. Garnish with fresh chopped avocado, finely chopped gazpacho vegetables, or croutons.
Notes
**Note: the 10 servings is for small appetizer glasses. The nutritional analysis will change of course if you serve it as a lunch soup in a bowl. It will also change if you include avocados or croutons as garnishes.
Nutrition
Calories:
184
kcal
Carbohydrates:
9
g
Protein:
2
g
Fat:
17
g
Saturated Fat:
2
g
Polyunsaturated Fat:
2
g
Monounsaturated Fat:
12
g
Sodium:
442
mg
Potassium:
451
mg
Fiber:
2
g
Sugar:
5
g
Vitamin A:
1240
IU
Vitamin C:
33
mg
Calcium:
29
mg
Iron:
1
mg
Did you make this recipe?
If you tried this recipe, please give it a 5-star rating! To do this, just click on the stars above.
Online Diet/Health Coaching:
Although I am not currently taking clients for diet & health coaching, I have been a coach for many years with the online service called coach.me. It is a great platform for all kinds of coaching – anything from specific diets, writing a blog, getting up early, or getting rid of that pesky procrastination.
There are some wonderful coaches and the testimonials will tell you what you need to know. Contact me at [email protected] to get a referral to some of the tested, experienced online coaches on Coach.me
If you'd like to start with a plan for a low carb or keto lifestyle, check out this detailed guide in ebook form. It may be all you need to lose weight on this lifestyle. Or it may be used as a supplement to one-to-one coaching.