Whether you want to use heirloom tomatoes for making a spaghetti sauce, a caprese salad, a tomato tartine or a simple BLT, it is important to choose the right tomato for your intended use. This roundup of heirloom tomatoes will help you decide the best variety to select at a farmers' market or to grow in your own garden.
Jump to:
Best Heirloom Tomatoes for Fresh Eating
Best Tomatoes for Sauces
Best Tomatoes for Salads
Best Tomatoes for Pots
Tomato Flavors

There are hundreds of heirloom tomato varieties and they each serve a particular purpose or highlight a particular flavor. The following list groups the tomatoes by use, with a brief summary highlighting the unique characteristic of the individual tomato:
Red, Slicer Varieties (Fresh Eating or BLTs)
Box Car Willie (New Jersey): consistent, large, meaty, balanced and good yields
Carmello (French): perfect acid-sugar balance; no cracking; med. size
Druzba (Czechoslovakia): high acid so good for canning
Thessaloniki (Greek): earthy taste with no cracking or green shoulders; baseball size
Costoluto (Italian): heavily ribbed and not very juicy; beautiful for plating
Mortgage Lifter (American): very large, light red/dark pink; similar to Brandywine but earlier
Brandywine (Amish); Most well known Heirloom for taste, but late and low yields
Aussie (Australia): lightly fluted, very large, great balanced flavor, good yields for large tomato
Big Beef (hybrid): beefsteak type that is easy to grow, balanced flavor; not an heirloom but good for main season consistent tomatoes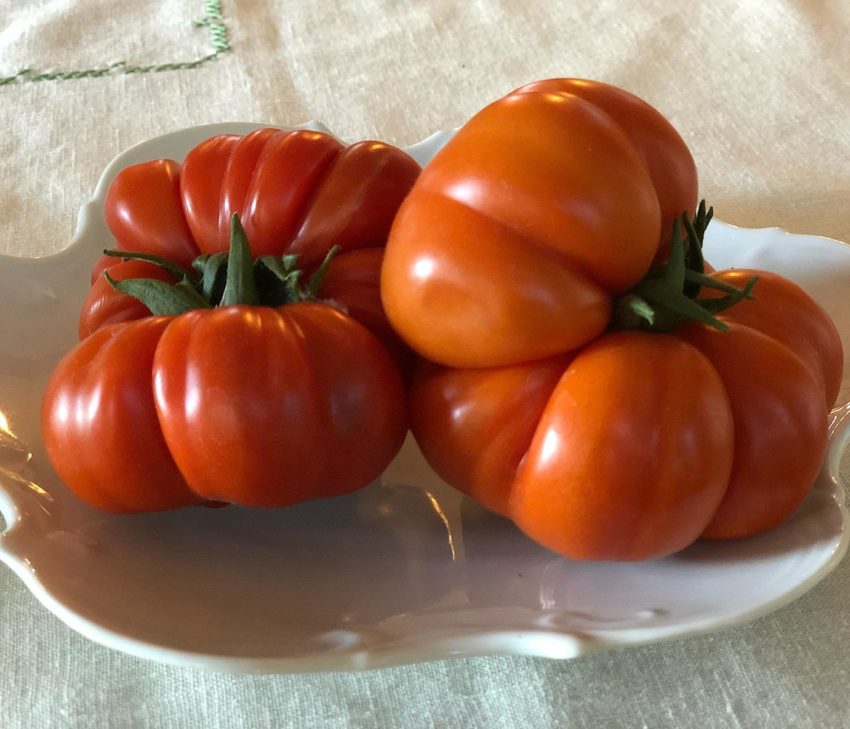 Meaty Tomato Varieties for Sauces
Opalka (Poland): hands down my favorite tomato for sauces; meaty, high-acid, large Roma type shape; prolific
San Marzano (Italy): Roma type that can vary dramatically in taste depending on original seed; Familiar name for a Roma, but inconsistent taste
Speckled Roma (hybrid): large red and orange striped elongated Roma type; dense and meaty; beautiful!
Amish Paste (Amish): large red oblong tomato commonly used for cooking but sweet enough to eat fresh; popular for taste but not as prolific as other paste tomatoes
Principe Borghese (Italian): very meaty with little juice and few seeds; small, red, plum shaped; definitive tomato for drying; great for sauces also; semi-determinate so good for pots; classic tomato taste
Colorful Tomatoes for Fresh Salads
Orange or Yellow:
Kelloggs (Michigan): large, juicy, pumpkin-colored; sweet flavor; meaty with few seeds so good for sauces
Persimmon Orange (From Thomas Jefferson): very large (1-2 lbs), egg-yolk color; sweet, fruity & low-acid; solid dense flesh; resistant to cracking
Golden Queen (Midwest – Ohio): medium size, golden yellow, smooth (rarely cracks); low-acid
Dixie Golden (Amish): Beefsteak type, lemon yellow, fairly early and prolific for a large tomato; sweet fruity flavor
Hughs (Indiana): pale yellow on outside and white on inside; large, juicy fruits with mild flavor
Juane Flamme (French): vibrant apricot-colored; small (3 oz), citrusy-fruity sweet taste; prolific;
Black (Dark Purple):
Carbon (Midwest): my favorite of the blacks; medium size; dark, smoky and sweet; crack free; deep green and red inside
Cherokee Carbon (Cherokee Indian and Tennessee) : marries 2 heirlooms (Cherokee Purple and Carbon); dusky rose color, rich, complex flavor; more prolific than parents
Paul Robeson (Siberia): sets fruit at lower temperatures; dusky, brick-red with green shoulders; sweet, smoky and well balanced taste
Purple Calabash (Pre-Columbian Mexico): ribbed and scalloped, dark purple color; rich, acidic concentrated flavor
Striped, Bi-Colored:
Green Zebra (Everett, Washington): striped green tomato resistant to cracking; quite tangy when young and sweeter as it matures
Beauty King (hybrid – California): beefsteak type; yellow with red stripes; stunning & beautiful!; meaty with sweet flavor
Chocolate Stripes (hybrid – Ohio): mahogany colored with dark, olive green-striping; large; rich, sweet, earthy flavor;
Mint Julep (hybrid mutation of green zebra): small pear-shaped; yellow with minty-green specks; sweeter than other green tomatoes; prolific
Indigo Rose (Bulgaria & US): small round tomato with unique colors (deep purple, burgandy and deep red); complex flavor of acid, sweetness, smoke and paprika
Cherry and Small Plum Tomatoes
Matts Wild Cherry (Hildago, Mexico): very small currant-sized; deep red, high sugar content; soft fruits
Gardeners' Delight (German): rich, sweet & deep red; larger that most cherries; parent of sweet 100
Snowberry (Britain): bursts with sweet flavor and enough acid not to be bland; creamy pale yellow; prolific
Yellow Pear (Europe): heavy yields of bright yellow pear-shaped tomatoes; sweet, mild flavor; kids love it
Sungold (Japan): exceptionally sweet, golden-orange cherry tomato about 1 inch in size; low acid
Sweet 100 (hybrid developed in MN): extremely tasty and sweet; very prolific and easy to grow
Juliet (Hybrid) : super sweet salad tomato; considered a grape tomato; juicy and heavy producer; crack resistant
Best for Pots or Containers
Patio (Hybrid): 3-4 oz tomatoes on 2-foot tall plants; small but larger than a cherry tomato; yields 50 or more tomatoes over period of 8 weeks; Determinate
Totem (Hybrid): especially bred for patios and window boxes; early, heavy yields of bright red cherry tomatoes; very sweet, dwarf plants;
Principe Borghese (Italian): very meaty with little juice and few seeds; plum shaped; definitive tomato for drying; great for sauces also; determinate so good for pots; classic tomato taste
Best for Flavor
Flavor is quite subjective of course. The primary variable of tomato flavor of tomatoes is relative to the ratio of acid to sugar.
Some like a high-acid, robustly flavored tomato and consider that flavor to be "old fashioned". Some people prefer sweeter, milder tomatoes, and there is everything in between.
The key variables that determine whether the full flavor of the particular variety shines forth includes:
The soil and micro-climate under which it is grown
the amount of water given to the tomato when it is developing it's sugars
the stage at which it is havested
the specific variety
whether it is a thin-skinned heirloom or a hybrid tomato bred for shipping (thicker skin and less flavor)
For a more detailed summary on the taste and flavor of specific varieties see the following posts: