While visiting our daughter in Andalusia Spain we discovered the ubiquitous "tomato bread". Everywhere we went it was served as breakfast. All you need for this easy, flawless breakfast is a good tomato, some crusty bread, olive oil, and a clove of fresh garlic. Oh, and a box grater helps!
Jump to:
RECIPE
Ingredients and Substitutions
Is it Healthy?

The Four Ingredients and Substitutions
The Tomatoes:
This classic breakfast which is so prevalent in Spain is the simplest of tomato recipes, but you must use great tomatoes. If you grow your own tomatoes or have access to a farmers market with home-grown heirloom tomatoes, those are the best choices.
This Italian heirloom tomato called "Costoluto" is a meaty, ribbed tomato that is perfect for grating since it is not as juicy as some of the heirloom tomatoes: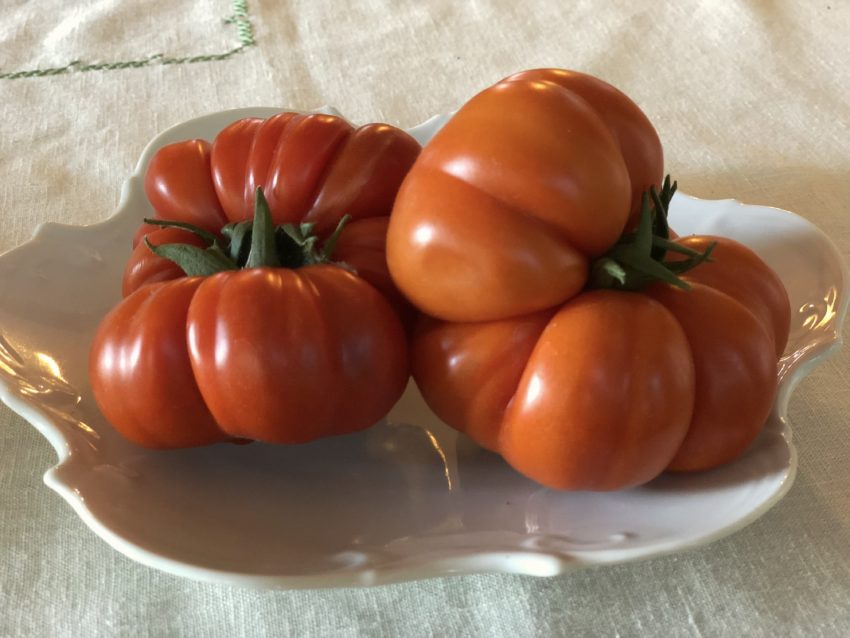 Heirloom tomatoes have a huge range of flavor profiles. I've put together a description of tomato flavors based around color that can be helpful in choosing the best tomato for the best use.
If you only have access to grocery store tomatoes, then try slicing them thickly and salting them for a while to bring out the flavor more.
Growing your own tomatoes of course is the ultimate in taste. No garden? Try growing them in a pot on your deck. There really is nothing like a home-grown tomato.
The Bread:
Bread is the second variable, but it is not quite as critical as good tomatoes. The photo below used a baguette, but I have also had great tomato bread with sourdough bread from Costco that I toasted.
Just make sure your bread is crusty and crisply toasted. This is not the place for soft white enriched breads.
If you like to grill, toss the bread on the grill and get it nice and crusty. All the more ridges for the garlic to adhere to.
The Olive Oil:
Next up is the olive oil. This is where you want to use the good extra virgin olive oil, not the refined olive oil used for cooking.
Everyone has their favorite here. Just know that with only 4 ingredients, each ingredient makes a difference…..including the olive oil.
The Garlic:
The last ingredient is garlic. There is not as much variability in the garlic. Just get a head of garlic and break off a fresh clove to rub on the toast. No bottled garlic here OK?
Is Tomato Bread Healthy?
While this is not a low carb food choice, I never turn down classic fare in a particular culture while traveling. Tomatoes are quite healthy but they do have natural sugars in them.
Bread of course, is a carb, no matter what kind. If you don't want to go the baguette route, opt for a whole wheat bread with very few ingredients listed on the label. Seeded whole grain is my favorite.
Olive oil and garlic are considered healthy choices no matter what kind of diet you follow
Transport Yourself to Spain with More Tomato Favorites
So this summer, transport yourself to Spain with Andalusian Gazpacho and tomato bread! Because I have been an heirloom tomato vendor at our major Twin Cities farmers market for many years, I have trialed a lot of tomato recipes.
Check out this large range of tomato dishes for more ways to use this delicious "fruit" (yes, it's really a fruit).
Breakfast Tomato Bread
This is the breakfast of choice all across Spain. It just takes a few quality ingredients and a box grater and you can be transported to Andalusia!
Ingredients
1-2

Medium

Tomatoes

heirloom tomatoes or home grown if possible; meaty rather than juicy

1

Teaspoon

Salt

sea salt is good

2

Slices

Toasted bread

Baguette, sour dough, etc.

1

Clove

Garlic

Fresh

1-2

Tbsp

Olive oil

Good extra virgin olive oil
Instructions
Grate 1 or 2 tomatoes into a bowl, using the large grate size of a box grater

Add salt to your taste, and let it sit for about 15 minutes

Meanwhile, bake the bread if it is take & bake baguette, or toast it if it is soft storebought bread (like sourdough)

Peel a garlic clove and rub the toast with the clove. Drizzle some olive oil over the top of the toast and spread it around. Spread a spoonful (or two) of the grated tomatoes over the seasoned toast. Enjoy!

1 Clove Garlic,

1-2 Tbsp Olive oil
Nutrition
Calories:
260
kcal
Carbohydrates:
39
g
Protein:
8
g
Fat:
8
g
Saturated Fat:
1
g
Polyunsaturated Fat:
1
g
Monounsaturated Fat:
5
g
Sodium:
1495
mg
Potassium:
234
mg
Fiber:
2
g
Sugar:
3
g
Vitamin A:
512
IU
Vitamin C:
9
mg
Calcium:
38
mg
Iron:
3
mg
Did you make this recipe?
If you tried this recipe, please give it a star rating! To do this, just click on the stars above. Comments are always helpful also and I respond to all of them (except rude ones)