If beverages could be called comfort food, this milky white, cooling rice drink known as horchata in Mexico and other Spanish-speaking countries, would be at the top of the "comfort drink" list. Horchata's soothing sweet creaminess makes it a perfect non-alcoholic drink for hot days, and it also lends itself to a pretty awesome cocktail when mixed with rum or brandy.
Jump to: Recipe | What is Horchata? | Cinnamon Simple Syrup | Method for Rice Base | What to Serve With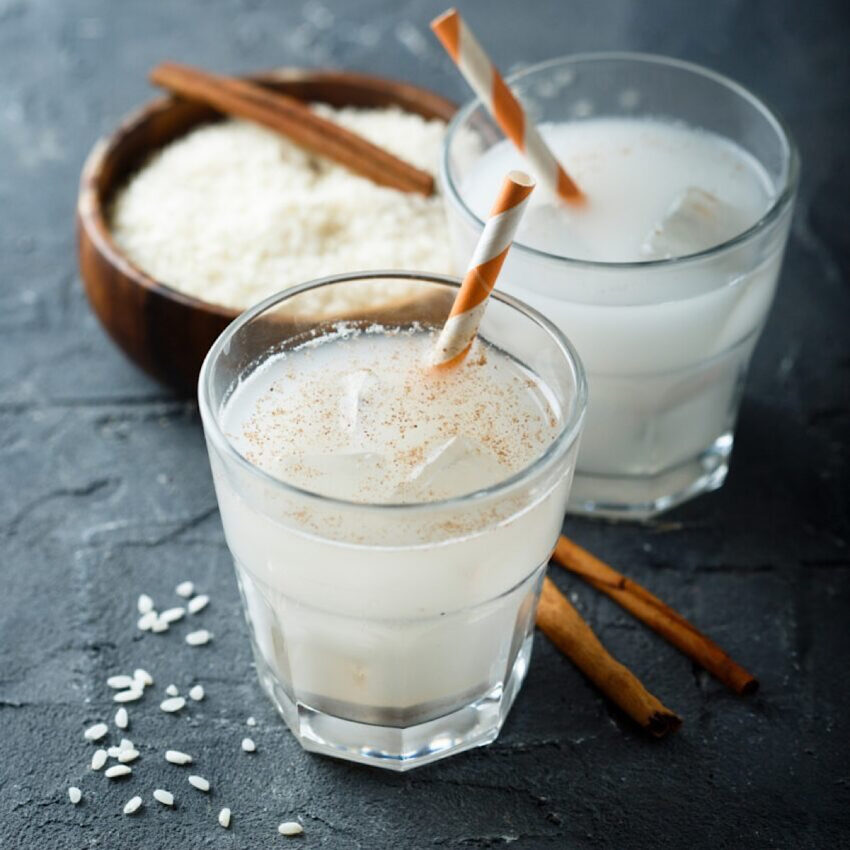 This post may contain affiliate links, and you can read our disclosure information here–
What is Horchata anyway?
The Mexican version of this drink is traditionally made by soaking rice (or rice and almonds) in water, sweetening it by adding sugar, cinnamon and sometimes vanilla or other spices, and then straining and serving over ice.
There are several variations of horchata. In Valencia, Spain, horchata is known as orxata and is made with tigernuts (chufas in Spanish) rather than rice.
Some recipes also include sesame seeds or barley, but the basic horchata is rice-water or rice-milk, sugar, cinnamon and vanilla.
How to make with less sugar?
Usually the horchata base needs to be sweetened, but often the pre-sweetened base you might find in a restaurant or store is way too sugary sweet (for me anyway).
An alternative to blending the sugar and cinnamon with the rice water, you could adjust the sweetness by adding a DIY cinnamon vanilla simple syrup (see recipe below) to the horchata base on a glass-by-glass basis.
After straining the rice water you can then add the cinnamon vanilla simple syrup, making it sweet on some days and light on others. This works well if you are making horchata for a crowd as sweetness preferences are all over the board.
How to make the base
I also found many variations on whether to pulverize the rice to a powder alone, or with the water, or in stages.
I tried 3 different methods and found that pulverizing the rice without water and then soaking the powder in water overnight before straining provided the lightest texture while still maintaining the rice flavor. The method and recipe I used is in the recipe card below.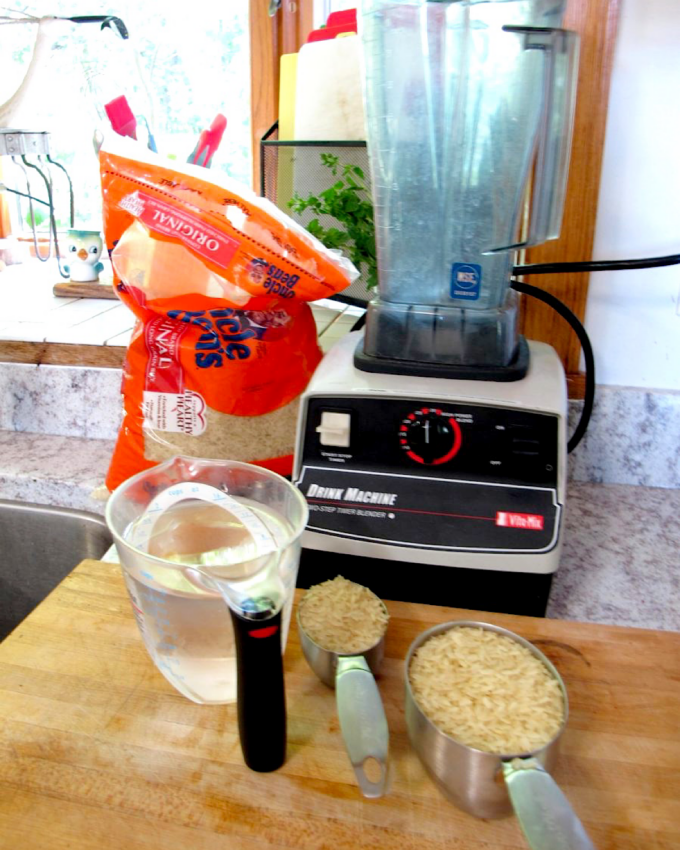 What to serve with Mexican horchata
The rich creamy base of horchata pairs wonderfully with this simple recipe for chile lime peanuts. Serve the peanuts with horchata cocktails or non-alcoholic horchata….it's all good!
Recipe for Horchata Base and Cinnamon Simple Syrup
DIY Horchata with Cinnamon Simple Syrup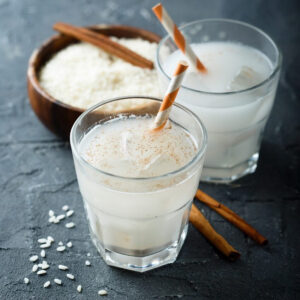 How to make both a horchata base and a cinnamon vanilla simple syrup to use in a range of different cocktails
Ingredients
Ingredients for Horchata Base
1

cup

long grain rice

5

cups

water
Ingredients for Simple Syrup
1

cups

sugar

1

cups

water

2

cinnamon sticks

½

star anise

3

cloves

½

tsp

vanilla
Instructions
Directions for the Horchata Base:
In a blender (VitaMix is great for this), grind the rice finely, almost to a powder.

Transfer the rice to a bowl then pour warm water over it. Cover and refrigerate at least eight hours, but preferably overnight.

Strain the mixture through a sieve lined with a few layers of cheesecloth, squeezing it to extract as much of the rice flavor as possible. Some recipes blended the rice and water and water together again before straining it, but I did not see the need to do this and was quite happy with the flavor.

Store in covered container until ready to use.
To make the spice syrup:
In a saucepan add sugar, water, whole spices and vanilla (if you don't want to spoon the whole spices out later, wrap them in a bit of cheesecloth and secure with a band or tie and place the bag in the pot).

Bring the mix to a boil slowly, stirring to dissolve the sugar. After the mix comes to a boil, cover, turn off the heat and steep the spices in the syrup for 30 min. to 1 hour.

Strain the syrup to remove the whole spices (or remove the spice bag if you used that) and pour syrup into bottle and refrigerate.

1 cups sugar,

1 cups water,

2 cinnamon sticks,

1/2 star anise,

3 cloves,

1/2 tsp vanilla
To serve:
Pour rice water over ice and stir in 2-3 Tablespoons of the syrup. Use cinnamon stick as stir stick or sprinkle cinnamon on top.

Many people will add milk or rice milk to the drink also. I prefer mine really light without the milk, but it is definitely more creamy and lush with milk.

Storage: Store the rice-water in the refrigerator for 4-5 days and the syrup in the refrigerator indefinitely.
Notes
** The cinnamon vanilla syrup is wonderful with other drinks, including hot cider, Irish coffee (use the syrup instead of sugar), and Italian sodas (use 2-3 Tablespoons with 8 oz sparkling water and stir).
Nutrition
Calories:
184
kcal
Carbohydrates:
44
g
Protein:
2
g
Fat:
0.3
g
Saturated Fat:
0.05
g
Polyunsaturated Fat:
0.05
g
Monounsaturated Fat:
0.1
g
Sodium:
11
mg
Potassium:
32
mg
Fiber:
1
g
Sugar:
25
g
Vitamin A:
3
IU
Vitamin C:
0.03
mg
Calcium:
21
mg
Iron:
0.3
mg
Did you make this recipe?
If you tried this recipe, please give it a 5-star rating! To do this, just click on the stars above.