Have you decided to start your own herbal tea garden and managed to obtain your first harvest? Now it's time to put those herbs to use in the kitchen! Many herbs can be dried or used fresh to make herbal teas (sometimes known as tisanes) and enjoyed on their own…but not all of them taste that great. This guide will help you with herbal tea blends that have full and unique flavors.
Jump to: Favorite Blends | Needed Equipment | Basic Ratios | Enhancing Flavor | Common Questions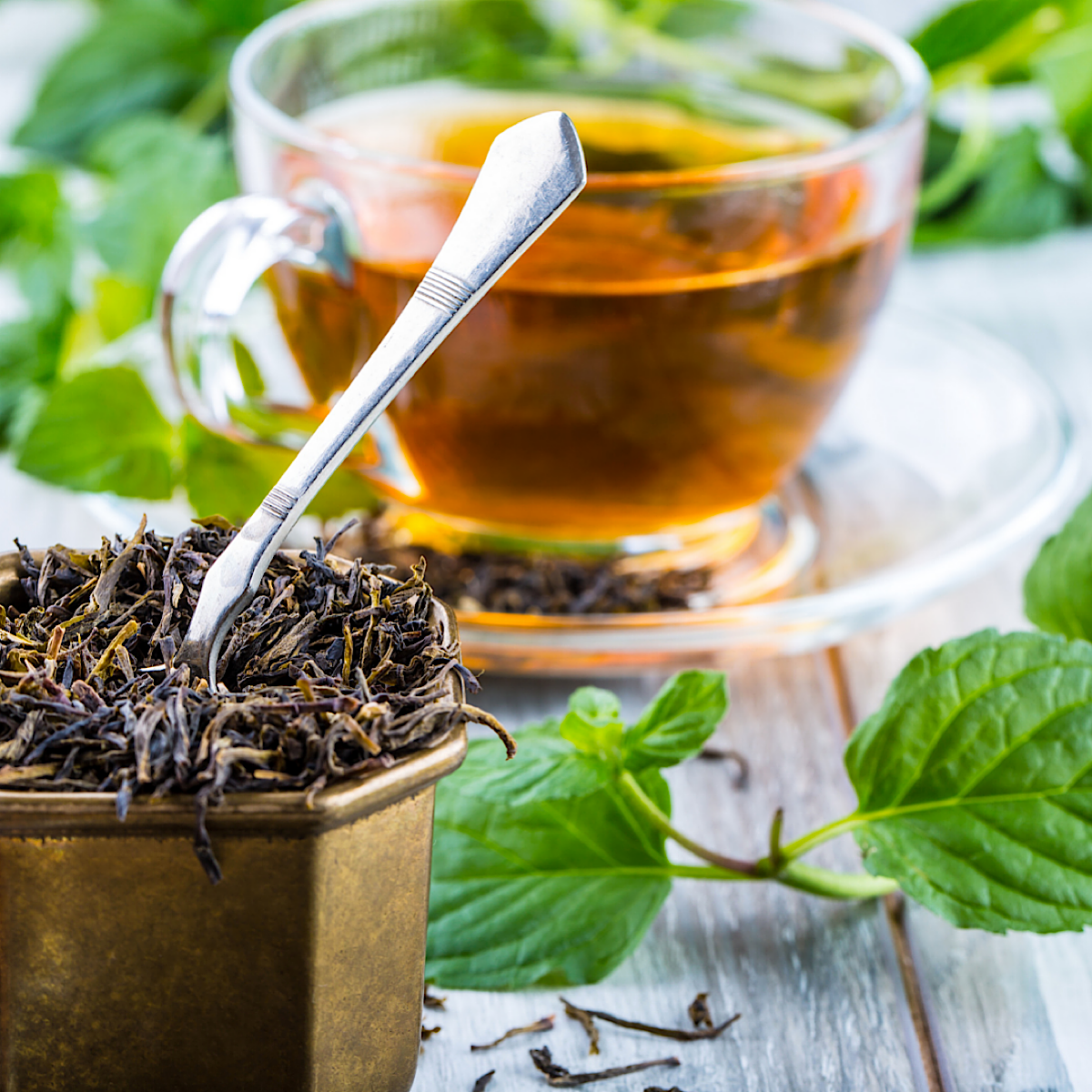 This post may contain affiliate links, and you can read our disclosure information here–
Some have well-tested health benefits but a weak flavor, needing a little help. No worries: that's why you blend, blend, blend. Mixing herbs together to make tasty combinations is a bit of an art, but you'll get a feel for which flavors go together soon enough. In this tea blending guide, let's go into a few handy tips and tricks, as well as 9 of my own favorite herbal tea recipes.
What do you need to blend your own herbal tea?
Making your own herbal tea blends is super easy if you've got a few types of herbs on hand. Many commercial blends contain artificial ingredients and even sweeteners. They can also be quite old and stale, or made with low grade tea. Going the DIY route is usually more natural (and more fun too!). All you'll need is: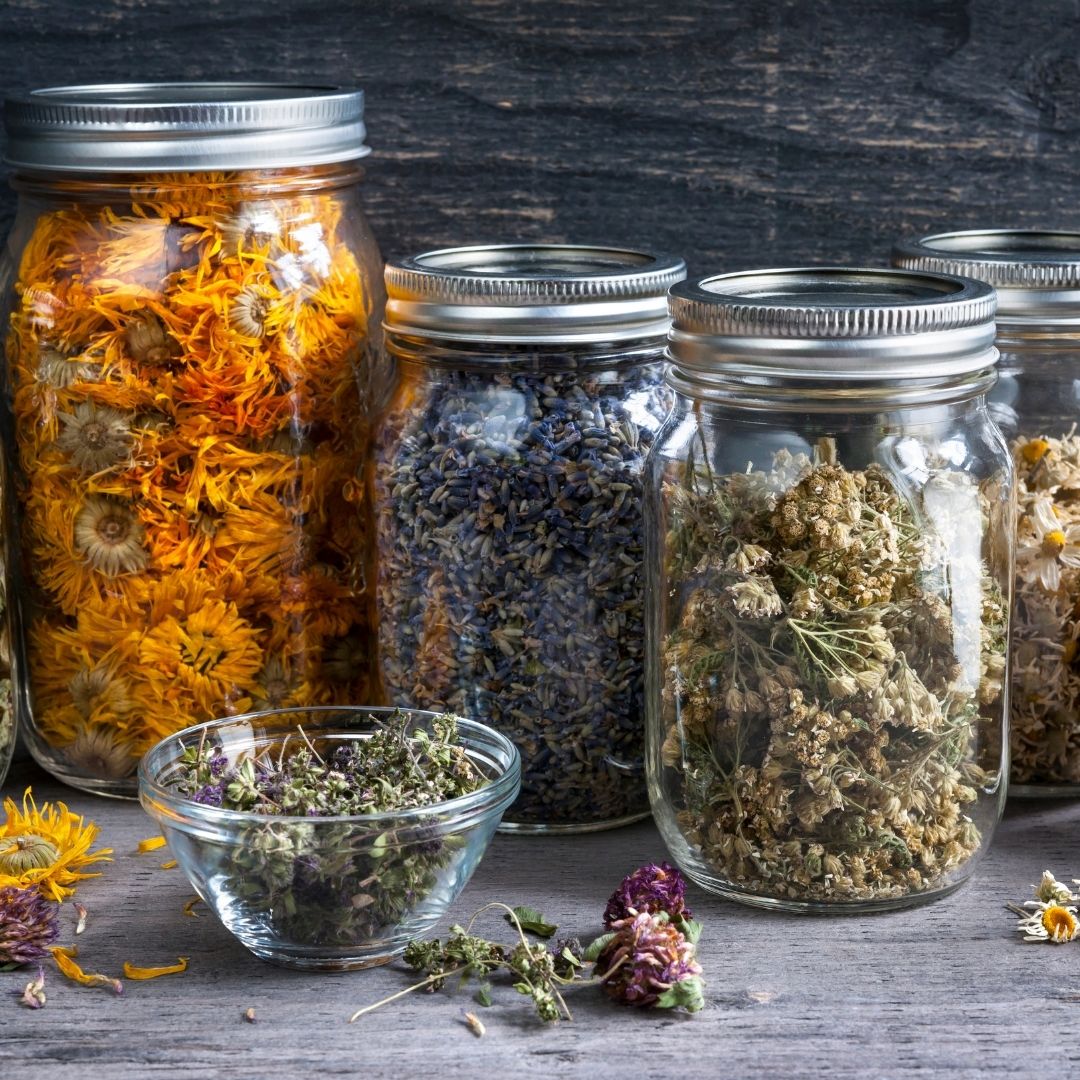 After mixing, you can store your blends in the jars, making sure to seal them well. Keep in a dry and dark place for up to a year; your herbal tea won't go bad after that, but the flavors may become less intense.
You could spruce them up with a slice of fresh lemon or ginger if this happens and you don't want to just toss them.
By the way, if your own tea garden doesn't yield all the herbs you like in your brews, there are plenty of places online and offline that sell (dried) herbs in bulk.
And don't forget, although we call them herbal teas, they don't technically only need to contain herbs. Many common whole spices, like cinnamon, cardamom, ginger, and the like are also easy enough to find, maybe even in your own cupboard. The same goes for flavor bombs like citrus peel.
How to make herbal tea taste better
Like I said in the intro, some herbs are supposed to have certain health benefits, but they just don't taste great. That's why we opt for mixing them together!
It's all about learning which herbs can be used to mask less pleasant aromas, how much you should use to avoid bitterness, which herbs function as a base and which should only be an accent and much more.
Don't underestimate how much some milk (can be plant-based) or honey can change or enhance the flavor of a tisane either.
Basic Formula for Herbal Tea Blends: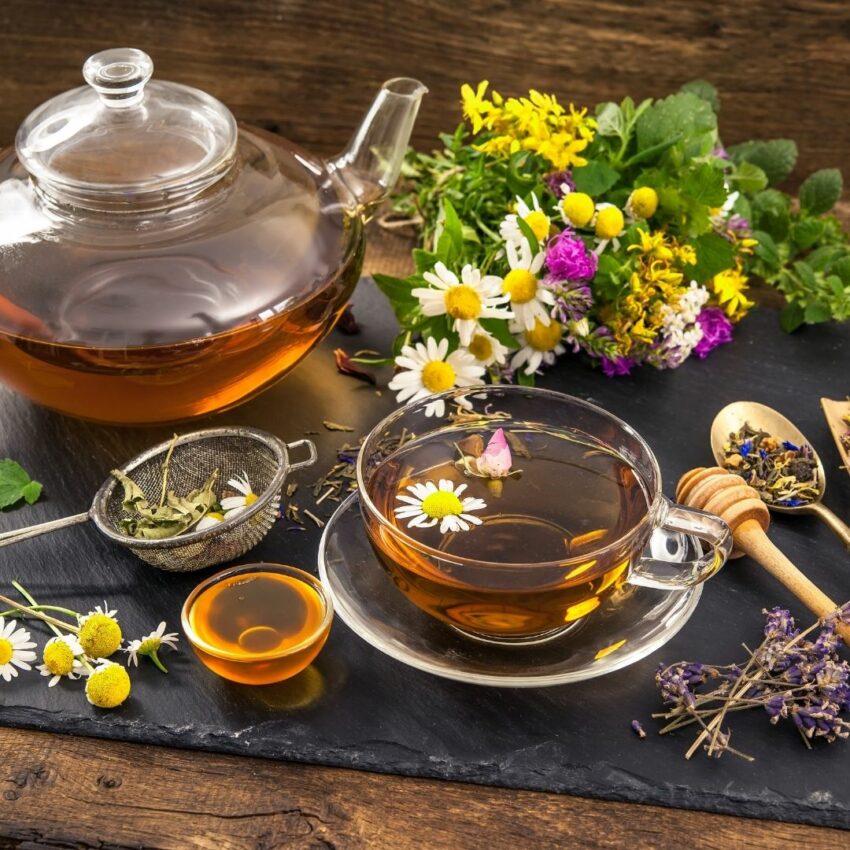 I'll list some tea blending recipes below, but in case you want to explore coming up with your own combinations, try following the base + star ingredient + accent formula.
Mellow herbs that work well as a base:
Chamomile,
(pepper)mint,
lemon balm,
yerba mate,
linden flowers,
nettle,
raspberry leaf,
holy basil,
rooibos or actual real tea.
Stronger herbs that work well as the star ingredient:
Thyme,
rosemary,
licorice,
valerian.
Very strong herbs to add an accent flavor:
citrus peel (citrus),
cinnamon (warm),
rosehip (floral & tangy),
ginger (spicy),
cardamom (warm),
lavender (floral),
fennel seed (licorice).
Blending based on typical flavor profiles: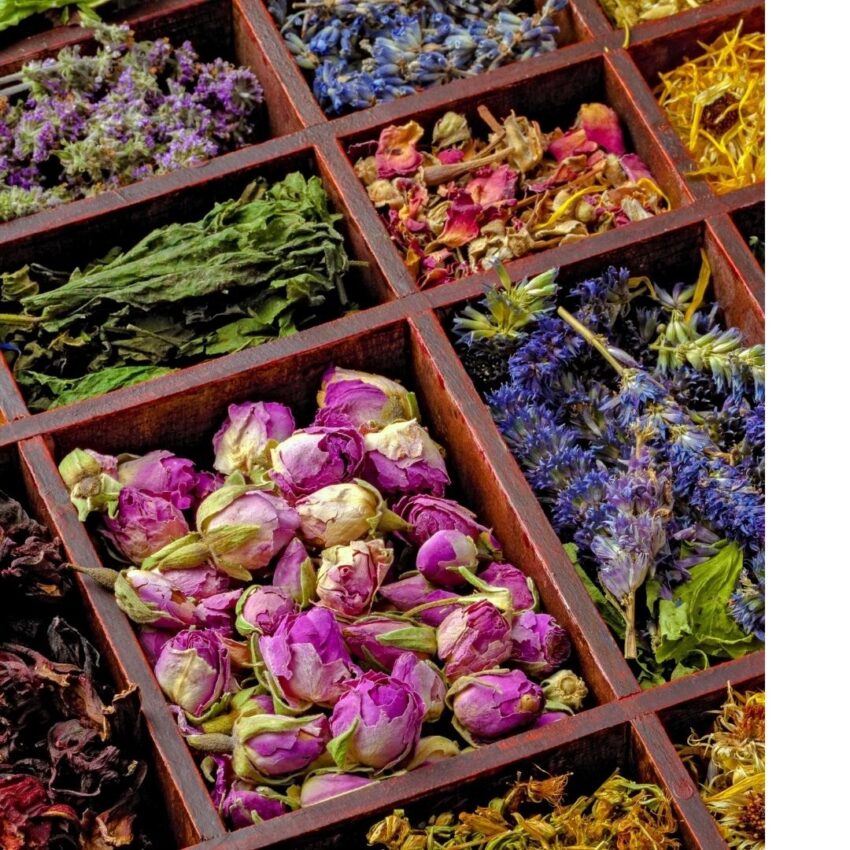 Citrusy Flavors:
Lemon balm,
lemon verbena,
lemon peel,
orange peel,
lemongrass,
lemon thyme
Minty Flavors:
Mint,
spearmint,
peppermint,
catnip,
bee balm
Floral Flavors:
Chamomile,
hibiscus,
rosehip,
rose petals,
lavender,
elderflower
Warm and spiced Flavors:
Turmeric,
cinnamon,
cardamom,
ginger
Obviously these are just a few examples, because there are too many herbs and spices out there that you can include in your blend for me to even try to begin listing them all.
If you're not sure about an ingredient's flavor, you can always make a solo tea with it as a little introduction.
How to make tea blends to sell
I sell a few different tea blends in the Heathglen Farm online store. It's a nice product to carry in a shop: it makes people happy and coming up with the different blends is great fun. Not to mention the amazing scent!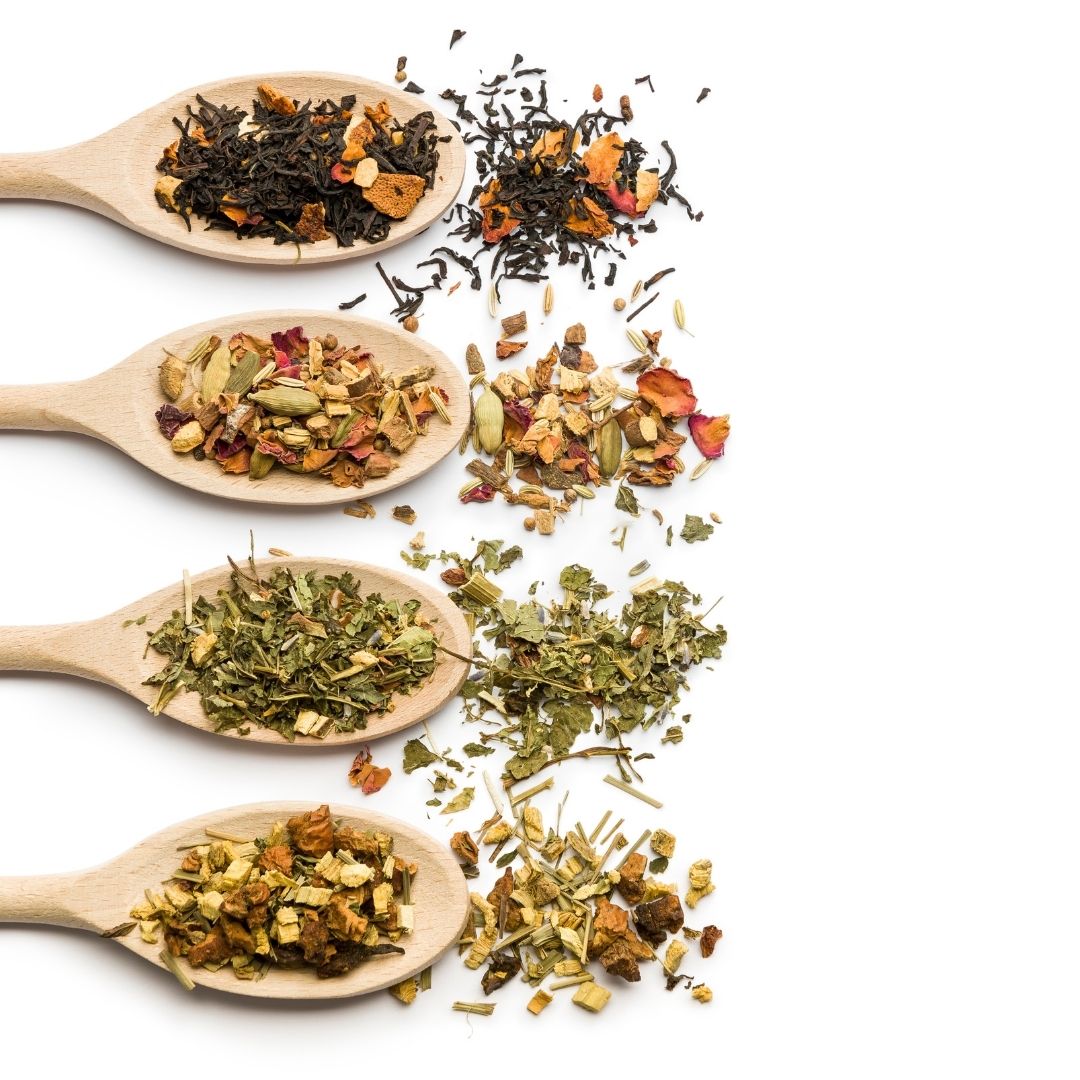 If you'd like to sell your herbal teas, your best bet is to spend plenty of time practicing and perfecting tea blending recipes. Have people taste test them for you.
Once you're confident you've got a tasty product, you can consider selling at farmers' markets, which involves a lot of word of mouth, or online, which is all about marketing.
Whatever you go for, you'll have to make sure your products look attractive and are packaged nicely. You can choose to emphasize certain aspects, like health benefits (although you can't just make any sort of claim), organically grown herbs, the fact that it's hand-picked and more.
Pairing teas with food:
Did you know? Tea and food pairing is considered a bit of a fine art similar to wine and food pairing. And yes, tea sommeliers exist!
Best 9 herb combinations for tea (+ Food Pairings)
After all this talk about tea blending techniques, you're probably ready to move on to the actual brewing part. I've gathered a few of my personal favorite herbal tea blend recipes here.
As a rule of thumb, you'll want to use 1 teaspoon of tea blend for every cup of boiling water. Steep longer than "real" teas. You may need to steep up to 10 minutes to extract full flavor.
For a really strong flavor, you can boil the ingredients in water for a few minutes, but beware that it can result in a bitter sensation.
Black teas go with hearty dishes, green teas go with light dishes, white teas are for very neutral foods like white fish… and herbal teas are considered to go particularly well with desserts.
I'll include some suggestions with the homemade herbal blends below.
Floral Tea Ingredients:
2 tsp dried chamomile flowers (base)
2 tsp dried rose petals (star)
1 tsp dried lavender buds (accent)
Pairs well with: a floral tea blend works well with tart, citrus-based desserts like my faux Meyer Lemon Pie.
Citrus Tea Ingredients:
3 tsp dried lemon verbena (base)
2 tsp dried bee balm leaves (star)
1 tsp dried lemongrass (accent)
1/2 tsp dried orange peel (accent)
Pairs well with: something sweet and fruity to balance out the tea's tartness, like strawberry tiramisu.
Mint Tea Ingredients:
4 tsp dried mint leaves (base)
1 tsp dried rose geranium leaves (accent)
Pairs well with: mint goes with chocolate, of course! Try it with chocolate espresso quick bread.
Herbal iced tea ingredients:
6 tsp dried mint leaves (base)
3 tsp dried pineapple sage leaves (star)
1 tsp dried hibiscus leaves (accent)
Pairs well with most Summer dishes. Try it with squash blossoms, radish-cream cheese appetizers, or low carb beef sliders.
Sleepy time tea ingredients:
4 tsp dried lemon balm leaves (base)
2 tsp dried chamomile leaves (base)
1 tsp dried valerian root (star)
1/2 tsp dried lavender flower (accent)
Pairs well with: if you're taking it to help you sleep, you may want to have this one on its own.
Mediterranean tea ingredients:
3 tsp dried mint leaves (base)
1 tsp dried rosemary (star)
1 tsp dried thyme (star)
1/2 tsp dried lemon peel (accent)
Pairs well with: I'd give it a go with this roasted harissa chickpea snack
Warming tea ingredients:
4 tsp dried holy basil (base)
1 tsp dried ginger (star)
1 tsp dried cardamom (star)
1/2 tsp dried lemon peel (accent)
1/2 cinnamon stick (accent)
Pairs with: have it with this Pumpkin Amaretto quick bread for a very complimentary combination.
Immune booster tea ingredients:
4 tsp dried nettle leaf OR dried holy basil OR half-half (base)
1 tsp dried Echinacea flower (star)
1 tsp dried ginger (star)
1/2 tsp dried rosehip (accent)
Fresh herbal tea ingredients:
1 sprig fresh mint (base)
2 slices of fresh ginger root (star)
1 sprig of fresh rosemary (star)
1 slice of lemon (accent)
Optional: 1 slice of orange
Simmer this mixture for 5 minutes on low heat and then let it sit for 5 more.
Psst: Haven't started your tea garden yet or don't want to spend the time drying and blending your own herbal tea mixes? Heathglen's Farm & Kitchen carries spiced turmeric, Moroccan mint, white & hibiscus and spiced licorice tea blends. Perfect as a holiday gift for the tea lover.
Frequently Asked Questions:
Can kids drink herbal tea?
Sure! Almost all of the popular herbs used in teas are absolutely fine and have the same health benefits for kids. There are a few plants that aren't safe, so if you're thinking of making a brew with a more "obscure" species, just do some research to make sure.
Does herbal tea have caffeine?
Nope! Tisanes that don't contain Camellia sinensis (the tea plant) don't have caffeine, so you can drink them whenever. The only exception would be if you used yerba mate in your blend.