Stuffed squash blossoms are not hard to make! Here is the "how-to" on cleaning, storing, baking or frying stuffed blossoms. The recipe below is for baked blossoms stuffed with ricotta and Swiss chard (no frying). Enjoy!
Jump to:
RECIPE
Stuffing Ingredients
How to Clean & Prep
How to Store
Pan Frying
Best Batter
Baking or Roasting
Dips & Sauces
Male vs Female Blossoms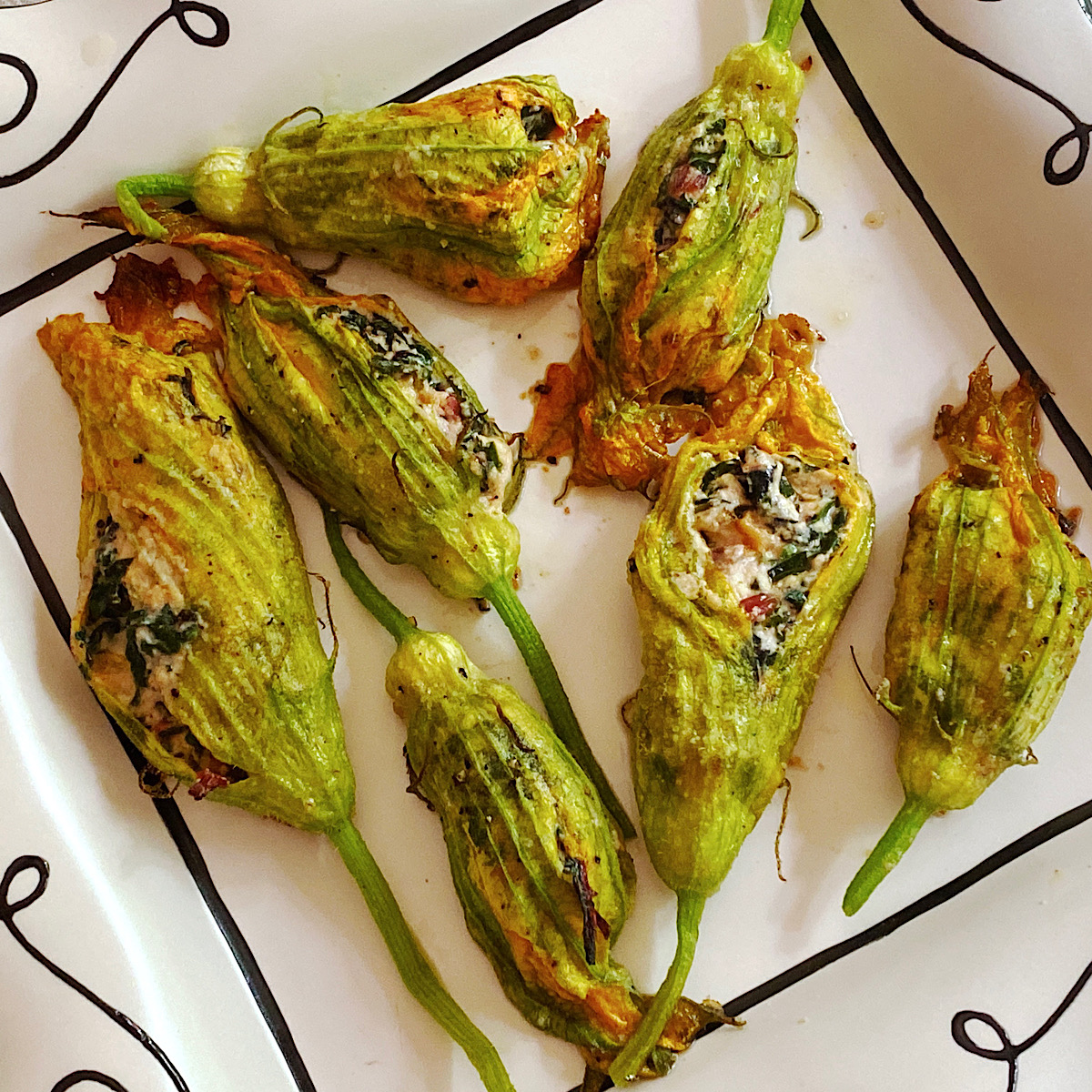 This post may contain affiliate links, and you can read our disclosure information here–
What do the blossoms taste like?
Their flavor is light and airy, with a hint of the squash that it originated from. Basically they have a very mild and delicate flavor that is enhanced by the type of stuffing that is used.
What to Stuff them with?
There is a huge range of ingredients that work well as fillings for the squash blossoms. The most popular filling is ricotta (or goat cheese) with your favorite fresh herbs. That is just a starting point however!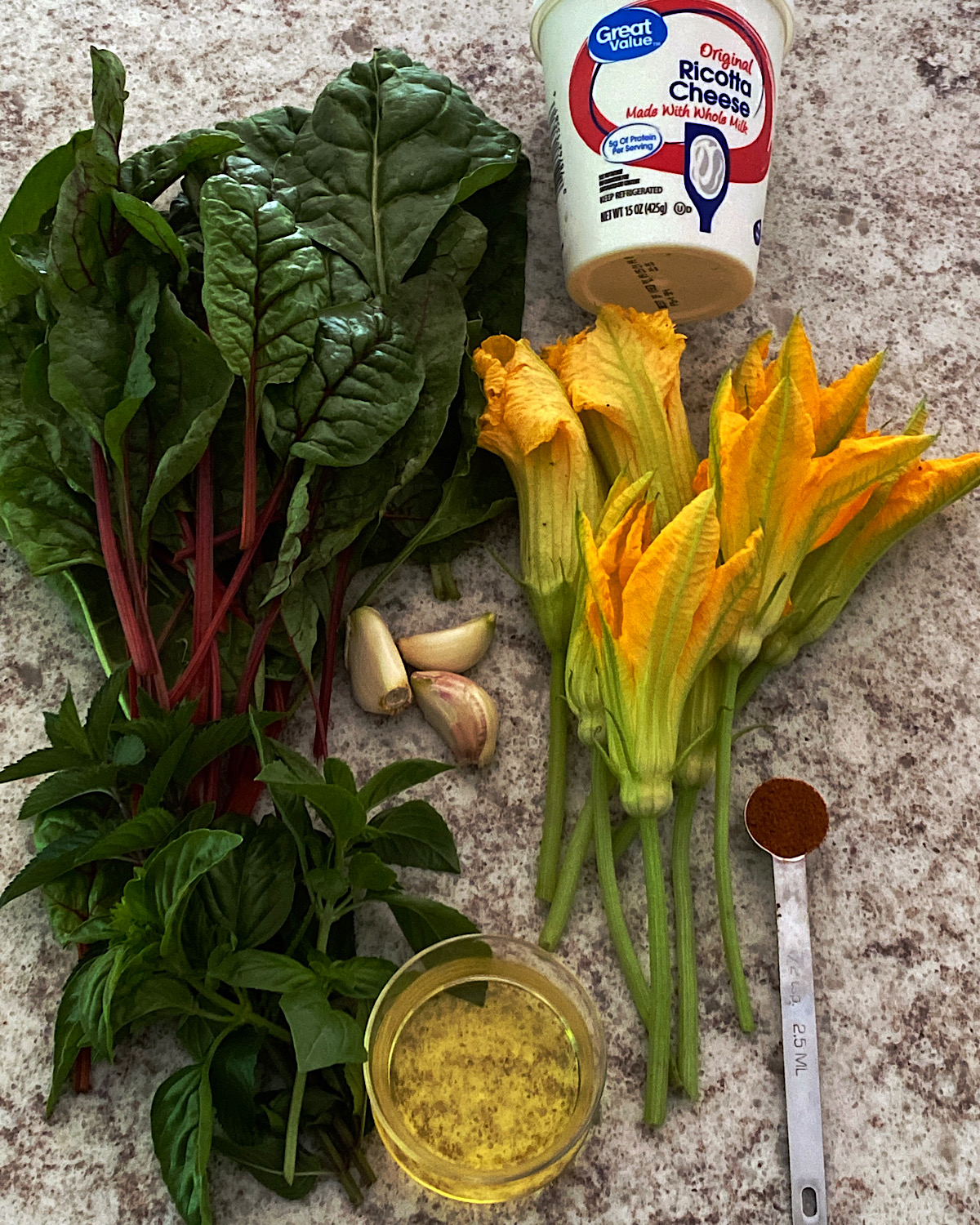 There are many, many combinations of ingredients that make excellent stuffing for the blossoms, fried or roasted.
Here are a few of my favorites:
Cheese or dairy: ricotta, goat cheese, burrata, mozzarella, or feta
Crab, lobster or small shrimp
Most herbs, popular ones include mint, basil or parsley
Chorizo for Mexican style fried blossoms
Anchovies, prosciutto & mozzerella for Italian style
Spinach or swiss chard
Rice, feta and tomatoes for Greek style blossoms
Which Squash Have Good Blossoms for Stuffing?
Squash blossoms are the big, yellow and orange edible flowers of the pumpkin and squash plants. Many varieties of squash will work, but zucchini is the most common flower used for stuffing, primarily because zucchini are so abundant, they ripen early, and they have fairly large blossoms.
If you grow your own zucchini, you can enjoy blossoms from May through September, depending on how long the growing season is in your region. Just be sure and harvest the male blossom if you want to get the zucchini fruit out of your plants!
How to Prepare and Clean Squash Blossoms
Before getting started, the squash blossoms should be cleaned, especially if they are coming in from the garden. They're very delicate so it's important to handle them carefully to keep the flower petals intact.
Most cooks remove the internal pistil with a pair of scissors as it can add an unpleasant flavor if it remains attached to the flower. Some cooks remove the green leaf like base that connects the flower to the stem with scissors, but you can keep this if you prefer the crunchy texture it provides.
Here are 3 different ways to clean them:
Delicately put the blossoms in a bowl of water, with your fingers, swirl them around. Carefully remove them from the water and lightly shake them. Make sure there are no insects or dirt inside and then lay them on a clean kitchen towel, and gently pat them dry with the towel.
With a pastry brush, gently remove any dirt or pollen. Blow into the flower so the petals would separate, remove the pistil from inside.
Blanche them: Get a bowl of ice water ready. Bring a pot of water to a boil and place all blossoms in boiling water briefly (about 30 seconds). Remove with a slotted spoon and place in ice water. This method will soften the blossoms and make them easier to fold over the stuffing.
How to Store:
Store them in the fridge in a plastic container with a lid and a lot of room for the blossoms. Do not overcrowd them. They often last 3-4 days in good shape (*note: male blossoms last longer than female). It works well to recycle plastic strawberry containers and line the bottom of them with a paper towel.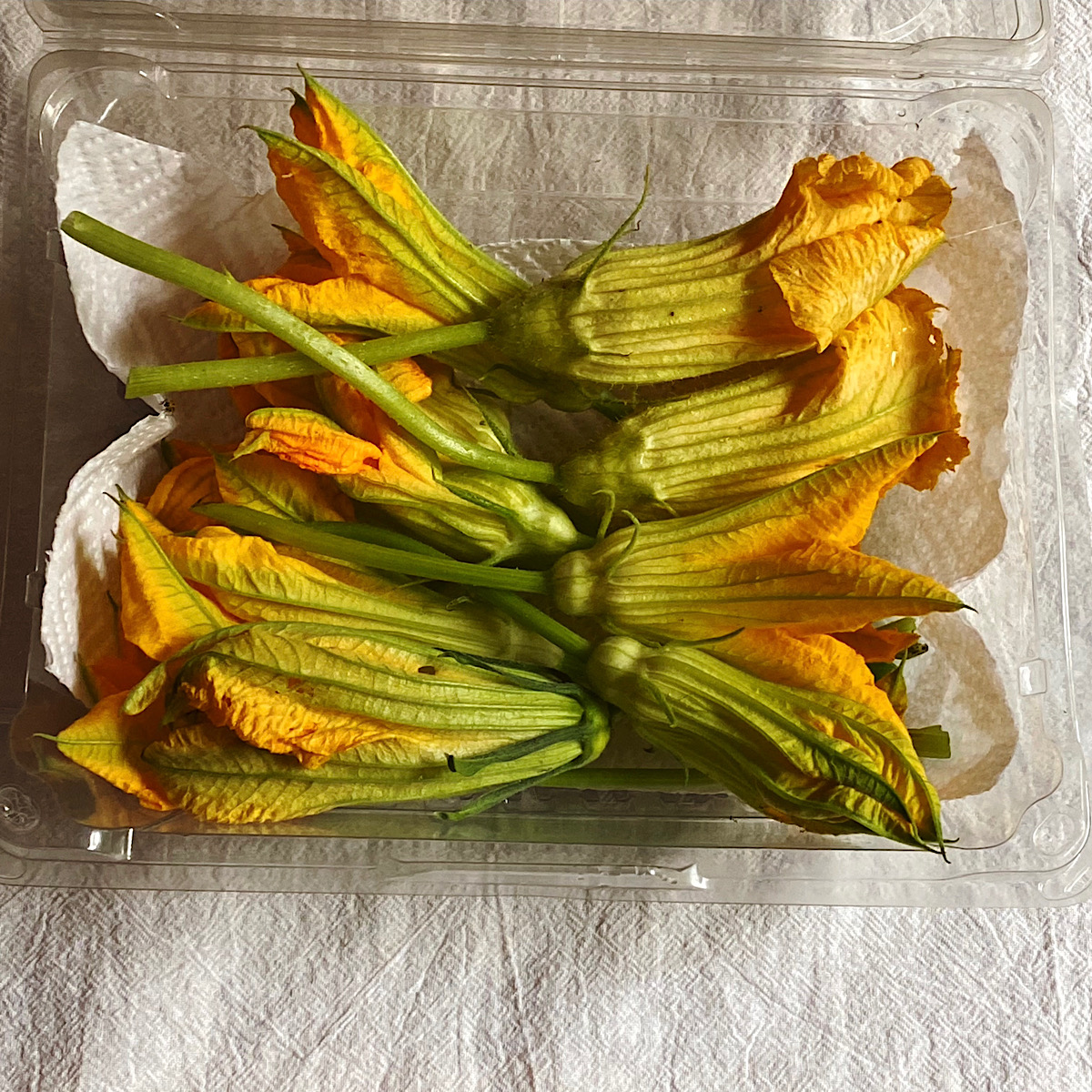 Basics of how to Pan fry
Gently rinse, pat dry, and remove stems and pistils of the squash blossoms.
Cut cheese and stuffing ingredients into small pieces. If using ricotta cheese, mold into similar size and shape.
Stuff the flowers very carefully with stuffing ingredients and fold petals around the cheese, overlapping the stems. Alternatively, twist the flower closed around the stuffing.
Coat lightly with flour, then dip in prepared batter (see ingredients for batter below). Let drain, and then coat in bread crumbs if using (bread crumbs are optional), shaking off any excess crumbs. Prepare all blossoms before frying (can be refrigerated for 4 hours before frying)
Heat 1/2 to 1" of oil in large frying pan on medium heat (not high heat). Once hot, but not smoking, work in batches to fry squash blossoms, turning once to completely brown on each side (around 1-2 minutes on each side). Drain on paper towels and serve immediately or keep warm in oven.
Best "batter" for pan-frying zucchini blossoms
A typical flour batter with an egg wash is often used for fried squash blossoms. A beer batter is a bit lighter however, and very popular, especially with Mexican fried zucchini blossoms. My preference is a tempura batter using club soda (or sparkling water), as it is low carb and light and airy.
Pan-frying with a batter is often accompanied by a breading of some sort. Panko works well for the breading, but breading is not always used. These delicacies are delicious whichever method you choose!
Here are the ingredients for my favorite beer batter and tempura batter:
Beer Batter:
1 large egg,
⅓ cup of flour,
¼ cup of clear beer
Mix everything well.
Tempura Batter:
1/2 cup flour
1/2 cup cornstarch
1 cup ice cold seltzer (club soda or other bubbly water)
1 egg
Pinch of salt
1/2 teaspoon white pepper
Tips for Pan-frying with tempura batter:
Heat your oil to where it sizzling but not smoking: 170 and 180 degrees Celsius (340-360 degrees Fahrenheit).
Don't over crowd your skillet or the flowers will come out oily.
Don't over-stir your batter – it will be a bit lumpy.
Only use a very cold liquid for your batter.
Keep it chilled between batches if you are frying multiple batches.
Basics of how to Roast or Bake
Rather than deep battered and deep fried, you can roast or bake the stuffed flowers in the oven. The roasting brings out the flavors of the zucchini blossoms without the oil. This makes for a lighter dish perfect for Summer gatherings. Here is the basic method for roasting the blossoms:
Preheat oven to 400 degrees F (200 degrees C).
Combine softened goat cheese or other cheese with chopped herbs or sauteed spinach or chard. Fill zucchini blossoms about 3/4 full with the cheese mixture, and pinch the ends closed. Place filled blossoms in a roasting pan; drizzle with 2 tablespoons olive oil, and sprinkle with salt and pepper.
Roast in the preheated oven until blossoms are hot, about 10 minutes.
Best Dips or Sauces for Squash Blossom Appetizers
Dips and sauces often accompany these delightful appetizers. Here are a few favorites:
A marinara sauce is great with an Italian stuffing.
A spicy salsa dip or guacamole is great with a Mexican style stuffing.
Try some tzatziki or a yogurt/herb based dip for a Greek style stuffing.
And basil pesto is a classic Summer dip to accompany these appetizers.
Which is lower in carbs, fried or roasted?
The blossoms themselves are very low in both calories and carbs (1 gram). Pan frying in oil will lead to more calories, but not necessarily more carbs. Which means that the amount of carbs is going to be more dependent on the filling that you choose rather than the cooking method.
Most of the fillings suggested above are low carb ingredients. Not all of them are low calorie however so design your filling to match you diet or health preferences.
Is it better to use male or female blossoms?
Squash plants have both male and female flowers. The male flowers produce pollen, but zero fruit. The "fruit" (the squash itself) comes from the female blossoms. Here is a picture that shows the differences: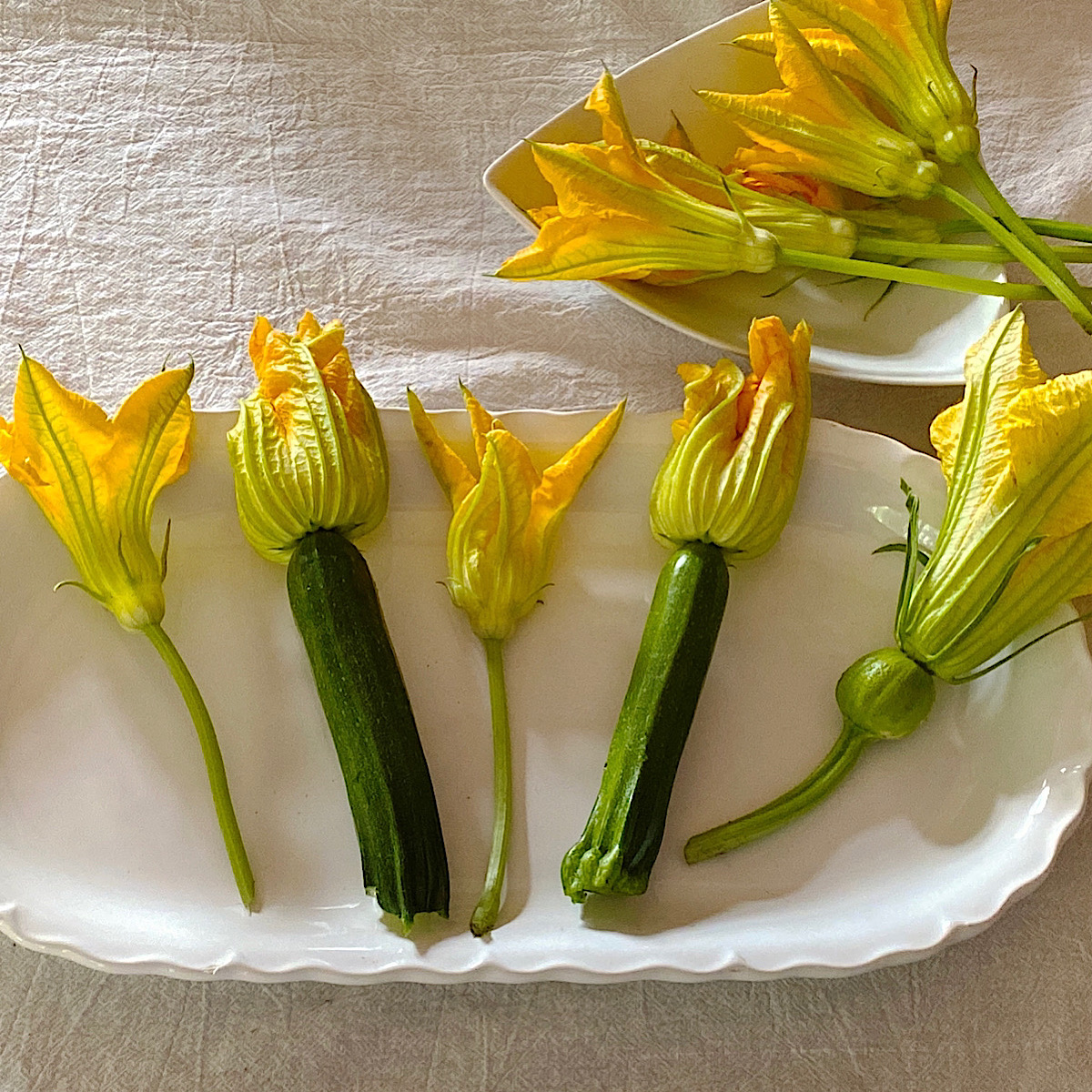 If you are harvesting the blossoms from your own garden, and you want to have some actual zucchini fruit, pick mostly male flowers.
There is a debate (of course) on the variation in flavor between male and female flowers. Some cooks are adamant that the male flower is the only one that should be used for flavor. Perhaps it is because the lump of the squash ovary is not there and this makes it easier to prepare and eat.
Other people find the female blossom to be plump, fruitier and add a bit of crunch. It is definitely a preference, but as with most preferences, cooks feel very strongly about it. Just know that they are both delectable!
How to Tell the Difference between Male and Female Blossoms
The male flower is attached to a long stem at the base of the flower and has a stamen in the middle (which is removed before stuffing). The female flower is attached to a small bulb (the ovary) that will, when pollinated, become a zucchini. Both are actually edible and delicious.
If you want to keep the squash from overrunning your garden, harvest the female flowers. If using the female, cut them when the fruit has started to grow from them and is small — about 3 inches long — and very tender. You can then use both the small zucchini and the stuffed flower in your dish!
Cost of Squash Blossoms
Well, because the blossoms are so delicate, they only last a couple of days in the refrigerator. This, of course means they are not "shelf-stable" so it is difficult to find them to purchase.
Zucchini has some of the better blossoms however, and zucchini is extremely easy to grow. Most squash is easy to grow in the garden if you have the space, and squash (and their blossoms) are some of the most cost-effective vegetable to grow.
I have a different article that offers some details on which foods are most cost-effective and least cost-effective to grow on your own.
Frequently Asked Questions:
Can you freeze stuffed squash blossoms?
You can freeze, can, pickle, or dry squash blossoms. If cooked, blossoms will store in the freezer for 6 to 8 months.
Are they healthy?
Being as light and delicate as they are, squash blossoms alone (without stuffing) aren't a highly nutritional food. One cup of squash blossoms only has five calories! It also has one gram of carbohydrates and less than one gram of protein, just to give you the picture. That said, squash blossoms are high in calcium and iron and especially high in vitamins C and A.
Where can I buy squash blossoms?
These delicate flowers are difficult to find in a grocery store because of their extremely short shelf life. You can sometimes find them at local farmers' markets. If you know a vendor that sells zucchini, ask them to bring you some blossoms at the next market day. Sometimes you can find blossoms in Latin stores, but growing zucchini yourself or making friends with a gardening neighbor is often the easiest and best way to get these delicacies.
How to harvest and store squash blossoms:
Squash blossoms open up in the morning, and it's best to pick them early in the day.
Wrap the stems in a damp paper towel, and store them in the fridge until you're ready to use. There are more male flowers than female flowers on each plant, and the male flowers keep longer. Male blossoms will keep a few days and female blossoms should be used the same day.
Can you air fry squash blossoms?
I have not tried this method with stuffed blossoms, but you can try this recipe that I found on the internet.
If you make and love this recipe, please leave a ★★★★★ review below and any comments others might find helpful. It means a lot to me when you try my recipes, and I'd love to know how it goes.
Roasted Stuffed Squash Blossoms
Roasted Stuffed Squash Blossoms
Roasting or baking squash blossoms is an alternative method to the more typical frying method. These roasted squash blossoms are stuffed with swiss chard and ricotta cheese, but any filling that works with fried blossoms will work with roasted/baked blossoms.
Ingredients
2

tablespoons

olive oil

divided

1

swiss chard

stems removed and leaves chopped (can use spinach instead of chard)

3

cloves

garlic

minced

½

teaspoon

chile pepper

mild or hot

3

tablespoons

chopped fresh basil

I added some mint also

salt and ground black pepper to taste

4

ounces

ricotta

or goat cheese, softened to room temperature

8

zucchini blossoms

stamen removed
Instructions
Preheat oven to 400 degrees F (200 degrees C).

Heat 1 tablespoon oil in a skillet and sauté the chard, garlic, chile pepper and herbs (basil and/or mint) over medium heat until chard is softened (about 5 minutes).

2 tablespoons olive oil,

1 swiss chard,

3 cloves garlic,

1/2 teaspoon chile pepper,

3 tablespoons chopped fresh basil,

salt and ground black pepper to taste

Remove from heat and let cool completely, about 15 minutes. Place cooled chard mixture between 2 towels and press to remove excess moisture.

In a large bowl combine the chard mixture with the softened ricotta. This is the filling.

Fill zucchini blossoms about 3/4 full with the ricotta mixture, and either twist the flower petals closed at the top, or layer each petal over each other to contain the filling. Place filled blossoms in a roasting pan; drizzle with just a little olive oil, and sprinkle with salt and pepper.

4 ounces ricotta,

8 zucchini blossoms

Roast in the preheated oven until blossoms are golden and the filling is hot, about 10 minutes.
Nutrition
Calories:
59
kcal
Carbohydrates:
1
g
Protein:
2
g
Fat:
5
g
Saturated Fat:
2
g
Polyunsaturated Fat:
1
g
Monounsaturated Fat:
3
g
Cholesterol:
7
mg
Sodium:
25
mg
Potassium:
47
mg
Fiber:
1
g
Sugar:
1
g
Vitamin A:
472
IU
Vitamin C:
3
mg
Calcium:
35
mg
Iron:
1
mg
Did you make this recipe?
If you tried this recipe, please give it a star rating! To do this, just click on the stars above. Comments are always helpful also and I respond to all of them (except rude ones)