Spanish Cod al Pil Pil is typically made by cooking skin-on salt cod in a garlic-infused oil. The protein left over from the cod is then whisked until it is emulsified into a semi-thick sauce. The recipe below uses fresh or frozen cod rather than salt cod (bacalao), as it is not always easy to find salt cod.
Jump to: Recipe | What is Pil Pil | Fresh vs Frozen Fish | How to Emulsify Sauce | Serving Suggestions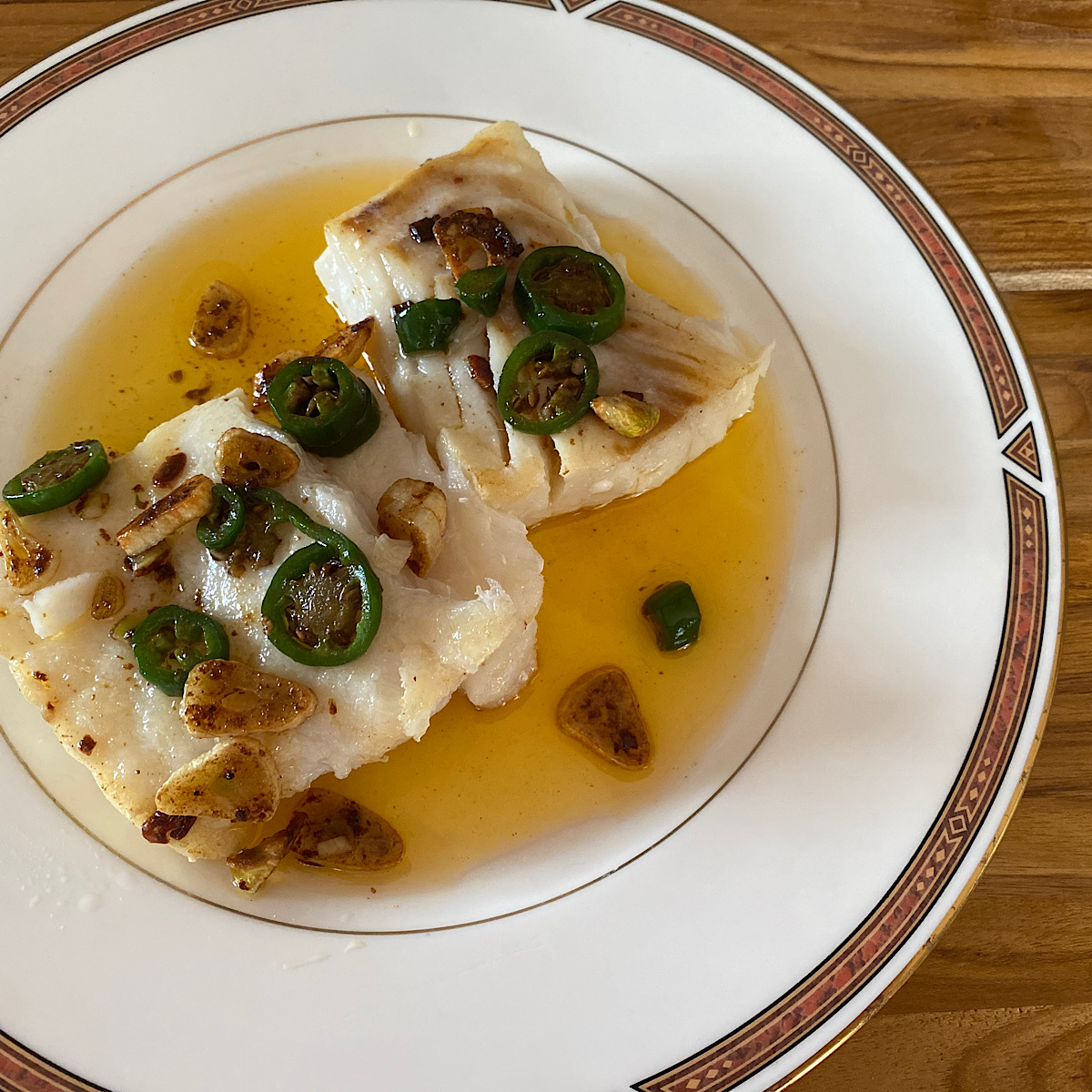 This post may contain affiliate links, and you can read our disclosure information here–
What is Pil Pil Sauce?
Pil Pil sauce is typically made with skin-on salt cod (bacalao), lots of garlic, lots of olive oil, and a little bit of spice (or herbs). The garlic is sauteed until golden and then removed.
The fish is then cooked very briefly in the garlic oil and removed. At this point the garlic and spices are added back in and the oil is whisked vigorously, sometimes for up to 10 minutes, until emulsified to the desired thickness.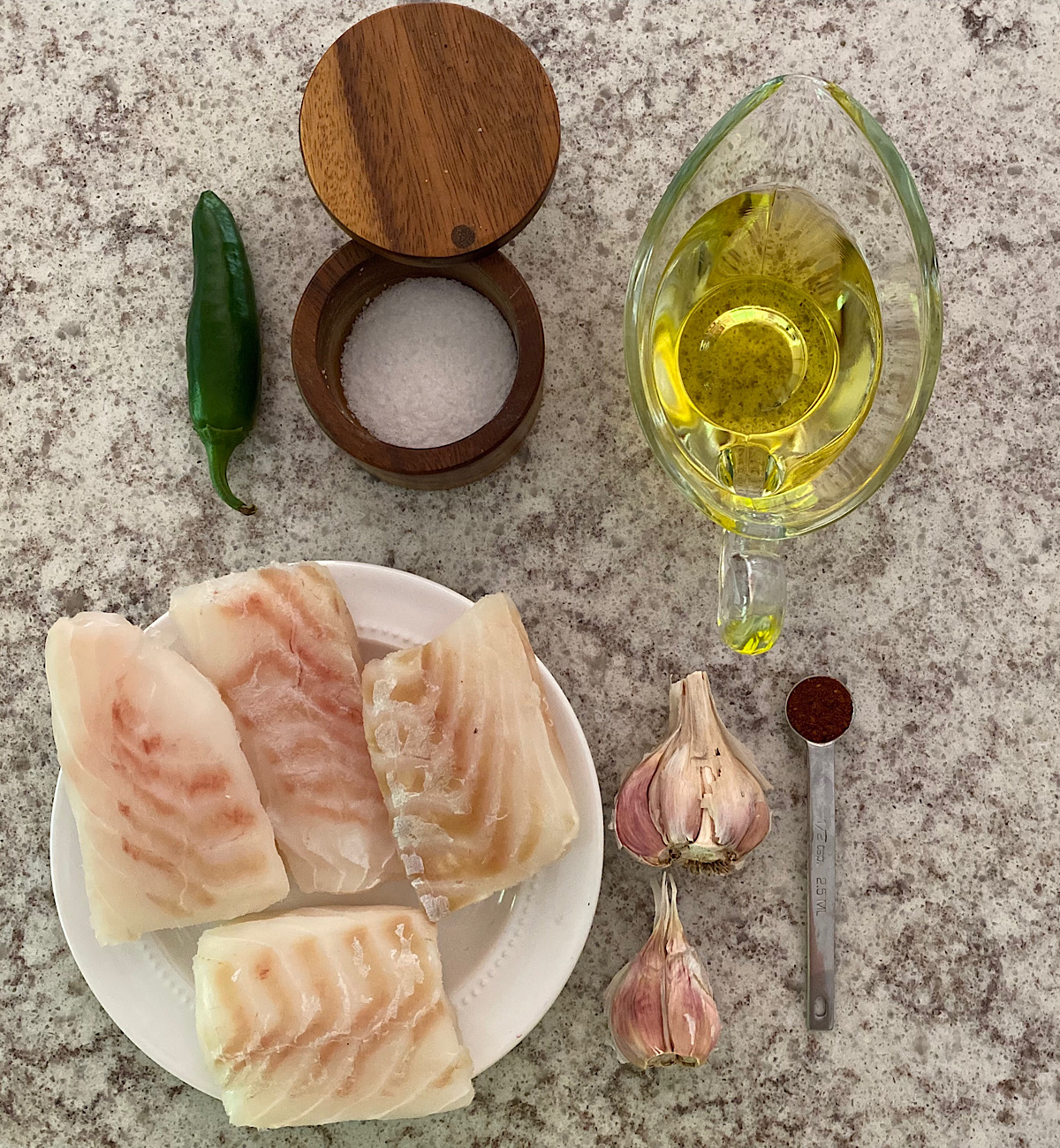 Fresh Cod vs Frozen Cod vs Salt Cod
I used skinless frozen cod, which I thawed, dried and salted. I let the salted cod sit for 20 minutes before cooking, and did not rinse the salt off prior to cooking.
I was worried the lack of skin would not allow the garlic oil to emulsify. It worked however! It might not have been as thick as if I had used skin-on salt cod, but that was not readily available in my region.
You should be able to know whether it will emulsify if you see dollops of milky white protein traces left behind in the oil once the fish is removed.
If you are using salt cod, you need to freshen it up for 24 to 48 hours before you make the pil pil sauce. You do that by soaking the block of salted fish in cold water, changing the water every eight hours or thereabouts.
The flavor of the garlic-infused oil (the pil pil) is just as good with fresh fish or frozen fish, but it does help quicken the emulsification if you can use skin-on cod. The collagen from the skin aids the emulsification process.
How to Emulsify the Sauce:
As noted above, using skin-on cod will help speed up emulsification due to the amount of collagen and protein.
Emulsification primarily depends on how thick you want your sauce. I prefer a thinner sauce, but some cooks emulsify to the thickness of a mayonnaise.
For some reason the chefs in the videos use a sifter to whisk the oil, I don't know why. I used a small wire whisk and it seemed to work fine.
** Pro Tips for a Thicker Sauce:
If you prefer a thicker sauce and cannot get it to thicken with a whisk, here are some things to try:
some cooks will pour the sauce from the pan and use a stick blender to whip the sauce a bit. Just be careful not to whip it too long or it will thicken too much.
control the temperature (cod should be cooked in slow-medium heat so it releases that colagen)
If you want more oil for your dish than what is left in the pan, first stir the remnant of garlic oil in the bottom of the skillet (this is where the collagen is) to your desired thickness. Then add the rest of the oil gradually, whisking after each addition of oil, similar to if you were making an oil emulsion like mayonnaise.
What does Pil Pil mean?
The name "pil-pil" is said to come from the sound the oil makes as it bubbles up to the surface. You have to boil the oil very slowly until you see the bubbles and hear the sound.
Other Uses for Pil Pil Sauce
The sauce invariably accompanies seafood. Although cod or halibut is the traditional way to get the emulsified pil pil sauce, I have seen recipes for tapas using prawns or scallops.
With the recipes that use scallops and/or prawns, the sauce is often thin and is more of a garlic-infused oil rather than an emulsification
What to Serve with Cod al Pil Pil
My favorite thing to serve this with is crusty bread. It is perfect for sopping up the wonderful sauce. Bread is not low carb, of course, but the rest of the dish is.
Wine pairing: a refreshing fruity off-dry Riesling is great with the robustness of the chile peppers and the garlic.
Recipe for Spanish Cod al Pil Pil
Spanish Cod al Pil Pil
Tender white fish made with a garlic-infused oil. Whisking the leftover collagen traces from the fish wiht the garlic oil allows the sauce to emulsify and thicken.
Ingredients
4

5-0z

Cod filets

skin-on if possible, can use other white fish

2

Tablespoons

Kosher salt

6

Cloves

Garlic

Sliced thinly

1

Large

Jalapeno

Sliced thinly

¾

Cup

Olive oil

½

teaspoon

Powdered chile pepper

optional (adds color and more spice)

¼

Cup

Parsley

Chopped; Optional for garnish
Instructions
Thaw cod filets if using frozen. Pat the filets dry with paper towels and salt both sides with kosher salt. Set aside for 20 minutes

4 5-0z Cod filets,

2 Tablespoons Kosher salt

Thinly slice garlic and jalpeno. Heat oil over medium heat and add garlic. Saute garlic until golden brown (30 seconds to a minute) and then remove to a plate and set aside

6 Cloves Garlic,

1 Large Jalapeno,

3/4 Cup Olive oil

Using tongs or spatula place cod filets in heated oil in skillet and cook about 2 minutes. Turn filets and cook another 2 minutes on the flip side. Remove to a plate and set aside (it will keep cooking a bit on the plate)

Turn the heat off and add the garlic and jalapenos (and chile powder if using) to the oil. Start whisking the oil and the traces of white collagen left from the fish with small whisk or a small sifter (or use immersion blender once cooled a bit). Whisk/stir until emulsified to desired thickness. It can be anywhere from a thin oil to a thickness of mayonnaise.

1/2 teaspoon Powdered chile pepper

Plate the fish filets and pour the garlic-jalapeno oil over the fish. Garnish with chopped parsley. Serve with crusty bread to sop up the oil.
Nutrition
Calories:
367
kcal
Carbohydrates:
2
g
Protein:
1
g
Fat:
41
g
Saturated Fat:
6
g
Polyunsaturated Fat:
4
g
Monounsaturated Fat:
30
g
Cholesterol:
1
mg
Sodium:
3491
mg
Potassium:
32
mg
Fiber:
1
g
Sugar:
1
g
Vitamin A:
39
IU
Vitamin C:
6
mg
Calcium:
12
mg
Iron:
1
mg
Did you make this recipe?
If you tried this recipe, please give it a 5-star rating! To do this, just click on the stars above.