Fish and seafood are wonderful proteins for low carb, keto, slow carb and Mediterranean lifestyles. The problem is many people don't like fish, or find it too bland when made without breading. Enter this quick and easy almond crusted cod with dijon mustard. No more bland!
Jump to: RECIPE | Cod Substitutions | Similar Diet Plans | Pesco Mediterranean Diet | Low Carb Breading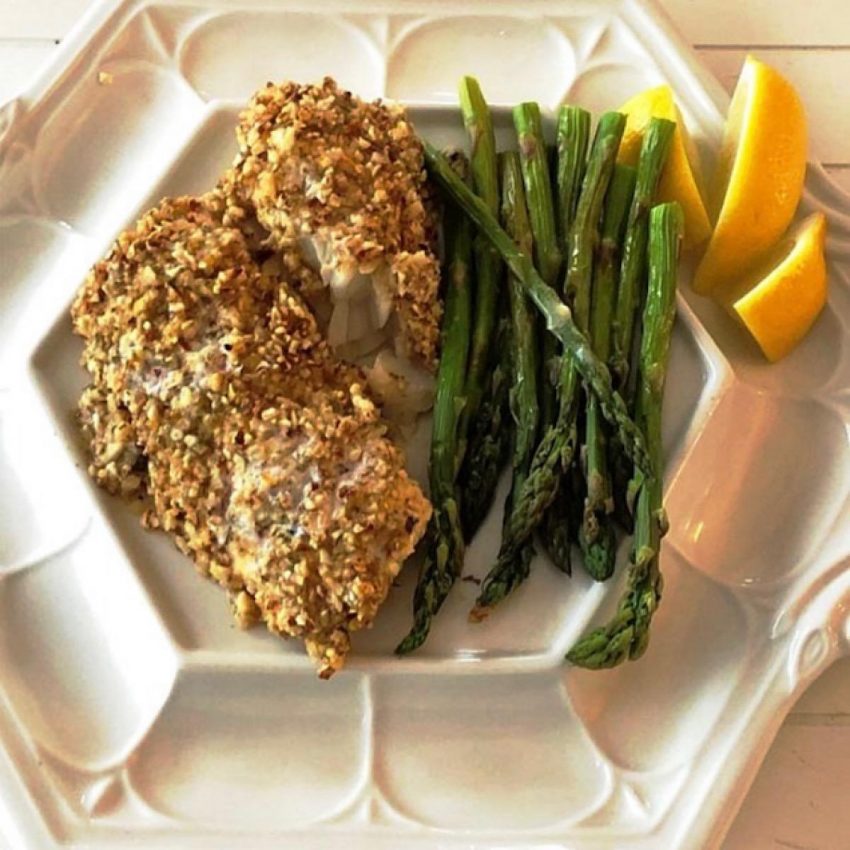 This post may contain affiliate links, and you can read our disclosure information here–
What Kind of Fish can be Substituted for Cod?
This recipe is one of the low carb fish dinners that highlights cod, but any white fish could be used. I prefer the thicker filets like halibut and cod, but we've tried it with sunfish and crappies and it works just fine. I do live in the state of 10,000 lakes after all. Crappies (aka croppies) are just a bit more abundant here than cod and halibut!
Which Diets work with Almond Crusted Cod?
I've been on a high-protein-low-carb diet for years now (alternating between nuanced versions of slow carb, low carb, & ketogenic) and most of the high protein recipes associated with these diet (lifestyles) focus on chicken, beef and pork proteins.
After working with over 400 people as a diet and health coach, I have learned a ton from both research and hands-on experiences with a wide variety of clients. While most "diets" work for weight loss if they involve a decrease in calories, not all of them benefit health.
Fish can be substituted in as a protein source for low carb and slow carb, but it is a little more problematic with keto, as keto favors proteins higher in fat.
I have recently become a huge proponent of the Pesco-Mediterranean diet for two reasons:
It offers the health benefits of the Mediterranean diet; health benefits that have been thoroughly researched and documented year after year.
It is sustainable, which is key to long term weight loss. You are not excluding any particular food group (except maybe processed foods if you call that a food group). Many diets work in the short term, but sustainability of the weight loss over time is a major problem which leads to a lot of frustration. Too much frustration often leads to "giving up", which is a big hit to self confidence.
The recipe below (inspired by Eating Well magazine) was quick and easy, but it also packed a lot of flavor. In addition, it is totally compliant with the various low carb, slow carb and keto diets.
If you are experimenting with the nuances of the various low carb diets and want more information on how they differ this , low carb vs slow carb vs carb cycling article is a great summary.
Basics of the Pesco Mediterranean Diet
All in all, the Pesco Mediterranean diet is not that much different than the well-known Mediterranean diet. The basic tenets include:
Plenty of plant based fruits and vegetables;
Generous use of extra virgin olive oil;
Fish and seafood replaces red meat as the protein source, with beans and chicken adding a secondary protein source;
Intermittent fasting as a component. There is not currently a rule on which method of intermittent fasting. I am a proponent of 16/8 (eating within an 8 hour window and fasting the rest of the time)
Up the Flavor of White Fish with Low Carb Breading
I have posted a number of recipes for low carb fish dinners (see below for links). Many of them use salmon and scallops however, and cooking with white fish (cod, flounder, tilapia, etc.) can sometimes result in a bland and uninspired flavor profile.
Here are some recipes using white fish that are really robust in flavor:
For enhancing fish (or vegetables), fresh pre-made spice blends can offer a whole world of alternatives.
Recipe for Crispy Almond and Mustard Coated Cod
Low Carb Almond Crusted Cod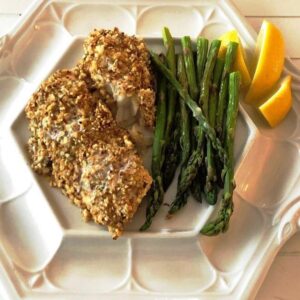 Using Dijon mustard, lemon and crushed almonds really enhances the flavor of cod and most white fish. Moves fish dinners from blah to great.
Ingredients
4

filets

cod

or other white fish

1

med

lemon

zested and juiced

½

cup

crushed almonds

can use a food processor or blender to crush

1

Tbsp

dill

either fresh or from tube

1

Tbsp

olive oil

salt & pepper

to taste

1

tsp

mild to med. chili spice

optional

4

tsp

Dijon mustard

more if you like mustard
Instructions
Preheat oven to 400 degrees F. Prepare a baking sheet with either parchment paper laid on top or spray with cooking spray

Place cod filets on paper towels to drain of water and pat dry. Place on baking sheet.

In a small bowl, combine the lemon zest, lemon juice, crushed almonds, dill, oil, salt and pepper and chili spice if using.

1 med lemon,

1/2 cup crushed almonds,

1 Tbsp dill,

1 Tbsp olive oil,

salt & pepper,

1 tsp mild to med. chili spice

Spread each cod filet with a tsp or so of Dijon mustard,smoothing it over the entire top of the filet. Divide the almond mixture among the 4 filets, pressing it evely into the mustard with your hands.

Bake the fish until opaue at the thickest part, about 7 minutes for most.cod filets (less time for thin filets).

Serve with a green vegetable and lemon slices for a great low carb or keto fish dinner.
Nutrition
Calories:
83
kcal
Carbohydrates:
3
g
Protein:
3
g
Fat:
7
g
Saturated Fat:
1
g
Polyunsaturated Fat:
0.05
g
Monounsaturated Fat:
0.1
g
Cholesterol:
0.5
mg
Sodium:
58
mg
Potassium:
10
mg
Fiber:
2
g
Sugar:
1
g
Vitamin A:
4
IU
Vitamin C:
0.2
mg
Calcium:
33
mg
Iron:
1
mg
Did you make this recipe?
If you tried this recipe, please give it a 5-star rating! To do this, just click on the stars above.
Online Diet/Health Coaching:
Although I am not currently taking clients for diet & health coaching, I have been a coach for many years with the online service called coach.me. It is a great platform for all kinds of coaching – anything from specific diets, writing a blog, getting up early, or getting rid of that pesky procrastination.
There are some wonderful coaches and the testimonials will tell you what you need to know. Contact me at [email protected] to get a referral to some of the tested, experienced online coaches on Coach.me
If you'd like to start with a plan for a low carb or keto lifestyle, check out this detailed guide in ebook form. It may be all you need to lose weight on this lifestyle. Or it may be used as a supplement to one-to-one coaching.