Camarão na Moranga (Shrimp in Pumpkin) is a creamy seafood stew from Brazil beautifully served in a colorful pumpkin. Traditionally it would be served in a pinkish heirloom variety of pumpkin called Moranga (see photo below). If you can't find this variety however, an orange baking pumpkin will work just fine. The flavor and the presentation will definitely impress any and all guests!
Jump to:
The RECIPE
What is Camarão na Moranga
Ingredients and Substitutions
A Little History
What is Camarão na Moranga
Camarão na moranga ("Shrimp in pumpkin") is a typical dish of the Brazilian coast. Both delicious and impressive on the table, it is a traditional showpiece for celebrations.
Typically seen at Brazilian dinner parties, Christmas and New Year's feasts, birthdays, and anniversaries, "shrimp in pumpkin" makes a stand-out centerpiece for a fancy dinner table. It is one of the most delightful ways to serve a crowd.
Ingredients and Substitutions
Here are the ingredients used in the recipe below, with ideas for substitutions following the photo:
Substitutions for the pumpkin
There is an heirloom squash from Brazil that was named specifically to highlight this "shrimp in a pumpkin" dish. The Brazilian Moranga squash (sometimes referred to as a pink pumpkin) is ribbed, light pink to salmon in color and weighs in at about 4-8 pounds.
The incredibly sweet, savory flavor makes it a favorite for all kinds of squash recipes. Here is a photo….
the Moranga Winter squash variety isn't always easy to find, but there are plenty of pumpkins or Winter squash that can be effectively used for this dish.
For taste purposes, opt for a squash that has a creamy, sweet taste, like pie pumpkins or some of the sweet heirloom varieties.
For presentation purposes, opt for an orange or brightly colored pumpkin that will highlight the somewhat creamy tan color of the filling.
A deep orange pumpkin that is around 3 lbs with ribs is a good option. The photo below is a French heirloom squash called Rouge Vif d'Etampes.
Another tasty heirloom variety that would work well is the Long Island Cheese variety. Long Island Cheese squash are a beautiful, buff-tan color and are dense and nutty. They have long been used for great soup.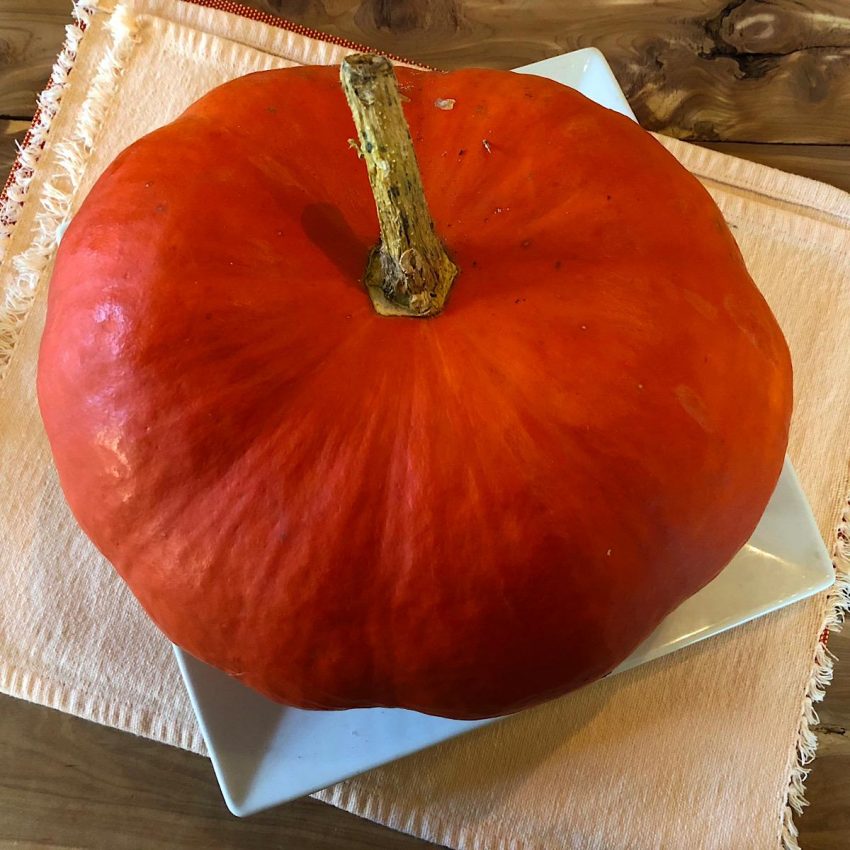 Another option if you are making this for dinner guests is to use small mini-pumpkins that arrive in supermarkets in the holiday season. They make beautiful individual dishes for Fall gatherings.
One of those, filled with shrimp and sauce is just perfect for one person. The traditional version of Camarão na Moranga (Shrimp in Pumpkin) however, uses a large pumpkin to serve the entire party.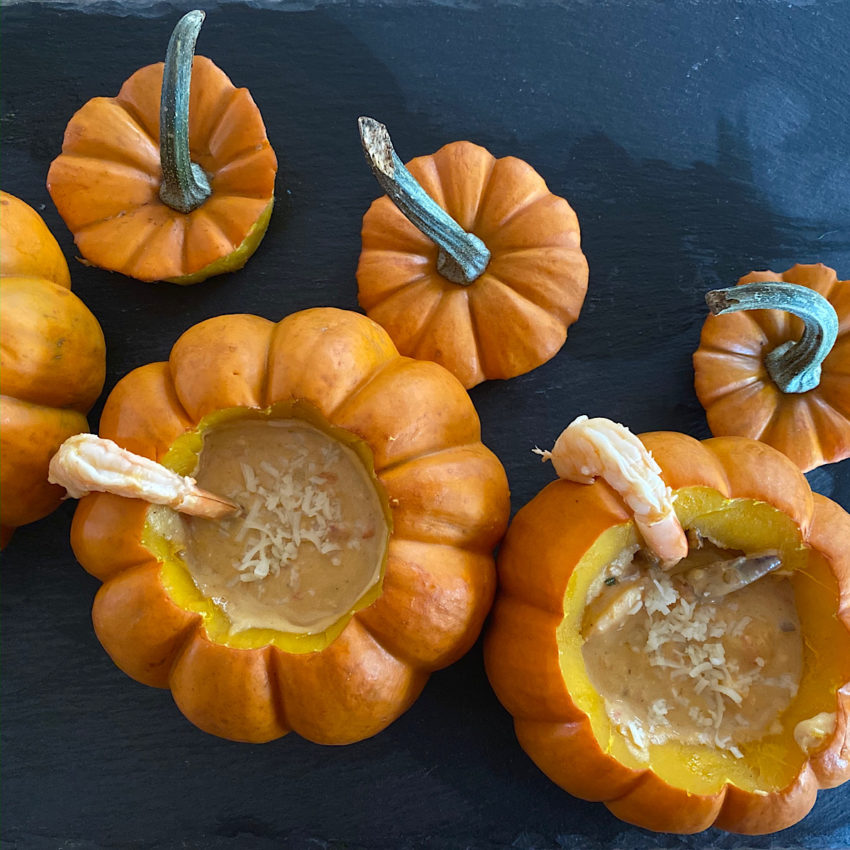 Substitutions for the Cheese
A typical Brazilian ingredient for this dish is requeijão , which is a creamy cheese.
The type of requeijão used in Brazil, Catipury, is not found in most U.S. supermarkets however. Instead, either mascarpone cheese or cream cheese makes a great substitute.
A Little History
The recipe, it seems, was invented around 1945 in Ubatuba, a town along the northern coast of state of São Paulo.
The ancients say that on an island in Ubatuba, there was a pumpkin plantation, and at high tide one of the pumpkins ended up in the sea. A few days later, the pumpkin appeared on the beach, full of shrimp inside.
A cook who had a trade in the place saw the scene and a short time later the dish was created, which became a success: a pumpkin stuffed with shrimp in a sauce.
For over 20 years the Colony of Fishermen "Z-23" have organized an important Brazilian coastal cooking festival in the Fall.
It is called A Festa do Camaro na Moranga, and the money raised from the party goes to benefits for the fishermen and subsistence of the Colony of Fishermen Z-23.
It is a great opportunity to try the countless versions of this wonderful dish if you happen to be visiting Brazil at the right time.
Roast the Pumpkin Seeds
Don't forget to roast the pumpkin seeds with your favorite spices for a healthy snack that can be stored year-round. Check out this recipe for my favorite way to roast and spice up pumpkin seeds for the holidays or to garnish Mexican recipes
Other great pumpkin recipes for Fall include: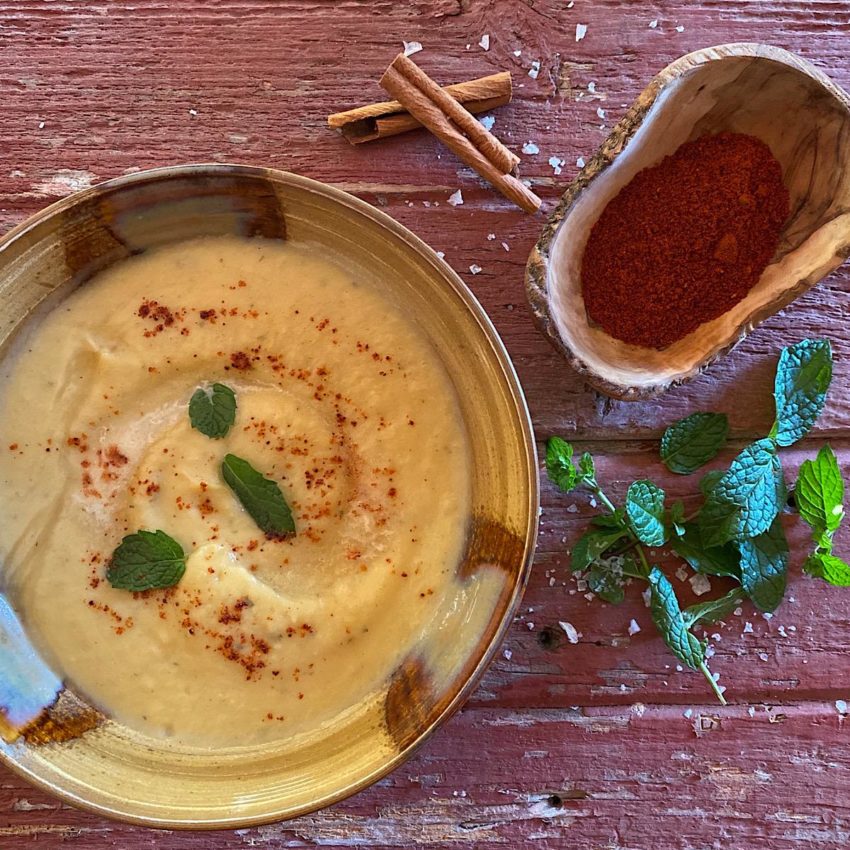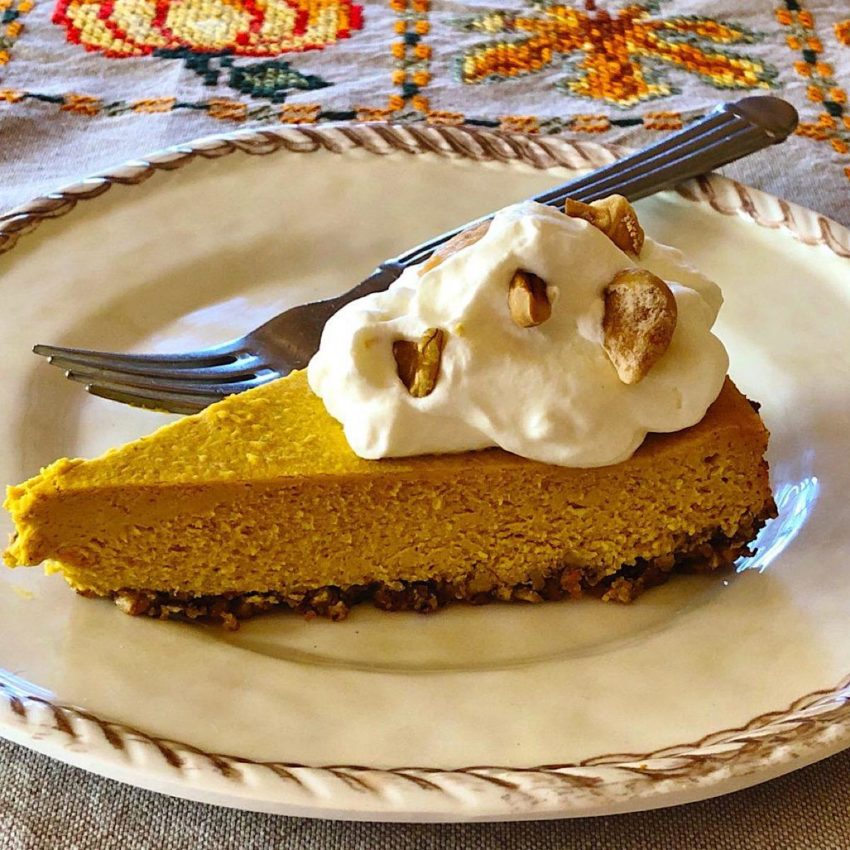 If you make and love this recipe, please leave a ★★★★★ review below and any comments others might find helpful. It means a lot to me when you try my recipes, and I'd love to know how it goes.
Camarao na Moranga or "Shrimps in Squash"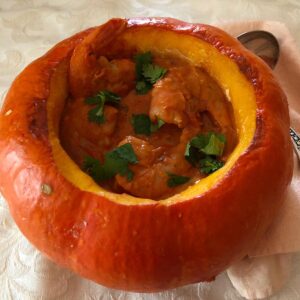 This is a popular Brazilian dish often served in restaurants along the coast, or as celebrations for guests. It is a show stopper in terms of presentation and flavor both!
Equipment
Aluminum foil

Long, sturdy spoon

Measuring cups and spoons
Ingredients
3

lb

baking pumpkin

I used a ribbed dark orange baking pumpkin

1

Tablespoon

Olive oil

1

Tablespoon

Butter

1

large

Onion

chopped

½

tsp

Minced rosemary

1

tsp

Minced thyme

1

tsp

smoked paprika

optional

3

cloves

garlic

mashed

2-3

tomatoes

chopped; you can used diced canned tomatoes

1 ½

cup

Coconut milk

can substitute cream or use 1/2 cup cream and 1/2 cup coconut milk

12

oz

Cream cheese

2

lbs

Shrimp

medium or large

1

oz

Parmesan cheese

Grated

salt and pepper

1-2

cups

water
Instructions
Cut the top of the pumpkin off like a lid, clean the inside removing all the seeds and the stringy part of the flesh attached to the seeds. Toss the stringy part of the pumpkin attached to the seeds and keep the seeds if you want to use them for roasting later.

Wrap pumpkin in foil and bake at 300 degrees F. for about 40 minutes or until "fork tender" (to test, poke it with a fork around the stem area- it is done when slightly soft to the touch). Test occasionally with fork because overcooking the pumpkin can cause it to collapse. (Some people will cook in a microwave without the foil, but be careful not to overcook or bottom will fall out)

Remove from the oven and set aside. Now you have two options: you can scrape out some of cooked pumpkin flesh, being careful not to break the pumpkin, but sometimes the inside of the pumpkin doesn't get soft enough to scrape out. If you do remove the flesh, set it aside for adding to the sauce later.

The second option is to leave the pumpkin and its flesh intact and use some other leftover squash or canned pumpkin in the soup instead (I added about 1 cup). I found this option easier.

In a large skillet or dutch oven, heat oil and butter over medium high heat. Add chopped onion and saute for 5-7 minutes, or until translucent and caramelized. Add spices and smashed garlic and cook for an additional 1-2 minutes.

1 Tablespoon Olive oil,

1 Tablespoon Butter,

1 large Onion,

1/2 tsp Minced rosemary,

1 tsp Minced thyme,

1 tsp smoked paprika,

3 cloves garlic

Reduce the heat to medium and add the tomatoes, the reserved pumpkin flesh, the coconut milk/cream and the cream cheese. Cook for 3-5 minutes or so, stirring until smooth and thickened to your liking. Mine came out pretty thick and I added 1 1/2 cups water to the broth.

Add the shrimp and cook until pink. Shrimp cook fast and it will only take 3-4 minutes.

2-3 tomatoes,

1 1/2 cup Coconut milk,

12 oz Cream cheese,

2 lbs Shrimp,

1-2 cups water

To serve, pour the sauce/shrimp ingredients into the pumpkin and sprinkle with parmesan cheese. Rice is often served as an accompaniment. If desired for presentation, garnish the pumpkin opening by hanging a few shrimp off of the top edge.

NOTE: If making it ahead, pour the sauce (without the parmesan) in the pumpkin 15 minutes before serving time; wrap the pumpkin in foil and bake in a 350F oven till hot. Sprinkle with parmesan and serve.
Notes
*The recipe calls for requeijao cremoso, a creamy cheese not available in the United States. Cream cheese is a reasonable substitute.
* Serving size includes 4-5 shrimp per person
Nutrition
Calories:
412
kcal
Carbohydrates:
16
g
Protein:
30
g
Fat:
26
g
Saturated Fat:
16
g
Cholesterol:
339
mg
Sodium:
1094
mg
Potassium:
883
mg
Fiber:
1
g
Sugar:
7
g
Vitamin A:
15371
IU
Vitamin C:
25
mg
Calcium:
295
mg
Iron:
5
mg
Did you make this recipe?
If you tried this recipe, please give it a 5-star rating! To do this, just click on the stars above.
Online Diet/Health Coaching:
Although I am not currently taking clients for diet & health coaching, I have been a coach for many years with the online service called coach.me. It is a great platform for all kinds of coaching – anything from specific diets, writing a blog, getting up early, or getting rid of that pesky procrastination.
There are some wonderful coaches and the testimonials will tell you what you need to know. Contact me at [email protected] to get a referral to some of the tested, experienced online coaches on Coach.me
If you'd like to start with a plan for a low carb or keto lifestyle, check out this detailed guide in ebook form. It may be all you need to lose weight on this lifestyle. Or it may be used as a supplement to one-to-one coaching.