Whether you're carving Jack-o-Lanterns for Halloween or roasting squash for a Winter comfort dinner, don't throw out the seeds! Roast them up with some aromatic spices for a healthy Fall-flavored snack, or a garnish to many Mexican dishes.
Jump to:
RECIPE
Which Pumpkin Seeds Are Edible?
Pumpkin Seeds vs Pepitas
How To Remove and Clean Pumpkin Seeds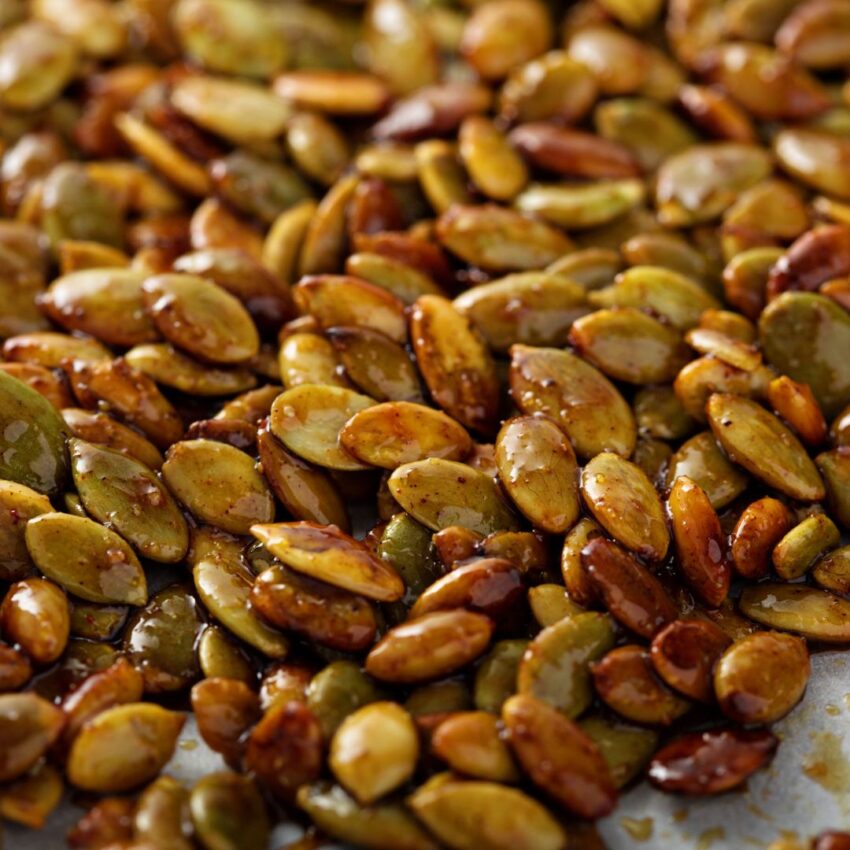 This post may contain affiliate links, and you can read our disclosure information here–
Which pumpkin seeds are edible?
There are some pumpkins or Winter squash that are popular exclusively for their seeds. Not necessarily because of taste, but rather because these varieties have what is referred to as "naked seeds" (i.e., no shells).
My favorite variety of pumpkin with naked seeds is called Lady Godiva (remember her?…the naked lady that rode through town on her horse).
All of the pumpkin varieties have edible seeds however. That's not to say they'll necessarily taste great – some are just a little too tough to get the shell off or the seeds are very small – but in my opinion, it's always worth giving a try.
Even pumpkin seed shells can be eaten, although whether you like them is a matter of opinion. Boiling and then roasting does help make them crunchy and more palatable, and they're full of healthy fiber.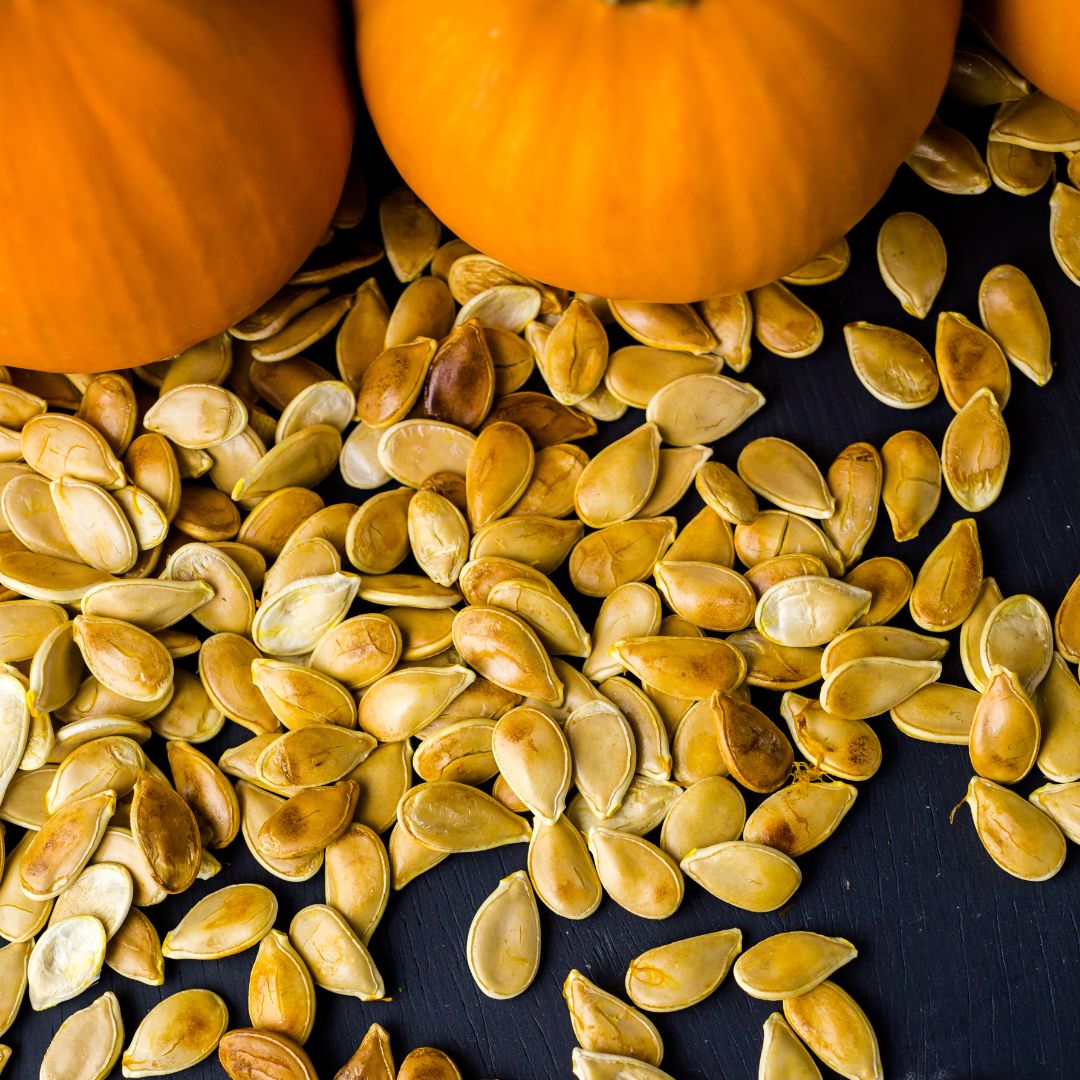 Pumpkin seeds vs pepitas
You may have heard of certain pumpkin seeds being referred to as pepitas. What's up with that? Well, as I'm sure you're aware, it can be annoying to have to remove the shell from each pumpkin seed.
It's fine if you want to have them as a snack, but what if you need a handful to throw on your salad? It takes ages!
That's where pepitas come in. They are normal pumpkin seeds, but they come from pumpkins that have been selectively bred to contain hull-less seeds.
In the guide to growing and eating heirloom squash, I give examples of "naked seeded" squash varieties, which are good choices to grow in your garden if you love the convenience of pepitas. The flesh of these is still very tasty as well.
Pepitas are used a lot in Mexican cuisine, either as a garnish or steeped into a sauce as in this recipe for candied pumpkin, or this recipe for Chicken Pipián Verde (Pumpkin Seed Green Mole).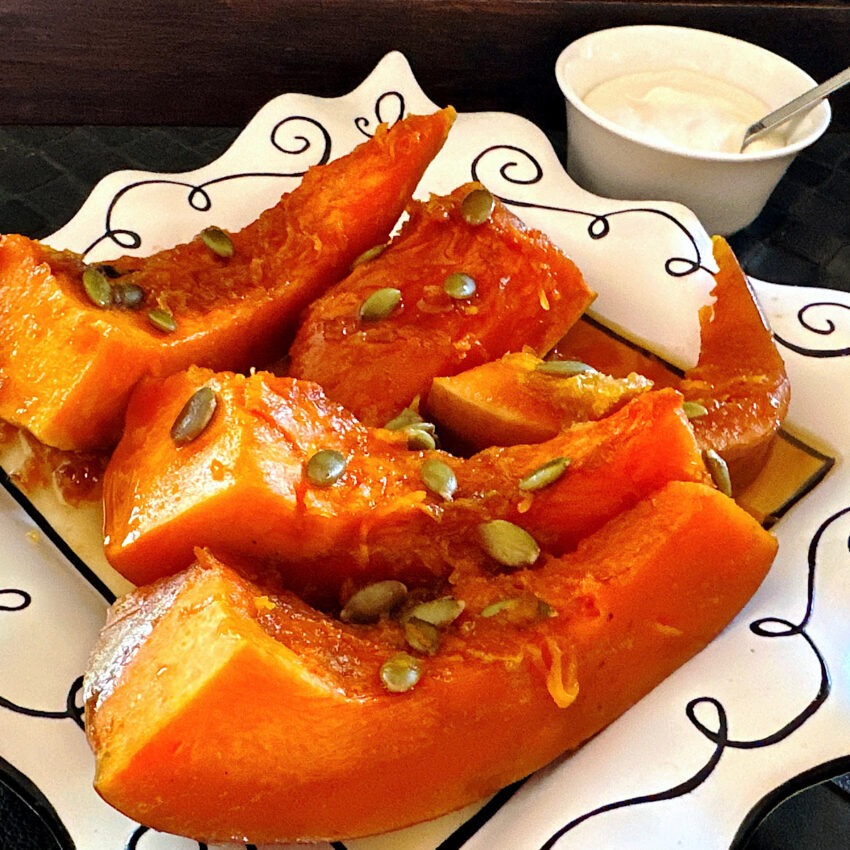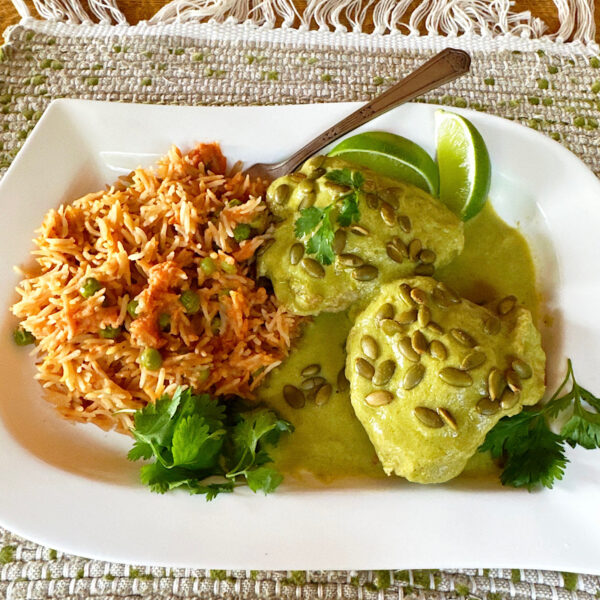 How to remove and clean pumpkin seeds
Removing the guts from a pumpkin is probably most people's least favorite part of Halloween pumpkin carving. At least now you know you'll be able to enjoy yummy spiced pumpkin seeds as a reward!
Here's how to get the seeds out and clean them:
Use a sharp knife to carefully slice the top off the pumpkin.
Use a large metal spoon to scoop out the seeds and pulp. Halloween pumpkins can be a bit stringy, so this may take a little effort.
Pick the seeds out of the pulp. It doesn't matter if you get some strings as well. After this, you've got two options.
Option 1: bring some well-salted water to a boil and boil the seeds for around five minutes. This gets the strings off and improves the roasted result through even salting.
Option 2: skip the boiling water and rinse the seeds in a colander.
Dry the seeds on a clean kitchen towel. At this point, they're ready to roast!
FAQ
Should you oven roast or pan roast pumpkin seeds?
That depends on your own preferences. I like the dry crunch of oven-roasted seeds, but the slightly chewier result that pan roasting yields is definitely tasty too!
What spices go well with pumpkin seeds?
So many spices go well with pumpkin seeds! I feel like I could blindly grab some from my spice cupboard and it would taste good. Try cajun seasoning, cinnamon, paprika, plain salt and pepper, or even… pumpkin spice?
How many seeds are in a pumpkin?
That depends on the size and type of pumpkin, of course. According to Math Geek Mama, who did a little experiment, around 500 seeds per pumpkin is not unrealistic. In any case, most pumpkins will have enough seeds to be worth roasting!
How long do pumpkin seeds last?
Raw pumpkin seeds won't last very long, so it's probably best to roast yours as soon as possible. Once you've done that, they will last around a week in the pantry and up to a month if you store them in the fridge.
Other pumpkin recipes
Don't forget: there's a lot more you can do with a pumpkin than just make a Jack-o-Lanterns. All pumpkins are edible, and the majority of them are downright delicious! Use your pumpkins for recipes like these:
View all the pumpkin recipes on Farm to Jar
If you make and love this recipe, please leave a ★★★★★ review below and any comments others might find helpful. It means a lot to me when you try my recipes, and I'd love to know how it goes.
Roasted spiced pumpkin seeds
Homemade spiced pumpkin seeds make for the ideal Fall snack!
Ingredients
2

cups

pumpkin seeds

cleaned

4

cups

water

3

tablespoons

salt

+ 1 teaspoon for tossing

1

tablespoon

olive oil

1

teaspoon

smoked paprika

spicy or sweet

½

teaspoon

garlic powder

optional
Instructions
Preheat the oven to 300 °F.

Bring the water to a boil in a saucepan with 3 tablespoons of salt.

Boil the pumpkin seeds for 10 minutes.

Drain the seeds and pat them dry on a kitchen towel.

Place the seeds in a bowl with the olive oil and spices, plus a teaspoon of salt (or to taste). Toss well to coat.

Place the seeds on an oven sheet lined with parchment paper and roast until light brown. This can take anywhere between 10-25 minutes depending on their size. Toss halfway through so they toast evenly.

Enjoy! Crack to remove the inner seed, or eat with the hull.
Notes
Obviously, you can use whatever spices you like for this recipe, but smoked paprika is a tried & tested option. I go for something different every time I make these!
Boiling the seeds is optional, but I do recommend it. It salts them evenly and I just find the end result to be a little better in terms of texture and flavor.
Nutrition
Calories:
121
kcal
Carbohydrates:
3
g
Protein:
7
g
Fat:
11
g
Saturated Fat:
2
g
Polyunsaturated Fat:
5
g
Monounsaturated Fat:
3
g
Trans Fat:
0.01
g
Sodium:
3498
mg
Potassium:
184
mg
Fiber:
1
g
Sugar:
0.3
g
Vitamin A:
168
IU
Vitamin C:
0.4
mg
Calcium:
18
mg
Iron:
2
mg
Did you make this recipe?
If you tried this recipe, please give it a star rating! To do this, just click on the stars above. Comments are always helpful also and I respond to all of them (except rude ones)