Pumpkin Ancho Soup, whether made with small pie pumpkins, butternut squash or any of the heirloom squash varieties is a creamy, hearty soup, spiced up with smoky ancho peppers to enhance the cozy warmth.
This post may contain affiliate links, and you can read our disclosure information here–
Jump to:
RECIPE
Best Squash for Soup
Substitutions for Ingredients
Roasting vs Slow Cooker
Freezing
Which Squash Varieties Make the Best Soup?
The main thing to consider when choosing the squash to use in this recipe is the texture or density of the squash. You can modify the soup to be more sweet or savory by the ingredients you add to the soup, but it is more difficult to change a "stringy" squash texture into a soup with a creamy texture.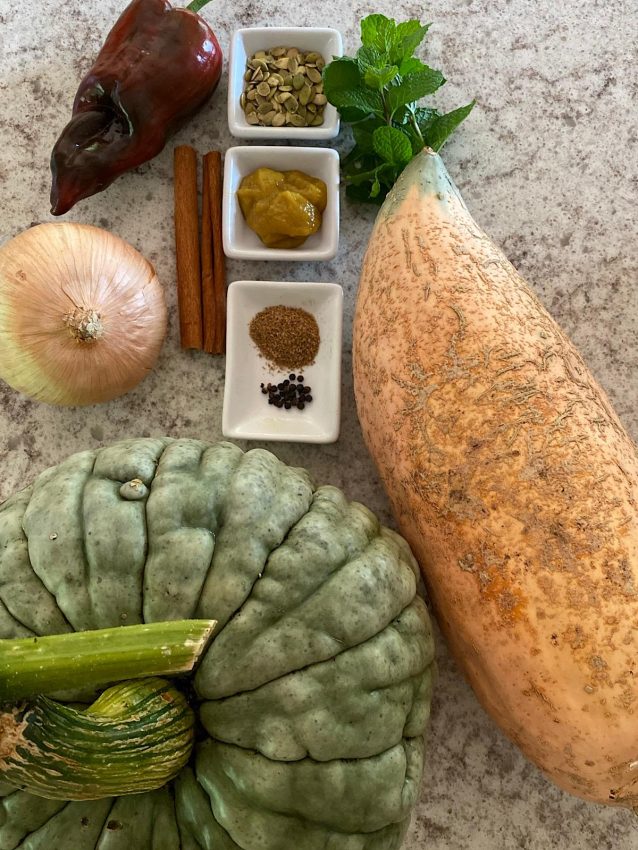 Butternut squash is a popular variety of squash for soup and it is easy to find. Smaller, sugar or pie pumpkins will work also. Don't use pumpkins or gourds that are bred for decor rather than taste and texture.
I grow heirloom squash and find they have a lot of nuanced flavor differences. Some are more savory and nutty and some are more sweet. Here's a rundown on my 10 favorite heirloom pumpkin varieties.
Most heirloom Winter squash are quite dense, which means you will end up with a creamy texture and a full-bodied, robust flavor.
Add Flavor by "Roasting" the Squash or Pumpkin
When you roast squash the flavor turns sweeter and more intense. If you want the pumpkin flavor to shine, roasting it will make it "pumpkin-forward", allowing the herbs and spices to be in the background.
All too often the pumpkin spices overpower the dish and you lose some of the pure pumpkin flavor.
How to Roast Winter Squash:
The roasting process is fairly simple. Depending on the size of your squash, either quarter or cut into slices. scoop out the seeds, and place it on a foil (or parchment) lined baking sheet to roast at 375 degrees F until it can be pierced easily with the tines of a fork (known as "fork tender")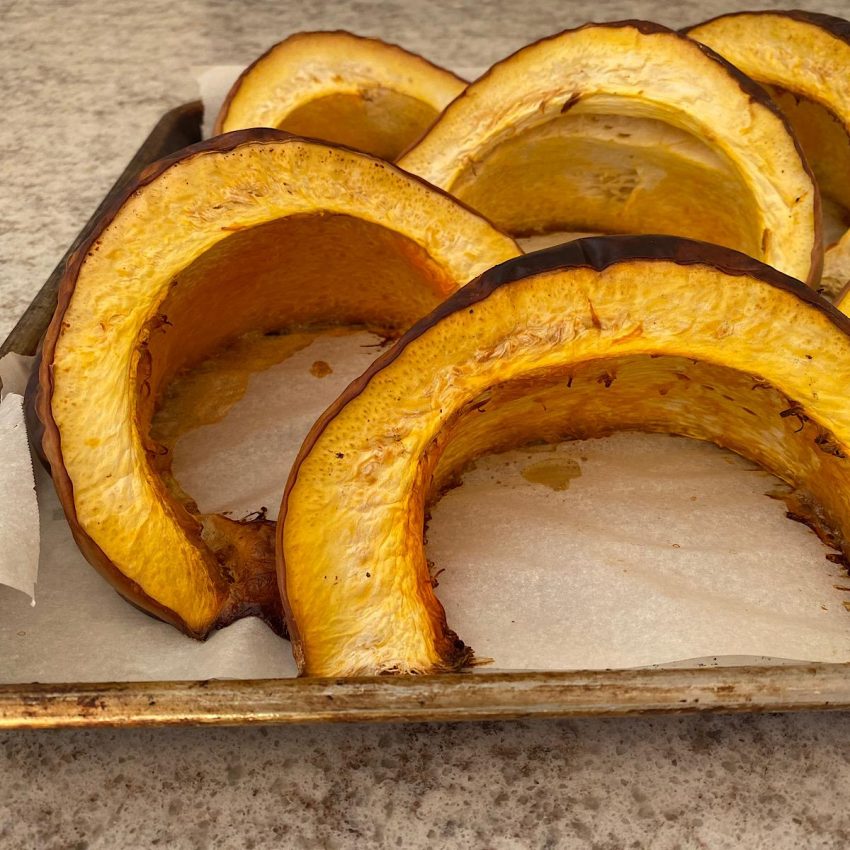 The amount of roasting time will vary depending on how thick you cut the squash. I usually cut thick slices (see photo) and roast for about 1 to 1 1/2 hours.
The best way to tell when it is done is to poke the flesh with a fork and if it is soft all the way to the rind, it is done.
Can you Make Pumpkin Ancho Soup in a Slow Cooker or Instantpot?
I prefer the taste of roasted pumpkin and find the caramelized flavor much more intense. If you are strapped for cooking time, don't have an oven, or just prefer other methods, then a slow cooker or instapot will work just fine.
Tip: Just know that you will spend some time removing the rind and the seeds before placing it in either a crockpot or instapot. This can be a problem if using squash with very hard rinds.
Can you Use Canned Pumpkin?
If you don't have a fresh pumpkin or you are in a hurry, open a can of pumpkin puree. Be sure the can is labeled 100% pure pumpkin and is not pumpkin pie filling.
Pumpkin pie filling has spices added and you won't be able to control the type and amount of spices that go into the soup.
Once removed from the can however, just add your preferred spices and herbs and cook for the time recommended on your appliance.
I do use the crockpot on a regular basis to make pumpkin butter. Just cook the pumpkin puree down with your favorite spices and some brown sugar, stirring every so often.
Spices, Herbs and Additions to Enhance the Soup?
Many pumpkin or squash soups are overly sweet in my opinion. This recipe flavors the squash with a smoky ancho spice, a bit of mint and a little coriander.
I like it on the savory side and usually have it alone as a Fall dinner the first night and then add sausage or bacon the second night.
The only sweetener in the soup is from the natural ones coming from the squash or pumpkin. If you like your soup a little sweeter, maple syrup is a nice Autumnal addition.
Because pumpkin or squash soup is so popular, a wide range of additions or substitutions have been tested by many cooks and chefs. Here are a few of the favorites that rise to the top:
Herbs & Spices
Mint
Thyme
Coriander
White pepper
Ginger
Sage
Garlic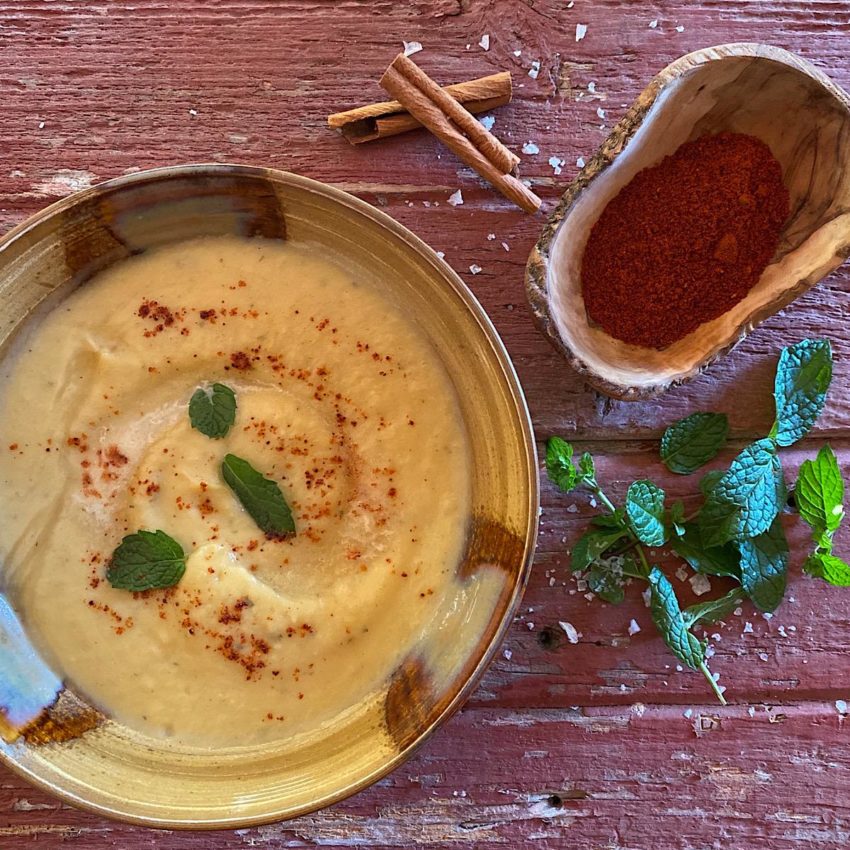 Other Great Additions or Substitutions
Sour cream or cream fraiche
Pumpkin seeds (as garnish)
Bacon
Sausage
Coconut milk
Chicken
Lentils
Maple syrup
Apples or pears
Chipotle, or smoked paprika chile spice
Nutritional Benefits of Pumpkin
Most of the additions to pumpkin soup have their own specific benefits. With regard to the pumpkin itself however, some of the nutritional benefits include:
Pumpkin is one of the best-known sources of beta carotene, which is a powerful antioxidant that gives orange vegetables and fruits their vibrant color. Beta carotene is converted into vitamin A when consumed.
Pumpkin is also considered to be good for the heart, due to the fiber, potassium, and vitamin C content in pumpkin.
Pumpkins are a fantastic source of fiber, and fiber slows the rate of sugar absorption into the blood, promotes regular bowel movements and smooths digestion.
Why Anchos Instead of Other Smoked Chiles?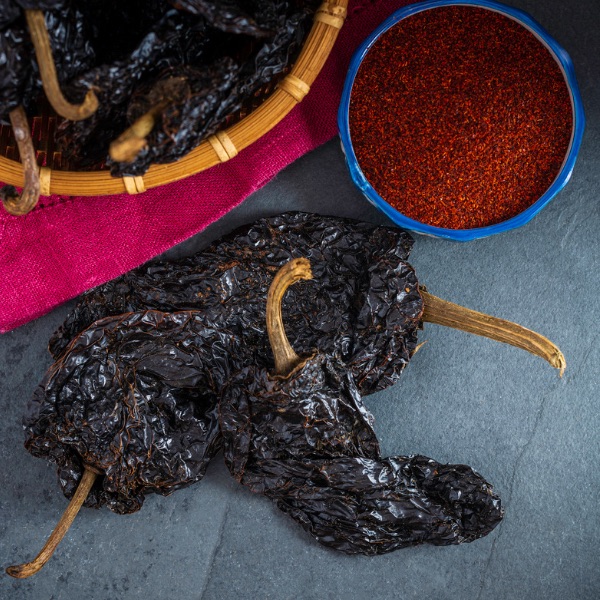 Ancho chiles are smoked poblano peppers. Rich, smoky flavors go really well with fresh pumpkin.
You can use dried anchos if you want to take the time to rehydrate them. I find a smoky ancho powdered spice works just as well if you make sure it is a fresh spice.
Anchos have a medium heat profile which doesn't usually offend those that are not chile-heads. For those that prefer more heat, chipotle spice gets the job done.
Smoked paprika is the mildest of the smoked peppers for those that do not like heat but enjoy the smoky flavor profile.
How to Freeze or Repurpose Leftovers
If you are making a large batch and know you will want to freeze some, make it without dairy.
When you are ready to serve it, portion out the amount you intend to have for the meal and heat it up with the dairy at that time. You will want to plan ahead for this.
Leftover soup is easy to repurpose. My husband is the king of repurposing leftovers and will scour the refrigerator for ingredients that might enhance or change up any leftovers.
It often ends up being better than the original dish. He recently added some Italian sausage and curry paste to the soup which was excellent!
Take a look at the additions/substitutions list above and enhance the basic pumpkin soup with your favorites!
Other Ways to Use Winter Squash (or Pumpkin)
Check out the posts below for using winter squash and pumpkin in sweet recipes:
If you make and love this recipe, please leave a ★★★★★ review below and any comments others might find helpful. It means a lot to me when you try my recipes, and I'd love to know how it goes.
Savory Pumpkin Ancho Soup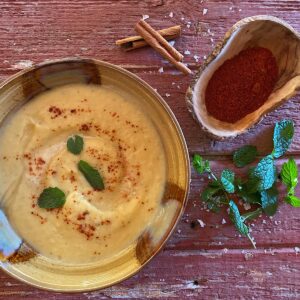 Recipe for a savory pumpkin or Winter squash soup, including a variety of substitutions to customize.
Ingredients
3

pounds

pumpkin or winter squash

2

tablespoons

olive oil

1

onion

chopped

2

tablespoons

fresh mint

chopped

1 ½

tablespoon

ancho spice powder

2

cinnamon sticks

2

teaspoons

ground coriander

5

cups

chicken broth

2

tablespoons

heavy whipping cream

mint

For garnish

smoked paprika or pumpkin seeds

For garnish
Instructions
Preheat oven to 375° F. Slice the squash into large slices (see photo in post) and place on baking sheet lined with parchment paper. Roast for 1 to 1 1/2 hours or until flesh is easily pierced with knife, all the way down to the rind.

3 pounds pumpkin or winter squash

In a dutch oven or large stockpot, heat oil over medium high heat. Add chopped onion and saute until caramelized (about 5-10 minutes). Add the mint, ancho powder, cinnamon, sticks, and coriander and saute with onion a couple of minutes.

2 tablespoons olive oil,

1 onion,

2 tablespoons fresh mint,

1 1/2 tablespoon ancho spice powder,

2 cinnamon sticks,

2 teaspoons ground coriander

Add the chicken broth to the pot. Scoop pumpkin flesh from the roasted pumpkin (or squash) and add to the pot (or add 1 cup canned pumpkin puree). Cook everything together over medium to medium low heat for about 30 minutes

Remove the cinnamon sticks and add the heavy cream. Puree the soup with a stick blender until smooth and creamy. Garnish with mint, pumpkin seeds or sour cream and serve warm.

2 tablespoons heavy whipping cream,

mint,

smoked paprika or pumpkin seeds
Nutrition
Calories:
95
kcal
Carbohydrates:
14
g
Protein:
2
g
Fat:
4
g
Saturated Fat:
1
g
Cholesterol:
4
mg
Sodium:
438
mg
Potassium:
597
mg
Fiber:
3
g
Sugar:
3
g
Vitamin A:
1947
IU
Vitamin C:
26
mg
Calcium:
62
mg
Iron:
1
mg
Did you make this recipe?
If you tried this recipe, please give it a star rating! To do this, just click on the stars above. Comments are always helpful also and I respond to all of them (except rude ones)