There is no comparison between the sad tasteless grocery store tomatoes of winter and the fresh summer tomatoes which are packed with umami, a bit of sweetness and a touch of acid. There is an option however for that fresh tomato taste in winter. Dehydrating mid-summer tomatoes in their peak and then grinding them to a tomato powder can stand in for fresh tomato flavor in many dishes, and it's easy! (Video included)
Jump to: Recipe | Enhancing Flavor | Drying Tomatoes | How to Use Tomato Powder | Storing | More Preserving Methods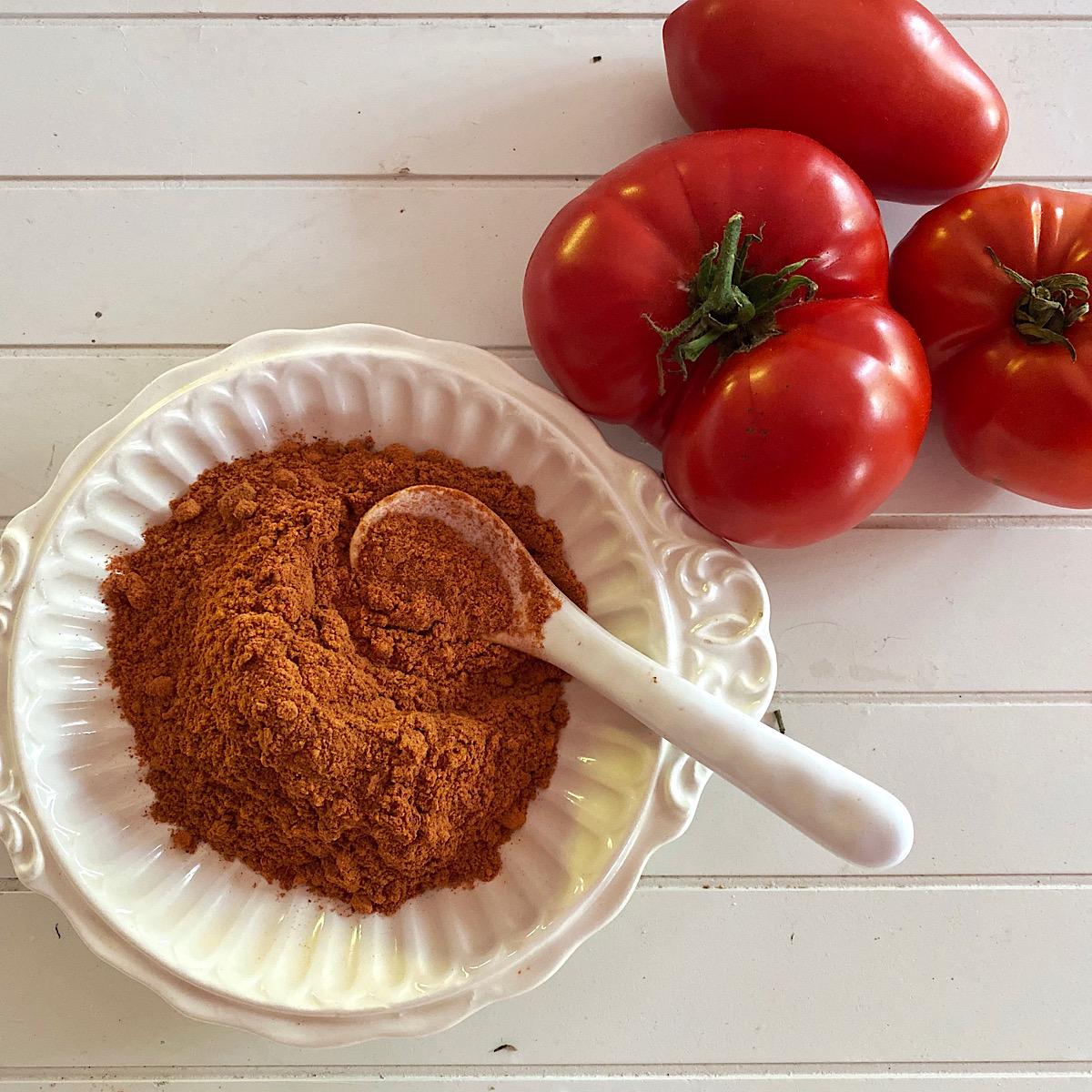 This post may contain affiliate links, and you can read our disclosure information here–
Enhancing Flavor of Tomato Powder
In it's simplest form, tomato powder is simply dried tomatoes that have been ground into a powder for long term storage and use. As with other dehydrated fruits and vegetables, the sugars concentrate and the flavor tends to intensify so you don't need to add very much to get a lot of punch in return.
Tomato powder is typically just one ingredient (the tomatoes), but adding some salt to the powder will enhance the flavor and also make it last longer.
Salt is a preservative and will keep the powder fresh longer. If you do add salt, just be sure to modify your recipe if it also calls for salt. You don't want to oversalt.
If you happen to be a tomato aficionado and grow or buy different varieties of heirloom tomatoes, you can also add nuanced flavor to the powder by choosing heirlooms with specific flavor profiles.
**Tip: Tomato powder is rich and a bit sweet and it pairs well with paprika and/or garlic
How to Dry the Tomatoes?
While extremely easy to make, just know that tomatoes do take some time to dry, especially the juicier ones. Roma tomatoes won't take as long because they are meatier, but I find many Romas don't have the robust flavor that I like in a tomato. I opt for the meatiest beefsteak-type tomatoes I can find.
Most often the tomatoes are dried in a dehydrator, but it is possible to dry them in the oven or outside in a warm, dry climate.
It is also possible to dry tomatoes in an oven. Most ovens won't go under 200 degrees however, so if you are drying in an oven, make sure and check them more often. Also know that they will probably be a darker color if you are drying in an oven.
Dehydrator Method:
The beauty of the dehydrator is control. A dehydrator allows you to control the temperature and sometimes the time, depending on the dehydrator.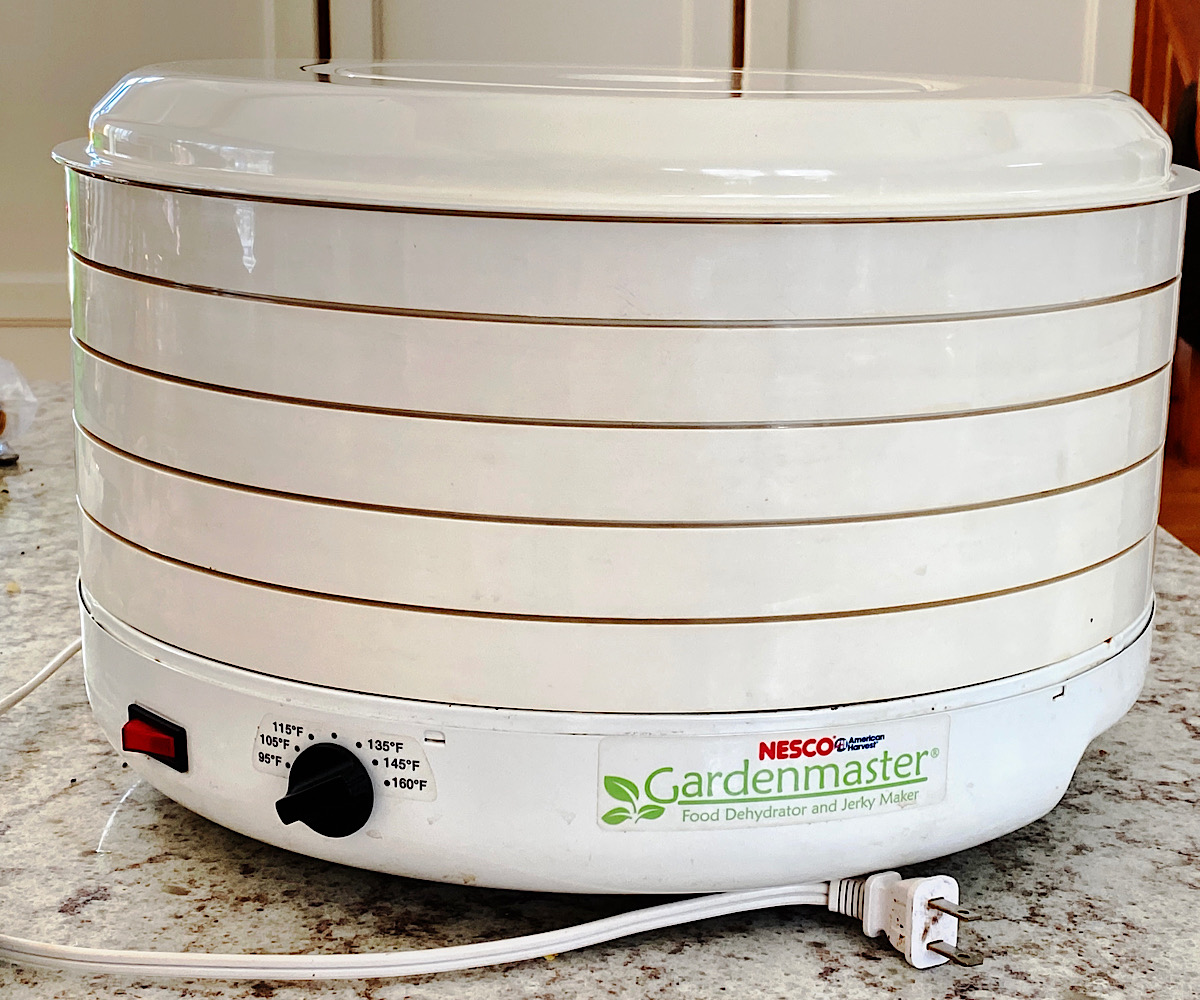 I generally cut them into 1/2" slices (they will shrink a lot) and place them in the dehydrator at 135 degrees F for 12-24 hours. The lower heat allows the tomatoes to preserve their bright color, adding a nice visual element to your dish. Higher temperatures will render darker tomatoes and can also burn them, resulting in a bitter taste.
Check them every so often until they are no longer pliable and then grind them up in a coffee grinder and you're good to go.
**Pro Tip: Don't oil the dehydrator racks. Oil on the fruit or vegetable being dried can cause spoilage and rancidity during long term storage.
How to Use Tomato Powder in Cooking
Let me count the ways. It's a perfect option not only for replacing tomato juice, paste, and sauce, but if you get a bit more creative, the uses are endless.
Here are some of my favorite ideas for using tomato powder. Remember to add salt to these ideas to bring out the best of the tomato flavor (if you didn't add salt to your original powder).
Add a tablespoon to savory winter stews or pasta sauces (flavor-wise, a tablespoon of the powder can replace a can of tinned tomatoes
For a tomato sauce, use 1 part powder to 2 or 3 parts water, And 1/4 tsp salt
Shake it up with an oil and vinegar salad dressing
Use it as a secret ingredient in dry rubs or BBQ rubs. Mix tomato powder, salt and your other favorite dry rub ingredients, apply to chicken or beef and grill or roast as a sheet pan dinner
Reconstitute tomato powder with hot water, add some herbs and then add it to your pizza as a sauce (or fold it into the dough if you make your own pizza dough)
Rehydrate the powder with heavy cream and add to your scrambled eggs
Use it as a rub for roasted vegetables. Shake on, toss with oil and roast in a 350 degree oven.
Make a homemade spanish rice
Add more robust flavor to your salsa by adding some powder to the chopped grocery store tomatoes
Mix it with parmesan or powdered cheese and sprinkle over popcorn
Make a homemade spanish rice
Add it to your Bloody Mary
Add it to mayonnaise for a zesty, creamy sandwich spread.
Mix tomato powder and herbs into some cream cheese to use as a spread for crackers
Add it to a meatloaf recipe
Stir it into bread doughs or pastry dough (sourdough bread anyone?)
Add to deviled egg toppings
Sprinkle on top of hummus
**Pro Tip: If the dish you are making does not have added salt, be sure and add 1/4 tsp or so. It will really enhance the flavor profile of the tomato powder. Some people add a little bit of sugar also, but that is usually not warranted unless you have tasteless tomatoes to begin with.
General Ratios for Making Tomato Products from the Powder
In the following recipes (except for the spice blend), always simmer the powder with the water while stirring or whisking to fully dissolve the powder and thicken the sauce.
Tomato Paste: Start with a 1:1 ratio and then simmer it down to the desired consistency. Add salt to taste.
Tomato Sauce: Depending upon how thick you want your tomato sauce to be, you will want to add somewhere around 1 part of water to 1 part tomato powder. 1/2 cup tomato powder + 1/2 cup hot water + salt to taste makes about 8 ounces
Enchilada sauce or pizza sauce: For a thinner sauce for something like enchiladas or a pizza sauce, you will want to add more water. 1/2 cup tomato powder + 1 – 1 1/2 cups water + salt to taste
Italian Spice: For 3-4 T of mix, blend 1 T tomato powder with 1 1/2 t dried onion, garlic, basil, parsley, and oregano, and 1 t salt
How to Store
Store the dried and ground powder in an airtight containers. If you store them in plastic bags, remove as much air as possible before sealing them.
You can store the dried tomatoes at room temperature if they have been thoroughly dehydrated. If you haven't got them completely dried, you will need to store in the fridge to help keep mold from forming on them.
I don't recommend storing in oil. It can go rancid and it is not as safe as storing them in dried form.
One of the really nice things about tomato powder is that it doesn't take up much room and it can last indefinitely if it was thoroughly dehydrated.
More Methods for Preserving Summer's Produce:
Recipe for Making Tomato Powder
Tomato Powder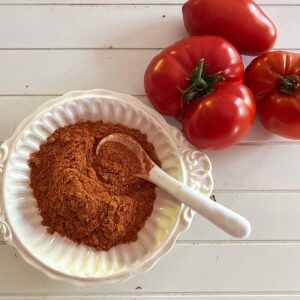 How to dehydrate fresh tomatoes into tomato powder, ideas for using tomato powder, and how to store tomato powder
Ingredients
5

Med

Tomatoes

Use meaty tomatoes, beefsteak if possible

¼

Tsp

Salt

Optional
Instructions
Rinse tomatoes and pat dry. Slice tomatoes approximately 1/2" thick. You do not need to peel, de-seed or core.

Lay the slices on the dehydrator trays, in a single layer. You won't need to turn the tomatoes

Set the dehydrator to 130 – 135F. The time it takes to dehydrate will vary depending on the tomatoes you use, but they'll take at least 8 hours and probably more. Check them at the 8 hour mark first. Tomatoes should be crisp and not at all pliable.

Once the tomatoes are 100% COMPLETELY dry, peel them off of the trays and place them in your blender or food processor. Blend the tomatoes for about 30 seconds, and then let the machine cool for about 30 seconds. Repeat until all the tomatoes are a fine powder.

If you are using salt, add it to the blender when grinding.

Tomato powder is wonderful stuff! Check out the above post to get ideas of how to use it.
Notes
**If you package your product in mason jars with the metal rings and lids it will stay good for at least a year. Don't use the plastic storage lids they sell, they are not air tight. If you use a vacuum sealer (foodsaver) with a mason jar attachment, you can store dehydrated fruits and vegetables for years.
Nutrition
Calories:
5
kcal
Carbohydrates:
1
g
Protein:
1
g
Fat:
1
g
Saturated Fat:
1
g
Sodium:
1
mg
Potassium:
61
mg
Fiber:
1
g
Sugar:
1
g
Vitamin A:
215
IU
Vitamin C:
4
mg
Calcium:
3
mg
Iron:
1
mg
Did you make this recipe?
If you tried this recipe, please give it a 5-star rating! To do this, just click on the stars above.
Online Diet/Health Coaching:
Although I am not currently taking clients for diet & health coaching, I have been a coach for many years with the online service called coach.me. It is a great platform for all kinds of coaching – anything from specific diets, writing a blog, getting up early, or getting rid of that pesky procrastination.
There are some wonderful coaches and the testimonials will tell you what you need to know. Contact me at [email protected] to get a referral to some of the tested, experienced online coaches on Coach.me
If you'd like to start with a plan for a low carb or keto lifestyle, check out this detailed guide in ebook form. It may be all you need to lose weight on this lifestyle. Or it may be used as a supplement to one-to-one coaching.