It's always bittersweet to see the tomato season end in October (in Minnesota). Relief that the harvesting for the market is over, but sorrow that the fresh bounty is coming to an end. Freezing tomatoes, whole or as a sauce, can keep that fresh flavor going all Winter however. Here's a few tips plus a bonus recipe for basil pesto that also freezes well.
Jump to: Freezing Whole Tomatoes | Freezing as sauce | Pesto Recipe | More Preserving Methods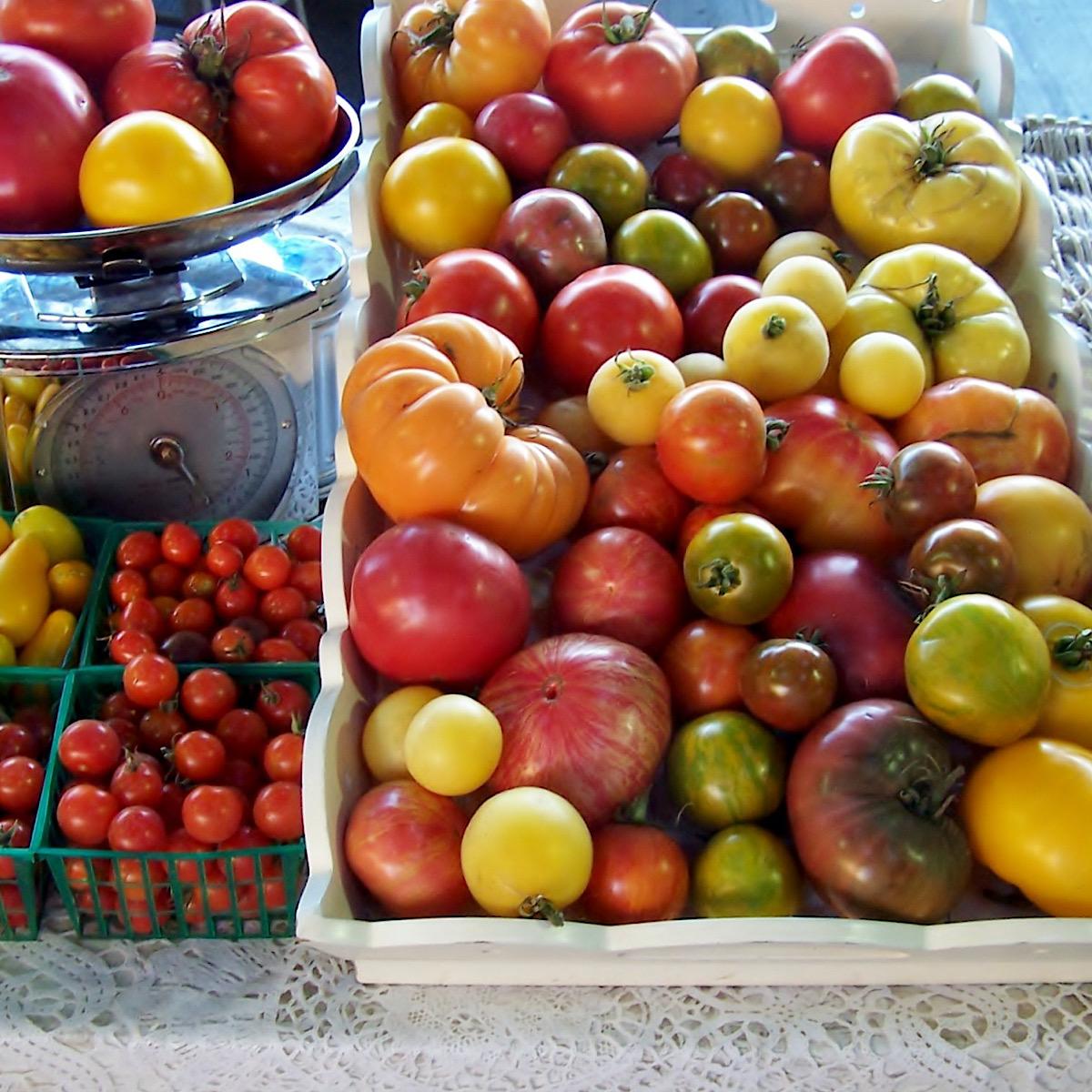 Freezing Tomatoes Whole:
For simplicity, there's nothing quite like freezing whole tomatoes. All I do is wash and pat dry the tomatoes, pop them into gallon-sized freezer bags, squeeze out as much air as possible, and throw them in the freezer.
I've read suggestions to peel them first, but I find that the skins pull off easily as they thaw and/or cook, and with the peel on, they are more easily separated when removed from the freezer.
I primarily freeze Roma tomatoes since I tend to use them in pasta sauces, chili, and other dishes in which their meatier nature is a plus, but any variety can be frozen whole.
Because slicer-type of tomatoes have more water and juice in them, the skins will pull off the Roma types much easier without losing the tomato meat.
Freezing Tomatoes as Sauces or Salsas
If you have the time to make large batches of tomato sauces, this is another way to preserve the bounty. A little more work on the front end, but less work in the winter when you pull out a bag of frozen sauce ready-to-go.
My go-to freezer tomato sauce is this Mediterranean Freezer Tomato Sauce recipe.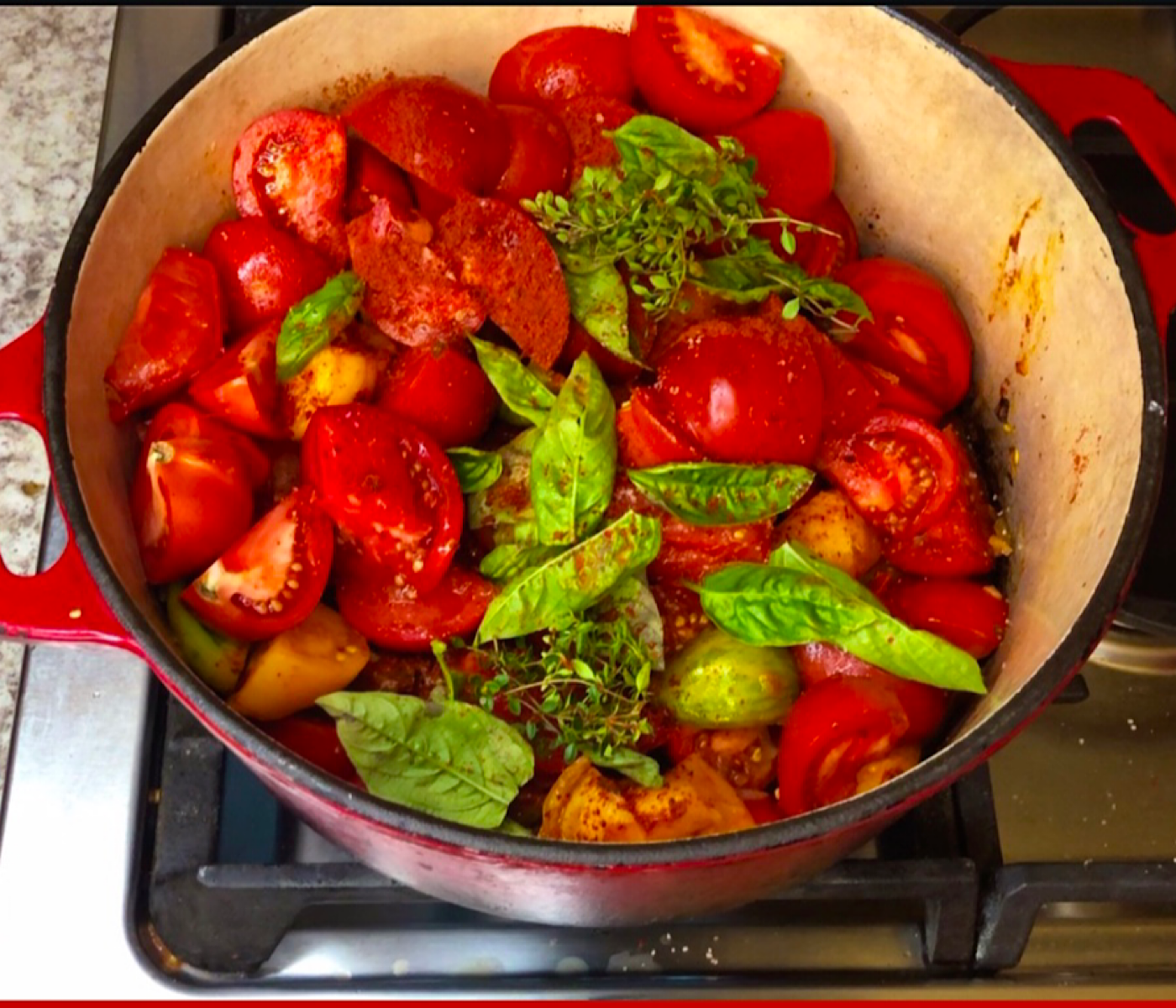 Then pull out your frozen tomato sauce in the Winter and use in this robust Italian Puttanesca.
Recipe for Preserving your Basil as a Pesto
Basil is another end-of-summer harvest to freeze, as the basil purchased in summer at the farmers' markets is much cheaper and fresher than what you can get at the store in winter.
Basil freezes well when made into a pesto, as it doesn't discolor as much as when it is frozen alone.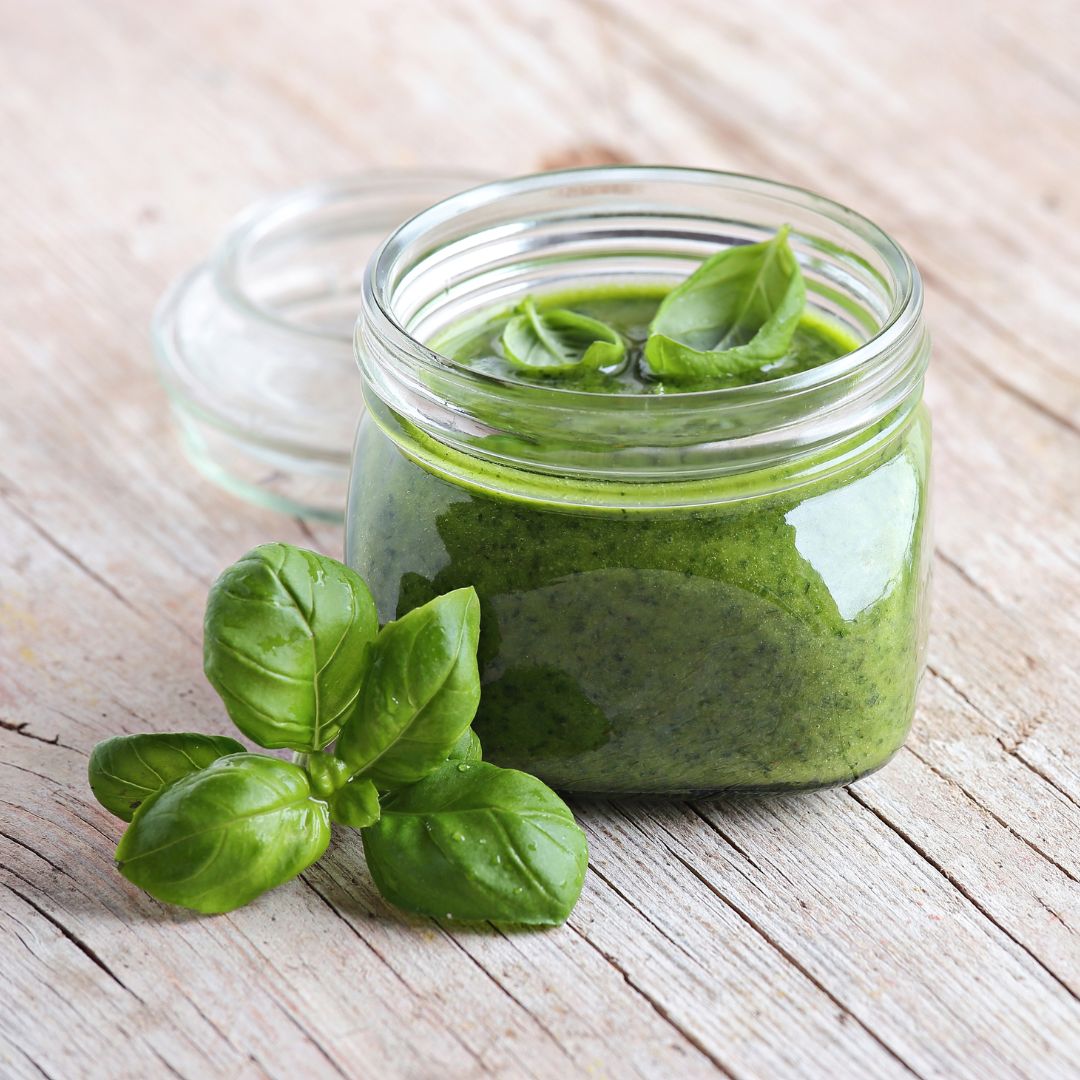 This post may contain affiliate links, and you can read our disclosure information here–
Basil Pesto for Freezing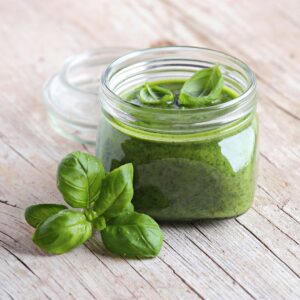 This recipe for basil pesto is from Marcella Hazan and is a classic Italian pesto that freezes well.
Equipment
medium size bowl

Measuring cups and spoons
Ingredients
2

Cups

tightly packed basil leaves

½

Cup

of olive oil

3

Tablespoons

of pine nuts

2

garlic cloves

salt to taste

½

Cup

freshly grated Parmesan and

2

Tablespoons

of freshly grated Romano added before serving.

3

Tablespoons

butter

room temperature
Instructions
Briefly soak and wash the basil in cold water, and gently pat it thoroughly DRY with paper towels.

2 Cups tightly packed basil leaves

Put the basil, olive oil, pine nuts, chopped garlic, and an ample pinch of salt in the processor bowl, and process to a uniform, creamy consistency.

½ Cup of olive oil,

3 Tablespoons of pine nuts,

2 garlic cloves,

salt to taste

If you are making the pesto for the freezer cover it at this point with a layer of olive oil and do not add the cheese and butter.

The cheese and butter will be added when it is thawed and before serving.

When ready to use pesto in your meal, first thaw it out.

Transfer to a bowl, and mix in the two grated cheeses by hand. When the cheese has been thoroughly mixed in with the other ingredients, mix in the softened butter, distributing it uniformly into the sauce.

½ Cup freshly grated Parmesan and,

3 Tablespoons butter,

2 Tablespoons of freshly grated Romano added before serving.
Did you make this recipe?
If you tried this recipe, please give it a 5-star rating! To do this, just click on the stars above. And don't forget to tag me at @dorothy_stainbrook_heathglen, if you share a picture on Instagram! You can also tag me at #heathglen!
Purchased Tomato Jams, Sauces & Tomato Mustard:
Of course, if you want to turn the preserving over to someone else, you can always purchase a Smoked Tomato Jam, a Romesco Sauce, a Smoked Tomato Shrub Syrup, or a smoked tomato mustard from our online store (HeathGlen)
Other Methods for Preserving Summer's Produce:
Recipe for Marcella Hazan's Basil Pesto