Basil is a tender herb, and when the cool Fall weather comes in, basil is the first thing to go in our Minnesota garden. Unlike the woodier herbs, basil loses much of its flavor when dried, so the best way to preserve the basil for the Winter months is by freezing. It does lose its color when frozen however, but if you freeze it as a basil pesto, you are preserving both the taste and the color. It's easy!
Jump to:
FREEZER PESTO RECIPE
Method for Freshest Taste Freezer Pesto
Easiest Method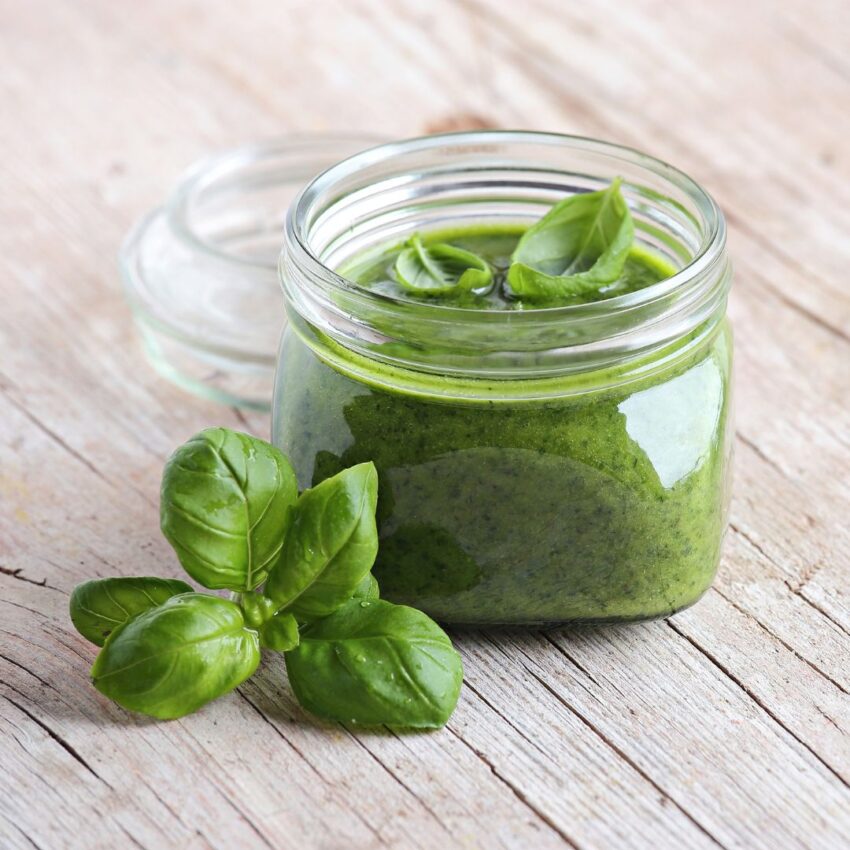 This post may contain affiliate links, and you can read our disclosure information here–
Preserving Basil for the Freshest Taste
Basil freezes well when made into a pesto, and it doesn't discolor as much as it would if you just freeze the basil leaves.
Most pesto recipes do add nuts and cheese and garlic, and while this classic pesto will indeed freeze pretty well, if you want to get the freshest taste from your pesto in the Winter, I've found that freezing the basil and oil alone and adding the other ingredients after thawing results in a premium pesto in terms of fresh taste.
This is because the texture of garlic mellows and deteriorates a bit when frozen. The flavor of cheese will also mellow and lose some of the flavor upon freezing. Freezing pesto in this manner also allows you to customize after thawing by changing up the nuts or opting for a lighter pesto without cheese.
So, if you want the very freshest pesto in Winter, make a batch that is nothing but basil and olive oil. Seal it and freeze it with thick layer of olive oil on top. When ready to use it, thaw it and add the garlic, nuts and cheese while the pasta water is boiling.
Tip: For preserving the bright green color of pesto, you can "set" its color by first blanching it before processing (i.e., dunk it quickly in boiling water).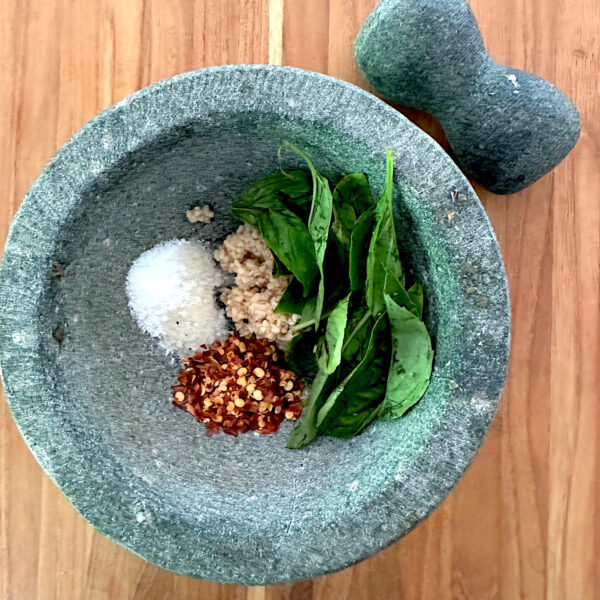 Easiest Way to Freeze Pesto
All of the ingredients in pesto will freeze without much degradation, so if you have all the ingredients on hand and you only want to chop and process once, then by all means make your pesto with the garlic, nuts and cheese and freeze pre-made.
This all-in-one method will save you a little time when you're thawing it out and want dinner on the table in a hurry. My favorite recipe is Marcella Hazan's recipe in the card below. She does not add the cheese before freezing, but she does add the garlic and nuts.
Freeze pesto in large batches if you are making a big pot of pasta, and try and freeze some in small batches when you just want to add flavor to a particular dish. Here are some tips for freezing pesto:
Tip: To thaw frozen pesto, either place in the refrigerator ahead of time or microwave on the defrost setting, stopping and stirring intermittently.
Large Batch
If you enjoy pasta dinners with pesto, it would be good to freeze it in larger amounts (1/2 to 1 cup), that can be thawed and used right away.
To freeze larger amounts of pesto transfer the pesto to a sealable container, cover the surface of the pesto with a thin layer of olive oil, tightly seal the container, and place in the freezer. The layer of olive oil will minimize browning on the surface of the pesto as it freezes.
Small Batch
It is difficult to maintain the color and freshness of pesto if you thaw it and end up with some that you want to re-freeze.
Freezing pesto in ice cube trays (1-2 tablespoons) is great for when you just want a burst of fresh flavor on grilled vegetables or on pizza. Small portions also work well to swirl into soups or salad dressings, or perhaps to top off a bowl of rice.
Tip: frozen pesto should be used within 6 months
Basil Pesto for Freezing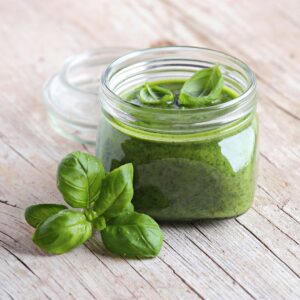 This recipe for basil pesto is from Marcella Hazan and is a classic Italian pesto that freezes well.
Equipment
medium size bowl

Measuring cups and spoons
Ingredients
2

Cups

tightly packed basil leaves

½

Cup

olive oil

3

Tablespoons

pine nuts

2

garlic cloves

salt to taste

½

Cup

freshly grated Parmesan and

2

Tablespoons

freshly grated Romano added before serving.

3

Tablespoons

butter

room temperature
Instructions
Briefly soak and wash the basil in cold water, and gently pat it thoroughly DRY with paper towels.

If you want to preserve the green color as much as possible, blanch the basil leaves by dunking them quickly in boiling water before drying.

2 Cups tightly packed basil leaves

Put the basil, olive oil, pine nuts, chopped garlic, and an ample pinch of salt in the processor bowl, and process to a uniform, creamy consistency.

½ Cup olive oil,

3 Tablespoons pine nuts,

2 garlic cloves,

salt to taste

If you are making the pesto for the freezer cover it at this point with a layer of olive oil and do not add the cheese and butter.

The cheese and butter will be added when it is thawed and before serving.

When ready to use pesto in your meal, first thaw it out.

Transfer to a bowl, and mix in the two grated cheeses by hand. When the cheese has been thoroughly mixed in with the other ingredients, mix in the softened butter, distributing it uniformly into the sauce.

½ Cup freshly grated Parmesan and,

3 Tablespoons butter,

2 Tablespoons freshly grated Romano added before serving.
Nutrition
Calories:
107
kcal
Carbohydrates:
1
g
Protein:
2
g
Fat:
11
g
Saturated Fat:
3
g
Polyunsaturated Fat:
1
g
Monounsaturated Fat:
6
g
Trans Fat:
0.1
g
Cholesterol:
8
mg
Sodium:
75
mg
Potassium:
26
mg
Fiber:
0.1
g
Sugar:
0.1
g
Vitamin A:
251
IU
Vitamin C:
1
mg
Calcium:
51
mg
Iron:
0.3
mg
Did you make this recipe?
If you tried this recipe, please give it a star rating! To do this, just click on the stars above. Comments are always helpful also and I respond to all of them (except rude ones)
Other Methods for Preserving Summer's Produce:
Recipe for Marcella Hazan's Basil Pesto