Summer offers an abundance and variety of fresh herbs that are not readily available in the Winter. There are many ways to preserve fresh herbs for year-round cooking, and making herbal salts is one of the easiest preservation methods. A step-by-step video is included in the recipe card.
Jump to Recipe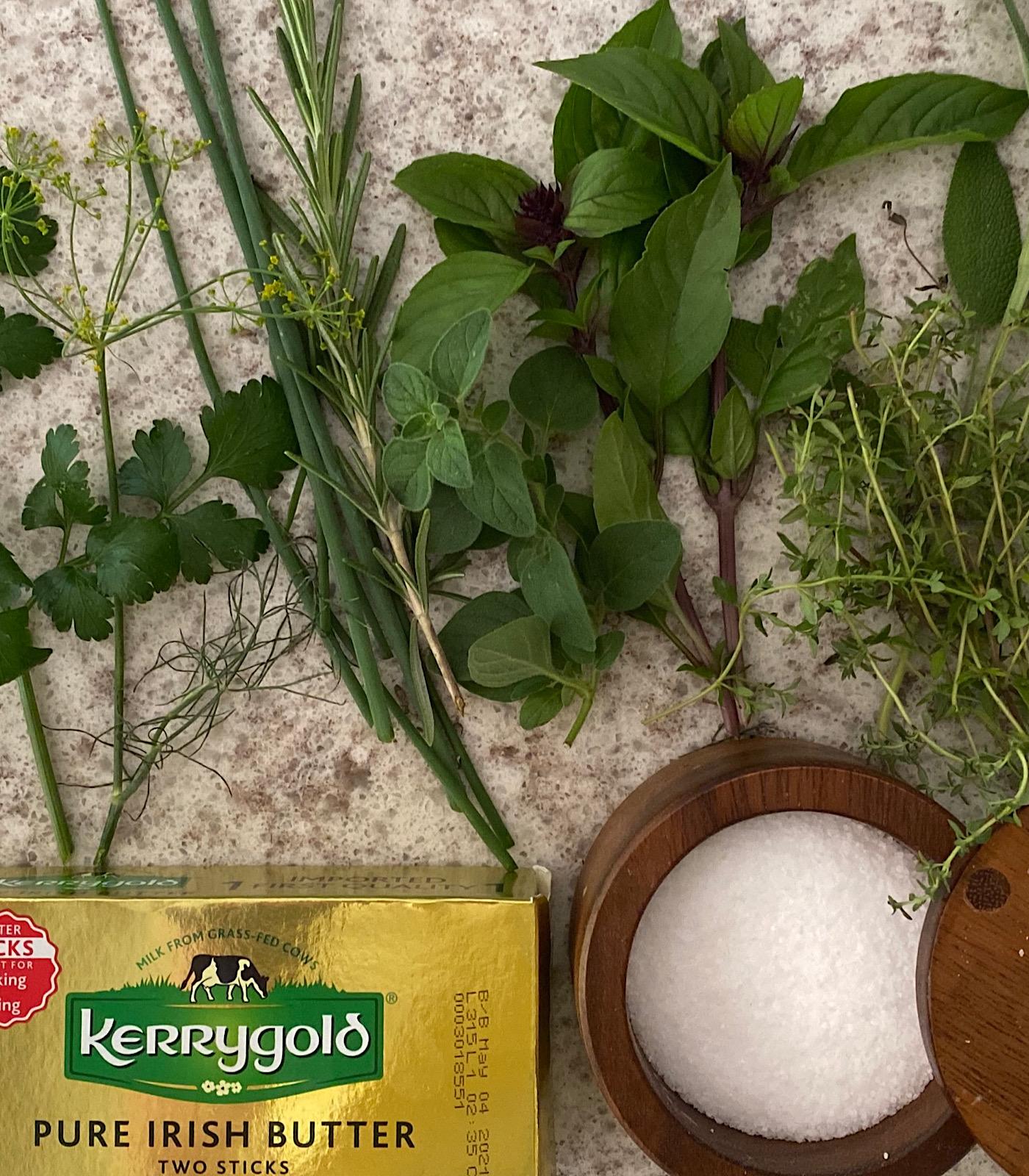 How to Use Herbal Infused Salts
It also can be used as a finishing salt, but I typically use herb salt at the beginning or in the middle of my cooking process so that the herbs are imparting their flavor throughout the cooking process.
Basically, herb salt is just a sea salt or a kosher salt that is combined with chopped fresh herbs and then dried. They can be stored indefinitely in a tightly sealed jar and then used in their dried state.
The salt draws out all the moisture from the herbs and also acts as a preservative. The herbal oils are infused into the salt in a way that brings out the flavor and intensity of the herb much more than if just using purchased dried herbs.
I use herbal infused salts in the middle of my cooking process so that the herbs have time to impart their flavor to the dish. You could also use herbal salts as finishing salts if you prefer however. Just remember that it is a "salt" and you don't want to overdo it. Taste as you go!
What Kind of Salt is Best to Use?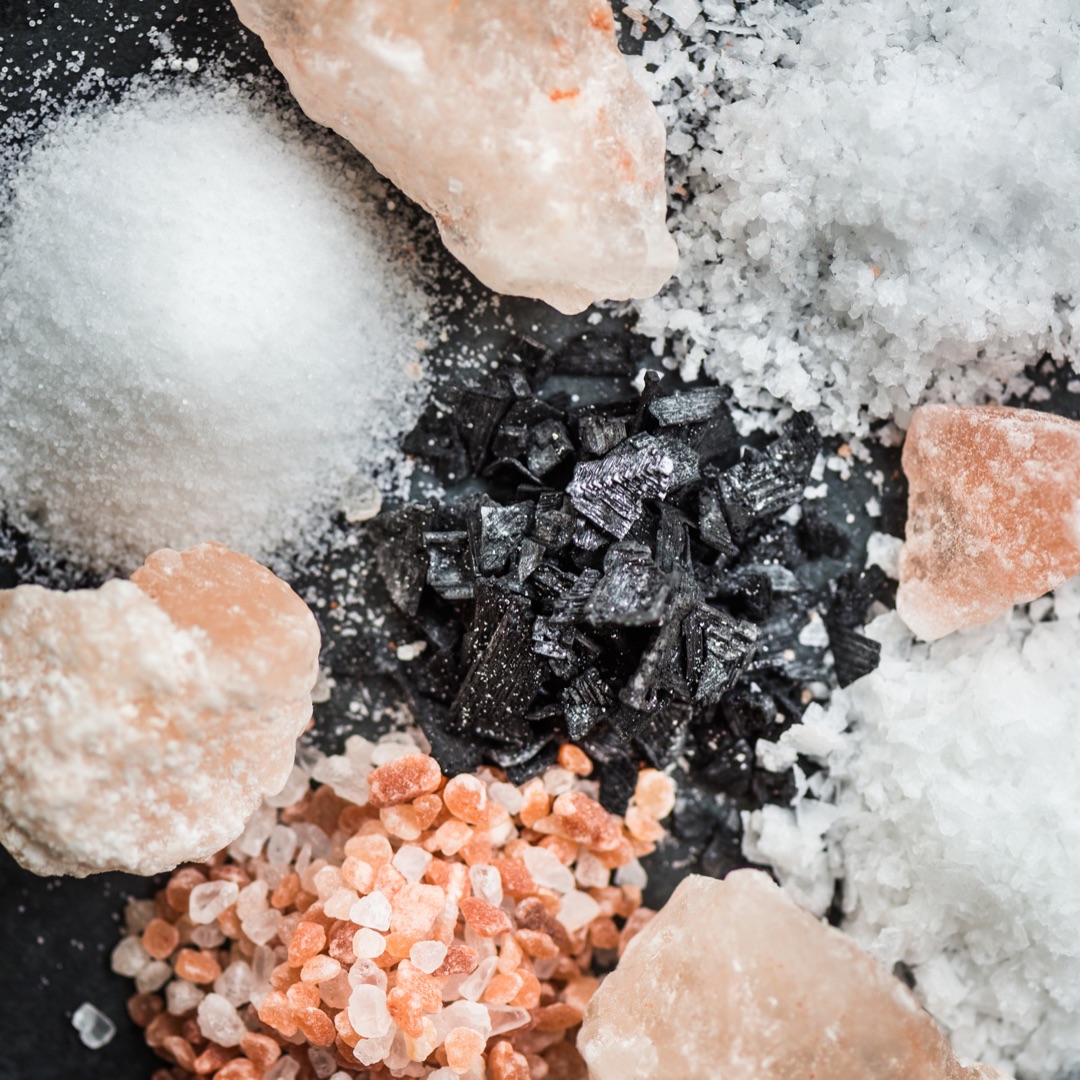 Even though the chemical makeup of all salts is sodium chloride, there are distinctions that will make a difference in your cooking. Some salts are more processed than others (and may have iodine or anti-caking agents), some salts have more minerals, and some salts will differ in their texture.
When making herbal salts the texture of the salt is probably the most important variable. Table salt is very fine and sea salt and kosher salt are coarser, and the crystals are less uniform.
Sea salt tends to have the highest range of minerals, which can add nuanced flavors. Table salt is the most processed and has additives that you may not want, as well as being so fine that it doesn't combine with chopped herbs as well. Kosher salt is less expensive and has larger granules.
I like to use coarse sea salt for the mineral content and then mix it in with the herbs before chopping them. Chopping them together allows all of the herbal oils to combine with the salt and results in a finer salt in the end.
Which Herbs are Best to Use?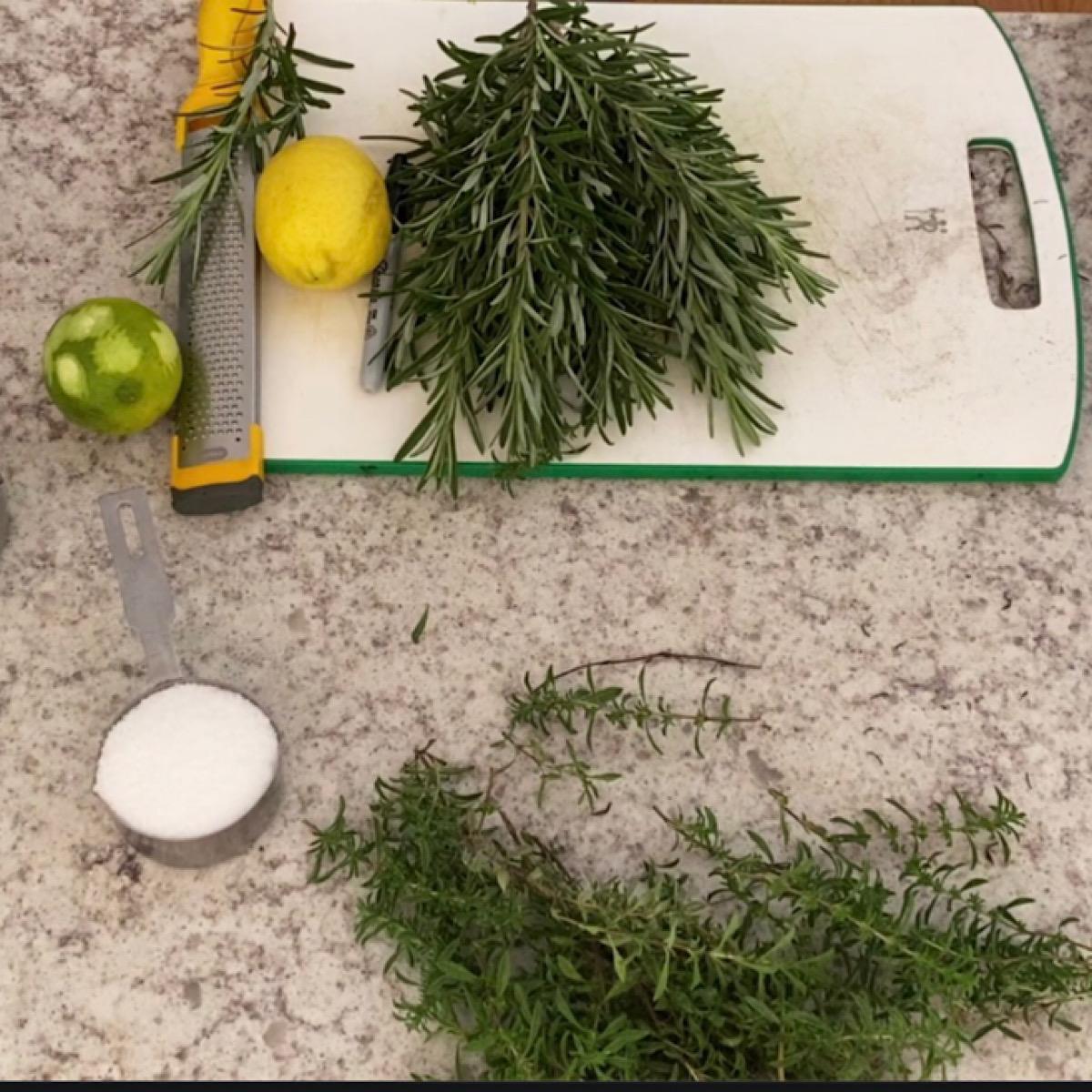 I find that the herbs with the sturdier leaves (or needles) tend to keep the fresh flavor longer. Soft-leaf herbs like parsley or basil can work, but preserving the softer herbs as butters or in ice cube trays is often a better preservation method. Parsley and basil and some of the other soft leaf herbs have very volatile oils, which is why they quickly lose flavor when dried.
The best herbs to use are the ones that fit your cooking style. Do you cook a lot of Mexican food? If so, maybe you might want to try Mexican oregano and/or cilantro and some lime zest. The classic herbal salts are made with the Mediterranean herbs like rosemary, sage, thyme, and oregano. Lemon zest is often added and dried along with the herbal salts.
I like to cook seafood and use a lot of dill. I preserve the dill leaves as a compound butter blend, but the dill seeds make a good herbal salt. Basically, use the herbs that you enjoy cooking with and those that are available to you from your garden or the farmers markets.
How to Store Herbal Infused Salts
Store the herbal infused salts in an airtight container. An 8-oz canning jar is the perfect size for this recipe.
You can store it in the pantry, a cool dark place or the refrigerator. An airtight container will prevent it from getting gummy without having to use any additives. Salt is a preservative so it will be safe indefinitely as long as everything was thoroughly dried.
Ratios (or Recipes) for Other Flavored Salts
When a good, mineral-based sea salt is mixed together with herbs, spices, citrus, or other aromatics, it enhances both food and drink in many ways.
In general, mixing salts for sweet or savory cooking starts with a base of 1/2 cup of a coarse salt of your choice, and involves drying the combinations if using fresh ingredients.
Some typical ratios of salt to flavoring are listed below. Just know that these "formulas" are very flexible and you can change the ratios or the blends to your liking without fear of failure. They make great gifts for any occasion!
For Garlic and Herb Salt: 1/2 cup sea salt + 2 minced garlic cloves + 1/2 to 2 cups "loosely packed" minced fresh herbs (like sage, rosemary, oregano, thyme, tarragon, chives, etc.)
For Chile Pepper Salt: 1/2 cups sea salt + 1/2 tsp. ground black pepper + 1 + minced Chile peppers (from mild peppers to habaneros)
For Citrus Salt: 1/2 cup sea salt + zest of 1 grapefruit, or 2 lemons, or 3 limes
For (sweet) Baking Salt: 1/2 cup sea salt + seeds of 1 vanilla bean
My favorite salt of all is a chile lime salt, which popular in Mexican street food. The brand name is Tajin, but here is a DIY recipe for chile lime salt which I think is infinitely better than the commercial product.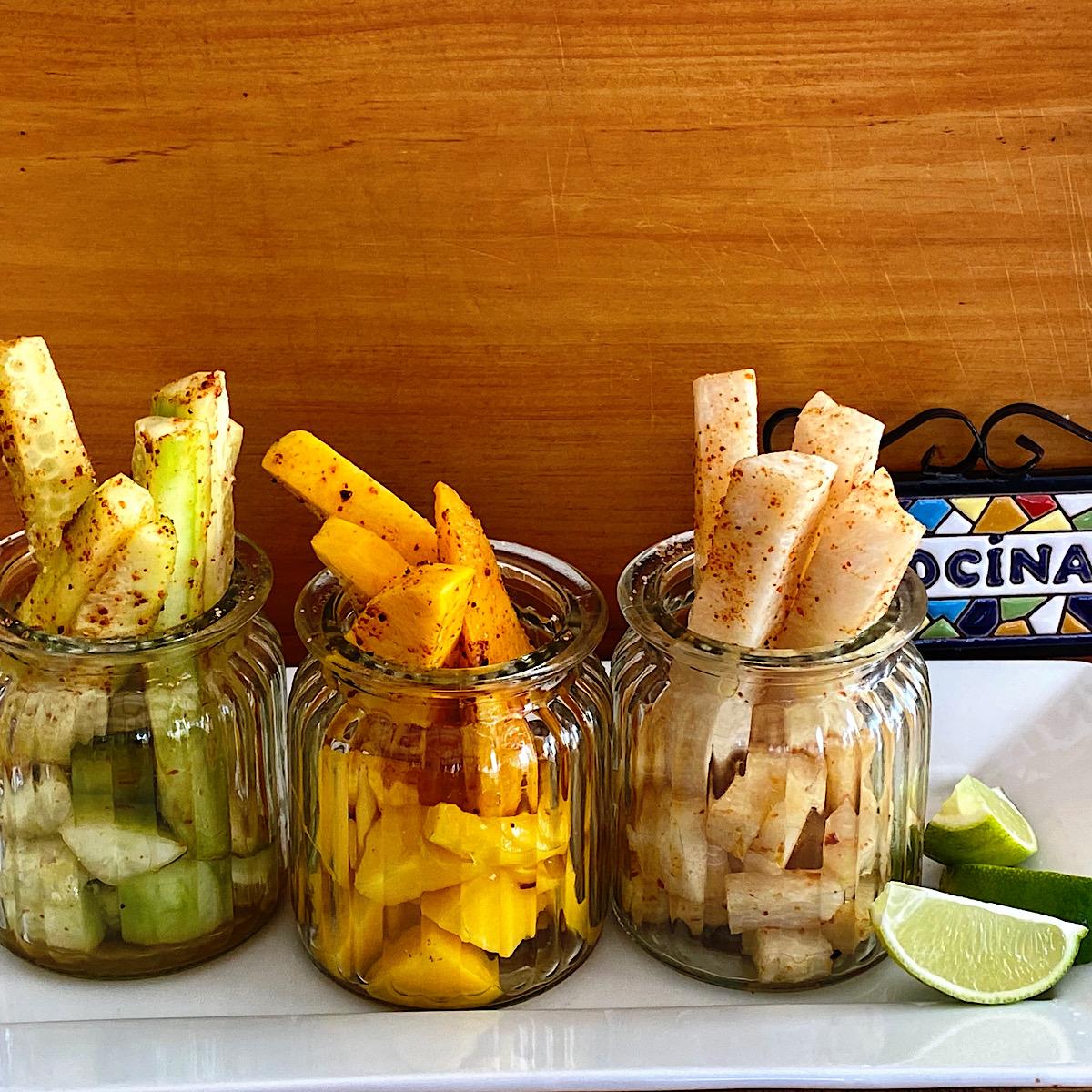 More Methods for Preserving Summer's Produce:
Recipes that use the savory salts:
Herbal Infused Salts
A step-by-step on preserving fresh herbs as herbal salts and herbal salt blends for year-round cooking
Ingredients
½

Cup

Coarse sea salt

or kosher salt

2

Cups

Fresh herbs

Loosely packed

1

Tbsp

Lemon zest

Or lemon peel
Instructions
Preheat the oven to 200 ° F. In a large bowl mix the salt and the herb leaves together. Pour mixture onto a cutting board and use a sharp knife to chop/mince the herbs and salt. The salt will allow you to incorporate the herbs better and chop the herbs without them flying all over. Alternatively use a food processor to chop the herbs and salt together, but make sure not to over-process or you will get a paste.

Line a cookie sheet with a piece of parchment paper and spread the salt out to dry for 24 to 48 hours if you are in a warm dry region. If you are in a humid climate, place the cookie sheet into the oven on it's lowest heat (usually 200° F) and let dry for 1-2 hours. Check occasionally to ensure it doesn't burn (set a timer)

After the herbal salt is dry, set it on the counter to cool. When cool pour it into a tightly sealed container and store in your pantry or a cool dark place. Use as you would a regular salt in cooking being careful not to oversalt. Start with a little, taste as you go along until it is to your liking.

Recipe can easily be doubled or halved.
Nutrition
Calories:
1
kcal
Carbohydrates:
1
g
Protein:
1
g
Fat:
1
g
Saturated Fat:
1
g
Sodium:
1770
mg
Potassium:
21
mg
Fiber:
1
g
Sugar:
1
g
Vitamin A:
316
IU
Vitamin C:
5
mg
Calcium:
6
mg
Iron:
1
mg
Did you make this recipe?
If you tried this recipe, please give it a 5-star rating! To do this, just click on the stars above. And don't forget to tag me at @dorothy_stainbrook_heathglen, if you share a picture on Instagram! You can also tag me at #heathglen!