When working with tomatoes, whether canning, peeling or rehydrating dried tomatoes, you often end up with a by-product of "tomato water". It is the perfect subtle flavor-profile to use in a tomato cocktail, like a Tomato Martini!
Using Tomato Shrub Syrups in Cocktails
Bartending in Portland Oregon got me through graduate school and I do believe I've made more use of those bartending skills than I have of my urban planning degree (especially if you include the people skills you pick up while bartending).
Now would be an exciting time to work behind the bar however, as bartening has evolved into mixology, and mixing a good cocktail now is far more creative than it was when I was bartending.
I used to pride myself on speed and memory, but those traits are now over-shadowed by what you can do with flavor and fresh ingredients.
Fortunately, I did retain a flavor memory of the various liqueurs, and now use that memory to enhance the different fruits in the preserves and drink syrups I make and sell online.
Drink syrups themselves (either shrub syrups or simple syrups are non-alcoholic so you can mix them with carbonated water also. Ever since I got a Soda Stream, which makes carbonated water out of tap water in an instant, I've been experimenting with these syrups.
Tomato Water in Craft Cocktails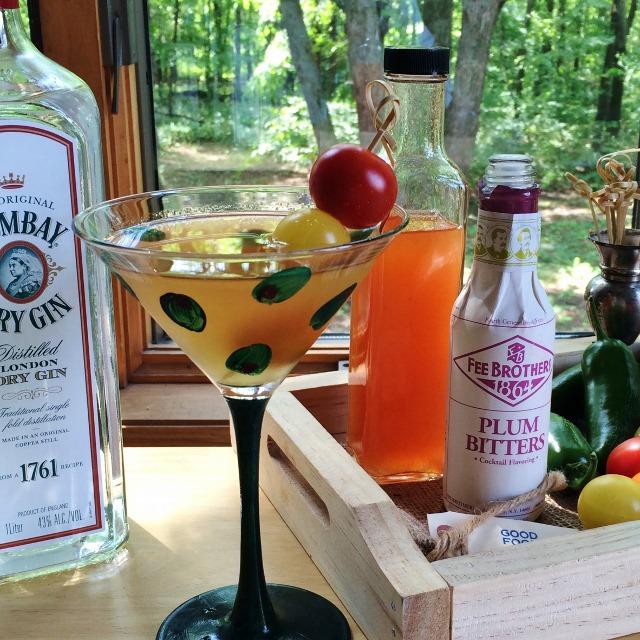 This winter I have been working with fresh and smoked tomatoes, testing all the ways you can use them in food, and a serendipitous product resulted….tomato water.
The flavor of the smoked tomato water is fairly deep and intense, with the fresh tomatoes lending a brighter flavor.
When peeling or freezing tomatoes, they often go through a process where they are drained for a bit. This drained elixir is what results in "tomato water".
It just so happens that tomato water makes an excellent martini. If tomato season is over or you want to try this but don't have tomato water, try it with 1/2 oz of smoked tomato syrup from Heathglen. It's sweeter than tomato water but still a taste treat.
Other Ways to Use Tomatoes in Cocktails
If you have any sun-dried tomatoes grind them up with some salt and use them to rim the glasses of your favorite cocktails. For the "how-to" on drying or dehydrating your own homegrown tomatoes, see this post.
The tomato salt is 50/50 sun-dried tomatoes and Maldon sea salt. Lately I've been using it on everything, from eggs to chicken to cocktails!
Add a little lime juice and a dash of smoked paprika, garnish with smoked mozzarella and cherry tomatoes, and…
Voila!
More Tomato Cocktails….
Tomato Martini
How to Use Tomato Water and Tomato Salt in Making Craft Cocktails
Ingredients
2

oz.

Absolut Peppar Vodka

2

oz

tomato water

left over after rehydrating sun-dried tomatoes

2

Tbsp

fresh squeezed lime juice

pinch

of smoked paprika

tomato salt to rim the glass

optional
Instructions
Combine vodka, tomato water, lime juice and paprika in tumbler with ice

Stir ingredients together

garnish with cherry tomato or fresh mozzarella balls and/or fresh basil
Nutrition
Calories:
149
kcal
Carbohydrates:
5
g
Protein:
1
g
Fat:
1
g
Saturated Fat:
1
g
Polyunsaturated Fat:
1
g
Monounsaturated Fat:
1
g
Sodium:
4
mg
Potassium:
170
mg
Fiber:
1
g
Sugar:
2
g
Vitamin A:
487
IU
Vitamin C:
17
mg
Calcium:
10
mg
Iron:
1
mg
Did you make this recipe?
If you tried this recipe, please give it a 5-star rating! To do this, just click on the stars above.
Cheers, Dorothy
Online Diet/Health Coaching:
Although I am not currently taking clients for diet & health coaching, I have been a coach for many years with the online service called coach.me. It is a great platform for all kinds of coaching – anything from specific diets, writing a blog, getting up early, or getting rid of that pesky procrastination.
There are some wonderful coaches and the testimonials will tell you what you need to know. Contact me at [email protected] to get a referral to some of the tested, experienced online coaches on Coach.me
If you'd like to start with a plan for a low carb or keto lifestyle, check out this detailed guide in ebook form. It may be all you need to lose weight on this lifestyle. Or it may be used as a supplement to one-to-one coaching.