Left with a bunch of green tomatoes as the tomato season died down? Pickling green tomatoes is a delicious way to use them and you don't need to fuss with canning equipment in this quick pickle recipe.
Jump to:
RECIPE
Are they safe?
Heirloom Green Tomatoes vs Unripe Tomatoes
Ideas for Using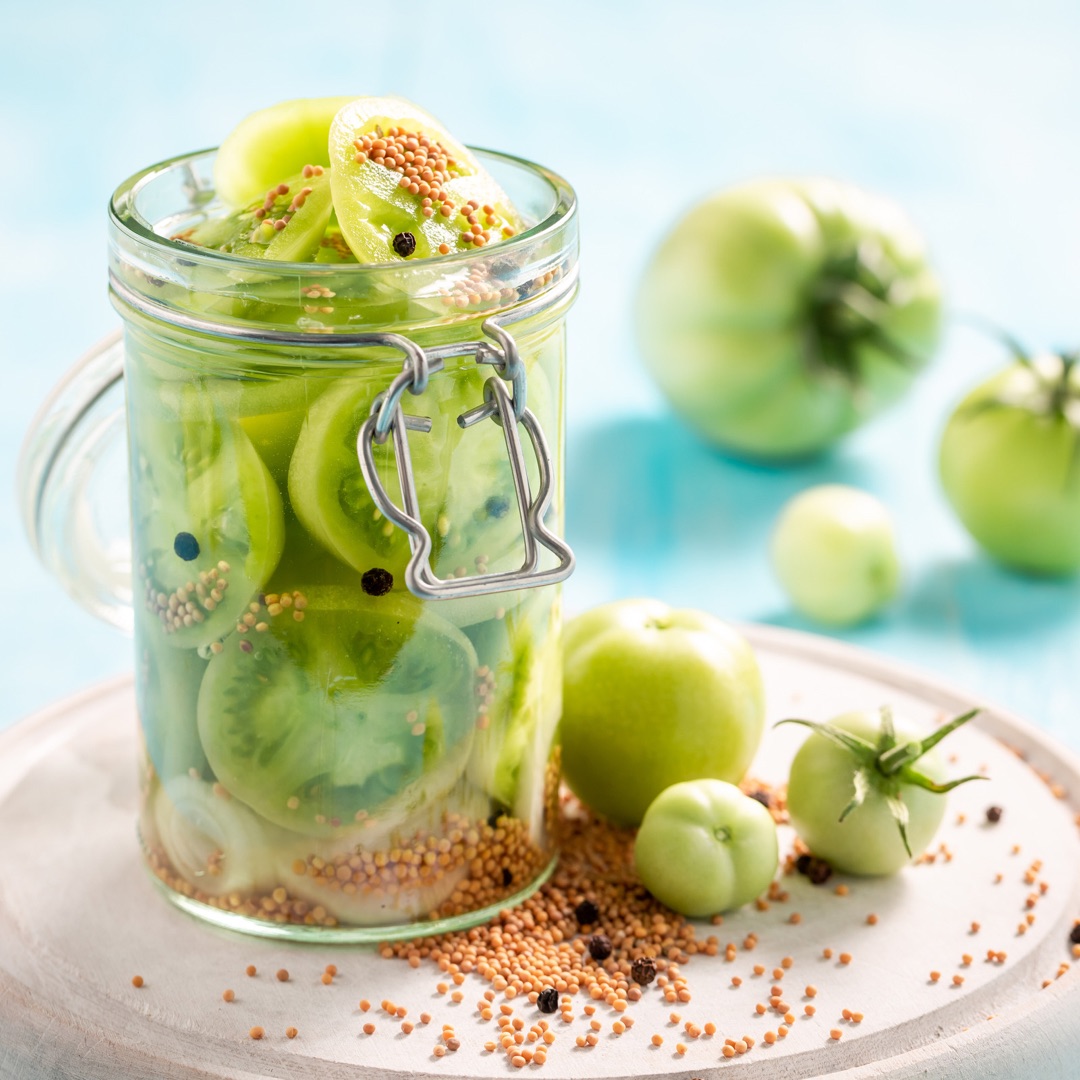 This post may contain affiliate links, and you can read our disclosure information here–
Are Quick Pickled Green Tomatoes Safe?
In order to answer this question, it's important to keep in mind that there are two types of green tomatoes. First off, you've got your green heirloom tomatoes.
As described in the full post on heirloom tomato characteristics, these are (almost) entirely green in color even when they're ripe. A bit confusing if you're not used to them, but I promise they taste fantastic and can absolutely safely be eaten raw with no risk of a belly ache.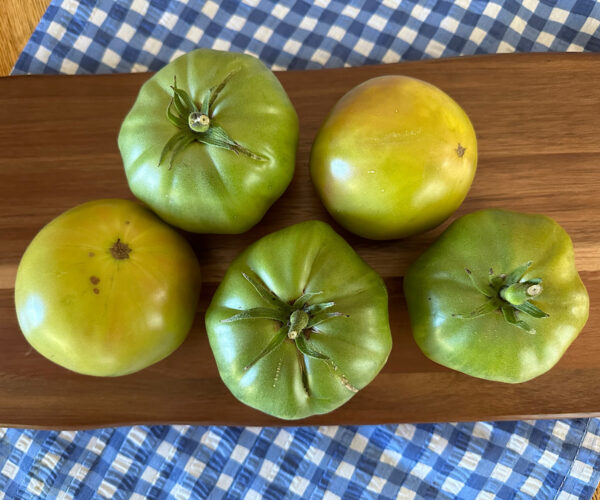 The other type of green tomato is the unripe version of a regular red variety. If you came here because the tomato season was coming to an end and you had to pick unripe tomatoes from your plant(s), that's obviously what you've got on hand right now. These green tomatoes will be very firm and are usually more uniform in color.
You may have heard that the latter version, the unripe green tomato, isn't safe to eat raw because it contains toxic alkaloids. This would make it unsafe to quick pickle, also known as refrigerated pickled green tomatoes. The good news? It's a myth!
As mentioned in the New York Times, among other places, green tomatoes are SAFE to eat raw (although if you're sensitive to acidic foods, take it easy).
They are also SAFE to use for a quick pickled tomatoes. They do contain alkaloids, but those are not toxic. Hooray!
Green Heirloom Varieties
Use green heirloom tomatoes if you like slightly softer pickles that are a little more nuanced in flavor. Just make sure and pick them while they are still firm so you don't get mushy pickles.
Aunt Ruby's is my favorite, although it is a beefsteak variety and is therefore pretty large.
Green Giant is another heirloom that stays green all the way to ripening. Aunt Ruby's and Green Giant are both quite large and would need to be chopped instead of sliced in order to fit it into most jars.
Aunt Ruby's is a splotchy green in color with a hint of yellow at the bottom when ripe.
The great thing about quick pickling green tomatoes is that it really doesn't matter much what type of tomato you use.
There will be some difference in flavor between unripe green tomatoes vs green heirloom tomatoes as well as between different tomato varieties, but all of them should turn out delicious.
Another great heirloom to consider is Green Zebra, which lends its name from its yellow-green striped appearance and is small enough to use sliced.
Green Zebra is a bit higher in acid than Aunt Ruby's and so makes for a more robust tasting pickle.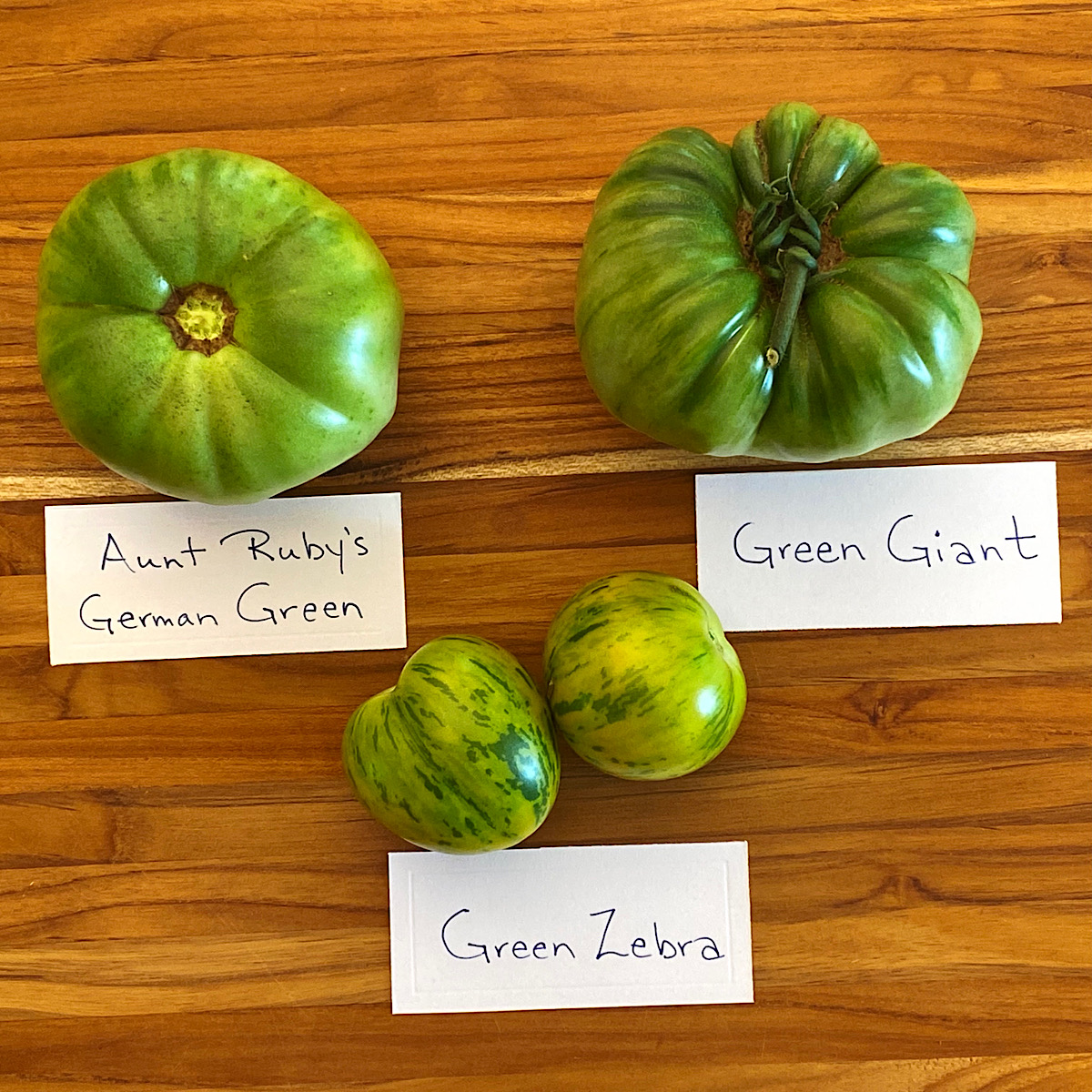 Other green tomatoes you can grow at home for your green tomato pickles or may come across at your local farmer's market include:
Cherokee green
Green giant
Russian green
Summertime Green Dwarf (not heirloom)
Dwarf Jade Beauty (not heirloom)
Grinch Cherry (not heirloom)
Using Unripe Tomatoes for Pickling
Red varieties of tomatoes (hybrid or heirloom) that have not ripened yet are just unripe green tomatoes and they are definitely in the mix for pickles.
If you've picked a big haul of unripe tomatoes or if you like your pickles quite firm, you'll want to go for this unripe version.
Do remember that if you're going to use unripe green tomatoes for your pickled tomatoes, be sure to avoid the ones that are still very young and rock hard. They're often too high in alkaloids to actually taste nice, even if they're not toxic like some sources state.
Did you know? Another popular green member of the nightshade family that's closely related to tomatoes is the tomatillo (also known as husk tomato). And yep… tomatillos are perfect for a quick pickle as well.
Canning Pickled Tomatoes vs Quick Pickling (aka Refrigerator Pickles)
This is a recipe for quick pickles, also called refrigerator pickles. The quick pickle concept means you don't have to worry about the whole shebang that comes with canning vegetables like tomatoes.
No canning equipment is needed for refrigerator pickles and the whole process is much quicker.
The only downside about quick pickles is that they aren't shelf stable like canned goods. That's why they're also referred to as refrigerator pickles!
No worries, though, because these pickles are so good there's no way they'll last until the end of their best-by date, which is around a month in the refrigerator.
**Pro Tip: Looking for other ways to preserve your harvest? Pickling is a great way to make vegetables last much longer, but there are many other methods you can consider as well. Why not dehydrate them, for example, like with this salt & vinegar cucumber chips recipe?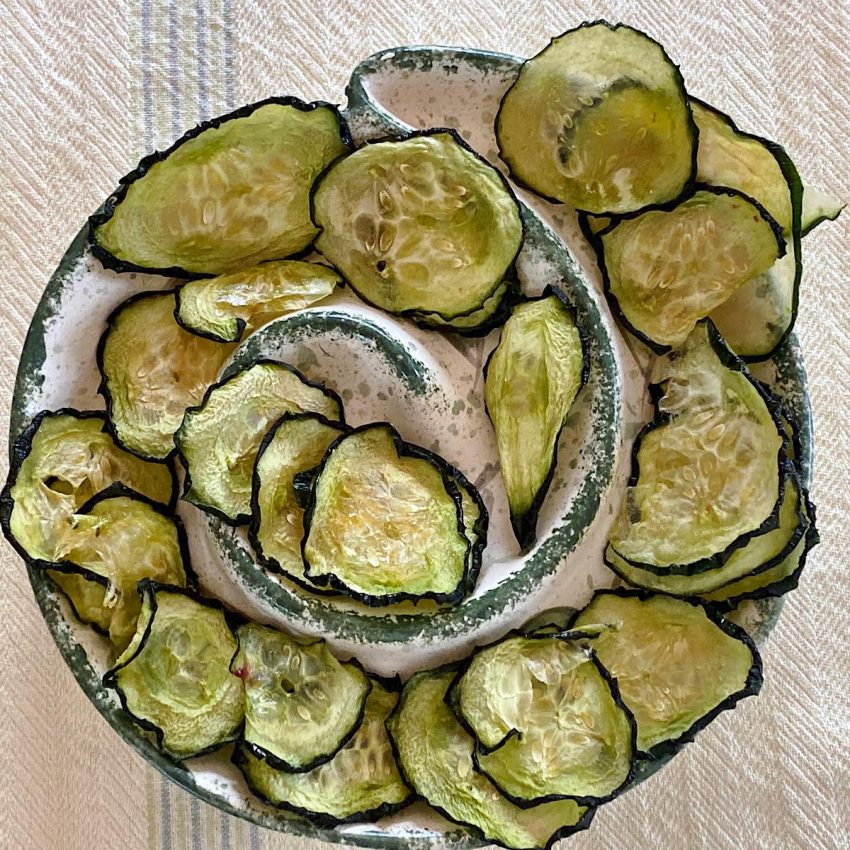 How to Use Green Tomato Pickles
Aside from eating them straight out of the jar (guilty!), what can you do with green tomato pickles? As you can imagine, pickled green tomato has loads of different uses. They taste fantastic in almost any recipe that calls for pickles.
Why not consider using green pickled tomatoes for:
Tomato salads
Hot dogs and burgers
Sandwiches
Potato salads
Vegetable bowls
Garnishing a smoked tomato martini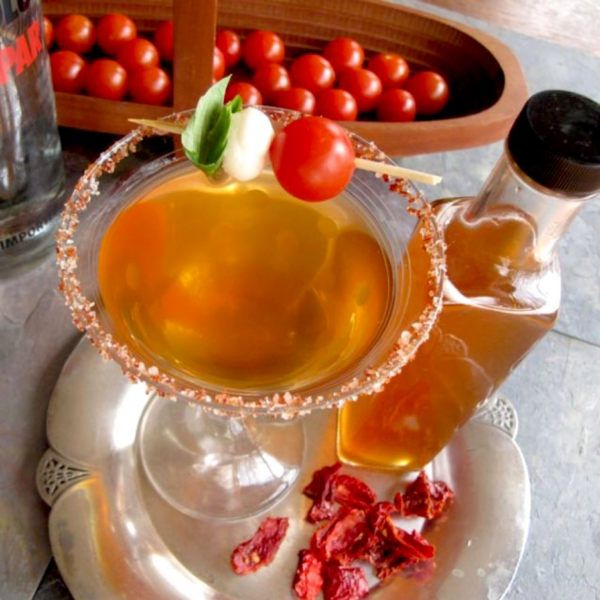 **Pro Tip: Still got green tomatoes left after making your pickle? There are quite a few other things you can do with them, so you won't have to worry about your harvest going to waste. Try some yummy fried green tomato, a typical Southern dish, if you don't want to pickle all of your tomatoes. Or try this awesome green tomato kimchi recipe!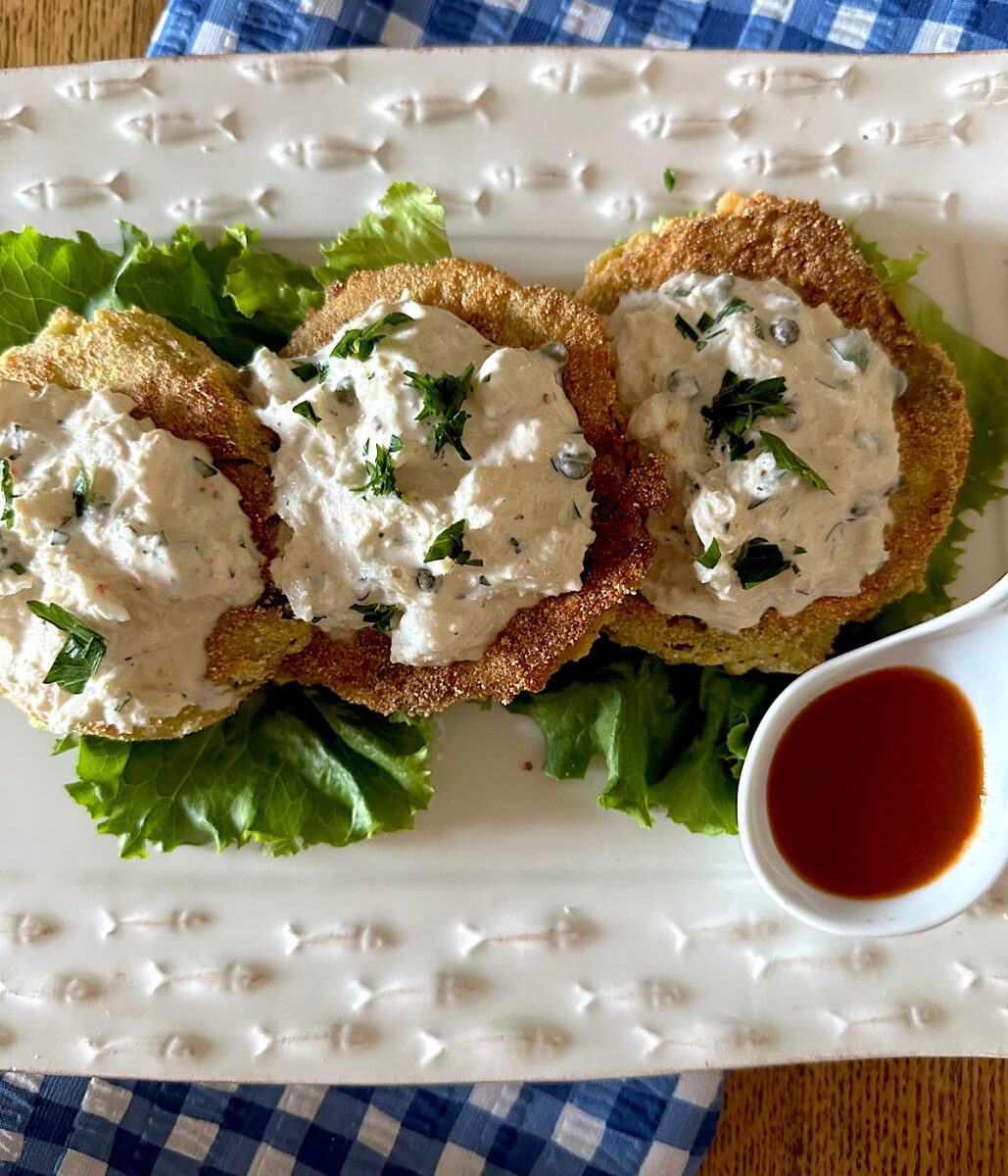 Key Ingredients and Substitutions
To make our quick pickled green tomatoes, we'll be using pretty much the same ingredients as if we were going to can them:
Green tomatoes: Use ones that are firm. You can go sliced or chopped, depending on what you're planning on using your pickles for. Sliced ones are obviously a bit easier to use if you want to make sandwiches!
Salt: One of the elements that makes it so that even a quick pickle can be stored in the refrigerator for up to a month is salt. Use kosher salt or pickling salt for the best results.
Vinegar: Another ingredient that makes our pickle last longer (and the one that gives it that tangy kick!) is vinegar. Standard white vinegar works perfectly.
Water: Because if we'd use vinegar only, those pickles would turn out a little too pucker-worthy.
Sugar: Just a little bit to take a bit of the edge off all that salt and vinegar.
Spices: A lot of this is up to your own preferences, but you'll find my favorite combination in the recipe below. A good pickle definitely needs a variety of spices, preferably whole. There's classic dill, obviously, but don't be afraid to get creative! Garlic is great to include for extra flavor. The same goes for whole peppercorns, mustard, coriander or celery seeds or even sliced ginger. I've even seen whole fennel flowers and fronds in jars of Eastern European pickles.
Other Ways to Preserve Fruits & Vegetables
_________________________________________________________________________________
If you make and love this recipe, please leave a ★★★★★ review below and any comments others might find helpful. It means a lot to me when you try my recipes, and I'd love to know how it goes.
Quick Green Tomato Pickles
Green tomatoes are perfect for pickling. This recipe is for quick pickles (refrigerator pickles) rather than canning with a water bath or pressure cooker. They will not be as shelf stable but they will certainly be as delicious.
Ingredients
5

Pounds

green tomatoes

Halved, quartered or sliced

3 ½

Cups

white vinegar

3 ½

Cups

water

¼

Cup

Pickling or canning salt

1

Tablespoon

sugar

6-7

garlic cloves

6-7

bay leaves

¼

Cup

celery seed

¼

Cup

dried dillweed or dill seeds

1-3

Teaspoons

dried red pepper flakes

2

Tablespoons

black peppercorns

¼

Cup

mustard seeds

¼

Cup

coriander seeds or allspice

optional
Instructions
Thoroughly rinse the tomatoes and then slice or cube them, depending on the size of the jar and the size of the tomato (large tomatoes won't fit neatly into small mouth canning jars).

A wide-mouth 1-quart mason jar is best if you have it, but cube the tomatoes if all you have is a small-mouth jar.

In a large stainless steel saucepan, combine the vinegar, water, salt, and sugar Bring to a boil over high heat stirring to dissolve salt and sugar. Remove from heat.

3 1/2 Cups white vinegar,

3 1/2 Cups water,

1/4 Cup Pickling or canning salt,

1 Tablespoon sugar

Pack tomatoes into hot jars to within 1/2 inch to 3/4 inch of top of jar. Add 1 clove garlic and 1 bay leaf to each jar. Divide the rest of the spices into 7 portions and add one portion to each jar (the recipe makes 6-8 pint jars).

So this would be a little dill seed, celery seed, a pinch of red pepper flakes, a pinch of black peppercorns and a bit of mustard seeds added to each jar.

Ladle hot pickling liquid into jar to cover tomatoes leaving 1/2 inch headspace.

Remove air bubbles by lightly letting jar drop on counter,and adjust headspace, if needed, by adding hot pickling liquid.

Wipe rim and tightly screw on lid. Allow to cool to room temperature, then store in the refrigerator for at least 24 hours before eating.

Keeps up to 1 month refrigerated.

6-7 garlic cloves,

6-7 bay leaves,

1/4 Cup celery seed,

1/4 Cup dried dillweed or dill seeds,

1-3 Teaspoons dried red pepper flakes,

2 Tablespoons black peppercorns,

1/4 Cup mustard seeds,

1/4 Cup coriander seeds or allspice
Notes
**Note that the nutrition facts are for a whole pint**
Nutrition
Calories:
132
kcal
Carbohydrates:
23
g
Protein:
5
g
Fat:
2
g
Saturated Fat:
0.2
g
Polyunsaturated Fat:
0.5
g
Monounsaturated Fat:
1
g
Sodium:
63
mg
Potassium:
773
mg
Fiber:
5
g
Sugar:
15
g
Vitamin A:
2188
IU
Vitamin C:
77
mg
Calcium:
142
mg
Iron:
4
mg
Did you make this recipe?
If you tried this recipe, please give it a star rating! To do this, just click on the stars above. Comments are always helpful also and I respond to all of them (except rude ones)