Whether you use a specific green variety of tomato or harvest your regular tomatoes before they turn red, fried green tomatoes are a Southern side dish that can be modified to low carb. Typically coated with cornmeal or breadcrumbs, this recipe uses almond flour and chicharrones to meet the requirements of a low carb or ketogenic diet without losing a bit of flavor. The recipe works well with panko or cornmeal or breadcrumbs if you are not low carb.
Jump to: Recipe | Getting Most Flavor | Best Green Tomatoes | More Recipes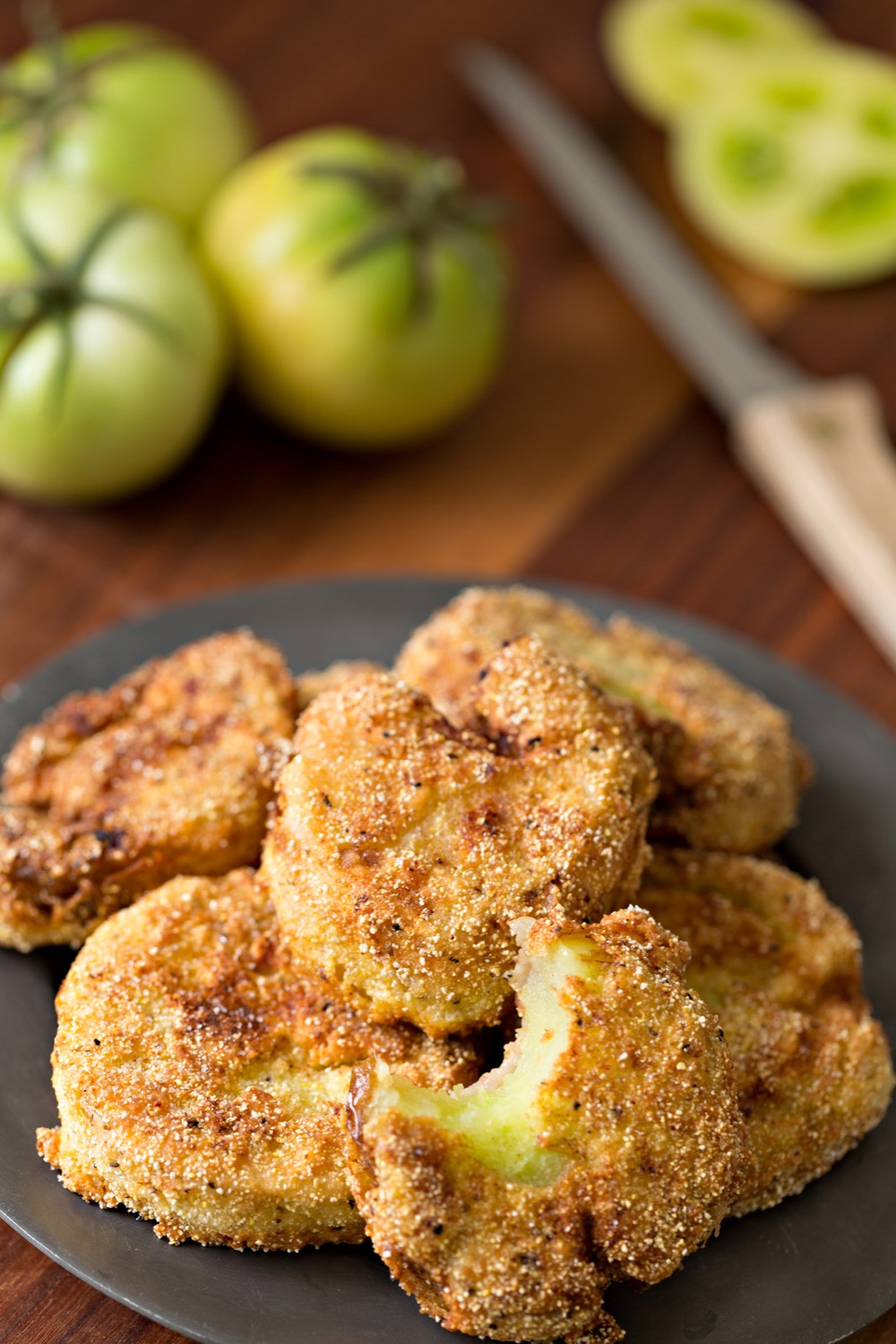 This post may contain affiliate links, and you can read our disclosure information here–
Getting the Most Flavor
The Tomato: First of all, start with firm, bright green tomatoes. The "variety" does make a difference in terms of sweetness but the main thing is to pick them before they are fully ripe. I've tried using varieties like Aunt Ruby's Green, Green Zebra and a few other green varieties when they are yellow-green and fully ripe, but they end up being too soft (yes they are green, but they are ripe green instead of firm and unripe).
The Spice: After you have the right tomato selected, add in a little spice. I like a bit of smoky but moderate heat…not too hot, just a little kick. Any of the chile spices work for this. My favorite is the chipotle spice for more intense heat and the Mexican tajin spice blend for mild to medium heat. Any spicy addition will work…just use your favorite or what you have on hand.
The "Breading": And finally is the coating. Classic versions of Fried Green Tomatoes use a mix of cornmeal and flour, but those are both out on a low carb or keto diet. For the recipe I used almond flour, salt & pepper, and some chipotle spice for the coating. You could also mix in some crushed chicharonnes, which I often add to breading mixtures. Some people will add a tsp of onion powder and 1/2 tsp garlic powder also if you like adding even more robust flavor.
Which Green Tomatoes are Best for Frying?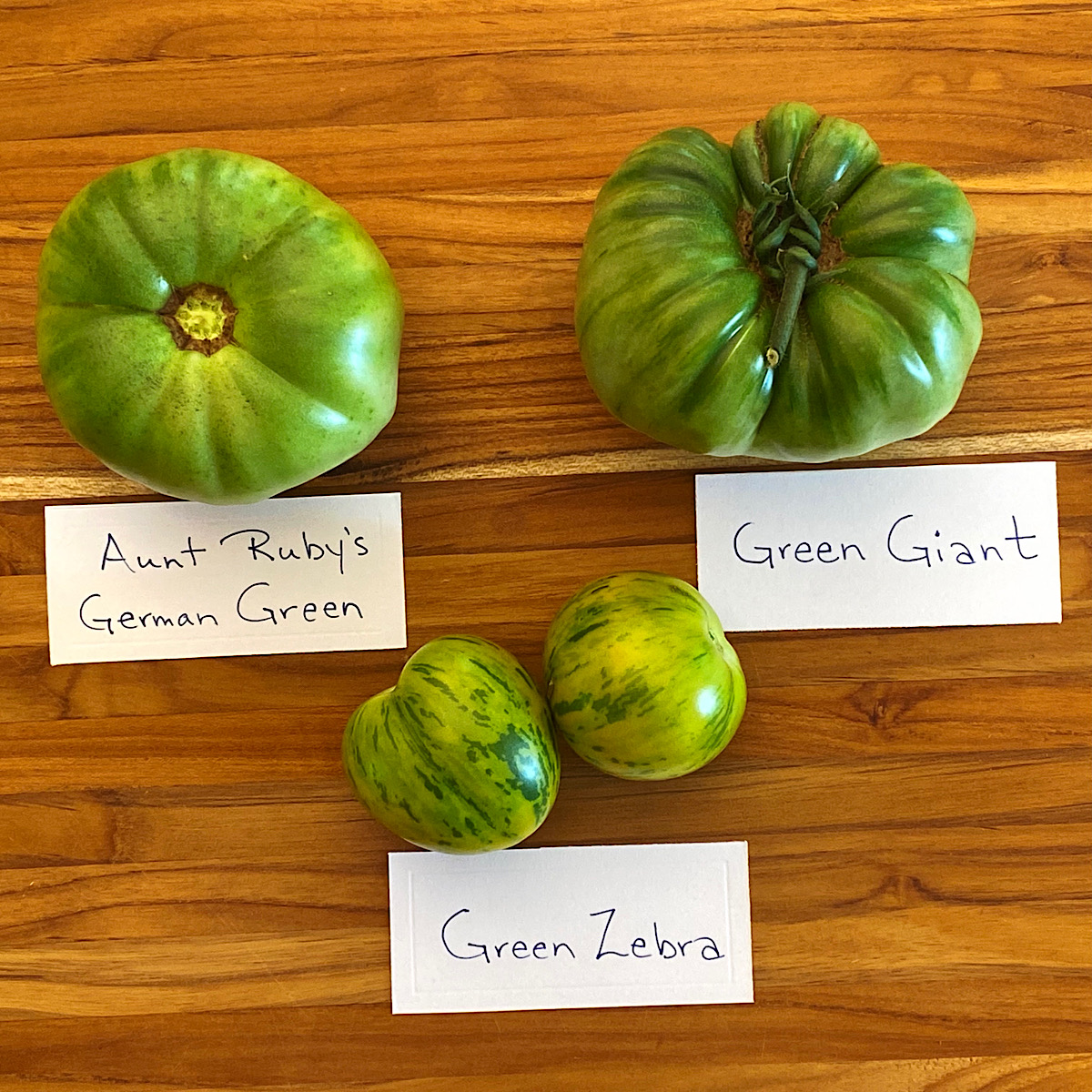 Many people use any ole green tomato that has not yet ripened on the vine. That absolutely works, but if you want to up the flavor of the dish, try a variety of heirloom tomato that stays green when ripe (and is "supposed" to be green).
There are two types of green tomatoes, those that are green when fully ripe (generally heirloom varieties), and unripe tomatoes.
Ripe green heirloom tomatoes are a very good source of vitamins A and C and potassium. Unripe (traditional red) tomatoes will not be as good a source for nutrients since they are not fully ripe.
Unripe green tomatoes are more acidic, and therefore tarter, than ripe green heirloom tomatoes, so they might be a less favorable option for those with sensitivities to acidic foods.
Also know that ripe green heirloom tomatoes can be enjoyed the same way as ripe red tomatoes!
I have trialed it with 3 different varieties: Green Zebra (tangy and high acid); Aunt Rubys Green (large beefsteak type with more sweetness) and Green Giant (huge tomato, that is balanced and juicy)
Here are some other green varieties that gardeners love (but I have not tried yet):
Evergreen
Dorothy's Green
Charlie's Green
Grandma Oliver
Lime Green Salad
Humph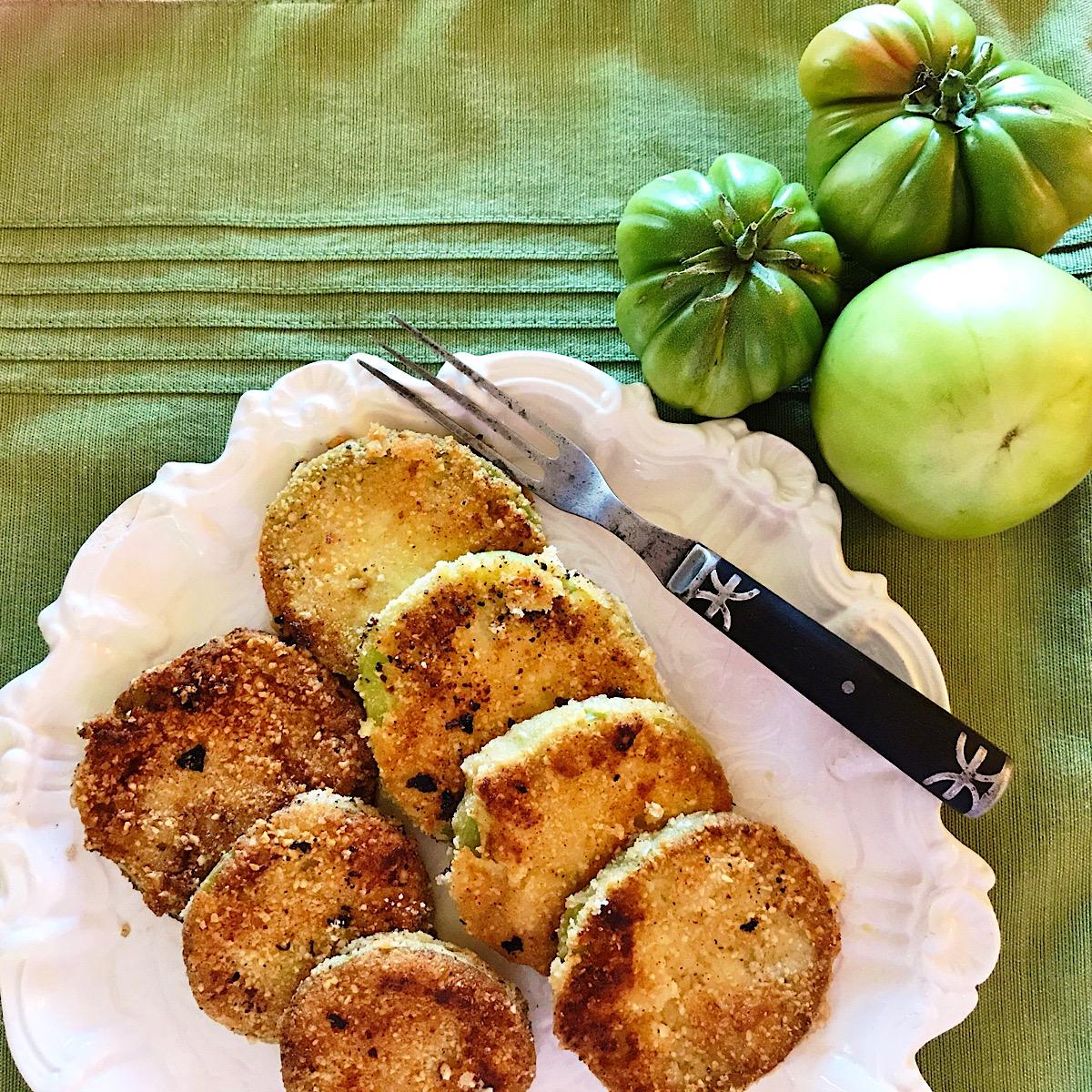 Another Excellent Way to Use Green Tomatoes
If you hate to see the tomato season wind down, but aren't fond of the tepid taste of green tomatoes that ripen indoors, then pickle them! You don't need to pull out all the canning equipment…just do some refrigerator green tomato pickles and enjoy the next day.
Or if you want to try fermenting, try this Green Tomato Kimchi recipe
Recipe for Low Carb Fried Green Tomatoes
Low Carb Fried Green Tomatoes
Using almond flour and chicharrones to keep the flavor of fried green tomatoes but make them compliant with a low carb diet
Ingredients
3

green tomatoes

use firm "unripe" tomatoes

2

eggs

2

Tbsp

heavy whipping cream

(can use water instead)

1

cup

almond flour

½

cup

chicharrones

crushed

½

cup

parmesan cheese

grated fine

1

tsp

spicy chile pepper

ground, I used this blend

1

tsp

onion powder

½

tsp

garlic powder

salt and pepper

to taste

3

eggs

optional for full breakfast

¼

cup

bacon fat or refined olive oil

sauce for serving

optional, I used this romesco sauce

3

Tbsp

olive oil

can use lard or bacon grease
Instructions
For the Fried Tomatoes:
With a sharp knife, slice the tomatoes about 1/4" thick (no thicker than 1/2"). Place on paper towels and sprinkle with a little salt, and let them sit for a few minutes to draw out water.

Crush the chicharrones by placing them in a bag and pounding with the bottom of a glass or something flat and heavy. In a medium size bowl, use a slotted spoon or fork to whisk together the almond flour, the crushed chicharrones, the grated parmesan, the spices and the salt and pepper.

1 cup almond flour,

1/2 cup chicharrones,

1/2 cup parmesan cheese,

1 tsp spicy chile pepper,

1 tsp onion powder,

1/2 tsp garlic powder,

salt and pepper

In another bowl, whisk together two eggs and the heavy whipping cream (can use 2 Tbsp water instead of cream if you want)

2 eggs,

2 Tbsp heavy whipping cream

Using tongs, a fork or your hands, dip the tomato slices in the egg mixture, then place them in the flour/spice mixture and cover all parts of the tomato slices firmly, using a spoon or your hands. Let sit for a few minutes for egg mixture to tighten up.

Heat the oil to medium high but not smoking.

1/4 cup bacon fat or refined olive oil

Set tomatoes into the hot oil and fry 2-3 minutes per side, or until golden brown. Don't overcrowd the skillet with the slices. Work in batches if needed.

Remove from oil and set onto paper towels or rack to drain.
For poached eggs to top off the fried green tomatoes:
Serve the eggs over the fried green tomato slices. Drizzle a bit of romesco sauce on top and enjoy!
Notes
**Note: For a great low carb breading recipe that you can use with fish, veggies, or anything else you want to bread, click here.
Nutrition
Calories:
102
kcal
Carbohydrates:
5
g
Protein:
7
g
Fat:
6
g
Saturated Fat:
3
g
Polyunsaturated Fat:
0.5
g
Monounsaturated Fat:
2
g
Trans Fat:
0.01
g
Cholesterol:
68
mg
Sodium:
211
mg
Potassium:
180
mg
Fiber:
1
g
Sugar:
3
g
Vitamin A:
831
IU
Vitamin C:
15
mg
Calcium:
122
mg
Iron:
1
mg
Did you make this recipe?
If you tried this recipe, please give it a 5-star rating! To do this, just click on the stars above.
Online Diet/Health Coaching:
Although I am not currently taking clients for diet & health coaching, I have been a coach for many years with the online service called coach.me. It is a great platform for all kinds of coaching – anything from specific diets, writing a blog, getting up early, or getting rid of that pesky procrastination.
There are some wonderful coaches and the testimonials will tell you what you need to know. Contact me at [email protected] to get a referral to some of the tested, experienced online coaches on Coach.me
If you'd like to start with a plan for a low carb or keto lifestyle, check out this detailed guide in ebook form. It may be all you need to lose weight on this lifestyle. Or it may be used as a supplement to one-to-one coaching.