Sushi rolls are popular and readily available, but they are generally not a low carb option as they are made with rice. Home-made sushi rolls made with cauliflower rice (which you can now get prepackaged), allows you to have these popular sushi rolls any time with minimal effort.
Jump to Recipe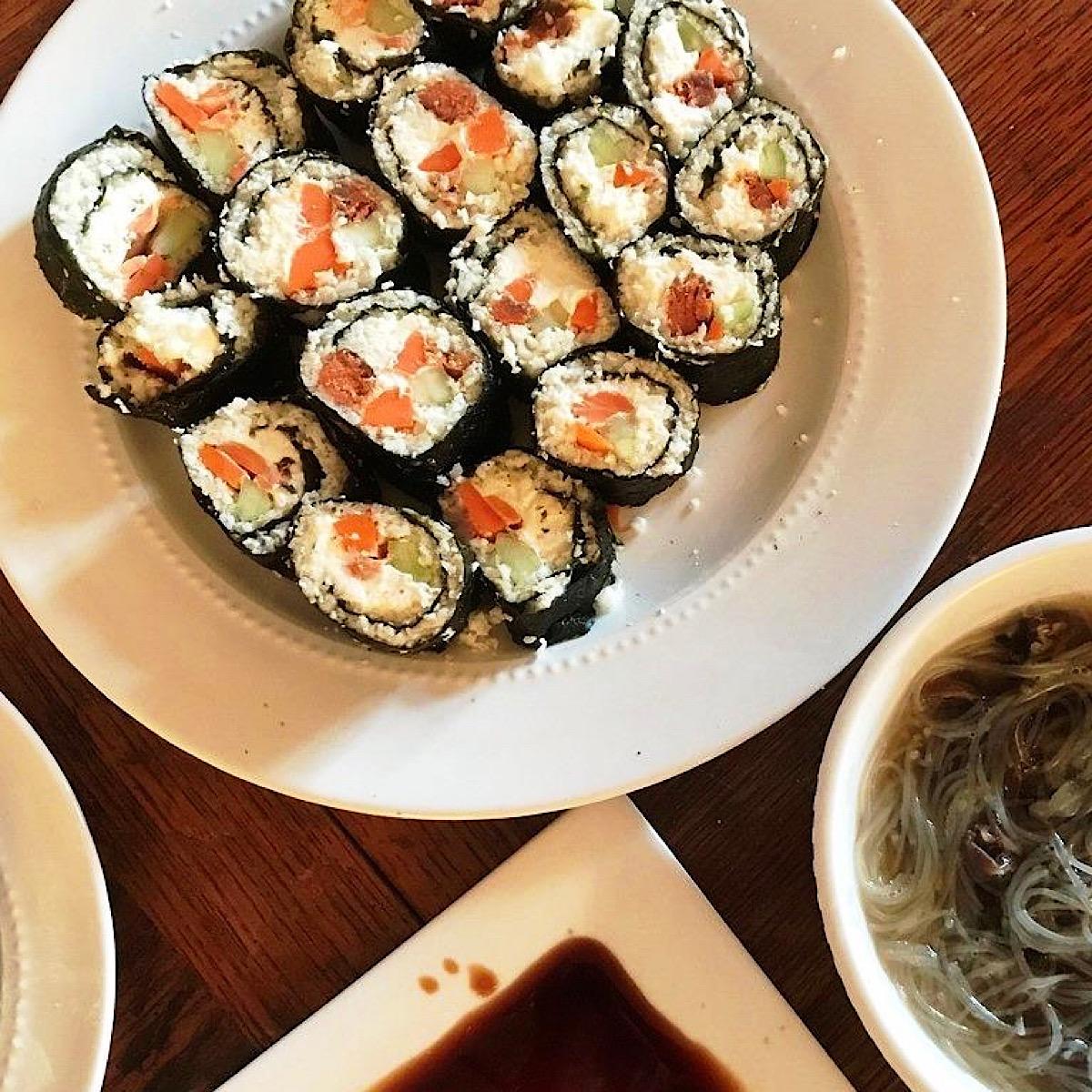 This post may contain affiliate links, and you can read our disclosure information here–
This Sushi recipe is a guest post by my wonderful daughter, Tesla!
Why Cauliflower Rice?
One major benefit of working in a school district is having the summers off! For me, that means Grandma's Annual Fourth of July Party and lots of food, purchased and prepared for me by the parents (I know, rough life, right?). There is a downside though, and that is when my parents food preferences differ from mine.
If you've read any other posts on this site or if you know my mom at all, you know that we haven't eaten rice at the HeathGlen homestead for many years. Apparently, the absence of rice doesn't bother my parents too much, but it's especially hard for a sushi addict like me!
Prior to going on a low-carb diet, my dad promised me we would make sushi together– that was 12 years ago and we even bought a mat and instruction book! So I decided this year that, even though rice is now a four-letter word in our household, he could fulfill his promise to me.
Making Low Carb Sushi Simple
I attempted to make a low-carb cauliflower rice sushi a few years ago but it was unsuccessful and frustrating because there were so many hard-to-find ingredients and I was in the middle of my Master's program with very little money to spare on these rare ingredients.
I finally found a much simpler recipe and used that as a guide to make this "keto sushi". In the original recipe, the blogger uses fruit, and as you may know, according to my mom, "Fruit is just nature's candy." So, needless to say we skipped out on the fruit but the nice thing about making your own sushi is you can adjust it to your own tastes and dietary restrictions.
I doubled the recipe because leftovers are a requirement in our household, especially on Fridays before the weekend farmers' markets. The recipe below is not doubled however.
Even my mom, the sushi adversary, raved about this dish! This "keto sushi" recipe was much easier than I thought and it's one sure fire way to impress the parents!
Keto Sushi (aka Cauliflower Rice Sushi)
Ingredients
¾

head of cauliflower

1

tbsp

rice wine vinegar

1

tsp

sugar 5-6 sheets nori

2

cucumbers

peeled and thinly sliced

3

carrots

peeled and thinly sliced

8

oz

package of plain cream cheese

2-3

cooked salmon fillets and 2 smoked salmon

pickled ginger

optional, garnish

wasabi

optional, garnish

soy sauce

optional
Instructions
Prepare the cauliflower rice: I cut the cauliflower in quarters and then cut or break the stem off. I then used a smaller knife to cut off any parts of the stem that remain. Break the cauliflower in to florets or small chunks.

Place all the florets in the food processor. Depending on the size of your blender, you may need to split up the cauliflower and process it in smaller portions. Pulse the cauliflower until the pieces are small and look similar to grains of rice.

Place the cauliflower in large dish and cover. Microwave on high for 3-4 minutes or until the cauliflower is heated all the way through.

In a small bowl, mix the sugar and rice vinegar until the sugar is mostly dissolved. Combine with the warm cauliflower and set aside to cool.

1 tbsp rice wine vinegar,

1 tsp sugar 5-6 sheets nori

Prepare your fillings. I peeled and cut the veggies as thin as possible and crumbled the cooked/ smoked salmon, and used a cheese slicer for thin slices of cream cheese.

2 cucumbers,

3 carrots,

8 oz package of plain cream cheese,

2-3 cooked salmon fillets and 2 smoked salmon

Lay the nori out, either on the rolling mat or a cutting board for a flat surface. The nori I used had perforated lines, and when the nori was on the board facing me the lines were horizontal.

Scoop the cauliflower rice on to the nori. Cover the nori with a thin layer of the cauliflower, leave a space on the top. I used the perforated lines as a guide and covered the nori up to the line that was closest to the "top" of the nori, farthest from me.

Put your fillings on the side of the nori where the cauliflower reaches the edge of the nori. I put the softest things first- cream cheese, salmon, and then the veggies on top. Carefully roll the edge with the fillings toward the end with the gap. Keep slight pressure on the fillings as you roll to make sure it rolls tightly. Once it's completely rolled up, dab some water on the edge with no cauliflower so it will stay together.

Using a really sharp knife, cut the sushi into pieces. Serve with soy sauce, wasabi and pickled ginger.

pickled ginger,

wasabi,

soy sauce
Notes
** Note 1: The recipe I adapted this from used a food processor and a sushi rolling mat. We don't have a rolling mat and I have made cauliflower rice a multitude of times in my Ninja blender so neither are necessary to make this recipe work, but the tools definitely make it easier! I've also been informed that you can buy pre-"riced" cauliflower at Trader Joe's or other grocery stores if you want to skip those steps.
**Note 2: To ensure the roll stays together, it was helpful to use a bowl of water to wet the seam of the roll. See step #9.
Nutrition
Calories:
266
kcal
Carbohydrates:
10.4
g
Protein:
8.8
g
Fat:
19
g
Did you make this recipe?
If you tried this recipe, please give it a 5-star rating! To do this, just click on the stars above.
Online Coaching:
Although I am not currently taking clients for diet & health coaching, I have been a coach for many years with the online service called coach.me. It is a great platform for all kinds of coaching – anything from specific diets, writing a blog, getting up early, or getting rid of that pesky procrastination. Explore the site through the link below. There are some wonderful coaches and the testimonials will tell you what you need to know. You can always contact me to get referrals also. Click here to get to my profile and then explore others from there.