Spaghetti squash makes a great substitute for a low carb pasta and can be used as a bed for sauces, as a ragu, or in any dish where a traditional pasta might be found, even lasagna. In this recipe, I've used the spaghetti squash to make what is called a "stuffed" recipe. The spaghetti squash shell is the bowl in this dish and it is stuffed it with shredded chicken, enchilada sauce and, of course, the spaghetti squash.
Jump to:
RECIPE
How to Make Spaghetti Squash
Spaghetti Squash as Low Carb Pasta
Recipe Substitutions
This post may contain affiliate links, and you can read our disclosure information here–
Make the Spaghetti Squash
Spaghetti squash is pretty simple to cook and can be ready in 10 minutes if you make it in the microwave (45 minutes when roasted in the oven)
It is often preferable to roast winter squash in an oven to get the full richness of a nutty winter squash. It's not really necessary with spaghetti squash however, as the flavor is so much lighter than most Winter squash.
I usually cook them like this:
cut them in half lengthwise
take a large spoon and scrape out the seeds
turn them flesh-side-down onto a plate and microwave for 10 minutes
let cool enough to handle them (or use a mitt) and then take a fork and scrape out the strands from the shell. They come out looking like…….well, like spaghetti!
The texture is very similar to spaghetti noodles.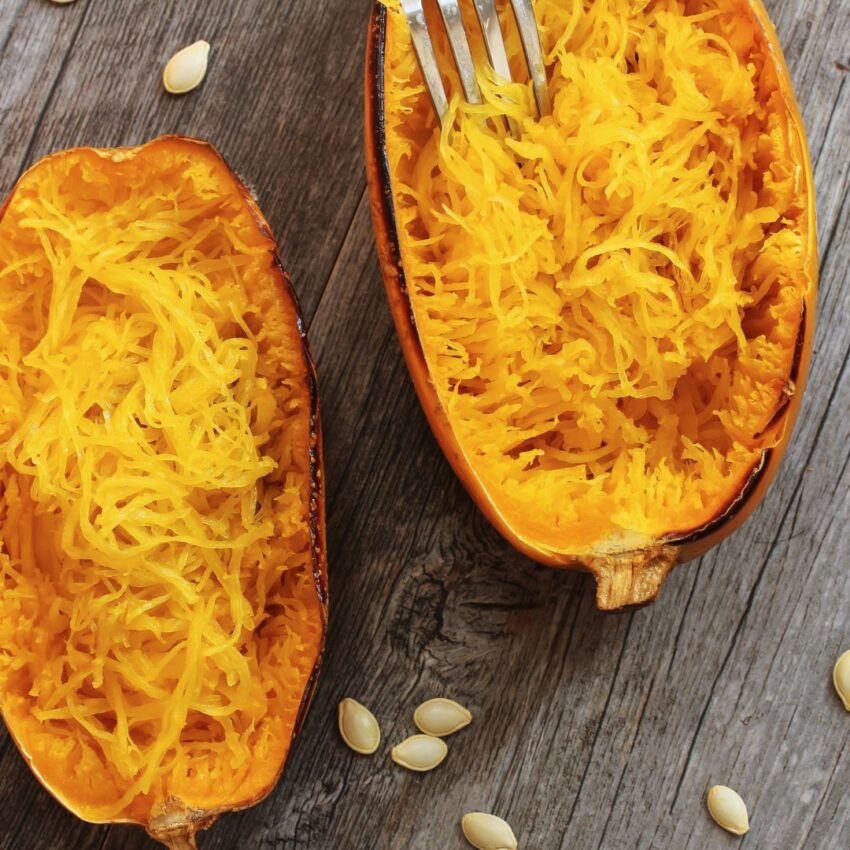 Spaghetti squash makes an excellent side dish. I've used it as a side dish with this pork ragu but it's great with any dinner entree (like this low carb lasagna.in a spaghetti squash shell.
Alternatively, if you are looking for a no-meat dish, try this Italian puttanesca.
Spaghetti Squash as Low Carb Pasta
Pasta in and of itself doesn't have much flavor and is used more often as a way to provide texture and substance. Sauces need something to cling to and spaghetti squash provides a good form for that, similar to noodles.
Many people on low carb diets use zucchini noodles for a low carb pasta base and that works fine also.
Spaghetti squash is nutritious and I think it has more "mouthfeel" than the vegetable noodles that you can now get in the grocery store.
In our household spaghetti squash is the Fall pasta and zucchini noodles are the Spring and Summer pasta.
Ingredients and Substitutions for the chicken enchilada
The spice blend: The chicken in this recipe is easy, but it is fairly bland and needs a spice mix of some sort to liven it up. I have used both the harissa spice mix that we sell online, and Enchilada spice mix.
Both turned out excellent and were an easy way to get high flavor. There is a wide range of readily available spice mixes that would be good. Choose your favorite and go with it.
The protein: The type of protein could also be easily switched up. Ground pork sauteed until no longer pink would be a good substitution for chicken.
Hamburger or ground beef would work fine also. Any protein of your choice would work as long as it is shredded or fine enough to mix well with the somewhat delicate strands of squash.
The cheese: Changing up the variety of cheese is another option, as is adding some sauteed onions or other vegetables. It's really a great dish to experiment with as it's tough to destroy it!
Recipe for Chicken Enchilada in Spaghetti Squash
Low Carb Chicken Enchilada with Spaghetti Squash
Shredded chicken, enchilada sauce, cheese and spaghetti squash combine for a perfect low carb solution to chicken enchiladas. Use the squash shell instead of a bowl and you have "stuffed spaghetti squash".
Ingredients
2

Skinless chicken breasts

1

large

Spaghetti squash

halved lengthwise and seeded

1 ½

cup

red enchilada sauce

divided

½

tsp

salt

1

tsp

spice mix

I used harissa, use your favorite spice mix – many would work

1

cup

shredded pepper Jack cheese
Instructions
Preheat oven to 450 degrees F

Add the chicken to a saucepan, cover with water and bring to a boil. After it comes to a boil, reduce the heat to medium-low and simmer the chicken about 15 minutes, or until no longer pink on inside.

Remove the chicken to a cutting board and let it cool a bit so you can handle it

2 Skinless chicken breasts

While the chicken is cooking, microwave the squash by placing the halved, seeded squash on a plate flesh-side down and microwaving for 10 minutes (or until flesh is tender).

When the chicken is cool enough to work with, shred the chicken breasts with two forks or your hands and place in a large bowl.

When the squash is cool enough to work with use a fork to scrape the squash from the shells into the bowl with the chicken. Set the intact shells aside.

Add 1 cup enchilada sauce, 1/2 tsp salt and 1 tsp spice mix to the chicken/squash mixture. Mix everything together thoroughly.

1 1/2 cup red enchilada sauce,

1/2 tsp salt,

1 tsp spice mix

Place the shells on a broiler-safe pan and divide the mixture between the shells. Top with the remaining 1/2 cup enchilada sauce and the shredded cheese.

1 cup shredded pepper Jack cheese,

1 1/2 cup red enchilada sauce

Bake on the lower rack for 10 minutes. If a deeper browned cheese crust is desired, move pan to the upper rack and turn the broiler to high for a couple of minutes (watch carefully)

To serve, cut each shell in half (they are filling, 1/4 shell is often enough for 1 serving). I considered this recipe to be 2-4 servings depending on the person.
Notes
The type of protein can be easily switched up. Ground pork sauteed until no longer pink would be a good substitution for chicken.
Hamburger or ground beef would work fine also. Any protein of your choice would work as long as it is shredded or fine enough to mix well with the somewhat delicate strands of squash.
Nutrition
Calories:
284
kcal
Carbohydrates:
25
g
Protein:
22
g
Fat:
11
g
Saturated Fat:
6
g
Polyunsaturated Fat:
1
g
Monounsaturated Fat:
3
g
Trans Fat:
0.01
g
Cholesterol:
61
mg
Sodium:
1347
mg
Potassium:
508
mg
Fiber:
6
g
Sugar:
13
g
Vitamin A:
1145
IU
Vitamin C:
8
mg
Calcium:
289
mg
Iron:
2
mg
Did you make this recipe?
If you tried this recipe, please give it a 5-star rating! To do this, just click on the stars above.
Online Diet/Health Coaching:
Although I am not currently taking clients for diet & health coaching, I have been a coach for many years with the online service called coach.me. It is a great platform for all kinds of coaching – anything from specific diets, writing a blog, getting up early, or getting rid of that pesky procrastination.
There are some wonderful coaches and the testimonials will tell you what you need to know. Contact me at [email protected] to get a referral to some of the tested, experienced online coaches on Coach.me
If you'd like to start with a plan for a low carb or keto lifestyle, check out this detailed guide in ebook form. It may be all you need to lose weight on this lifestyle. Or it may be used as a supplement to one-to-one coaching.