Although spaghetti squash does have some carbs, it is relatively minimal (5 grams per 1/2 cup), and it is oh-so-easy and delicious. Add some rehydrated dried tomatoes, some butter and chicken broth and you've got a great low carb lunch or dinner side dish for Fall and Winter.
Jump to:
RECIPE
Spaghetti Squash vs Pasta for Low Carb
How to Make Spaghetti Squash
More Substitutes for Pasta
This post may contain affiliate links, and you can read our disclosure information here–
Spaghetti Squash as a Substitute for Pasta
Some people say spaghetti squash is a poor substitute for pasta, but it works for me, providing the texture that the slow carb diet is often lacking.
I used to enjoy pasta dishes quite a bit, and made them on a regular basis. After excluding pasta from my diet for years, however, I can't say that I really miss it at all.
What I did miss was using pasta as a vehicle for soaking up great sauces and different flavor profiles. That's where spaghetti squash really comes to the rescue, perfectly soaking up butter, tomato sauces, pesto sauce, vegetables, etc.
Spaghetti squash makes a great bed for a robust tomato sauce in this Italian Putanesca recipe. Or use the squash shells for a tureen type of bowl and fill it with this low carb lasagna or this chicken enchilada.
It is truly a great ingredient that can replace pasta in terms of texture and substance in low carb dishes.
And for those sun-dried tomatoes? Check out this simple process for homemade sun-dried tomatoes.
Is Spaghetti Squash Low Carb?
Although most types of winter squash are considered starchy vegetables (butternut squash, acorn squash, etc.) , spaghetti squash is classified as a non-starchy vegetable.
One-half cup of cooked spaghetti squash has about 20 calories and 5 grams of carbohydrate.
It also provides vitamin C, B vitamins, and fiber. It's extremely low in fat and sodium, and has no cholesterol, but the game changer for me is that it has good flavor, unlike some of the other pasta substitutes.
How to Make Spaghetti Squash
Spaghetti squash is pretty simple to cook and can be ready in 10 minutes.
Some people cook winter squash in an oven to get the full richness of a nutty winter squash. It's not really necessary with spaghetti squash, however, as the taste is so much lighter than most Winter squash.
I usually cook them like this:
Cut them in half lengthwise.
Take a large spoon and scrape out the seeds.
Turn them flesh-side-down onto a plate and microwave for 10 minutes.
Let cool enough to handle them (or use a mitt) and then take a fork and scrape out the strands from the shell. They come out looking like…….well, like spaghetti!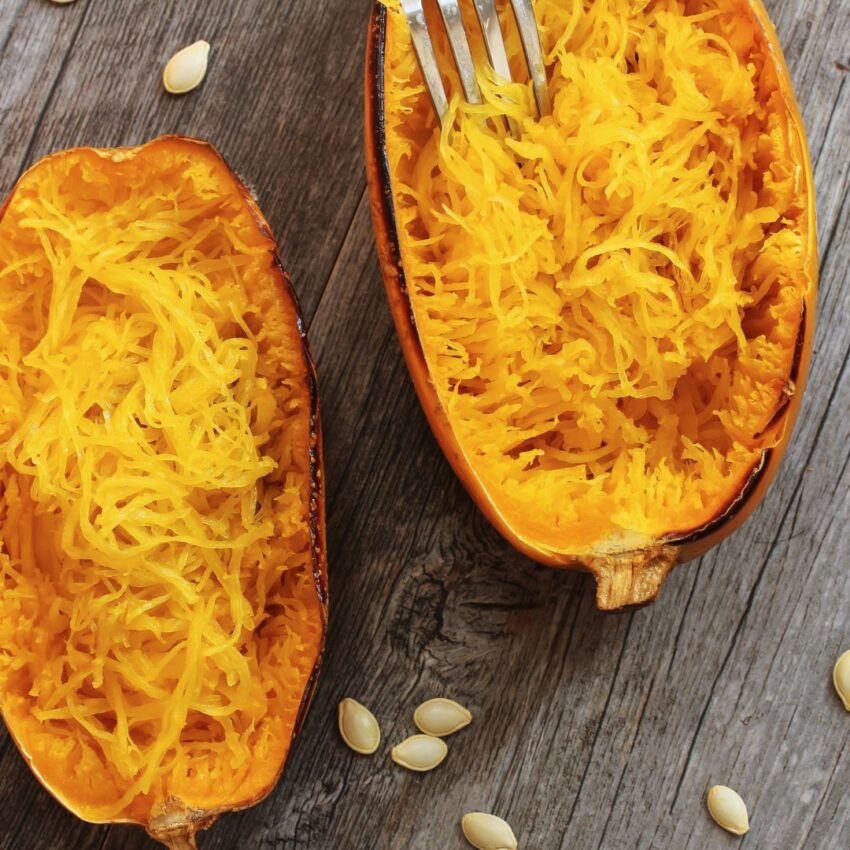 More Low Carb Substitutes for Pasta
There are other popular alternatives to pasta if you are leading a low carb lifestyle. These pasta alternatives work fine for adding texture and nutrients to the dish, but they don't provide the additional flavor that spaghetti squash can lend to a dish (in my opinion).
Here are the most common pasta alternatives promoted for low carb:
Mashed cauliflower
Cauliflower rice
Zucchini noodles
Shiratake rice noodles (sometimes referred to as miracle noodles)
And….if you are a squash lover, but not concerned about being low carb, you are bound to find something you like in this roundup of Winter squash recipes.
If you make and love this recipe, please leave a ★★★★★ review below and any comments others might find helpful. It means a lot to me when you try my recipes, and I'd love to know how it goes.
Recipe for Spaghetti Squash & Sun-Dried Tomato Side Dish
Spaghetti Squash + Dried Tomatoes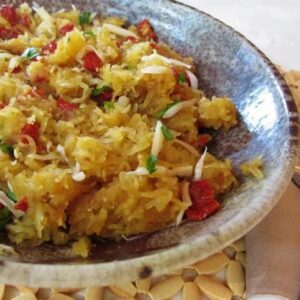 An easy side dish of buttery spaghetti squash with robust sun-dried tomatoes. Adding your favorite protein can turn this into a delicious Fall slow carb dinner.
Ingredients
2

pounds

spaghetti squash

medium size

⅓

cup

sundried tomatoes

rehydrated in warm water and chopped

1-2

tablespoons

olive oil

3-5

cloves

garlic

½ to 1

cup

chicken broth

½

teaspoon

salt

¼

teaspoon

pepper

⅓

cup

grated parmesan cheese

freshly grated if possible
Instructions
With a sharp knife, cut the squash in half lengthwise (be careful not to cut yourself, the shell can be difficult). Scrape out the seeds from both cavities with a spoon.

2 pounds spaghetti squash

The squash can now be either microwaved or baked.

If you are baking it, preheat the oven to 400 degrees F and bake squash halves (flesh side down) 30-45 minutes, or until it is fork-tender.

If you are using the microwave, place both halves cut side down on a plate and microwave in 4 minute increments until a fork slides into the squash easily without pressure.

While the squash is cooking, rehydrate the dried tomatoes in warm water. After 20-30 minutes drain the tomato water and finely chop the rehydrated tomatoes (use the tomato water for a tomato martini!)

1/3 cup sundried tomatoes

Let squash cool. Using a fork or spoon, gently scrape the strands of squash out into a bowl.

In a large skillet, heat the oil over medium heat. Add garlic and saute briefly (about 1 minute). Add spaghetti squash and saute 2-3 minutes, stirring so as not to burn.

3-5 cloves garlic,

1-2 tablespoons olive oil

Add chicken broth, salt and pepper, and chopped sundried tomatoes and simmer until heated through. If it is too thick for your taste, add some more chicken broth. Taste and add more salt if desired.

1/2 to 1 cup chicken broth,

1/2 teaspoon salt,

1/4 teaspoon pepper

Sprinkle grated parmesan on the squash while it is still on the burner and gently simmer until it melts in (2-3 minutes). Cover the skillet to speed the melting process if desired.

1/3 cup grated parmesan cheese

Garnish with thyme or savory herbs.
Notes
Spaghetti squash makes a great bed for a robust tomato sauce in this Italian Putanesca recipe. Or use the shells for a tureen type of bowl and fill it with this low carb lasagna or this chicken enchilada. It is truly a great ingredient that can replace pasta in terms of texture and substance in low carb dishes.
Nutrition
Calories:
168
kcal
Carbohydrates:
24
g
Protein:
5
g
Fat:
7
g
Saturated Fat:
2
g
Polyunsaturated Fat:
1
g
Monounsaturated Fat:
3
g
Cholesterol:
7
mg
Sodium:
489
mg
Potassium:
601
mg
Fiber:
5
g
Sugar:
10
g
Vitamin A:
443
IU
Vitamin C:
9
mg
Calcium:
145
mg
Iron:
2
mg
Did you make this recipe?
If you tried this recipe, please give it a star rating! To do this, just click on the stars above. Comments are always helpful also and I respond to all of them (except rude ones)
Online Diet/Health Coaching:
Although I am not currently taking clients for diet & health coaching, I have been a coach for many years with the online service called coach.me. It is a great platform for all kinds of coaching – anything from specific diets, writing a blog, getting up early, or getting rid of that pesky procrastination.
There are some wonderful coaches and the testimonials will tell you what you need to know. Contact me at [email protected] to get a referral to some of the tested, experienced online coaches on Coach.me
If you'd like to start with a plan for a low carb or keto lifestyle, check out this detailed guide in ebook form. It may be all you need to lose weight on this lifestyle. Or it may be used as a supplement to one-to-one coaching.