While spare ribs themselves are low carb proteins, they are often slathered with a high carb BBQ sauce. One way to avoid the sugary BBQ sauces found in the grocery stores is to make your own. Options could include fruit-based BBQ sauces, or a really low carb vinegar-based sauce (video included).
Are any Store-Bought BBQ Sauces Low Carb
Read the labels of the pre-made BBQ sauces in the store. Most of them are loaded with sugar, whether that sugar is in the form of molasses, honey, demerara, or other forms of sugar.
So does that mean low carbers have to give up the beloved BBQ sauce? Absolutely not, but you might have to make your own.
Tips & Substitutions for Making a Low Carb BBQ Sauce
BBQ sauce in general is pretty simple to make on your own. Basically you toss all the ingredients in a pot and let it simmer, stirring only occasionally.
Alternatively toss all the ingredients in a food processor, pout it over the ribs or whatever protein you're making and let it cook in the oven with the ribs.
The main problem with making your own sauce is that most recipes call for ketchup as the base, and ketchup is full of sugar. To make matters worse many brands go on to add more sugar to the ketchup base.
It's easy however, to get creative with ingredients when you make your own BBQ sauce. The beauty of a BBQ sauce is that it is difficult to ruin it.
To cut the sugar use diced tomatoes or tomato sauce or tomato paste and start adding vinegar and spices.
If you want a smoky sauce add some liquid smoke.
Spice? I like chipotles with their added smokiness, but use cayenne or red pepper flakes for a brighter spice.
If you want a grocery store variety, I did find one brand in our local grocery with only 2 carbs per 2 Tbsp serving. It is called Classic 2 Carb BBQ Sauce by Ken Davis. It is "OK" in a pinch, but it's not nearly as robust and tasty as your own sauce can be.
Adding Berries to Low Carb BBQ Sauces:
Since we grow blueberries at HeathGlen Farm, I have made and sold a blueberry BBQ sauce that was very popular in past years. This year I bought 240 pounds of cranberries from a Wisconsin cranberry farmer that I know from the St. Paul Farmers' market and used some of them in a cranberry BBQ sauce (pictured on the ribs below).
Berries are one of the lower carb fruits that is often allowed on low carb diets, and they can add tremendous flavor to your sauce.
For another low carb recipe using short ribs, check out: Low Carb Mexican Braised Short Ribs
Oven-Baked Spare Ribs with Low Carb BBQ Sauce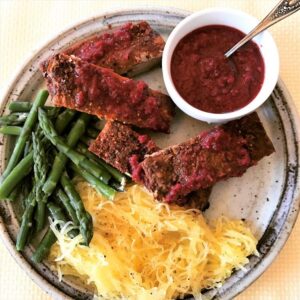 Ingredients
2-3

lbs

pork ribs

spare ribs or country style

¼ – ½

cup

spice rub

I like harissa or jerk rubs, but pick your favorite

14.5

oz

can diced tomatoes

1

medium

onion

chopped

4

cloves

garlic

chopped

2

Tbsp

tomato paste

2

Tbsp

mustard

⅜

cup

apple cider vinegar

2-3

Tbsp

paprika

½ to 1

tsp

cayenne pepper

or any hot pepper spice

2

tsp

salt

1

tsp

black pepper

1

tsp

liquid smoke

1

Tbsp

brown sugar substitute

optional, can use regular brown sugar

optional spices

cinnamon, celery seed
Instructions
Heat oven to 325 degrees

Wash ribs and pat dry. Line a large baking dish or roasting pan with foil for easy clean up. Arrange the ribs in the baking dish and use your hands to coat the ribs with the rub.

Cover the pan with foil and bake for 1 1/2 hours

While the ribs are baking, make the BBQ sauce by adding all remaining ingredients to a food processor and pulsed until ingredients are finely minced.

After ribs have cooked 1 1/2 hours, remove foil and spoon sauce over the baked ribs. Return to the oven, uncovered, and cook for about 15-20 minutes longer
Nutrition
Calories:
501
kcal
Carbohydrates:
12
g
Protein:
27
g
Fat:
38
g
Saturated Fat:
12
g
Cholesterol:
127
mg
Sodium:
1595
mg
Potassium:
817
mg
Fiber:
3
g
Sugar:
5
g
Vitamin A:
2060
IU
Vitamin C:
14
mg
Calcium:
83
mg
Iron:
4
mg
Did you make this recipe?
If you tried this recipe, please give it a 5-star rating! To do this, just click on the stars above.
Online Diet/Health Coaching:
Although I am not currently taking clients for diet & health coaching, I have been a coach for many years with the online service called coach.me. It is a great platform for all kinds of coaching – anything from specific diets, writing a blog, getting up early, or getting rid of that pesky procrastination.
There are some wonderful coaches and the testimonials will tell you what you need to know. Contact me at [email protected] to get a referral to some of the tested, experienced online coaches on Coach.me
If you'd like to start with a plan for a low carb or keto lifestyle, check out this detailed guide in ebook form. It may be all you need to lose weight on this lifestyle. Or it may be used as a supplement to one-to-one coaching.