Braised Beef Short Ribs are such a warming, rich comfort food, as well as being low carb and keto! Add a Mexican flair to them and you have a flavor-intense dinner that will make those cold winter evenings feel like a reward!
Jump to: Recipe | Beef vs Pork Short Ribs | Illustrated Step by Step | Best Sides for Short Ribs | Adding Mexican Flavors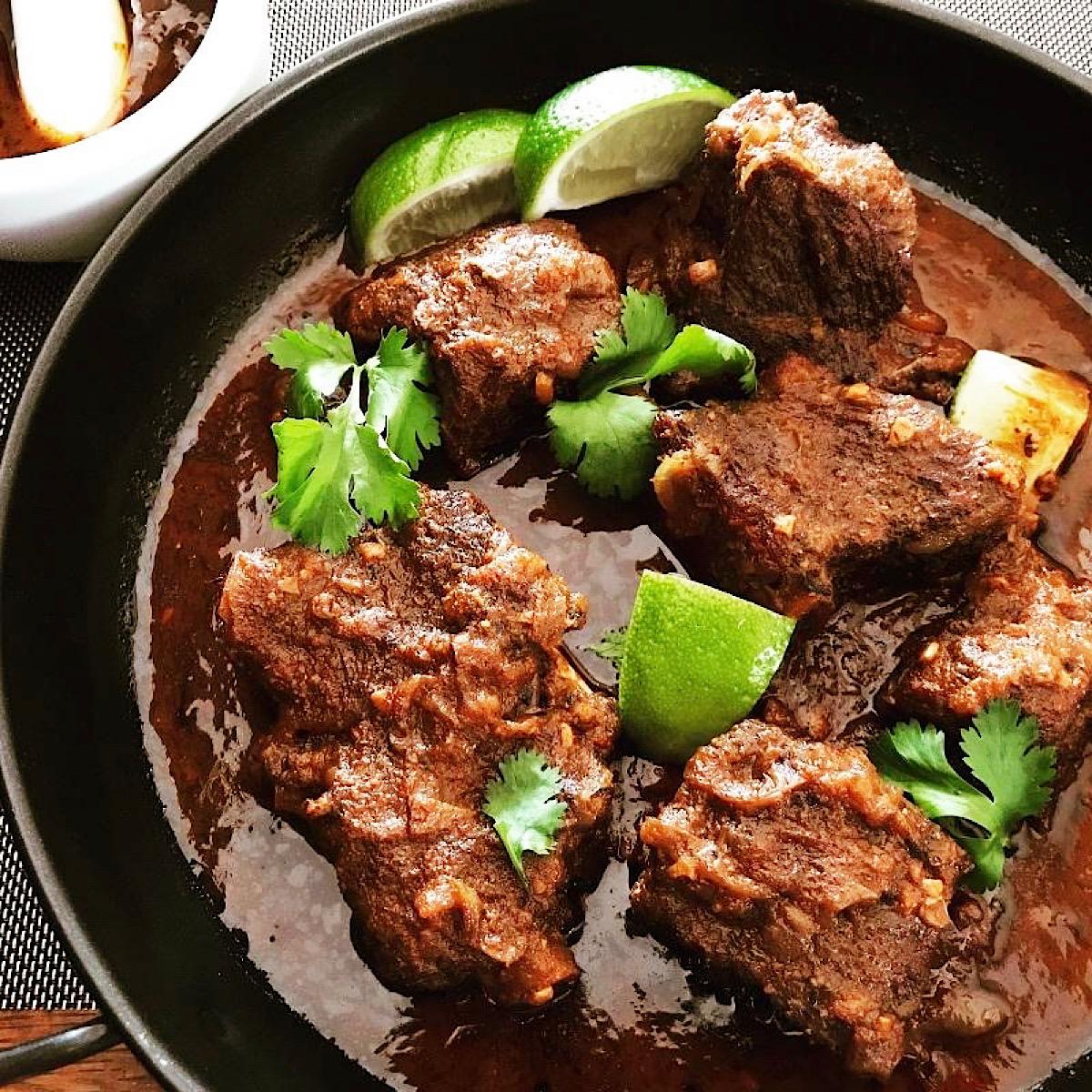 What Type of Meat are Short Ribs?
Beef short ribs are similar to pork "spare ribs", except they are usually larger and meatier; and they come from a cow rather than a pig of course.
The photo above is the dish I made with standard beef short ribs. I have made this dish with the boneless type of beef short ribs also (aka country-style ribs) and it was great both ways.
Beef short ribs are best braised, stewed or slow-cooked in liquid over low heat in order to yield tender meat.
Short ribs are high fat, but then if you are on a keto or low carb diet, that is often desirable. The boneless country style ribs have less fat if that is your preference.
Illustrated Step by Step: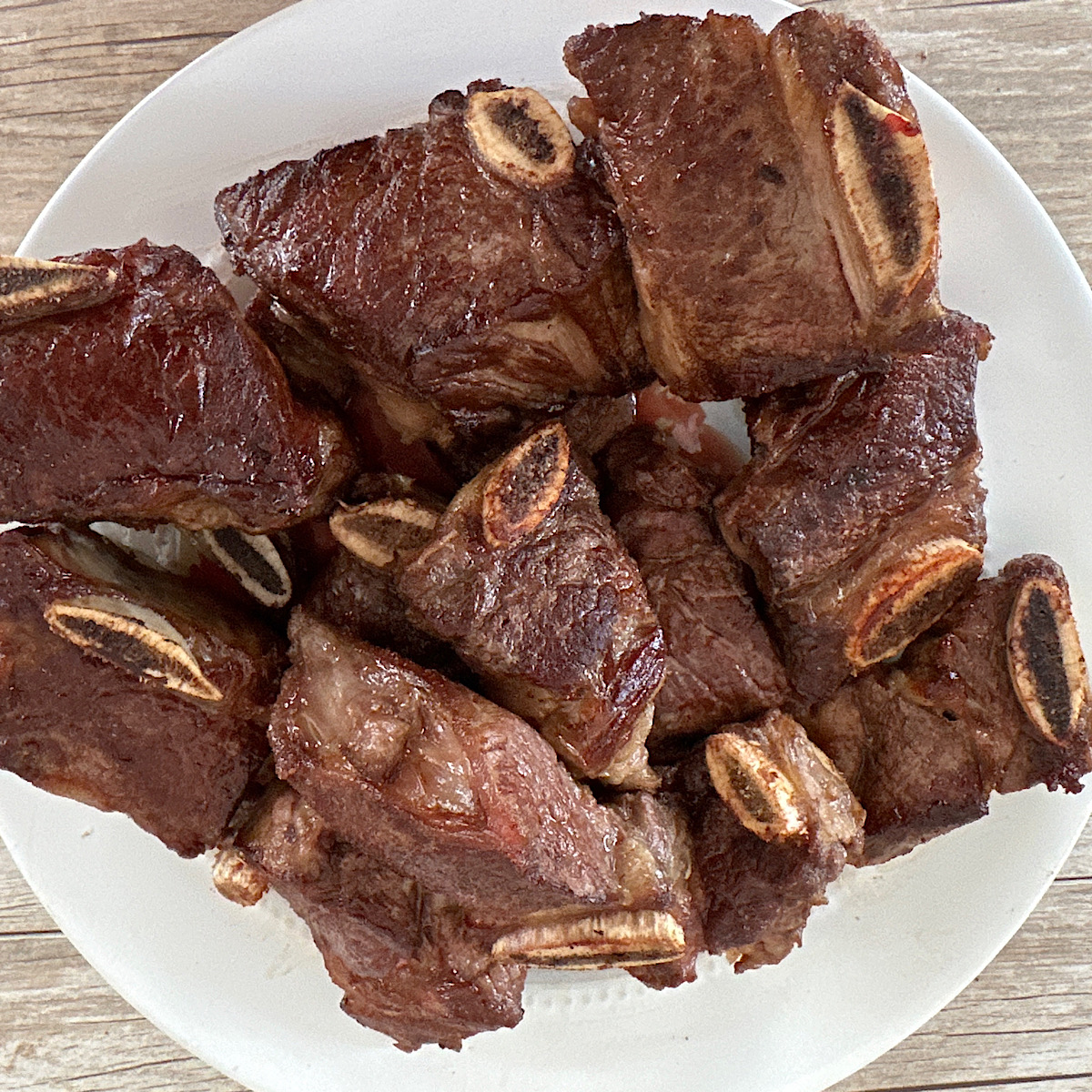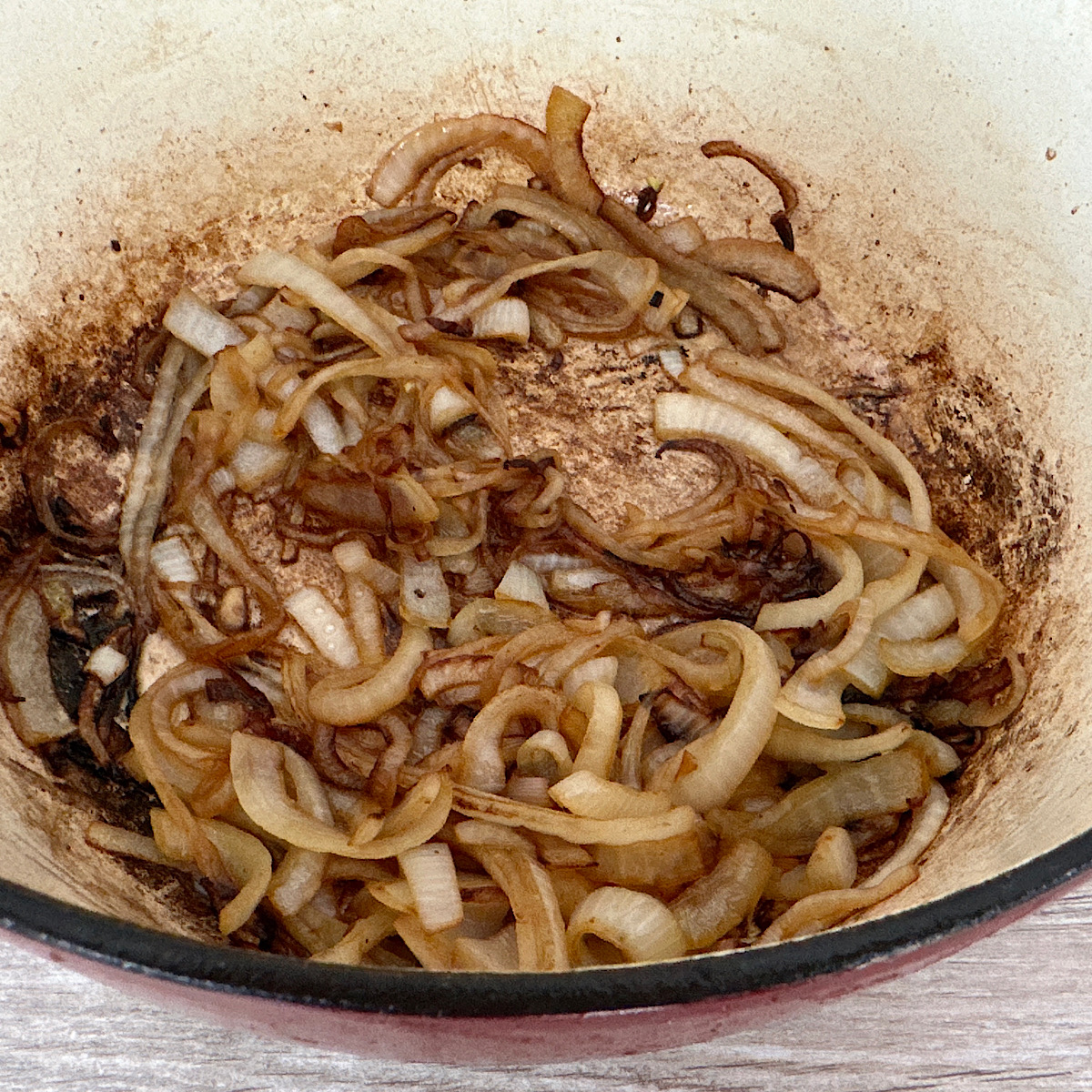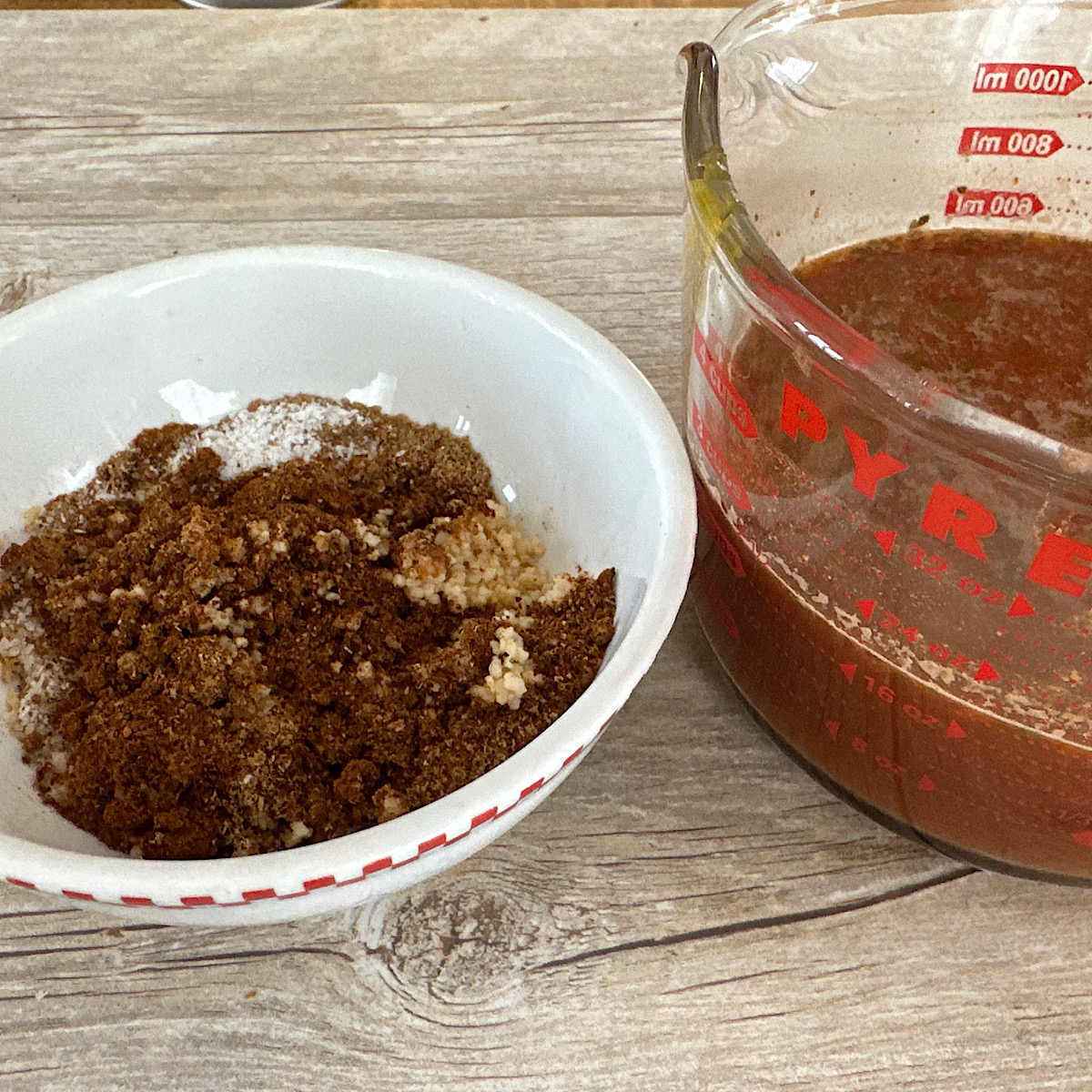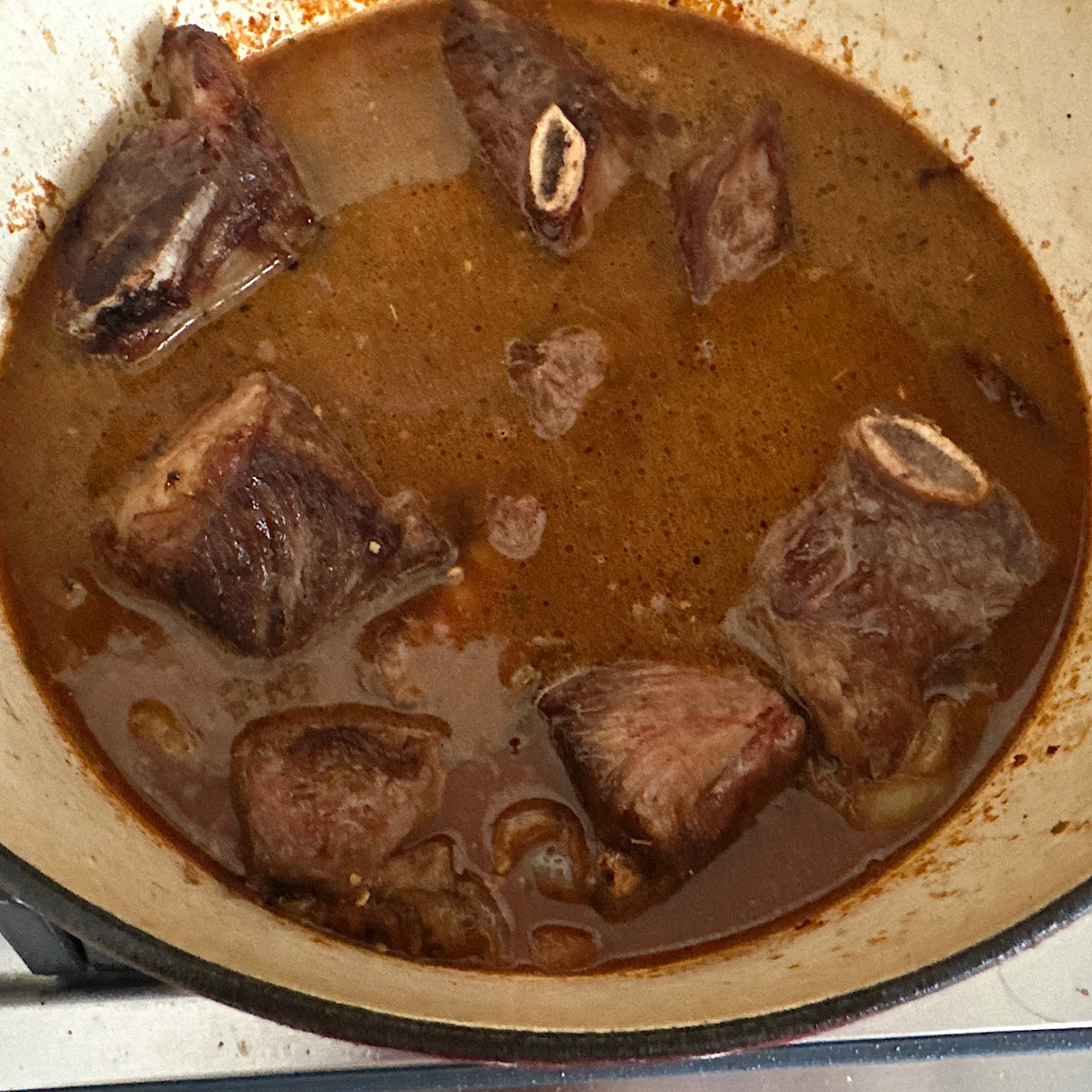 Sides to Pair with Braised Short Ribs
My favorite pairinng with these short ribs is to serve them on a bed of orzo. Alternatively rice, pasta, or smashed potatoes would work. I also like a dollop of sour cream on top, especially if it is too spicy.
All of the various greens make a great vegetable side dish (and they pack the highest nutritional punch with the lowest level of carbs).
Greens would include such veggies as spinach, chard, mustard greens, collard greens, swiss chard, salad greens, etc.) Here is an easy recipe for Korean spinach and a few other great side dishes that you may want to try.
Bok Choy and Asian greens are especially good companion side dishes, as they add a clean, slightly bitter note to go with the rich, fatty short ribs. Here is an easy recipe for bok choy.
Can They be Made in an Instant Pot?
I use my instant pot a lot, and basically anything that takes a long cooking time can be made within a shorter time in a pressure cooker without a loss of flavor. That said, I have not made these short ribs in an Instant pot, so I can't tell you 100% that they would be as robust in flavor.
I'm sure the ribs would be as tender, and I'm guessing the flavor would be as robust. Just make sure you fully braise the ribs first, and then give it a fairly long cook time (I'd start with an hour).
Add a Mexican Flair to Braised Short Ribs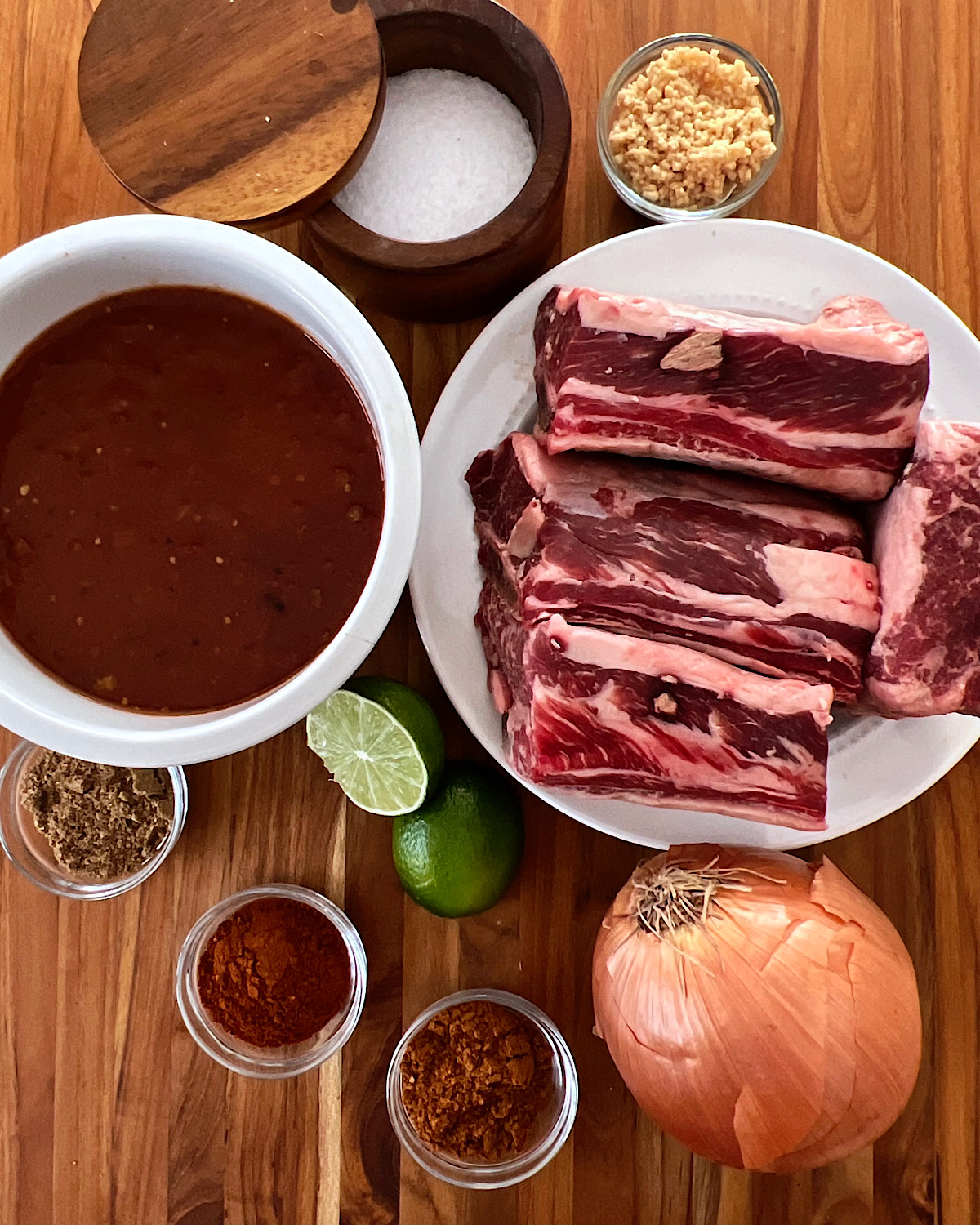 Adding some complex, smoky chile spices to this dish really enhances the depth of flavor and takes it to new heights. I also added enchilada sauce to deglaze the pot rather than beef broth.
Fresh smoked chile spices, as well as the Enchilada blend (DIY blend is in recipe notes), can be purchased from our sister site
This post may contain affiliate links, and you can read our disclosure information here–
Recipe for Mexican Braised Short Ribs:
Mexican Braised Short Ribs
Beef short ribs are seared and then slow cooked with onions and Mexican spices for a warm stew that is an ultimate comfort food.
Ingredients
2

Tbsp

olive oil

3

lbs

beef short ribs

1

large

onion

sliced or chopped

6

cloves

garlic

smashed or minced

2

Tbsp

smoked paprika

1

Tbsp

spicy chipotle

1

Tbsp

ground coriander

1

tsp

salt

2

cups

Chicken broth

3

Tablespoons

Tomato paste

3

Tablespoons

enchilada spice mix

alternatively, use an enchilada sauce and omit the tomato paste OR use DIY blend in Notes section.

4

sprigs

fresh thyme

option: use 1 tsp dried

2-3

cups

water
Instructions
Preheat oven to 350 degrees F. Add 2 Tbsp olive oil to a dutch oven (or ovenproof large pot) and heat over med-high.

Slice ribs into 2-3" chunks. Pat ribs dry with a paper towel and begin adding them to the pot in batches to sear (to brown).

Only add one layer of ribs to the pot at a time so as not to overcrowd the pot. Brown all sides of the ribs until the edges form a golden brown crust. Once browned remove from pot and set aside

Once ribs are removed from pot, add sliced onions and caramelize (add more oil if needed) over med-high heat for about 6 minutes (or until caramelized but not burned).

Add garlic to onions and cook for 30 seconds. Add spices and salt and stir for a minute to toast spices.

6 cloves garlic,

2 Tbsp smoked paprika,

1 Tbsp spicy chipotle,

1 Tbsp ground coriander,

1 tsp salt

Deglaze the pot with the chicken broth (or prepared enchilada sauce), scraping off any brown-bits that hav formed on the bottom of the pot. Stir in tomato paste and enchilada spice blend (see notes for DIY blend)

2 cups Chicken broth,

3 Tablespoons Tomato paste,

3 Tablespoons enchilada spice mix

Add back in the browned ribs to the pot, along with any juices that drained from the ribs. Add the thyme. Also add enough water to almost cover the ribs (about 2 cups)

4 sprigs fresh thyme,

2-3 cups water

Bring everything to a boil, cover, and transfer to the preheated oven. Cook for 2-3 hours. Check occasionally and add more water if ribs are starting to dry out.

Transfer to a serving dish or serve from the pot. Garnish with cilantro and lime wedges if desired. You can make this dish ahead of time and reheat over the stove before serving. The flavors continue to develop in the refrigerator.
Notes
DIY enchilada spice blend (this is the blend from Heathglen – adjust to your own taste):
3 Tablespoons mix of dried and ground chile peppers
1/2 teaspoon cinnamon
1 Tablespoon Mexican oregano
1 Tablespoon cumin
1 Tablespoon annato
3 Tablspoons unsweetened cocoa
1 Tablespoon salt
1 Tablespoon granulated onion powder
1 Tablespoon granulated garlic powder
Nutrition
Calories:
480
kcal
Carbohydrates:
10
g
Protein:
50
g
Fat:
26
g
Saturated Fat:
11
g
Polyunsaturated Fat:
1
g
Monounsaturated Fat:
11
g
Cholesterol:
147
mg
Sodium:
1313
mg
Potassium:
1217
mg
Fiber:
3
g
Sugar:
4
g
Vitamin A:
1956
IU
Vitamin C:
9
mg
Calcium:
71
mg
Iron:
7
mg
Did you make this recipe?
If you tried this recipe, please give it a 5-star rating! To do this, just click on the stars above.
Online Diet/Health Coaching:
Although I am not currently taking clients for diet & health coaching, I have been a coach for many years with the online service called coach.me. It is a great platform for all kinds of coaching – anything from specific diets, writing a blog, getting up early, or getting rid of that pesky procrastination.
There are some wonderful coaches and the testimonials will tell you what you need to know. Contact me at [email protected] to get a referral to some of the tested, experienced online coaches on Coach.me
If you'd like to start with a plan for a low carb or keto lifestyle, check out this detailed guide in ebook form. It may be all you need to lose weight on this lifestyle. Or it may be used as a supplement to one-to-one coaching.