While Shrub syrups (aka fruit vinegars) do have sugar in them, they are much lower in sugar than a simple syrup and you do not need to use very much to get a flavor bomb from them. Typically used as a "drinking vinegar" in cocktails and mocktails, shrub syrups can also be used to top off fresh fruit salads, as a marinade or as a vinegarette for green salads.
Other Uses for Shrub Syrups
Shrub syrups, or drinking vinegars, are most well-known as enhancements to cocktails or mocktails. They do have many other uses however, and one of the easiest is to just drizzle over fresh fruit.
I used an Orange Chipotle Shrub Syrup over strawberries and watermelon (recipe below), but I have also used Blackberry Mint Shrub syrup over blueberries. There are sooo many creative combinations and it's hard to go wrong.
Berries are the one fruit that most low carb and keto diets allow. The fiber to sugar ratio is good and if you keep it to about 1/2 cup, they will not derail your diet.
Strawberry-Melon-Feta Salad
We grow organic strawberries on the farm and the season is so short here in Minnesota that I really rush to get the most out of these jewels. Although watermelon is not available locally yet, it is such a good pairing with strawberries that I had to get some at the grocer.
Please note that watermelon is definitely not low carb and does have a healthy dose of sugar. Just leave out the watermelon if you are making this on a low carb lifestyle. It's still delightful – just not as sweet.
Remember, you don't need to add sugar to the strawberry salad when you use the syrups, and it doesn't take much syrup for a punch of enhanced flavor.
Make your own Low Carb Shrub Syrups (aka Drinking Vinegars)
You can order Orange Chipotle Shrub Syrup (or any other syrups) from our online store.
You can also make your own low carb shrub syrup by juicing some oranges, adding sugar over heat until dissolved, infusing the simple syrup with a cheesecloth bag of dried chipotles for 1 hour or more.
Cool and add apple cider vinegar to taste, realizing that the vinegar will taste fairly harsh at first, until it melds with the simple syrup over time. I usually allow mine to mellow for about a month before using. The proportions of juice to sugar to vinegar are approximately 1/3 of each.
For more detailed information on DIY shrub syrups click here.
Fresh Strawberries with Fruit Vinegars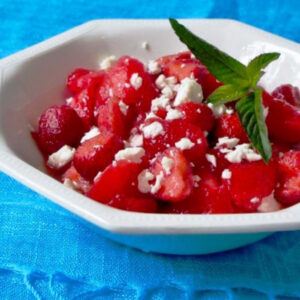 Take an already divine strawberry & feta salad to new heights with a flavored shrub syrup. Ginger Lime Simple Syrup or Blackberry Mint Shrub Syrup are 2 options but many fruit vinegars work wonderfully
Ingredients
6

Ounces

fresh strawberries

halved; I used about a 1/2 pint for 1 salad

1

Cup

watermelon

optional, Scooped into balls if using

1-2

Ounces

Fruit-flavored vinegar

1

Ounce

Feta cheese

1

sprig

fresh mint for garnish

optional
Instructions
Rinse the strawberries, take stems out, and cut in half. Place about 1 cup halved strawberries in small bowl.

If using watermelon, cut the watermelon in half and use a small melon ball scoop (or spoon) to extract 1 to 1 1/2 cups watermelon balls. Add to bowl with strawberries.

Drizzle fruit vinegar over fruit. I used about 1/4 cup, but it all depends on how sweet you want it and how sweet the fruit is to begin with.

Let the fruit sit in the syrup, refrigerated, for 1/2 hour to overnight. When ready to serve, gently stir the fruit salad, add the crumbled feta, garnish with a mint sprig and enjoy.
Nutrition
Calories:
77
kcal
Carbohydrates:
10
g
Protein:
3
g
Fat:
3
g
Saturated Fat:
2
g
Polyunsaturated Fat:
1
g
Monounsaturated Fat:
1
g
Cholesterol:
13
mg
Sodium:
168
mg
Potassium:
155
mg
Fiber:
2
g
Sugar:
7
g
Vitamin A:
70
IU
Vitamin C:
50
mg
Calcium:
91
mg
Iron:
1
mg
Did you make this recipe?
If you tried this recipe, please give it a star rating! To do this, just click on the stars above. Comments are always helpful also and I respond to all of them (except rude ones)
Online Diet/Health Coaching:
Although I am not currently taking clients for diet & health coaching, I have been a coach for many years with the online service called coach.me. It is a great platform for all kinds of coaching – anything from specific diets, writing a blog, getting up early, or getting rid of that pesky procrastination.
There are some wonderful coaches and the testimonials will tell you what you need to know. Contact me at [email protected] to get a referral to some of the tested, experienced online coaches on Coach.me
If you'd like to start with a plan for a low carb or keto lifestyle, check out this detailed guide in ebook form. It may be all you need to lose weight on this lifestyle. Or it may be used as a supplement to one-to-one coaching.