My low carb recipes focus on creating or adapting recipes that meet three criteria: 1) they must pack a lot flavor, the more intense the better; 2) they must be adaptable to a low carb or keto diet; and 3) they must be quick to prepare. These low carb seared scallops and creamed spinach met all of the criteria in spades!
Jump to:
RECIPE
Keys to Perfectly Seared Scallops
Seasoning the Scallops
Restaurant Quality Creamed Spinach
Is Creamed Spinach Low Carb?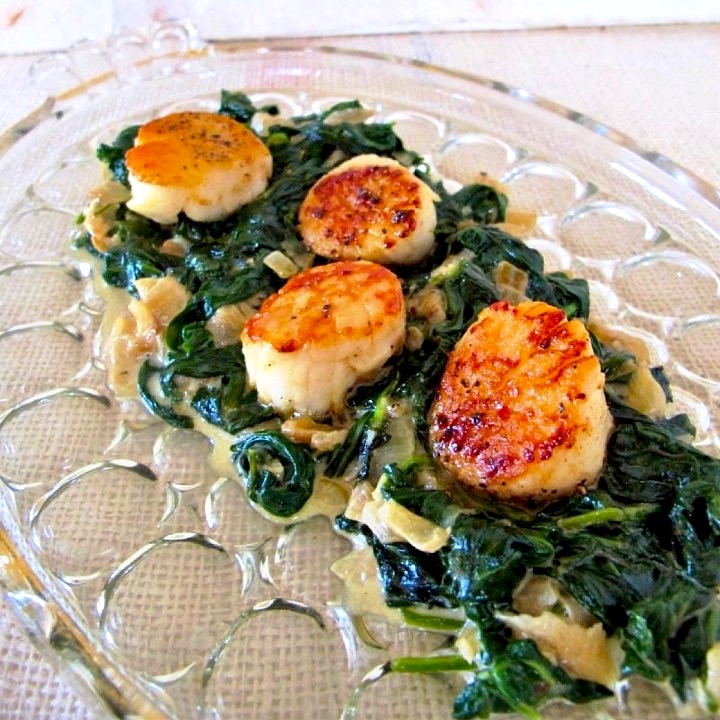 This post may contain affiliate links, and you can read our disclosure information here–
The richness of large buttery scallops with a crisp sear is hard to beat. The perfect side dish is a robust creamed spinach seasoned lightly with caramelized onions, garlic, dry sherry and heavy whipping cream.
Secrets for perfectly seared scallops
There are four tips that will go a long ways to getting seared scallops that can compete with a five-star restaurant:
Get the scallops as dry as possible before seasoning or searing. This is particularly important if you are using frozen scallops. I live in Minnesota and buy my scallops from Costco. They are frozen and when thawed they are quite wet. It is important to dry them thoroughly with paper towels and let them air dry for a bit.
Get the oil smoking hot in the skillet before placing the seasoned scallops in.
Sear the first side 1-2 minutes and don't move them around while they are getting the sear.
Cook them quickly. 1-2 minutes on the first side; flip and cook 1 more minute on the flip side.
Seasoning the Scallops
I love freshly ground fennel (along with salt and pepper) as my seasoning of choice.
If you don't care for fennel, paprika is a nice spice. Just know that Hungarian paprika, Spanish paprika, smoked paprika and hot paprika are all quite different. I like this a mildly spiced smoked paprika.
Whatever spice blend you use make sure and add some salt to bring out the subtle flavors of the spice blend and the seafood.
Is Creamed Spinach Slow Carb?
The cream in the spinach does not follow a slow carb regimen, but it is fine on low carb or ketogenic lifestyles.
Tim Ferriss always tells you to experiment, and adding cream to otherwise slow-carb compliant ingredients is an experiment with dairy that works for many people.
My daughter did her study abroad in Spain, which gave my husband and I a great excuse for an overseas visit. My husband got hooked on creamed spinach dishes while there, so I've been re-creating creamed spinach in a variety of dishes ever since.
A slight variation on this dinner is this Spanish Creamed Spinach and Scallops, which seasons the spinach with smoked paprika and uses no wine or sherry. They are both delicious, creamy and as easy as you can get!
For another scallop dish that is uniquely delicious, check out this Scallops in Grapefruit Butter recipe.
If you make and love this recipe, please leave a ★★★★★ review below and any comments others might find helpful. It means a lot to me when you try my recipes, and I'd love to know how it goes.
Low Carb Seared Scallops with Creamed Spinach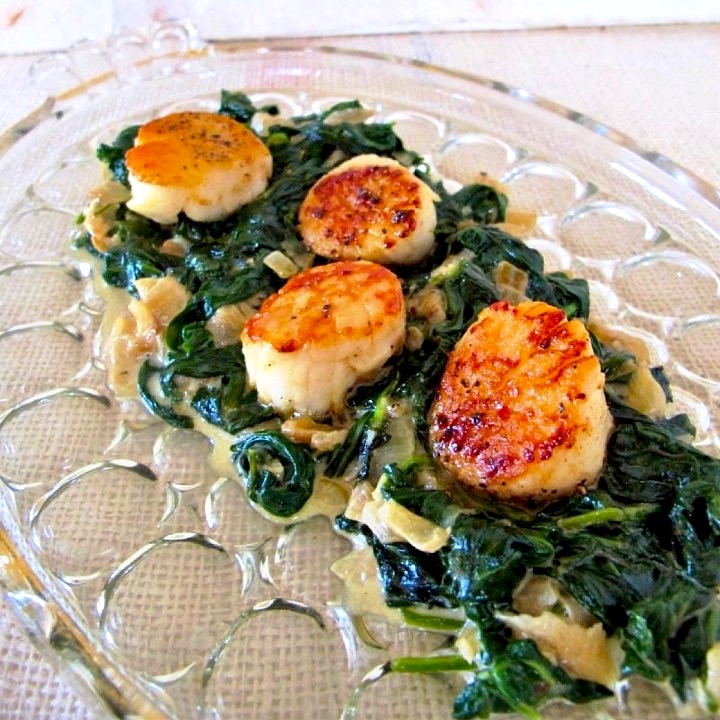 A step-by-step on how to get perfectly seared scallops with a fennel crust and a creamy low carb spinach side dish.
Ingredients
16

large sea scallops

4

tsp

olive oil

divided

3

Tbsp.

butter

unsalted

1

Lg

onion

chopped

3

cloves

garlic

½

cup

dry sherry

Or dry white wine

12

oz.

spinach

Frozen in bag

1

Tsp

salt

¼

tsp

freshly ground black pepper

½

cup

heavy cream

½

Tsp

nutmeg

¼

cup

Grated parmesan cheese

1

tsp

ground fennel

optional: can use smoked paprika
Instructions
Drain the scallops, pat them as dry as you can with paper towels and set them aside to dry out further.

Melt 1 Tbsp butter and 2 Tbsp oil in a large skillet over medium heat. Add the chopped onions to the skillet and saute for about 5 min. Or until light brown and caramelized. Once onions are caramelized, add the minced garlic for about 30 seconds (do not burn)

4 tsp olive oil,

3 Tbsp. butter,

1 Lg onion,

3 cloves garlic

Add wine to deglaze the skillet and cook over med-high for a minute or two to blend. Add the spinach, cream, salt and pepper and nutmeg to the skillet and cook over med-low heat for about 5 minutes or until thoroughly blended. Taste and add more seasoning if needed. Fold in the cheese and remove from heat.

1/2 cup dry sherry,

12 oz. spinach,

1 Tsp salt,

1/4 tsp freshly ground black pepper,

1/2 cup heavy cream,

1/2 Tsp nutmeg,

1/4 cup Grated parmesan cheese

Pat the scallops dry again with paper towels, getting them as dry as you can to take a good sear. Season them with salt and pepper and ground fennel (sometimes I use smoked paprika).

In a clean, large skillet,heat 2 Tbsp of oil over high heat until shimmering hot. Place half of the scallops in the skillet, starting with the 6:00 position and moving clockwise around the skillet. Cook them, undisturbed, until browned on the bottom (resist the temptation to pick them up and look or move them, they will come away from the pan easily once they are seared). Flip them (after about 2-3 minutes and continue to cook about 1 minute longer. Repeat with remaining scallops, adding (and heating)more oil to the skillet before searing if needed.

Serve over the spinach and enjoy.
Nutrition
Calories:
341
kcal
Carbohydrates:
8
g
Protein:
13
g
Fat:
27
g
Sugar:
1
g
Did you make this recipe?
If you tried this recipe, please give it a 5-star rating! To do this, just click on the stars above.