This is a unique and surprisingly delicious flavor profile which combines seared scallops, grapefruit and lots of butter. At first glance it seems an odd combination, but once the surprise hit of the first bite is taken in, every additional bite becomes more and more wonderful. And the next best thing to the flavor of these low carb scallops? It took about 15 minutes start to finish!
Either Weeknight Dinner or an Elegant Guest Meal
This elegant grapefruit-butter sauce is the perfect foil that allows you to transform a seared scallop week-night dinner to a restaurant-style dish that will impress any dinner guest.
First of all, you might want to add a French flair to the name of the dish when letting your guests know the menu. I don't do fancy dinner parties so I just call this dish "Scallops with Grapefruit-Butter sauce".
Elevate the anticipation of your guests a bit by calling it "SEARED SCALLOPS WITH GRAPEFRUIT BEURRE BLANC". A rose by any other name…..
Next is the plating. Here is one example of restaurant-style plating that would be more elegant than my photo above of the weeknight version. You could also make smaller portions for an elegant starter of a first course.
This seared scallop dish is a good party recipe because you don't have to stand at the stove for long to put out a dish that's refined, bright and totally delicious.
What Side Dishes Work with this Dinner?
If you are making this scallop dish as a dinner entree rather than an appetizer, think about something green and vegetal.
A side dish of greens would be particularly relevant if you are on a low carb diet, but it is a good choice for any type of lifestyle.
Here are a few suggestions for winning side dishes to pair with seared scallops and grapefruit butter.
A bed of greens is my favorite side dish, as it is both a tasty and colorful way to serve scallops. Lightly sauté baby spinach, chard, or other greens with some caramelized onions in olive oil, seasoning with just a bit of salt and pepper.
scalloped potatoes
a fruit salsa that would compliment the grapefruit
Fingerling potatoes and snap peas
Wild rice
a colorful tossed salad
Health Considerations of This Recipe
Scallops are considered a great source of magnesium and potassium, which are both important for heart and brain health.
They also promote blood vessel relaxation, help control blood pressure and enable better blood circulation. For anyone on a low carb or keto (or Mediterranean) diet, scallops are a good source of lean protein.
Scallops are also rich in omega-3 fatty acids, vitamin B12, and antioxidants. These nutrients balance cholesterol levels, improve red blood cell counts, and reduce the risk of oxidative stress on the heart.
Now, this recipe involves a lot of butter in the sauce. If you subscribe to the keto diet, that is not a bad thing.
If you are not a fan of fat in the form of butter, then you should go easy on the portion of sauce on your plate, or only make the sauce for special occasions.
Scallops themselves (without the sauce) are a lean protein, containing as little as 1% of healthy fats. Regularly eating scallops reduces fat intake, and increases the protein intake, which can help you feel fuller for longer.
Additions and/or Substitutions
A similar recipe from the Food and Wine site adds bacon to the mix, which sounds delightful to me. If you are Pescatarian and don't eat meat, but you want the salty flavor of bacon as an addition you could add a bit of tomato powder.
We preserve heirloom tomatoes as tomato powder and you can also! Here is a post and video on DIY tomato powder. We sometimes refer to it as "bacon powder".
How to Get the Perfect Sear on Scallops
There are three tricks to perfectly seared scallops:
A screaming-hot pan before putting the scallops in;
Make sure the scallops are completely dry before putting them into the pan. You can either purchase scallops that are "dry," or unprocessed, or thaw out frozen scallops and pat dry frequently with a paper towel. Processed scallops are soaked in a solution that makes them retain water, which is released when they're seared, making it harder to brown the scallops. Any extra liquid will affect the way the scallop cooks, making them tough and pale rather than tender and soft.
Take care not to overcook scallops. When overcooked, scallops become tough, rubbery, and chewy. It takes only a few minutes to sear scallops, cooking them to perfection with a golden brown crust.
More Delicious Low Carb Scallop Recipes:
Creamed Spinach and Fennel-Seared Scallops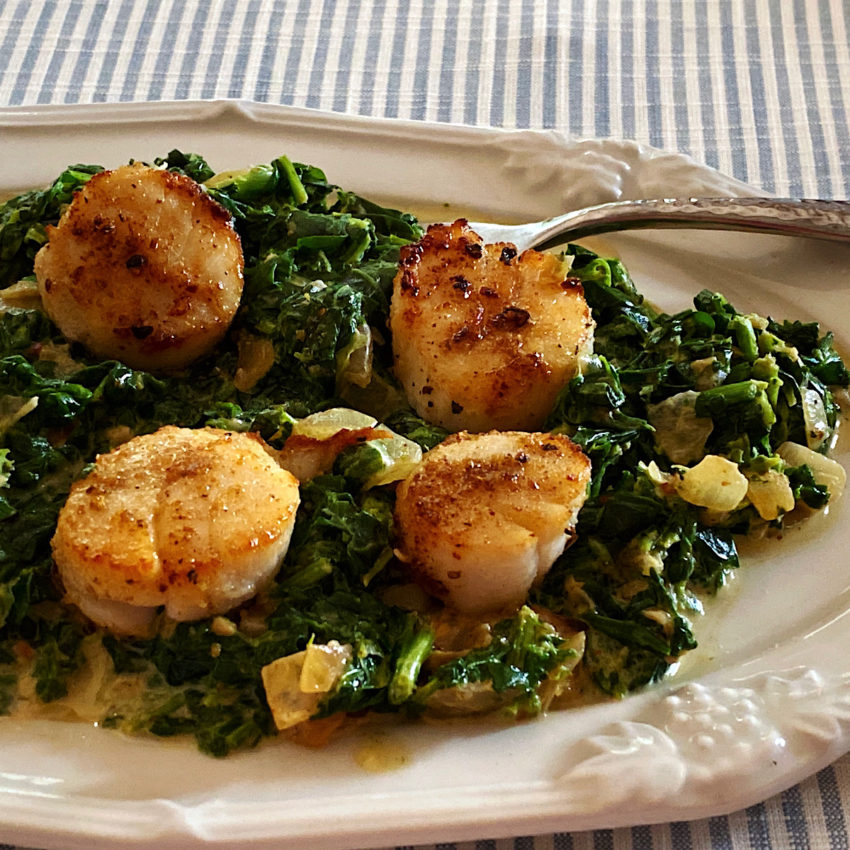 Grilled Scallops with Tomato Jam over Polenta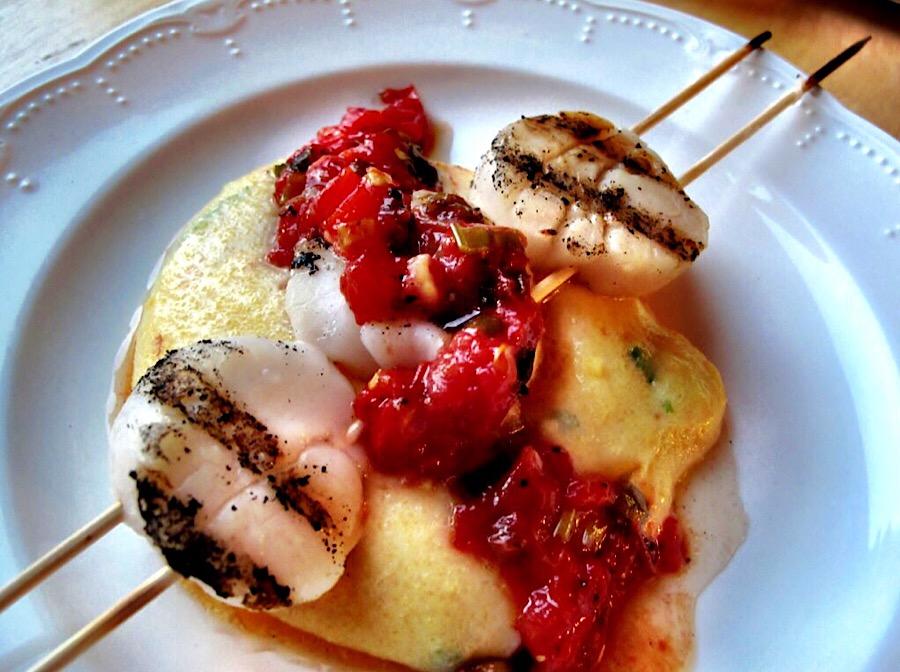 Low Carb Mexican Scallop Ceviche
Low Carb Seared Scallops in Grapefruit Butter
A step by step recipe on getting the perfectly seared scallop dish with a unique flavor profile of a grapefruit butter sauce. Perfect for weeknight cooking or elegant dinner parties
Ingredients
12

large sea scallops

I used frozen Kirkland raw sea scallops

¼

cup

finely chopped onion

Shallots work for a milder taste

¼

cup

champagne vinegar

white wine vinegar can be substituted

¼

cup

grapefruit juice

freshly squeezed (juice from about 1/2 grapefruit)

10

Tbsp

unsalted butter

cut into cubes

2 ½

tsp

kosher salt

1

Tbsp

unsalted butter

grapefruit segments

from 1/2 of a large grapefruit
Instructions
Thaw frozen scallops by placing in the refrigerator for several hours. Remove the scallops from the refrigerator about 20 minutes before cooking, drain them and set them on paper towels to start drying. Keep patting them dry with clean paper towels as you're making the sauce. They need to be as dry as possible when you place them in the pan.

Make the sauce. In a small saucepan combine the chopped onion, vinegar and grapefruit juice and quickly bring to a boil. Lower the heat to simmer and simmer until the mixture is half as much as when you started (i.e., reduce the mixture by half). This takes about 6-7 minutes over low heat. Remove pan from heat and whisk in the butter cubes. Keep warm.

Heat a large dry skillet over medium-high heat until it is really, really hot (may take 5 -10 minutes depending on your skillet and burner). Keep dabbing the scallops dry with paper towels. Sprinkle salt and pepper on one side of scallops after they are as dry as you can get them. When skillet is hot, melt one tablespoon of butter in it (butter will brown right away), and then add the scallops, salt side down in the skillet, and sear for 1 minute. Salt and pepper the top side of scallops while they are searing, turn them over gently with tongs, and sear the other side one minute. Do not overcook or they will be rubbery.

To serve, spread a spoonful of the butter sauce across the bottom of a plate, place the scallops on top of the sauce and garnish with the grapefruit segments. Serve with a side dish of greens.
Nutrition
Calories:
150
kcal
Carbohydrates:
4.5
g
Protein:
26
g
Fat:
1
g
Cholesterol:
51
mg
Sodium:
240
mg
Potassium:
514
mg
Sugar:
4.2
g
Calcium:
39
mg
Iron:
1
mg
Did you make this recipe?
If you tried this recipe, please give it a star rating! To do this, just click on the stars above. Comments are always helpful also and I respond to all of them (except rude ones)
Done! Delish! You're a top chef! Here's a few more easy meals using seared scallops as the star:
Online Diet/Health Coaching:
Although I am not currently taking clients for diet & health coaching, I have been a coach for many years with the online service called coach.me. It is a great platform for all kinds of coaching – anything from specific diets, writing a blog, getting up early, or getting rid of that pesky procrastination.
There are some wonderful coaches and the testimonials will tell you what you need to know. Contact me at [email protected] to get a referral to some of the tested, experienced online coaches on Coach.me
If you'd like to start with a plan for a low carb or keto lifestyle, check out this detailed guide in ebook form. It may be all you need to lose weight on this lifestyle. Or it may be used as a supplement to one-to-one coaching.