A fresh, citrusy Scallop Ceviche is just the thing to liven up your spirits while waiting for the first daffodils of Spring. I recently tried this Scallop Ceviche as an appetizer, although I also found it made a great foil for a burger topping. I've heard of using ceviche as a pizza topping, but alas, pizza is one of those by-gone things at our low-carb household.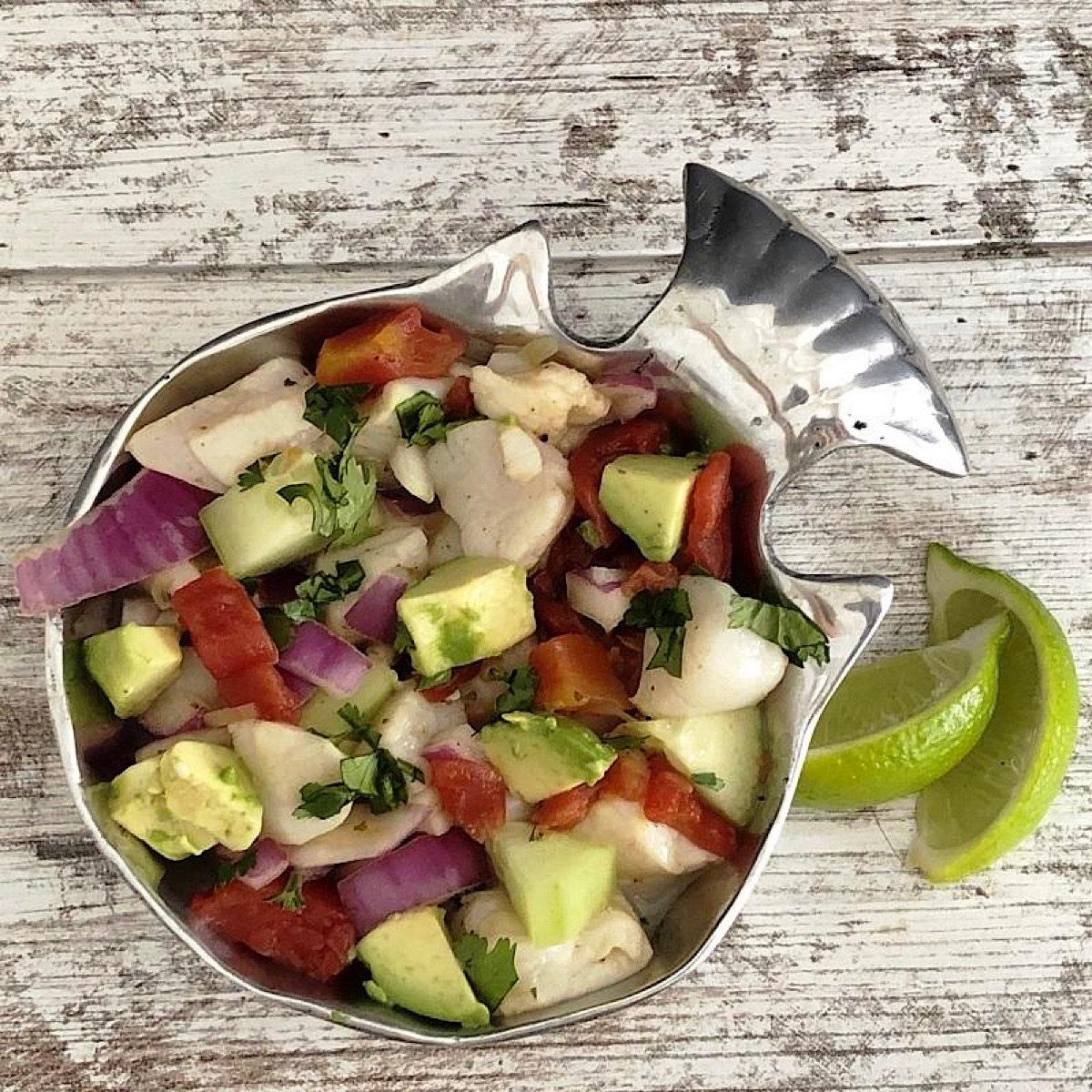 Jump to Recipe
What Type of Fish is Best for Ceviche?
Actually, any white fish—either fresh or saltwater—can be used. Traditionally, Mexican ceviches use "fatty" seafood, such as mackerel and pompano. Some cooks, though, like the more delicate sole, while others go for shrimp. I had the Scallop Ceviche once at a restaurant and decided that scallops were going to be my go-to fish for this dish.
No matter what kind of fish you choose, the key to a great ceviche is fresh fish. Since I live in land-locked Minnesota, I opted for fresh-frozen, and I was plenty happy with the results.
How long to "cook" Scallop Ceviche?
Ceviche is made by marinating pieces of fish in citrus juice. Essentially, the acid from the juice denatures the proteins just as heat might, giving the seafood a cooked texture and taste—but without any grilling, sautéing or other cooking. Read that as "quick and easy"
There are no set rules about how long ceviche should marinate in citrus before being served. Some chefs will serve their ceviche immediately after adding the acid, which gives it a more raw texture and taste. Some people will let it marinate for six hours or more.
Ceviche can get mushy if you leave it marinating for too long, but I have to say that I made a big bowl, and have been nibbling at it for 2 days without the scallops getting mushy.
Freshness is the main point of ceviche however, so usually the recommendation is between 20-40 minutes for "cooking", with anything longer than five or six hours as probably too long for ultimate freshness.
And by the way, after the dish has marinated, you may either keep or drain off the liquid, depending on whether you prefer "wet" or "dry" ceviche.
Mexican Scallop Ceviche
Ingredients
1 ½

lb

scallops

bay scallops or large scallops cut into thirds

2

medium

oranges

juiced

4

medium

limes

juiced

1

cup

red onion

chopped

2

tsp

Chile spice

Mild, medium or hot spice works but stay away from the smoked spices

1

14 oz

can diced tomatoes

use fresh if available

1

med

cucumber

peeled and coarsly chopped

1

med

jalapeno

optional (minced)

½

cup

cilantro

minced

1

med

avocado

peeled and chopped (save doing this until serving time)
Instructions
In a large bowl, combine everything except the avocado and cilantro. Mix together gently

Refrigerate 20 minutes to 2 hours for freshest taste. Can refrigerate overnight but best served within a couple of hours.

Before serving, peel and chop the avocado and mince the cilantro. Gently stir into the bowl of ceviche.
Nutrition
Calories:
127
kcal
Carbohydrates:
16
g
Protein:
14
g
Sugar:
6
g
Did you make this recipe?
If you tried this recipe, please give it a 5-star rating! To do this, just click on the stars above.
For more information on low carb lifestyles:
For a list of allowed foods and tips for low carb and keto diets, click here.
If you are experimenting with the nuances of the various low carb diets and want more information on how they differ, click here.
And finally, if you have met your fat loss goals and are curious about some maintenance strategies, click here.
Online Coaching:
Although I am not currently taking clients for diet & health coaching, I have been a coach for many years with the online service called coach.me. It is a great platform for all kinds of coaching – anything from specific diets, writing a blog, getting up early, or getting rid of that pesky procrastination. Explore the site through the link below. There are some wonderful coaches and the testimonials will tell you what you need to know. You can always contact me to get referrals also. Click here to get to my profile and then explore others from there.