This Low Carb Mexican Meatball Soup uses pre-made pork meatballs with a parmesan filling rather than using refined carbs as a binding agent. Add a hearty and spicy broth with a generous amount of vegetables and you have what is referred to as a Sopa de Albóndigas, or Mexican Meatball Soup.
Jump to Recipe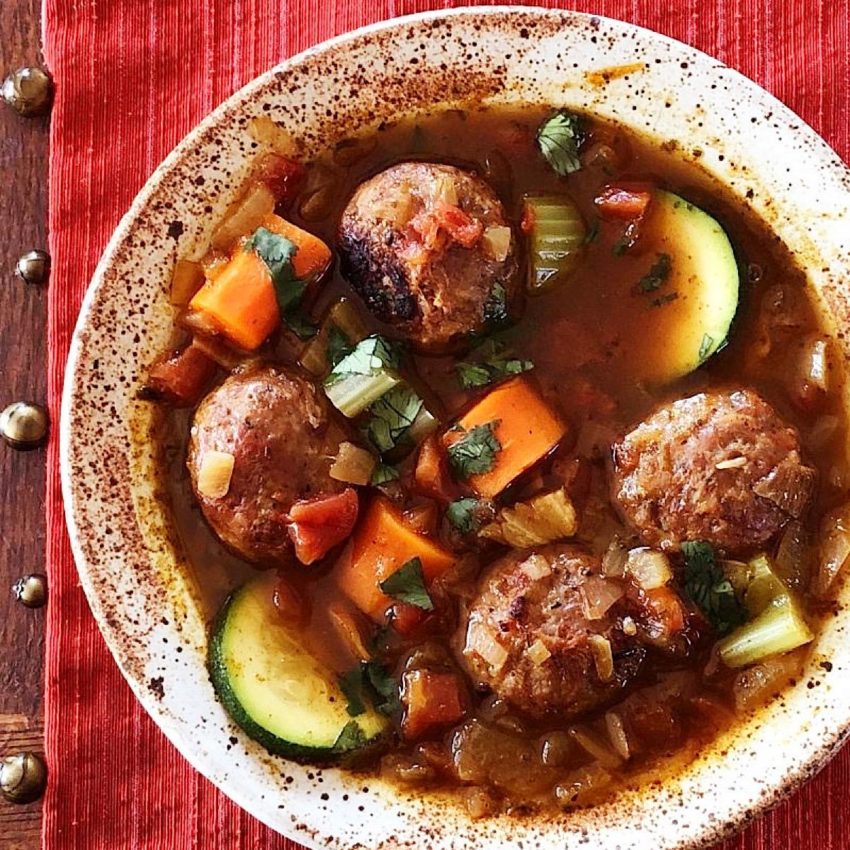 This post may contain affiliate links, and you can read our disclosure information here–
What are Albondigas?
Albondigas is the Spanish word for meatballs, often translated as "small meatballs". The type of meatballs traditionally found in albondigas soup are made with ground beef, using uncooked rice as a binding agent.
In Spain, Albondigas are often served as tapas and made with a mix of veal and pork. When served as a soup they are poached in a variety of broth bases, from tomato and garlic to almond.
In Mexican cuisine however the meatball is typically pork or a combination of beef and pork, mixed with eggs and served in a smoky chipotle sauce.
Substitutions for the High Carb Ingredients
Because the recipe below is for a "low carb" Mexican meatball soup, using rice as a binder is out. In the recipe below I opted for pre-made low carb pork meatballs (our local grocery store carries the brand Carando), which uses parmesan cheese as the binder.
f you prefer to make your own meatballs however, these Greek meatballs or these Vietnamese meatballs both use a basic low carb recipe from scratch. Just change the spice profile and you will have Mexican low carb meatballs.
There is also plenty of flexibility on which vegetables you can use. Most classic Mexican meatball soups will have onions, tomatoes, carrots and zucchini in the broth, but any vegetables that you have dying a slow death in the refrigerator can be added or substituted.
Is Albondigas Spicy?
This particular recipe is designed to be "medium" in terms of spice level. You can easily change the heat level by selecting the chile spice you use.
You can find a full range of chile spices and blends for purchase on our sister site, from mild to smoky, to blistering hot. Just make sure you get the freshest spices you can find, as it makes a huge difference.
Albondigas in the Crockpot!
Mexican Meatball soup is also a great candidate for the slow cooker. Simply add the prepared meatballs (uncooked) and the rest of the soup ingredients to the crock pot, then cook on low for 4-6 hours.
Albondigas is a healthy warm soup which is especially good on chilly winter days. It is not as rich and heavy as many winter soups made with a cream base tend to be. It is however, filling and delicious!
Using Pre-made Low Carb Meatballs
Here is what the low carb meatballs in our grocery store look like (they are pork and parmesan cheese as a binder).
Popular Low Carb Meatball Recipes:
Greek Meatballs in Lemon-Thyme Soup
Vietnamese Meatballs in Coconut-ginger broth
Low Carb Spaghetti & Meatballs
Low Carb Homemade Tomato Sauce with Heirloom Tomatoes
How to Include the Slow Carb Diet in Your Lifestyle
For a list of allowed foods and tips for slow carb, low carb and keto diets, click here.
I do offer guides if you are experimenting with the nuances of the various low carb diets and want more information on how they differ,
And finally, if you have met your fat loss goals I share information on maintenance strategies.
Low Carb Mexican Meatball Soup – Albondigas
This sauce is rich and robust with a blend of Mexican spices, fresh vegetables and premade meatballs. The meatballs are pork and parmesan pre-made meatballs to save on time, but you can certainly make your own.
Ingredients
1

lb

Italian Style Meatballs (Carando is one brand)

read label to make sure it is low carb

2

Tbsp

olive oil

1

med.

onion

chopped

2-3

whole

carrots

coarsely chopped or sliced

2-3

cloves

garlic

smashed or minced

4

cups

chicken broth

1

cup

water

1

14 oz can

diced tomatoes

1

tsp

smoked paprika

½

tsp

chipotle spice

1

tsp

mexican oregano

½

tsp

ground cumin

½

tsp

salt

¼

tsp

ground black pepper

1

med

zucchini

sliced into 1″ rounds

½

cup

cilantro

for garnish

1

whole

avocado

optional garnish
Instructions
Heat oven to 375 degrees F. Place meatballs on aluminum foil-lined baking sheet. Bake 10 min. Gently turn over meatballs and bake an additional 5-10 min. Remove from oven and turn oven off.

1 lb Italian Style Meatballs (Carando is one brand)

While meatballs are cooking, heat olive oil on stovetop in a large pot or dutch oven, and then saute onions in the oil until caramelized (about 5-7 min.) Add carrots and saute another 5 minutes. Add garlic and saute 30 seconds.

2 Tbsp olive oil,

1 med. onion,

2-3 whole carrots,

2-3 cloves garlic

Add chicken broth, water, tomatoes and seasonings to the pot of vegetables. Bring to a boil. Lower heat and cover the pot and simmer on low for 20 min.

4 cups chicken broth,

1 cup water,

1 14 oz can diced tomatoes,

1 tsp smoked paprika,

1/2 tsp chipotle spice,

1 tsp mexican oregano,

1/2 tsp ground cumin,

1/2 tsp salt,

1/4 tsp ground black pepper

Add meatballs to the pot and cook about 10 min. Add zucchini to pot and cook another 10 minutes

Taste and adjust salt and pepper to taste. Garnish with cilantro and avocados

1 whole avocado,

1/2 cup cilantro
Nutrition
Calories:
76
kcal
Carbohydrates:
3
g
Protein:
1
g
Fat:
7
g
Saturated Fat:
1
g
Polyunsaturated Fat:
1
g
Monounsaturated Fat:
5
g
Sodium:
312
mg
Potassium:
166
mg
Fiber:
1
g
Sugar:
1
g
Vitamin A:
567
IU
Vitamin C:
10
mg
Calcium:
25
mg
Iron:
1
mg
Did you make this recipe?
If you tried this recipe, please give it a star rating! To do this, just click on the stars above. Comments are always helpful also and I respond to all of them (except rude ones)
Online Diet/Health Coaching:
Although I am not currently taking clients for diet & health coaching, I have been a coach for many years with the online service called coach.me. It is a great platform for all kinds of coaching – anything from specific diets, writing a blog, getting up early, or getting rid of that pesky procrastination.
There are some wonderful coaches and the testimonials will tell you what you need to know. Contact me at [email protected] to get a referral to some of the tested, experienced online coaches on Coach.me
If you'd like to start with a plan for a low carb or keto lifestyle, check out this detailed guide in ebook form. It may be all you need to lose weight on this lifestyle. Or it may be used as a supplement to one-to-one coaching.