Like many good things, tomato season is fleeting. Because tomatoes have been hybridized to have thick skins so that they ship well, it is difficult to find thin-skinned heirloom tomatoes in Winter at the grocery store. Take advantage of the end of season tomatoes at the farmers' markets (or your garden) and make up big batches of tomato sauce while the available tomatoes still have flavor. And get raves when you add a little sumac as your "secret ingredient"
Jump to:
RECIPE |
What is Sumac?
More Preserving Methods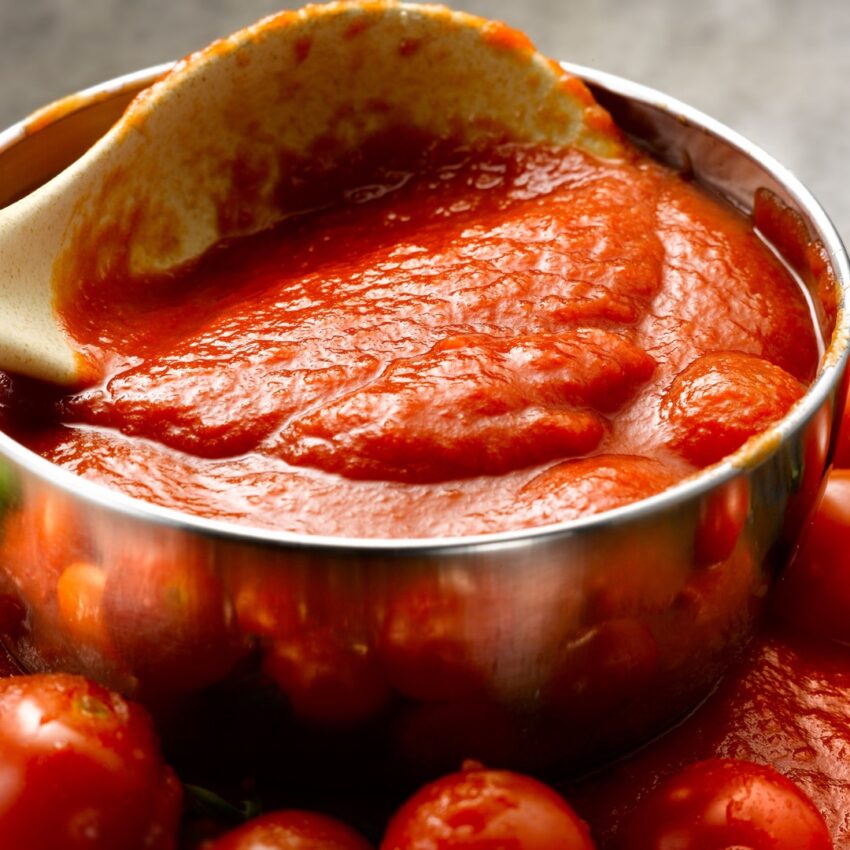 Turning Low Carb Meals into "Comfort Food"
Often people think that diet food, or low carb food, is comprised of salad, vegetables and lean meat. Actually low carb meals can be full of flavor and can be very satiating.
Sauces and spices play a huge roll in making low carb dishes feel like "comfort food"
Fresh, robust tomato sauce is certainly one of those sauces that can make a low carb dinner a welcome meal for the whole family, no matter what kind of food preferences or diet they may have. Particularly in the depths of Winter.
Another low carb, quick and easy recipe that allows tomatoes to shine is this 30-minute spicy tomato soup. For those on a gluten free diet, this soup will satisfy your tomato cravings.
The Secret Ingredient of this Freezer Tomato Sauce
Sumac! Sumac is a spice that is relatively new to the American palate. It was noted by several chefs that I follow that it was a good complement to tomatoes, so I thought I'd give it a try. They were right.
It gives a slight tweek to an already great tomato sauce and makes people ask…"What is that thing I taste in the background?"
Add this freezer basil pesto to your meal and you're golden.
More (much more) on Heirloom Tomatoes:
Check out this category on heirloom tomatoes for a wide range of posts on how to grow, select and cook with heirloom tomatoes.
Or get some tips from the post links below on how to preserve your end-of-summer herbs and vegetables.
Beyond Freezing: 10 Methods for Preserving Summer's Produce
This post may contain affiliate links, and you can read our disclosure information here–
Recipe for Mediterranean Freezer Tomato Sauce
Low Carb Freezer Tomato Sauce
This is a classic tomato sauce using fresh tomatoes and enhanced with a bit of sumac seasoning.
Ingredients
7

lbs

fresh tomatoes

1

large

onion

2-4

cloves

garlic

2

Tbsp

olive oil

1

bunch

fresh basil

3

sprigs

fresh thyme

1

tsp

spicy chile pepper

1

tsp

salt

2

tsp

sumac
Instructions
Coarsely chop tomatoes, onion and garlic

7 lbs fresh tomatoes,

1 large onion,

2-4 cloves garlic

Add olive oil to dutch oven or large pot and heat up over medium heat. Add onions and saute about 5 minutes or until caramelized. Add garlic for last 30 seconds

Add tomatoes, herbs and spices and bring to a simmer over medium high heat. Lower heat and simmer for about 1 hour

1 bunch fresh basil,

3 sprigs fresh thyme,

1 tsp spicy chile pepper,

1 tsp salt,

2 tsp sumac

Optional: Cool slightly and add a cup of the sauce to the food mill situated over a bowl. Turn the food mill to grind the tomato peels, seeds and pulp, releasing the sauce to the bowl below the food mill.

If you want to leave the sauce more rustic, you don't have to run it through the food mill. The tomato peels are the main problem, as they can put people off the texture.

You could just pull the peels out with tongs as it is cooling. Alternatively you can peel the tomatoes ahead of time, but you will lose some of the intensity of flavor.

Pour the bowl of tomato sauce into ziplock freezer bags (carefully), label with date and place in the freezer
Video
Low Carb & Keto Freezer Tomato Sauce with Fresh Tomatoes
Nutrition
Calories:
112
kcal
Carbohydrates:
18
g
Protein:
4
g
Fat:
4
g
Sodium:
312
mg
Potassium:
968
mg
Fiber:
5
g
Sugar:
11
g
Calcium:
49
mg
Did you make this recipe?
If you tried this recipe, please give it a star rating! To do this, just click on the stars above. Comments are always helpful also and I respond to all of them (except rude ones)
Online Diet/Health Coaching:
Although I am not currently taking clients for diet & health coaching, I have been a coach for many years with the online service called coach.me. It is a great platform for all kinds of coaching – anything from specific diets, writing a blog, getting up early, or getting rid of that pesky procrastination.
There are some wonderful coaches and the testimonials will tell you what you need to know. Contact me at [email protected] to get a referral to some of the tested, experienced online coaches on Coach.me
If you'd like to start with a plan for a low carb or keto lifestyle, check out this detailed guide in ebook form. It may be all you need to lose weight on this lifestyle. Or it may be used as a supplement to one-to-one coaching.