Have you ever been served a spicy chili oil with tasty and addictively crunchy bits at a Mexican restaurant or bar? This Mexican chili oil is called salsa macha, and it's actually a breeze to make. Use it on everything from tacos to rice to pizza!
Jump to:
Recipe
What Is Salsa Macha?
Ingredients & Substitutions
Serving Suggestions
Shelf Life
This post may contain affiliate links, and you can read our disclosure information here–
What is Salsa Macha (Mexican Chili Oil)?
Ever had the feeling your tacos, chorizo scrambled eggs or quesadillas were missing a bit of… something? Crisp, depth, smokiness, heat? That's probably because you didn't top them with salsa macha!
Likely originating in the province of Veracruz, salsa macha is the Mexican answer to Chinese chili crisp. The word "macha" stems from the verb "machacar", which means crushing or pounding – a reference to the fact that this salsa was originally prepared in a molcajete, a traditional basalt stone mortar and pestle.
Nowadays, most folks use a blender to prepare this Mexican chili oil. Dried chili peppers and garlic are fried in oil to crisp them up and then combined with nuts and some vinegar to make a spicy oil with delightfully crispy bits.
Perfect to top pretty much everything you can think of. I even sneak a bit straight from the jar sometimes!
Salsa macha has definitely been discovered here in the US, which is good news for us, as it's becoming more easy to find. Your local Mexican grocery store might carry a few versions, although my personal favorites are the salsa macha varieties from the Masienda store:
This being said, salsa macha is also very easy to make at home. Because it's oil-based, you can prepare big batches and store them for up to a month to use whenever you want to add a bit of "zing" to both Mexican and international dishes.
Mexican Chili Oil vs Chili Crisp
As I mentioned, Mexican salsa macha is quite similar to chili crisp, a condiment popular throughout much of China.
You may have tried the popular Lao Gan Ma chili crisp, which became a trending topic during the pandemic for use on anything from avocado toast to ice cream (yes, really, ice cream).
The base for salsa macha and chili crisp is the same: dried chili peppers and oil. Both also contain fried garlic and may have sesame seeds.
However, there are several differences:
Chinese chili crisp contains onions, soy sauce, ginger, and Szechuan peppercorns
Chinese chili crisp may contain fermented soybeans and spices like star anise
Mexican salsa macha contains peanuts and vinegar
Mexican salsa macha usually doesn't contain sugar, chili crisp has a little
If you like a strong smoky flavor, you should go for salsa macha. If umami (savoriness) and flavor complexity are your priorities, you can try chili crisp instead.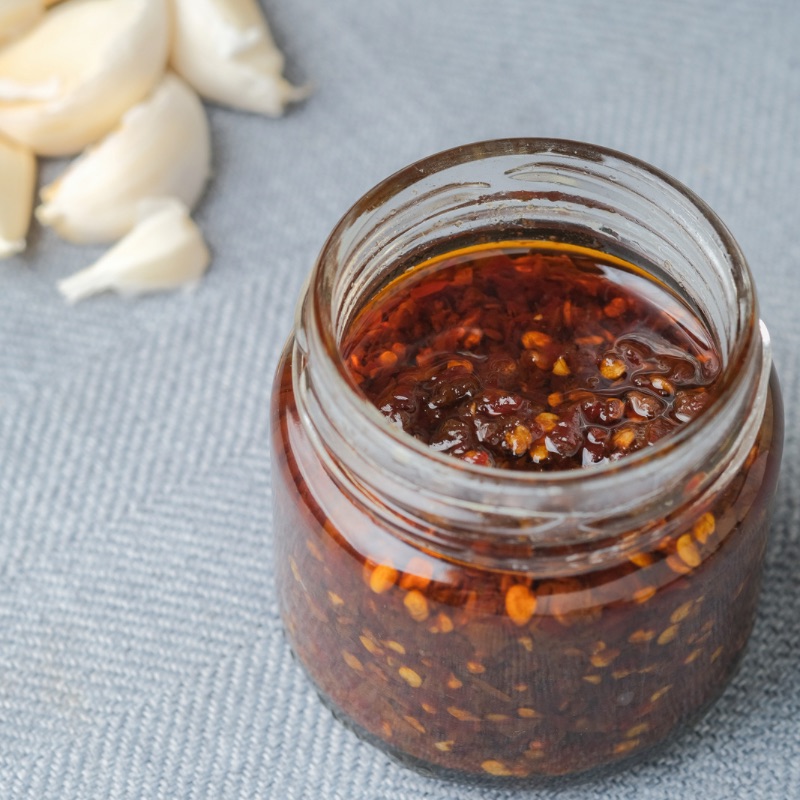 Key Ingredients & Substitutions
As often happens with classic recipes, loads of different versions of salsa macha have popped up over the years.
Depending on where you are in Mexico, you'll be served macha with or without peanuts, with or without sesame seeds, and with different types of chile peppers.
In this recipe, we'll imitate the version popular in the province of Veracruz. It has both peanuts and sesame seeds, which I think really add to the flavor! Still, if you want something very simple, you can skip them.
Here's what you'll need for Veracruz salsa macha:
Chili peppers: see the section below for details.
Fresh garlic
Toasted peanuts, or use almonds or pecans
Toasted sesame seeds, or use sunflower/pumpkin seeds
Vinegar, such as apple cider vinegar or just regular white
Vegetable oil, like olive oil or peanut oil, depending on which flavor you prefer
Salt
I recommend making your first batch of Mexican chili oil with these basic ingredients, just to get a feel for the flavor. After that, the world is your oyster… try adding dried fruit, cacao nibs, or even dried hibiscus flower (sold as "flor de Jamaica").
Did you know? In some places in Mexico, you can find salsa macha made with edible dried grasshoppers. It's called salsa macha de chapulín, and yes, you can buy it online if you'd like to try it.
Best Peppers to Use
Really, the best peppers to use for salsa macha are the peppers you have on hand. As mentioned, even inside the country of Mexico, different versions of this salsa are to be found.
In some regions, chile de árbol (bird's beak pepper) is used, while in others, folks prefer chipotles (dried, smoked jalapeños). Serranos are also popular.
Here are some options. Mix them up if you want!
Chile de árbol: earthy and potent
Chipotle (such as chile morita): smoky, less spicy
Chile serrano: sweet, earthy, quite potent
Chile ancho: sweet, mild
Chile de guajillo: sweet, tangy, quite mild
If you don't handle spicy food very well yet, your best bet is probably a mix of anchos and guajillos.
More experienced spice lovers can go straight for the chiles de árbol. At a maximum Scoville rating of 30,000, they're still way less spicy than something like a habanero.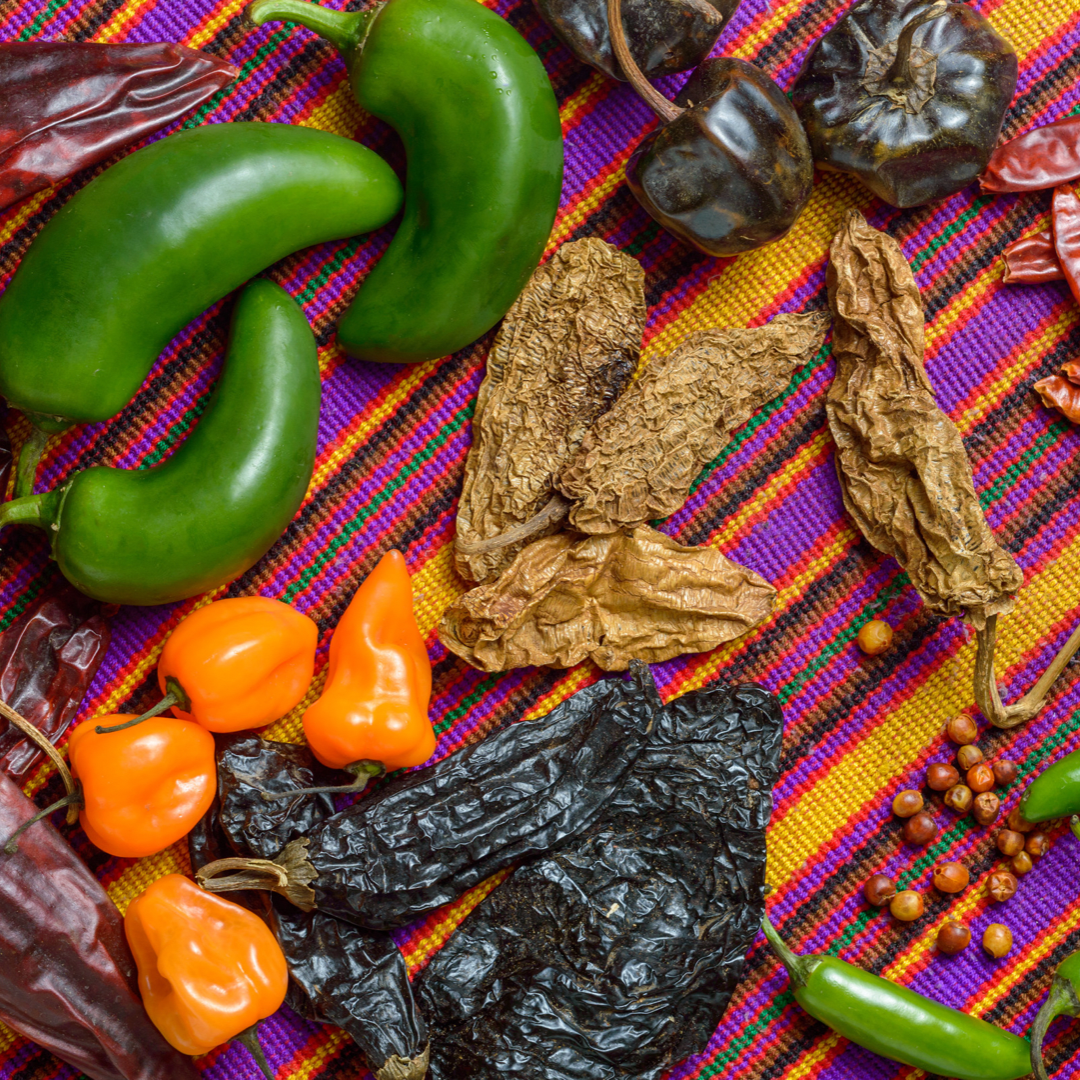 Illustrated Step by Step
Detailed directions can be found in the recipe card below. Here is a visual summary of the directions: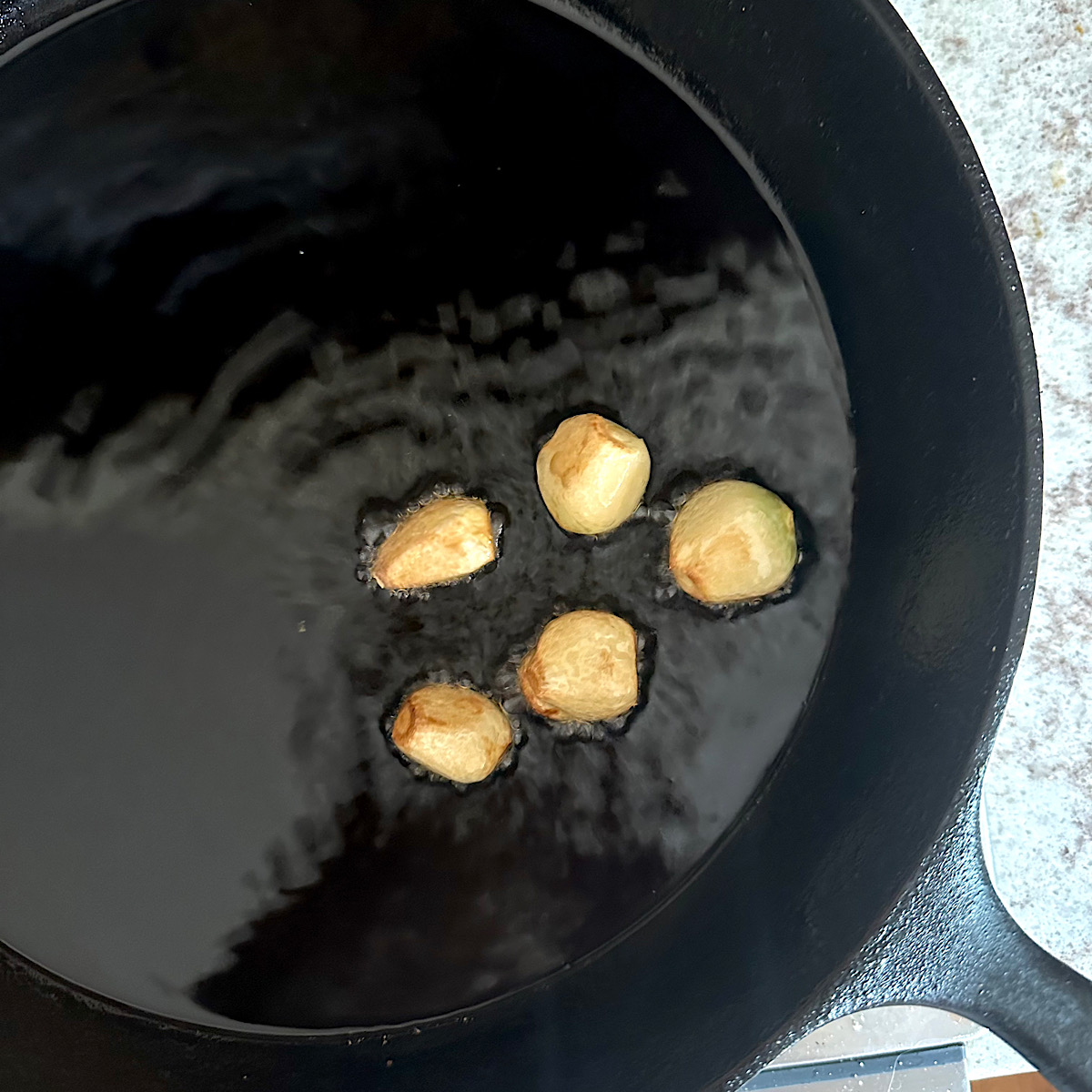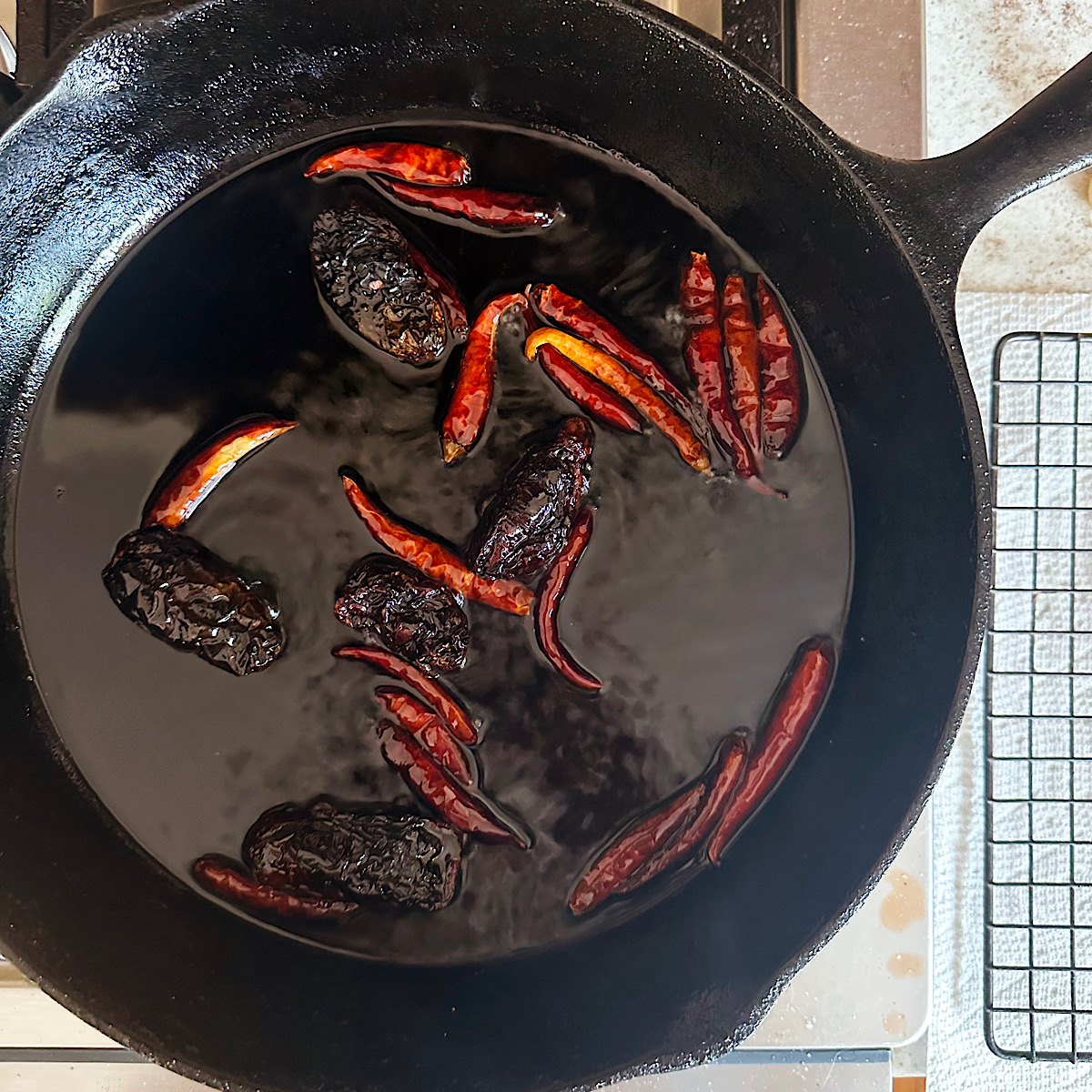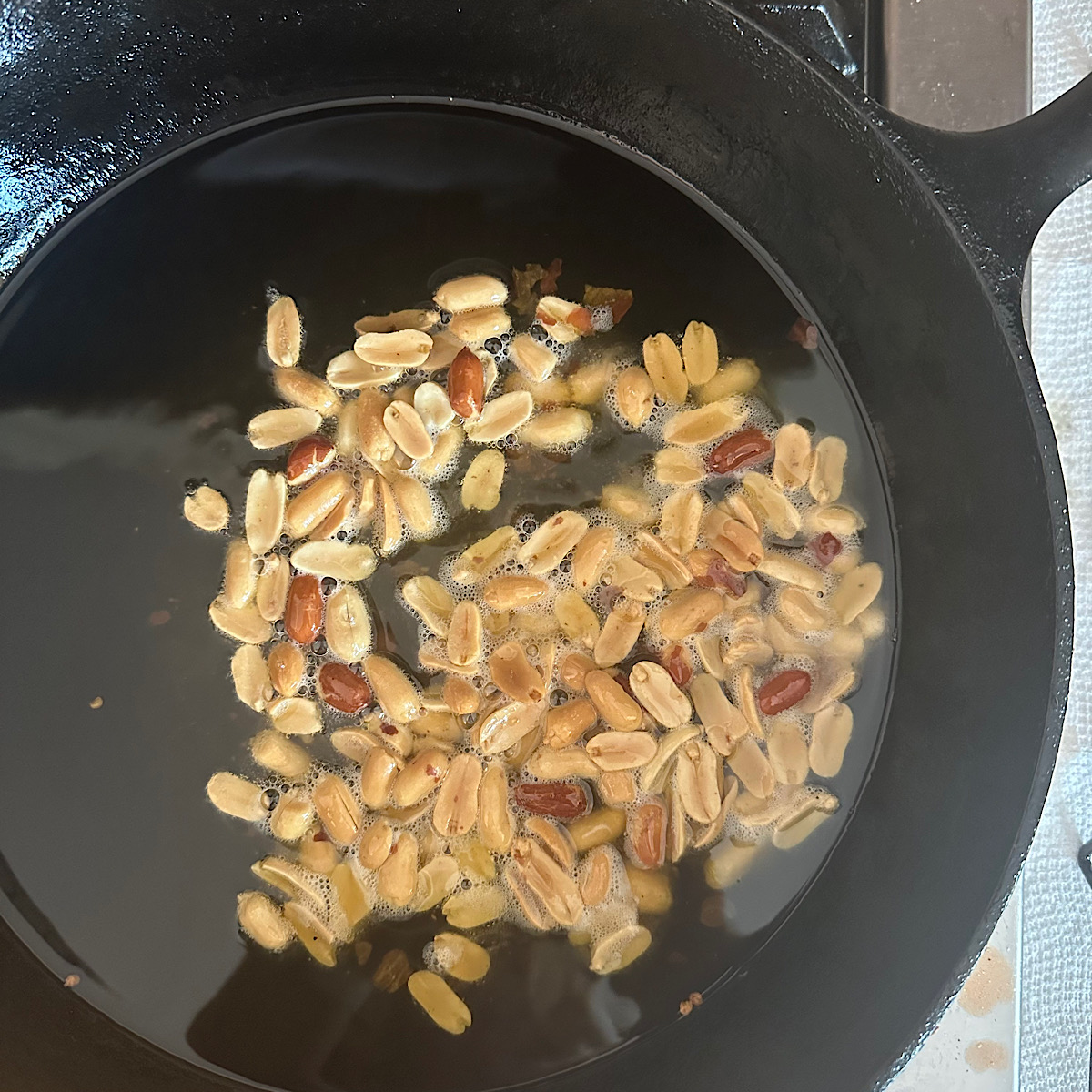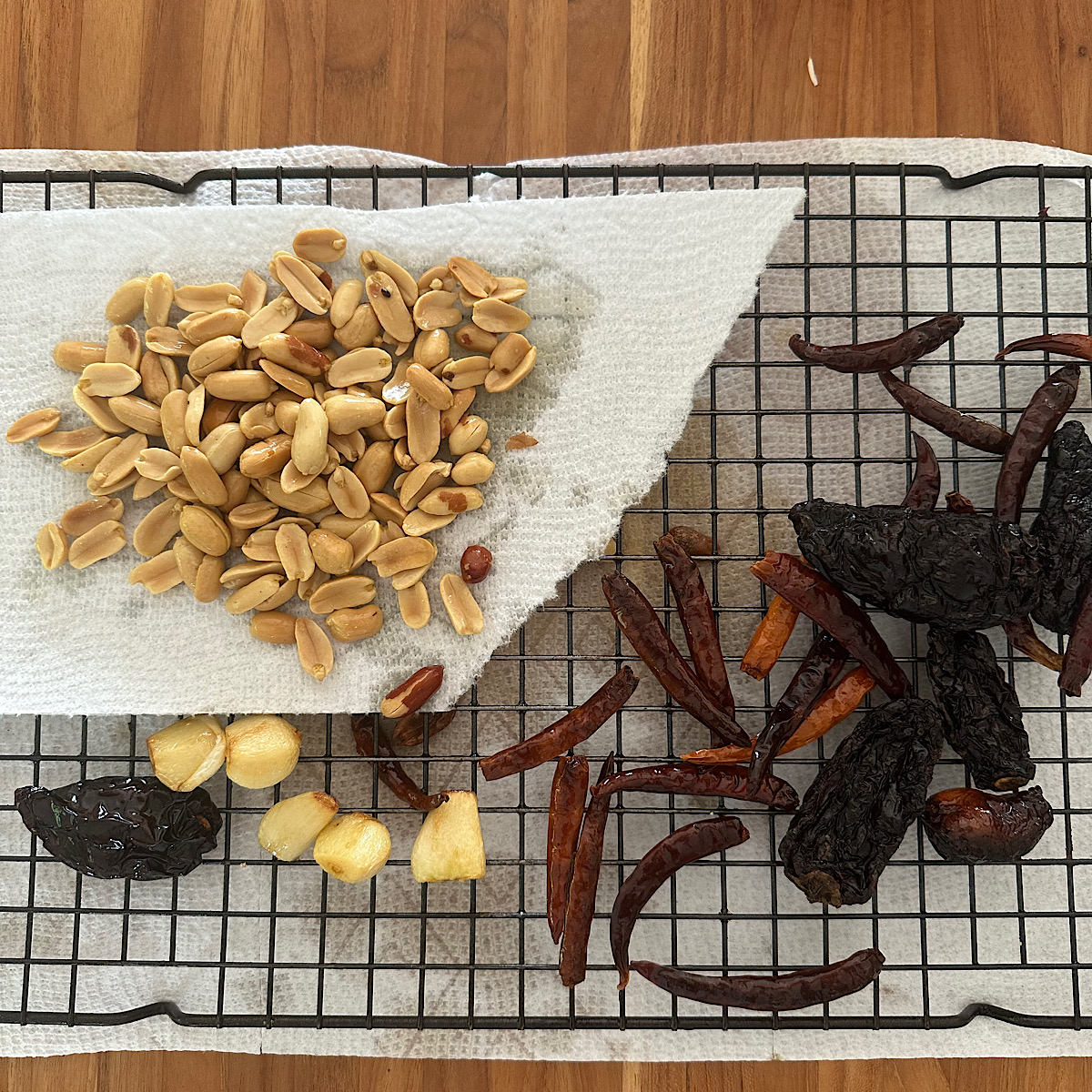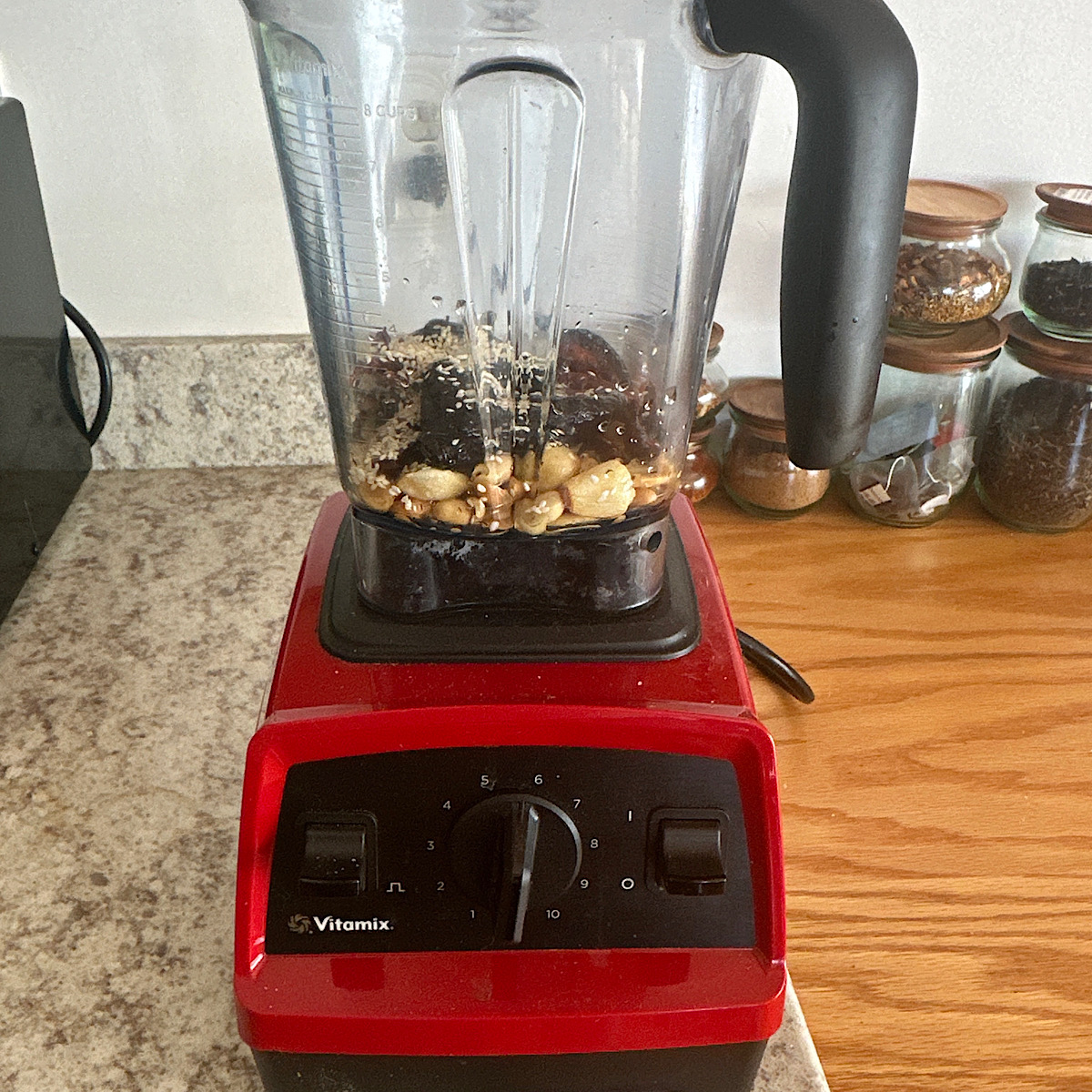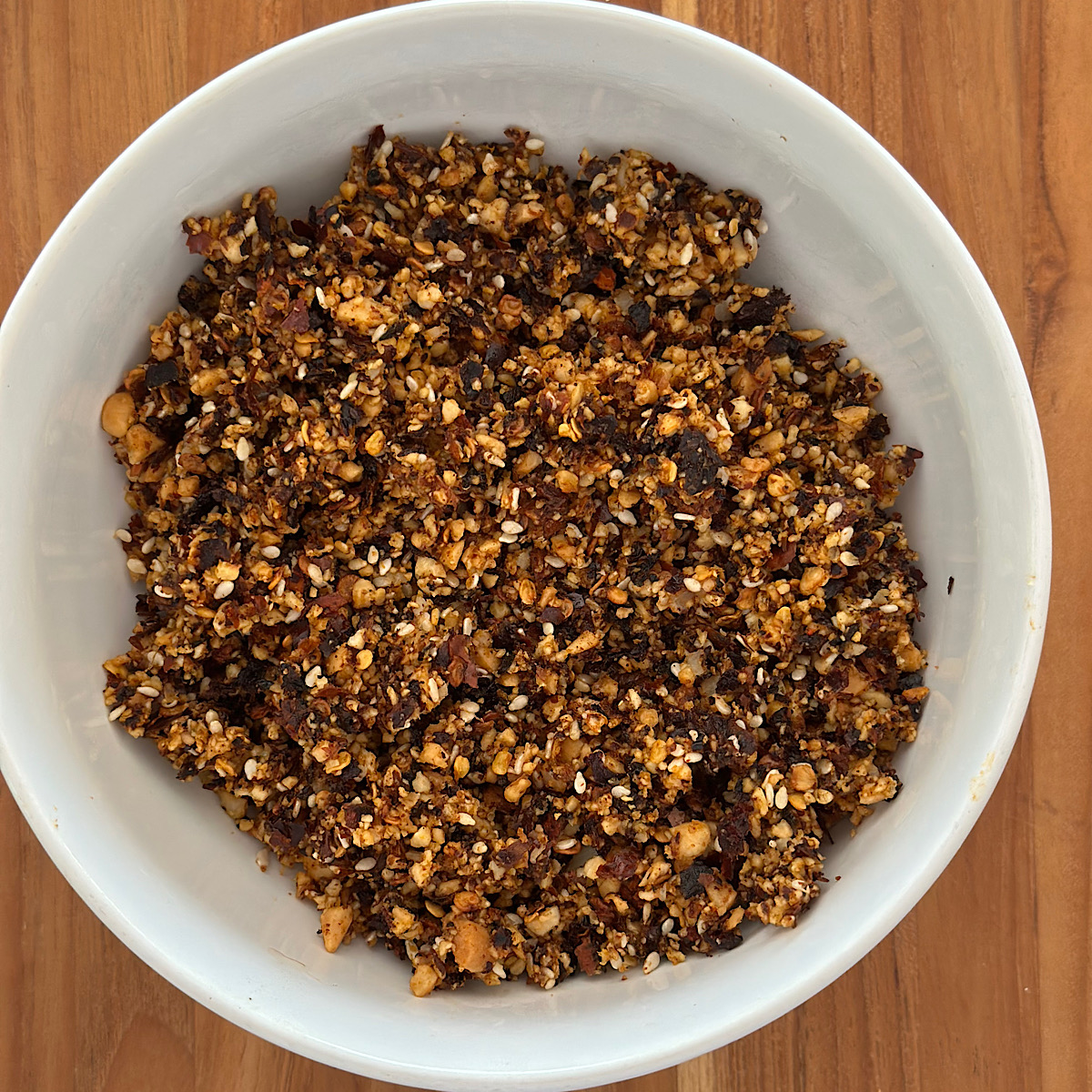 Serving Suggestions For Mexican Chili Oil
One of the main reasons salsa macha is quickly gaining popularity here is because it's just so versatile. As I mentioned earlier, it doesn't just go fantastically with Mexican dishes; it's works for a range of foods.
Here are some ideas for Mexican foods you can douse in salsa macha. You'll notice there are even some soups and stews in there: the salsa gives depth and crisp!
Tacos, like birria (tacos served with consommé)
Sopa de fideos (noodle soup)
Chorizo & eggs (spicy breakfast classic)
Tamales (stuffed corn dough steamed in corn husks)
Quesadillas (cheese-stuffed tortillas)
And much more!
As for non-traditional options, there are so many. Here are my favorites:
Pizza (the crispy salsa and heat are great with cheesy pizza in particular!)
Scrambled eggs
Grilled chicken
Mixed with noodles
Potato wedges
Cream cheese bagel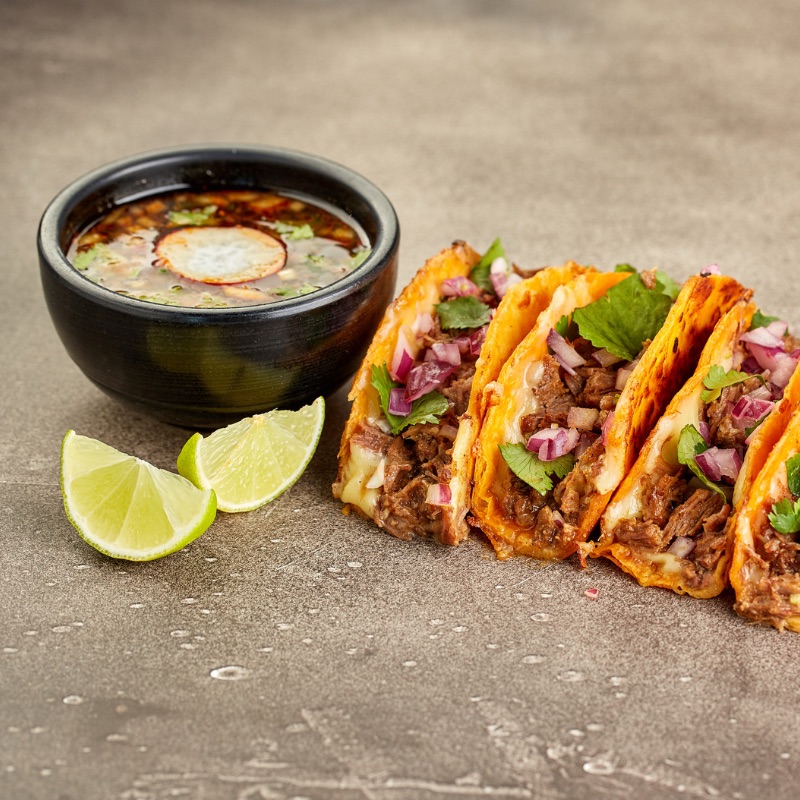 What is the Shelf Life of Homemade Salsa Macha?
One great thing about salsa macha is that since it's oil-based, it lasts for ages. Pop it in an airtight container, making sure all of the bits are covered in oil, and you can keep it in the fridge for 1-2 months.
At room temperature, salsa macha will last for about 2 weeks. You can also freeze it in an ice cube tray in order to be able to store it indefinitely.
FAQ: Can you preserve homemade salsa macha? Sorry, no! Oil-based recipes aren't safe to can at home, as they can create a breeding ground for nasty bacteria like botulism. Try freezing instead.
Homemade Mexican Chili Oil (Salsa Macha)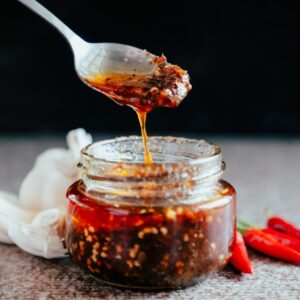 Addictively crispy chili oil with garlic, peanuts and sesame seeds to top your tacos, quesadillas, scrambled eggs, and, well… everything!
Ingredients
1

cup

olive oil

see notes

5

cloves

garlic

sliced

20

chiles de árbol

stems removed

5

chiles moritas

stems removed

½

cup

peanuts

raw, unsalted

1

tbsp

sesame seeds

1

tbsp

vinegar

white or apple cider

salt

to taste
Instructions
Heat the olive oil in the frying pan over medium to medium-low heat. It shouldn't be really hot or smoking!

If you are using a cast iron skillet, know that it retains its heat once brought up to temp. It is easy to burn the ingredients so be careful of the temp and move quickly.

Fry the garlic slices until golden brown (about 1 minute), and remove with a slotted spoon and set aside to cool off a bit.

Fry the chili peppers for about a minute in the same oil, until their color darkens (about 1 minute). Remove and set aside.

20 chiles de árbol,

5 chiles moritas

Fry the peanuts in the skillet until they reach golden brown (about 1 minute. Remove and set aside to cool.

I found the peanuts difficult to remove with a slotted spoon so I poured the contents of the skillet though a sieve into a bowl. Reserve the oil in the bowl and set the peanuts aside to cool.

Add the sesame seeds and the vinegar to the blender along with the garlic, peppers, and peanuts. Pulse until the desired consistency is reached. Leave some bits, you don't want to turn your chili oil into chili paste!

1 tbsp vinegar,

1 tbsp sesame seeds

Pour into a bowl or jar and add the oil back in. Mix well and add salt to taste.
Notes
You can really use any oil you like. Olive is popular, but grape seed, peanut, or sunflower would also work just fine.
You can remove the seeds from the chili peppers, but it's not a must. Just a matter of preference!
It's important not to burn the garlic and chili peppers, as it will turn them bitter and ruin the flavor of your salsa macha.
This recipe makes around 2 cups of salsa macha, which equates to 32 one-tablespoon servings.
Nutrition
Calories:
20
kcal
Carbohydrates:
2
g
Protein:
1
g
Fat:
1
g
Saturated Fat:
0.2
g
Polyunsaturated Fat:
0.5
g
Monounsaturated Fat:
1
g
Sodium:
2
mg
Potassium:
26
mg
Fiber:
1
g
Sugar:
1
g
Vitamin A:
83
IU
Vitamin C:
0.2
mg
Calcium:
6
mg
Iron:
0.2
mg
Did you make this recipe?
If you tried this recipe, please give it a star rating! To do this, just click on the stars above. Comments are always helpful also and I respond to all of them (except rude ones)