Mexico's version of kid-friendly comfort food is Sopa de Fideo. Like mac and cheese in the US, it is a classic lunchtime dish that many kids in Mexico grow up on. Also like mac and cheese, this easy, creamy soup is a taste that a lot of adults never outgrow. There are, of course, many variations. This recipe makes use of leftover turkey, adding it to the tomato and pasta base for a little more protein. It's a delicious version that will certainly please young and old alike.
Jump to:
Recipe
What is Sopa de Fideo?
Ingredients/Substitutions
How to Toast Fideo
What to Serve With?
Common questions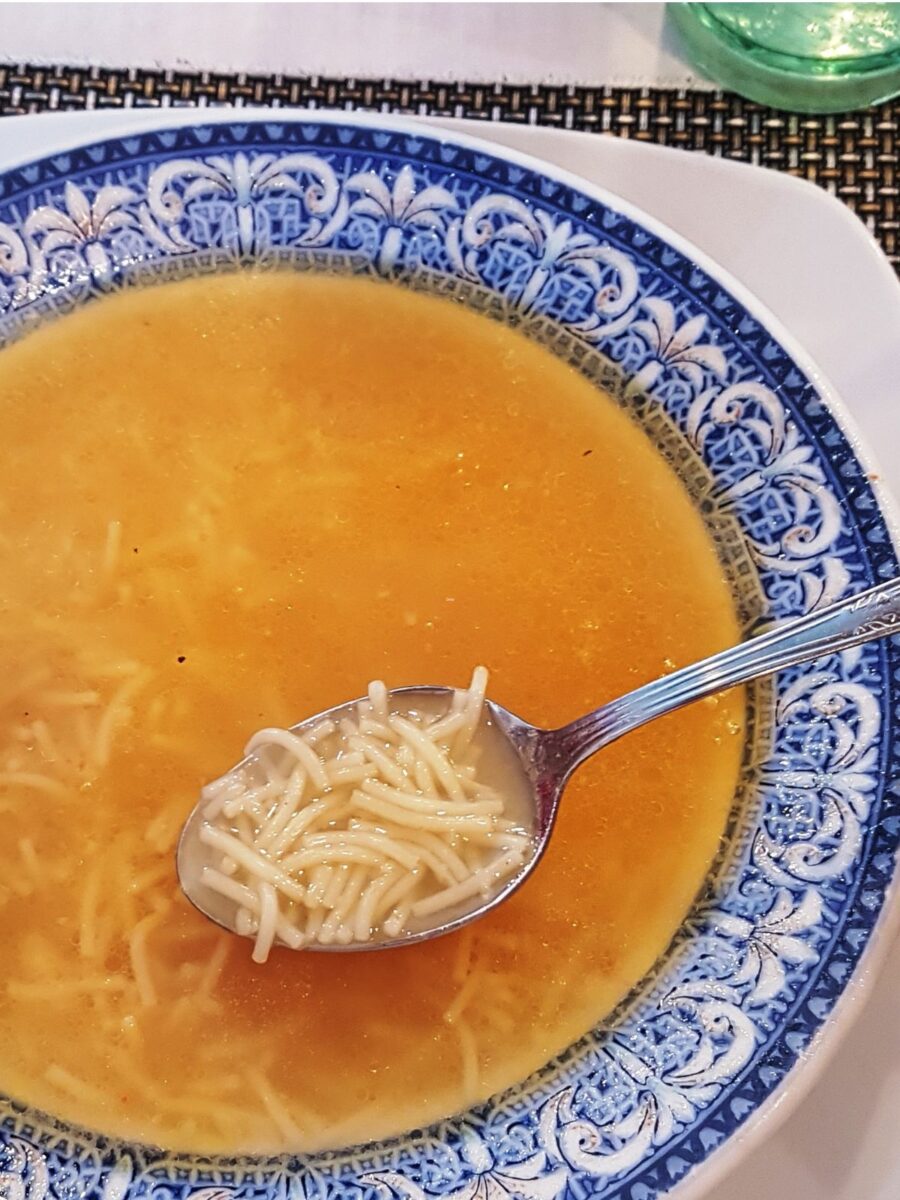 This post may contain affiliate links, and you can read our disclosure information here–
What is Sopa de Fideo?
Sopa de Fideo is a simple Mexican noodle soup featuring toasted noodles (fideo) in a savory tomato broth. Traditionally, fresh tomatoes are charred and then puréed to create the base of this soup but many cooks will opt for the convenience of diced canned tomatoes blended with a range of spices.
Specific fideo noodles can be purchased in most Mexican grocery stores, but if you do not have one nearby, angel hair pasta or thin spaghetti noodles are easy to find. Just break them into 1-inch pieces and you have a perfect substitution for fideo noodles.
The pasta pieces are sautéed in a bit of oil until golden, followed by adding a rich tomato broth. The soup is often enjoyed on its own, but popular side garnishes like cheese, sour cream or avocado are frequently served with the soup.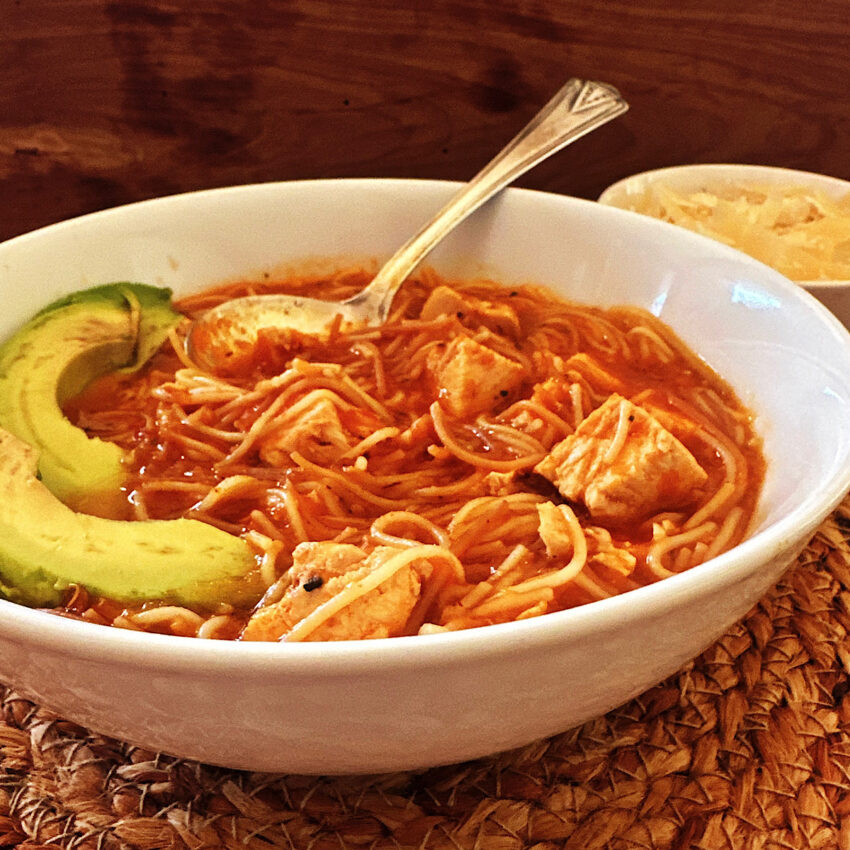 This is a soup that is enjoyed by kids and adults. My husband loved it….he said it reminded him of Spaghetti O's. Even though that was a good food memory of his youth, I've got to say this is far superior to Spaghetti O's!
By the way, although this dish is called a "sopa", some versions are thick enough to be served as a creamy, gloppy noodle casserole.
A low carb take on fideo uses shirataki noodles which are not toasted. The low carb fideo recipe is great if you want to substitute something low carb for the pasta. Just know it is not traditional.
Ingredients & Substitutions
The fideo noodles are an integral part of this dish. Traditionally fideo vermicelli noodles were used, which are essentially 1-inch-long thin spaghetti noodles. A good substitution for these noodles is to break angel hair pasta into 1-inch pieces. Broken up thin spaghetti noodles also work.
The tomato based broth can use charred fresh tomatoes or diced canned tomatoes. I like the fire roasted canned tomatoes, to which I usually add Mexican oregano and chipotle.
The fried noodles and the robust tomato-based broth make up the core of Fideo de Sopa, but from there any number of additions can be added in.
My recipe below makes use of leftover turkey which adds a healthy protein component that can take the soup from lunch to dinner.
Other popular additions and/or garnishes might include:
Meatballs (similar to this albondigas recipe)
ground beef or ground turkey
corn
zucchini
rotisserie chicken
garbanzo or black beans
crumbled cotija
Mexican crema
jalapenos
chipotles
cilantro
lime
avocados
**Flavor Tips: I like to add a smoky ancho blend to the soup, keeping it on the milder side of the heat index. The robust tomato flavor is supposed to shine and you don't want a really hot chile pepper blend masking the tomato taste.
How (and why) to Toast the Pasta
You do not want to skip this step, as it is integral to the traditional Fideo de Sopa dish. Toasting the noodles until golden brown helps prevent them from becoming mushy once the tomato base is added. It also adds more depth of flavor to the soup, giving it a nutty taste.
Simply preheat 2-3 tablespoons of oil in a skillet over medium high heat and add the 1-inch noodles. Stir until the pasta is golden brown. Keep an eye on the noodles as they can quickly burn. You want golden brown, not dark brown.
Some cooks will top the soup with toasted tortilla strips for added crunch:
What to Serve with Fideo
When served as lunch to kids, the fideo is often served as is. If you are serving it for dinner or to adults that want a more complete meal, a range of healthy garnishes ups the nutrition and the satiation level.
Adding turkey to the fideo increases the protein and adding garnishes like sour cream and avocado increases the good fats. These two additions would make for a filling (and low carb) complete meal.
Still need more? Here are a few other popular serving additions:
Green Salads
chips and salsa rojo
corn on the cob
More Ideas for Leftover Turkey
When it comes to repurposing turkey leftovers, the possibilities are endless. Sometimes leftover turkey can be quite dry so I try to use it in a recipe that has a broth or a sauce base. Here are some of my favorites:
Frequently Asked Questions
Can I use other types of pasta?
Well yes, but then it would be a tomato-pasta soup rather than Fideo de Sopa. The 1-inch thin fideo type of noodles, toasted until golden brown, is the hallmark of this soup.
Can fideo be frozen?
This soup is best when enjoyed fresh, and it is so quick and easy that there isn't really a need to freeze it for future convenience. If you don't mind the textural changes in the fideo noodles however, it will freeze for up to 3 months.
Why is my leftover turkey always dry?
Turkey is a naturally dry meat. Dried out turkey isn't just lacking moisture; it's also lacking fat, which is why leftover turkey is often served with a gravy. When using it in a soup like fideo de sopa it is not really an issue. If you are using leftover turkey from Thanksgiving in another way, you can add butter or gravy to the turkey slices before reheating, which will revitalize the fat content.

Leftover turkey can be refrigerated for up to 4 days if sealed in an airtight container.
Recipe for Sopa de Fideo with Leftover Turkey
Sopa de Fideo with Turkey and Avocado
This is a stellar way to use leftover Thanksgiving turkey, especially if it is on the dry side. A robust tomato based soup with lightly toasted angel hair pasta broken into 1-inch pieces.
Ingredients
15

Oz

diced canned tomatoes

I used fire roasted but any kind is fine

1

onion

coarsely chopped

2

Cloves

garlic

2

Teaspoons

Mexican oregano

2

chipotles from canned chipotle adobe

Plus 2 Tablespoons of adobe sauce

1

Teaspoon

brown sugar

2-3

Tablespoons

oil

I use refined olive oil

6

Oz

angel hair pasta

or thin spaghetti, or Mexican fideo noodles

6

Cups

chicken stock

3

Cups

chopped turkey

bite sized pieces

garnishes

sour cream, avocados, cheese, jalapenos
Instructions
In a food processor, combine the tomatoes, onion, garlic, oregano, chipotles and sugar. Process until smooth.

Break the angel hair pasta or thin spaghetti noodles into 1-inch pieces.

15 Oz diced canned tomatoes,

1 onion,

2 Cloves garlic,

2 Teaspoons Mexican oregano,

2 chipotles from canned chipotle adobe,

1 Teaspoon brown sugar

In a dutch oven or heavy soup pot, heat the oil over medium to medium-high heat.

Add the 1-inch noodles (the fideo) and cook, stirring frequently, until the pasta starts to turn golden, about 5 minutes. Make sure and keep an eye on the pasta so that it does not burn.

2-3 Tablespoons oil,

6 Oz angel hair pasta

Add the tomato mixture and the chicken stock to the pot of toasted noodles. Increase the heat to medium-high and bring to a boil. Cook, uncovered, until the pasta is al dente, about 5 minutes.

Add the turkey to the pot and cook until heated thru. Taste, and add salt and pepper if needed.

Serve in bowls with a range of garnishes on the side for people to add.
Notes
This soup is best when enjoyed fresh, and it is so quick and easy that there isn't really a need to freeze it for future convenience. If you don't mind the textural changes in the fideo noodles however, it will freeze for up to 3 months.
Nutrition
Calories:
383
kcal
Carbohydrates:
37
g
Protein:
36
g
Fat:
10
g
Saturated Fat:
2
g
Polyunsaturated Fat:
3
g
Monounsaturated Fat:
5
g
Trans Fat:
0.03
g
Cholesterol:
71
mg
Sodium:
693
mg
Potassium:
766
mg
Fiber:
3
g
Sugar:
9
g
Vitamin A:
114
IU
Vitamin C:
9
mg
Calcium:
58
mg
Iron:
2
mg
Did you make this recipe?
If you tried this recipe, please give it a 5-star rating! To do this, just click on the stars above.